An LA lawyer on the front lines to reunite immigrant families sees no easy solutions for the 'zero-tolerance' policy 'mess'
Among the clients immigration attorney Patricia Ortiz is representing is a young girl hundreds of miles away from her mother, currently detained by immigration authorities in Seattle.
"She's living with her aunt down here, but we're trying to figure out what the family could do to help her mom come down here, which would be the ideal," explained Ortiz, the program director for Catholic Charities of Los Angeles' Esperanza Immigrant Rights Project.
"But because of the way immigration works, she may not be eligible to be released anytime soon. So we're trying to cooperate with nonprofits up there to see if we can help her in any way."
It's just one of the many vexing cases faced by advocates such as Ortiz as a result of the "zero-tolerance" policy initiated by Attorney General Jeff Sessions in May but partially undone by an executive order by President Trump on June 20.
No one really knows how many boys and girls haven't been reunited with their parents, or even where all these adults and children are. And that is just the beginning of what the program director called a "mess" that she doesn't expect to be cleaned up anytime soon.
A week after the president's rare reversal of his own policy, Health and Human Services Secretary Alex Azar told a Senate Finance Committee hearing that as long as parents were locked up in immigration detention facilities for illegally crossing the U.S. border (a newly declared criminal misdemeanor), his department would not reunite them with their migrant children.
"If the parent remains in detention, unfortunately, under rules that are set by Congress and the courts, they can't be reunited while they're in detention," Azar testified. He pointed out, however, that Health and Human Services did have the legal right to place children with U.S. relatives if they could be located and then extensively vetted.
Estimates suggest somewhere between 2,000 to 2,300 children — some as young as 18 months old — have been taken away from parents arrested for crossing the border illegally.
Under the zero-tolerance policy, all undocumented adults crossing the border were to be prosecuted, while any minors with them went into separate detention. Some of these centers for children are located in distant states. Infants and toddlers went to so-called "tender age" centers.
But on June 24, a federal judge in California threw a sizable monkey wrench into the whole matter. Judge Dana Sabraw of the Federal District Court in San Diego ordered that all children under 5 had to be reunited with their parents within 14 days and that all minors, within 10 days, be allowed to talk to their parents on the phone.
Judge Sabraw did not mince words about the government's growing debacle: "The unfortunate reality is that under the present system, migrant children are not accounted for with the same efficiency and accuracy as property."
The judge stated that the only reason children can be separated from their parents at the border is if their mother or father is an immediate danger to them. He also ruled that adults cannot be deported without their children from the United States.
"The facts set forth before the court portray reactive governance — responses to address a chaotic circumstance of the government's own making," wrote Judge Sabraw.
"They belie measured and ordered governance, which is central to the concept of due process enshrined in our Constitution. This is particularly so in the treatment of migrants, many of whom are asylum seekers and small children."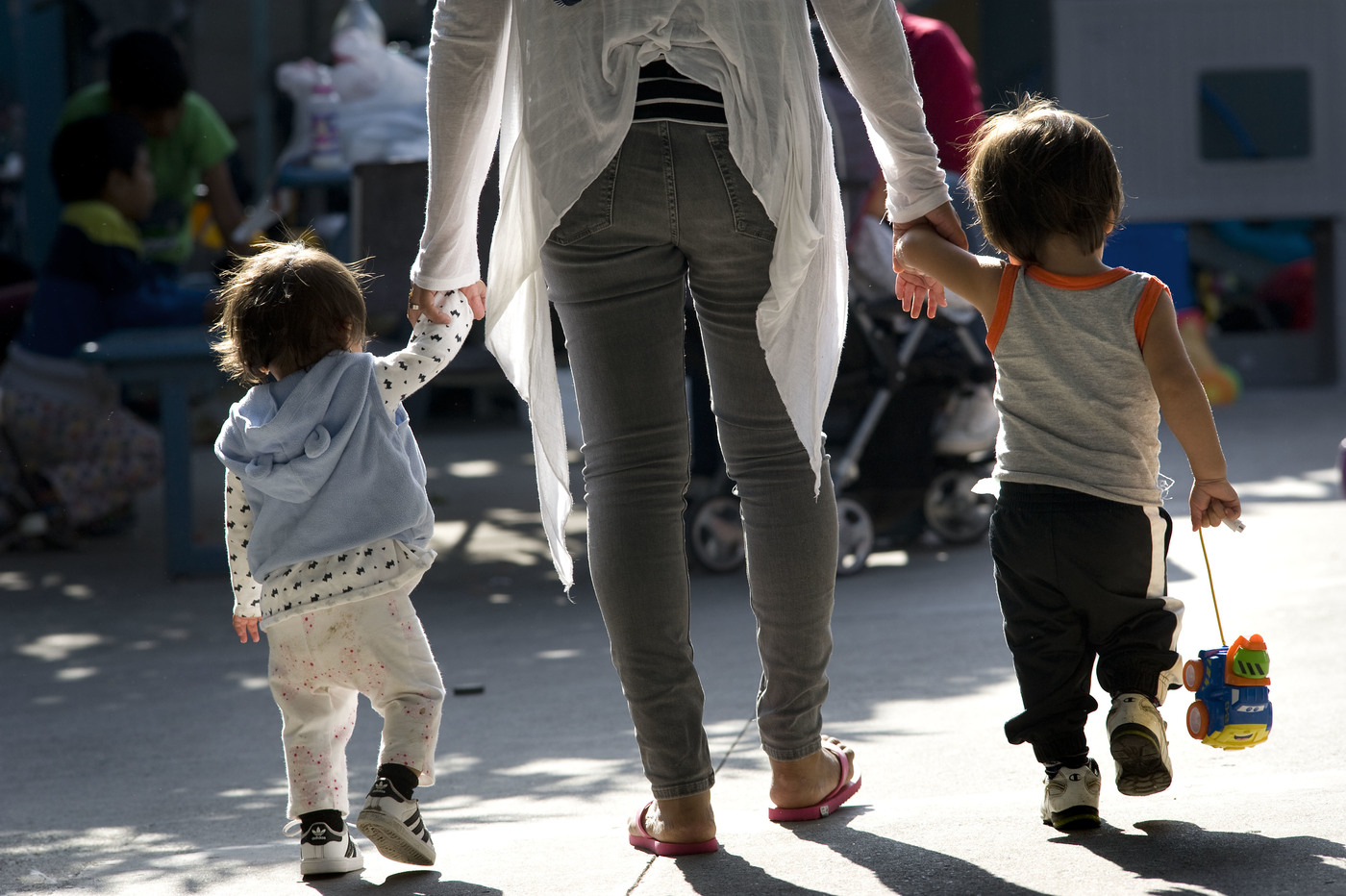 Uncertainty and anxiety
So how does it work — or is it supposed to work— when a boy or girl is taken away from undocumented immigrant parents showing up at the U.S. border seeking asylum mostly from gang violence in the Central American countries of El Salvador, Honduras and Guatemala?
Once a child is identified as an "unaccompanied minor," which includes being separated from a parent, they're put in the Office of Refugee Resettlement's custody.
Then they go to a shelter where a case or social worker tries to find somebody into whose care the youngster can be released. That includes relatives, family friends and others responsible enough to be a sponsor.
"That's the point where we see the minor, when they've been released into the care of a sponsor," said Ortiz of her program. "We primarily provide them with legal representation, but also try to meet their other basic needs. It can be referring them to mental health services because many are traumatized.
"Also someplace where they can sign up for Medi-Cal if needed. Just trying to support the families as best we can as they take on the responsibility of caring for them," she said.
"We're definitely seeing psychological damage. Just a host of issues. Abandonment, for example, being afraid to be separated from the caregiver right now: 'Oh, my gosh! Am I going to be abandoned again?' Just uncertainty and anxiety. And then the fact that they still aren't reunited with parents. Yes, they're under the care usually of a family member. But it's not the same as mom or dad."
After a moment, she added, "And they still don't really understand what happened. We definitely see that."
From what she sees as an advocate attorney, it doesn't seem as if the federal government has an interest in releasing any of the parents being detained. So, she wonders, does that mean the now-released children will go back to some kind of family detention center? It doesn't seem likely.
"The government agencies don't seem to have a plan," she pointed out. "Honestly, the sense that I've gotten is they don't really know what they're doing at this point. Prior to the family separation policy, they had a process where they would release families into the care of another family. But they still had to do check-ins with ICE regularly. They had to go to their hearings. But most of them, they were doing it.
"So I think it's a false narrative to say either the only options are family separation and family detention. There's a middle ground, and it's been used before. And it worked."
The big question now, according to Ortiz, is what's going to happen to these children? Will they ever be reunified with their parents?
Decisions at the top
"The problem, honestly, I think is these decisions about family separation and other things were made at the top," she said.
"And those people have no real knowledge or experience with the day-to-day logistics of organizing these decisions, right? So we're going to separate families and prosecute them. But I don't know if there was ever any consultation with the caseworker or the local ICE or field agents as to how is this going to be done.
"So when it went into effect, the on-the-ground workers had to scramble to figure out how to coordinate things. And so that's where a lot of this misinformation happened: 'Where are the children?' 'Where are the parents?'
"By this point they've had enough time to locate the parents. But it was just a big mess — and still is. And those big decisions change from one day to the next of how can you really stay on top of things when everything's changing."
Ortiz seemed as if she wanted to make one more point.
"Obviously, the separation of families is terrible," she went on. "But it's upsetting that it took so long for things to get to this point before the nation really started taking notice of all the terrible things that are being done to immigrants. And all the terrible policies that have been implemented in the last year and a half.
"Because I think this was just like that straw that broke the camel's back," pointed out the lawyer. "And, hopefully, now that people are paying attention, they continue to pay attention."
Interested in more? Subscribe to Angelus News to get daily articles sent to your inbox.