During the regular season, just a few hours before the first pitch on a Sunday game at Dodger Stadium, the 100-or-so-seat capacity media-interview room next to the Dodgers' home team clubhouse would be called the "Vin Scully and Billy DeLury Chapel."
A white cloth would be neatly stretched out over the head table, where Dodgers manager Dave Roberts would sit behind a microphone for his post-game briefing with the media — a table quickly converted into an altar where a chalice, ciborium, and sacramentary were placed.
As the Dodgers built momentum toward their second World Series appearance in two years this October, a unique Catholic Mass became part of the tapestry of their unifying faith for a group of players, coaches, team officials, and stadium workers.
Because of Major League Baseball's facility needs and for security reasons during the current Fall Classic, Dodger Stadium didn't host a Mass before Game 5 on Sunday, October 28 as was hoped.
Judging by that game's outcome (a season-ending loss to the Boston Red Sox), one might argue they could have used the help.
During the just completed season, how could one measure the success of these celebrations?
"I can tell you that of the 36 Masses we've had on Sundays during Dave Roberts' time as the Dodgers' manager, the team has won 31," Brian Golden, the astute Antelope Valley News sports columnist who serves as the Mass sacristan and local organizer, says with a laugh.
"You might remember there was a weekend when the Astros came to town — their first visit since winning the World Series last season — and handed the Dodgers a 14-0 loss on a Saturday night. It just put a pall over the ballpark. But on Sunday, after the Mass, the Dodgers went out and had a 3-2 win. I believe it was all a return to normalcy."
The Washington, D.C.-based Catholic Athletes for Christ (CAC) has facilitated this revival of a ballpark Mass for more than a decade. Its mission is to "give players more time during their busy schedule to incorporate family and faith, after giving it all on the field night after night," said Kevin O'Malley, the CAC Major League Baseball Mass ministry coordinator.
He calls the Dodgers organization "extremely supportive and receptive" to the ministry since it started in 2008, noting the Catholic influence going back to Walter O'Malley's ownership in Brooklyn, continuing with his son Peter and daughter Terry (Siedler) in LA, and including players such as Gil Hodges and Mike Piazza, plus managers Tommy Lasorda and Joe Torre.
Archbishop José H. Gomez is part of the group's 18-member episcopal board. Former Dodgers star Mike Piazza is on the athlete advisory board along with vice chairman Jeff Suppan, the Crespi Carmelite High of Encino graduate who had a successful 17-year pitching career in the major leagues.
The Dodger Stadium half-hour Mass has started at 9:30 a.m. prior to 1 p.m. games, and at 1:30 p.m. before 5 p.m. games. It concludes in time for players to begin warmups. Part of its intent is to relieve any concerns about trying to find an early morning Sunday Mass following a late-night Saturday game.
When it first began, the Masses were offered late Saturday afternoon and held in what Golden called "the catacombs" of Dodger Stadium — a dark, first-base corner of the underground Dugout Club area. When Dodger Stadium underwent renovations in 2012, the expanded manager's interview room was made available for the CAC Mass on Sundays.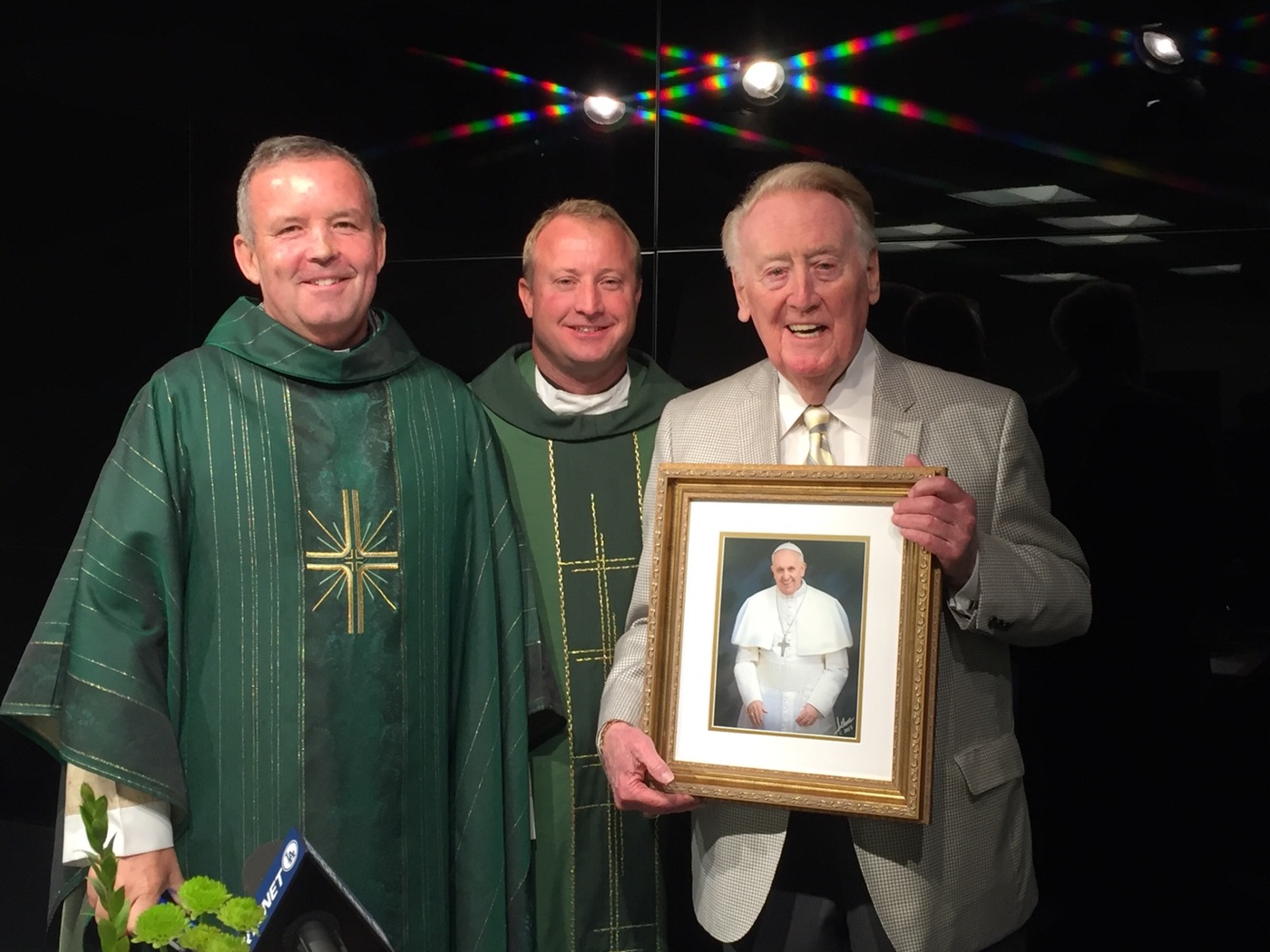 Hall of Fame broadcaster Vin Scully said he and longtime friend Billy DeLury, the team's traveling secretary going back to their days in Brooklyn, would often travel together to St. Vincent Medical Center on Third Street in downtown LA for 4 p.m. Mass on Saturday and rush through traffic to the stadium 10 minutes away to make the team's TV production meeting.
This new arrangement afforded them, and others, a more peaceful and reflective procession to celebrate the Mass.
"I admire so much the group who brought me to this beautiful connection," said Scully, who retired in 2016 and, after the passing of DeLury in 2015, brought DeLury's blue Dodgers windbreaker jacket to drape over a chair in his memory for the stadium Mass.
Scully had been one of the Mass lectors from the start, along with former Dodgers outfielder and recently retired Andre Ethier. Coach Manny Mota has been another regular attendee of the liturgy, to which attendance can range from a dozen to 50-plus on any Sunday.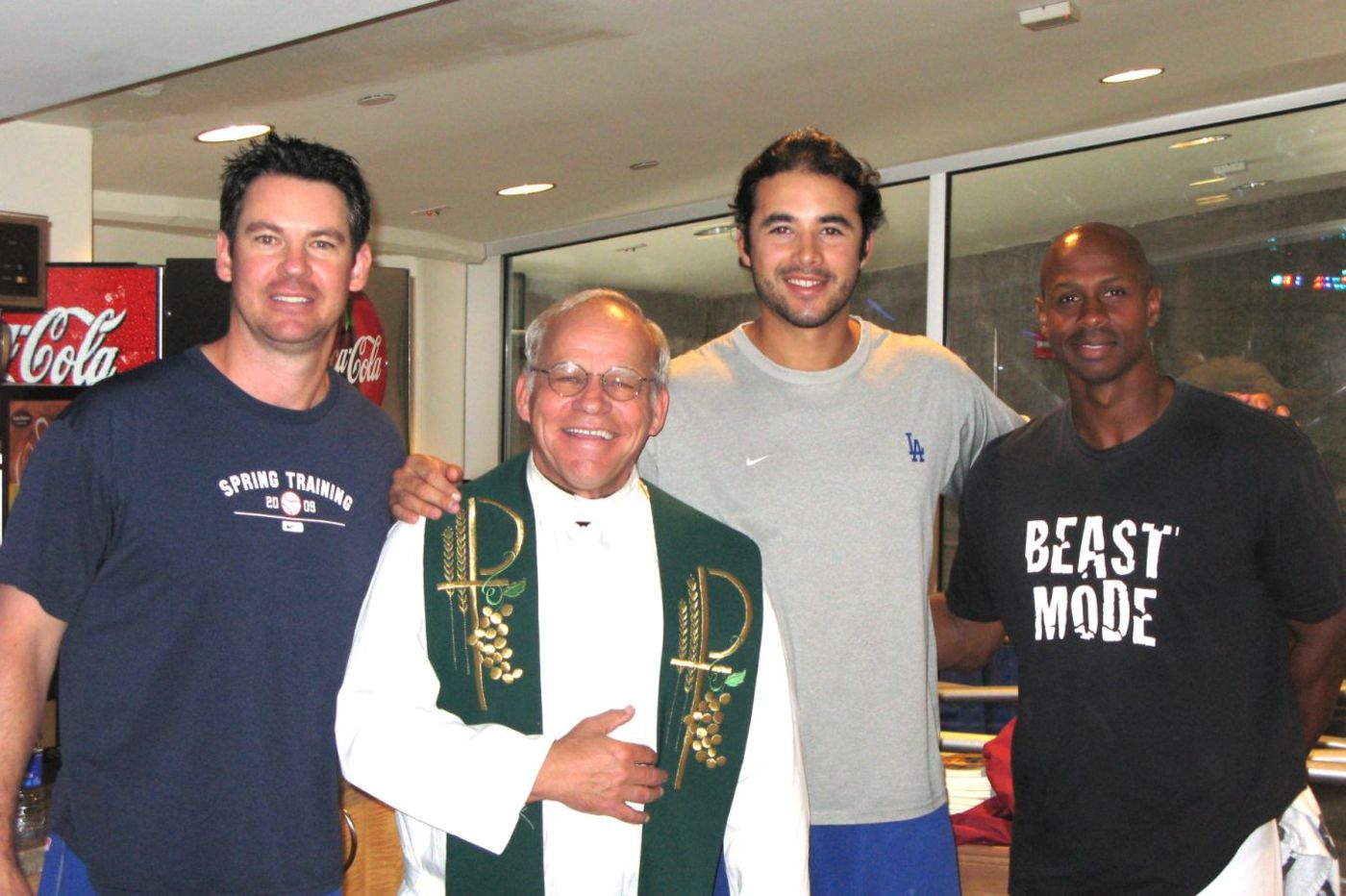 Father Willy Raymond, then at St. Monica Catholic Church in Santa Monica, had been the longtime presider until his recent transfer back to his native Boston area — which has led CAC members to dub this year's Dodgers-Red Sox World Series battle "The Fr. Willy Series."
As it turned out, Raymond has been on assignment in East Africa and only able to keep tabs on the games through email.
In recent years, Father Tim Klosterman and Father Vince Kuna have become the regular presiders.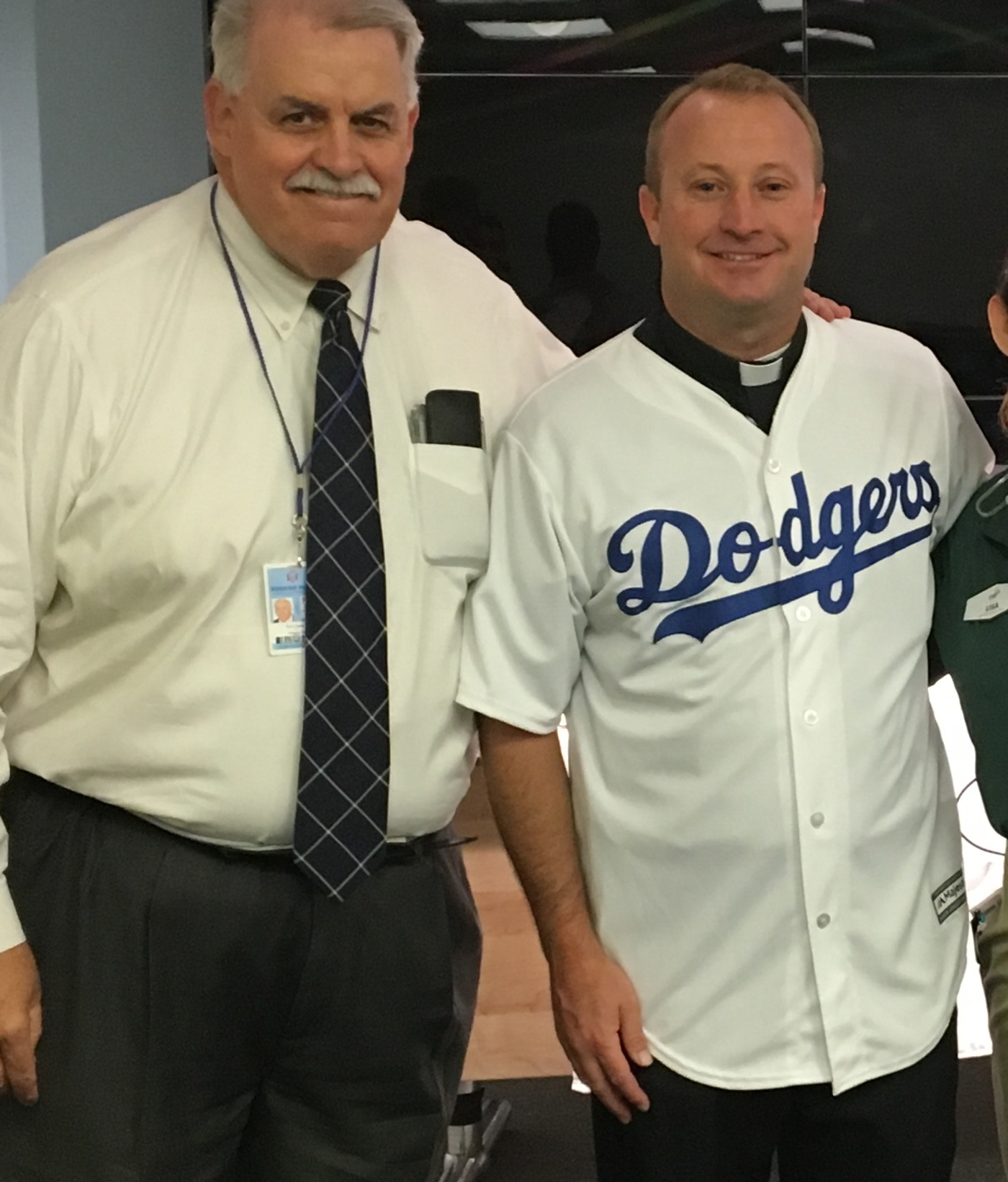 "The best part of this Dodgers ministry is that we've created a family community," said Kuna. He used the example of support given to Dodgers employee Maria Harman, a well-known press box dining-room director who regularly attends the Mass. She was nearly killed by a hit-and-run driver in mid-September and has been hospitalized since.
"We came together as a community to remember her in prayer and offer Mass for her. Through the work of her doctors and, I believe, our collective prayers, she's now on the road to recovery," he said.
"I also appreciate that the opposing team is invited to Mass and there are almost always representatives present. You don't see that in other professional sports and certainly not at the collegiate level. So, the Dodgers and whomever they play serve as a reminder to the professionalism I should bring to my own priestly ministry."
Dodgers pitchers Rich Hill, Pat Venditti and Ryan Madson have been frequent attendees this season. Madson, who came to the team in a mid-season trade from Washington, said it has "allowed me the opportunity to attend Mass nearly every week during the regular season."
Often the presiding priest is available after Mass to hear confessions or provide spiritual guidance for players who request it.
During the 2018 Major League Baseball season, CAC facilitated nearly 350 Catholic Masses at 28 ballparks, including Angel Stadium in Anaheim, where then-manager Mike Scioscia was an active participant.
During Scully's final Mass at Dodger Stadium, concelebrated by Klosterman and Father Steve Davoren, CAC presented Scully with a portrait of Pope Francis to thank him for his support of the group.
Scully and his wife, Sandi, took the portrait to the Vin Scully press box and placed it in one of the chairs of the TV booth as he called a game. The Dodgers tied the contest with the Colorado Rockies in the ninth inning and won it on a Charlie Culberson home run in the bottom of the 10th to clinch the National League West title.
"You can't make that up," said Golden with another laugh. "I can't emphasize how much we are deeply appreciative to the Dodgers for continuing this. I joke that down the hill, there's always the Cathedral of Our Lady of the Angels, but up here, it's the Cathedral of Our Lady of the Dodgers."
Tom Hoffarth is an award-winning journalist based in Los Angeles.
SPECIAL OFFER! 44 issues of Angelus for just $9.95! Get the finest in Catholic journalism with first-rate analysis of the events and trends shaping the Church and the world, plus the practical advice from the world's best spiritual writers on prayer and Catholic living, along with great features about Catholic life in Los Angeles. Subscribe now!