Refugio Alvarado, 79, and Maria de Jesus Alvarado, 77, agree that celebrating 60 years of marriage is wonderful, but they are particularly proud of their 100 living descendants in the form of children, grandchildren and great-grandchildren.
"We created a small village," said Maria, who spoke through a translator. "Generating 100 people from two people is amazing."
Refugio and Maria were one of nearly 40 couples from around Southern California who gathered to renew their wedding vows at the Cathedral of Our Lady of the Angels in Los Angeles on Feb. 10, which marked this year's World Marriage Day. The renewals took place at both the English and Spanish Masses, which were presided over by Archbishop José H. Gomez.
"Love each other, stay together, work hard," Maria said, adding that they are the secret ingredients to a long marriage. She first met her husband, who is two years older, when she was 12-years-old. They dated for five years before getting married in 1959.
Together they have eight children, five boys and three girls, all of whom married and had families of their own. The close-knit family often see one another even if just to grill in the backyard or play at the park with the kids.
"The children make sure that we are OK. They call and check in on us and include us in their activities," Maria said. "What's important is to stay together. Our children are excellent husbands and wives. They are excellent children. To me, they are perfect," Refugio added.
The wedding anniversaries ranged from 25 years to 70 years. As of July, Carlos and Madeline Rodriguez, both 98 years old, will celebrate 70 years of marriage. They have four children, two grandchildren, and two great-grandchildren.
Carlos said the celebration was wonderful, but added with a laugh, "It may be the last one we do. We're 98 years old!"
Archbishop Gomez initiated a standing ovation from the congregation for the couple, who attended the English Mass with one of their sons.
"God is calling you to share in his mission to renew the face of the earth by your love," Archbishop Gomez said during the homily. "Marriage is an act of faith, an act of discipleship. Marriage is about following Jesus. In entering into marriage, the husband and wife are each responding to the personal call of Jesus Christ."
He added, "Marriage is a journey of love, a journey of friendship that grows and deepens day by day. It is really a vocation."
Simon, 54, and Dolores Torres, 49, from Sun Valley were at the English Mass to renew their wedding vows after 30 years of marriage as of Feb. 4.
"As soon as I saw her it was love at first sight," said Simon.
Dolores added that it was the same for her. "He asked me out. He was very polite. He was a gentleman. He conquered my heart very soon." Together they have three children.
Both agreed that coming to church to renew their vows was important. "Faith is everything," Dolores said. "It makes you strong for life. The guidance of the Church is very important to us."
They advise young couples to begin every day with a clean slate. "You can't carry it over," said Simon about the importance of forgiveness. "There's not a perfect couple, but it's about respect."
"Just start a new beginning every day. Every morning. Love can fix everything. Everything is fixable if you talk to each other," Dolores added.
Simon is grateful for his wife and family. "We thank God that we are together, and we thank God for everything we have," he said. "I just hope I get many more years with my wife."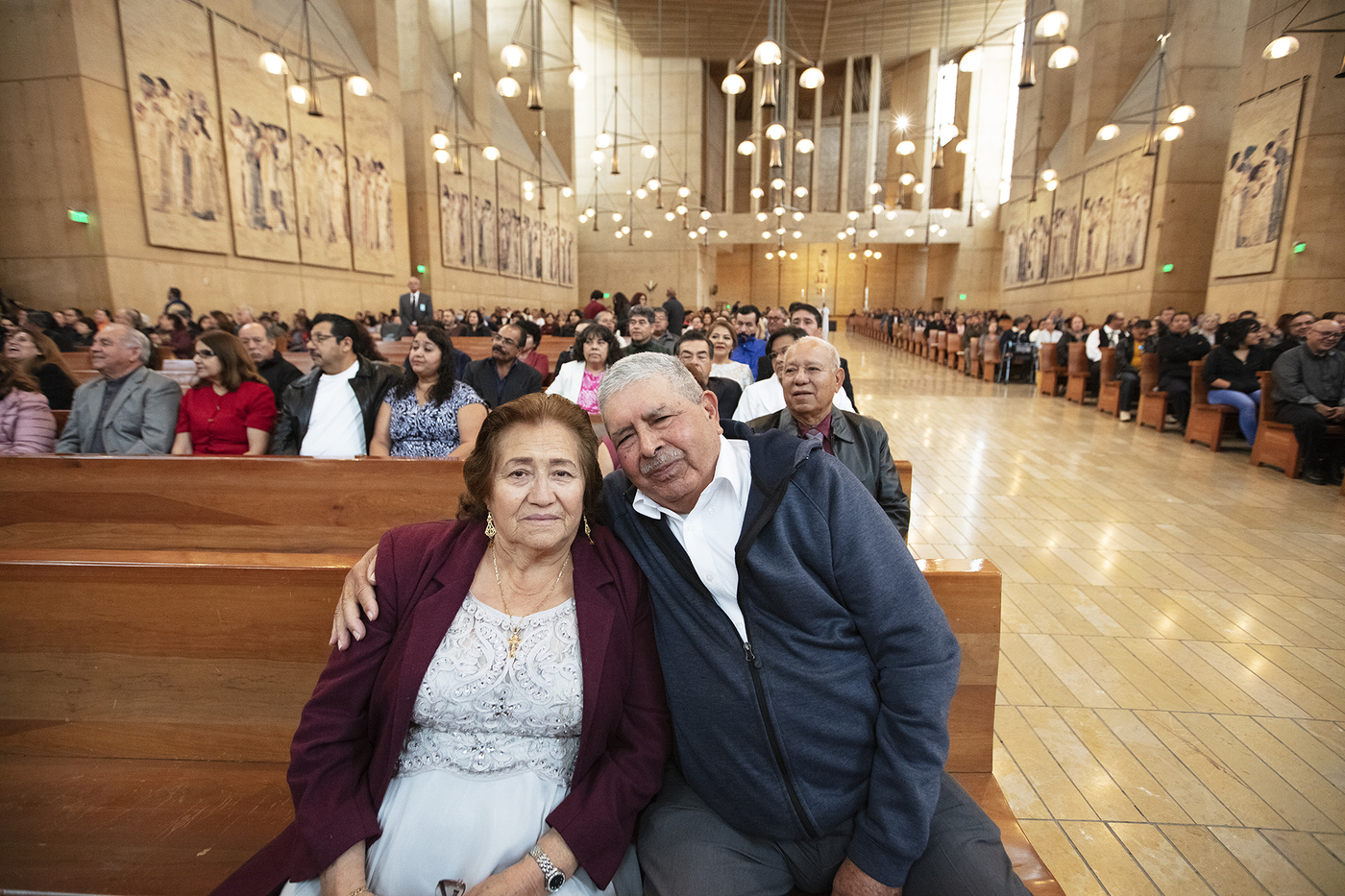 Start your day with Always Forward, our award-winning e-newsletter. Get this smart, handpicked selection of the day's top news, analysis, and opinion, delivered to your inbox. Sign up absolutely free today!