It is unusual to hear the sounding of the shofar — the blaring of a ram's horn to remind God of Abraham's faithfulness — except on the few high holy days of the Jewish calendar.
On November 11, however, not only did a notable rabbi sound the shofar on an ordinary day, but the blasts reverberated throughout a Catholic cathedral as part of a first-of-its-kind choral group performance, which brought together the talents of 250 members of both the Jewish and Catholic faiths.
Mark and Judy Aronson, members of the Makom LA synagogue, came to the Cathedral of Our Lady of the Angels to hear the interfaith choir switch back and forth between the traditional music of both religions. Judy described the experience saying, "For me this is coming home."
Judy told Angelus News that she was raised in Hartford, Connecticut, a place she describes as "a very ecumenical kind of town," and so she is familiar with differing religions supporting one another.
"I always thought I was actually a member of St. Justin's Church," she said, "because I used to walk my friends there. They would go to Catechism, and I would walk them to Catechism. And I would go to Hebrew school, and they'd walk me to Hebrew school. And that was the star in my life."
Kenneth Cohen of Temple Ahavat Shalom first envisioned the choral group after he accepted an invitation to speak to a group of Catholic cantors about his 35 years of experience as a Jewish cantor.
"We spoke of the power of music," Cohen said of his initial visit with the Catholic singers.
"How it changes the way we feel inside. How it opens our hearts. How music forges strong bonds between people. How it's a powerful force of healing in the world."
Joan Vos, the associate director for formation at the Archdiocese of Los Angeles Office of Worship, had initiated the invite after meeting Cohen at a luncheon at his synagogue. They both realized they had a common goal in mind.
"We hope that this musical offering tonight will leave us all inspired with more passion in our hearts to do the work of building the world according to the way of God's love," she said before the performance.
She also addressed the recent Pittsburgh shooting saying, "We hope that this evening will help to heal the suffering that we have all known over this past couple of weeks."
The event, which was titled "Blessings of the Earth," was initially intended to raise awareness on global warming, but the recent shooting in Pittsburgh where 11 were killed and six injured at a Jewish synagogue turned the evening into a time of healing and prayer.
Before cantor Lisa Peicott sang the Shema, a traditional daily Jewish prayer, Bishop Joseph V. Brennan denounced the violence and hate of the Pittsburgh shooter.
"They did not know that that day would be the last time they would say that prayer on this earth," he said of the members of the Jewish congregation who lost their lives to the shooter. "But I believe with all my heart they are praying it now in everlasting praise of God, who is love."
Mark said the event allowed for some healing after all the violence and natural disasters of the previous weeks, mentioning also the Malibu fires that prevented a few of his friends from attending the service and the shooting in Thousand Oaks. "This service here tonight is some sort of closure, hopefully, for this past week," he said, adding that he would never forget the tragic events.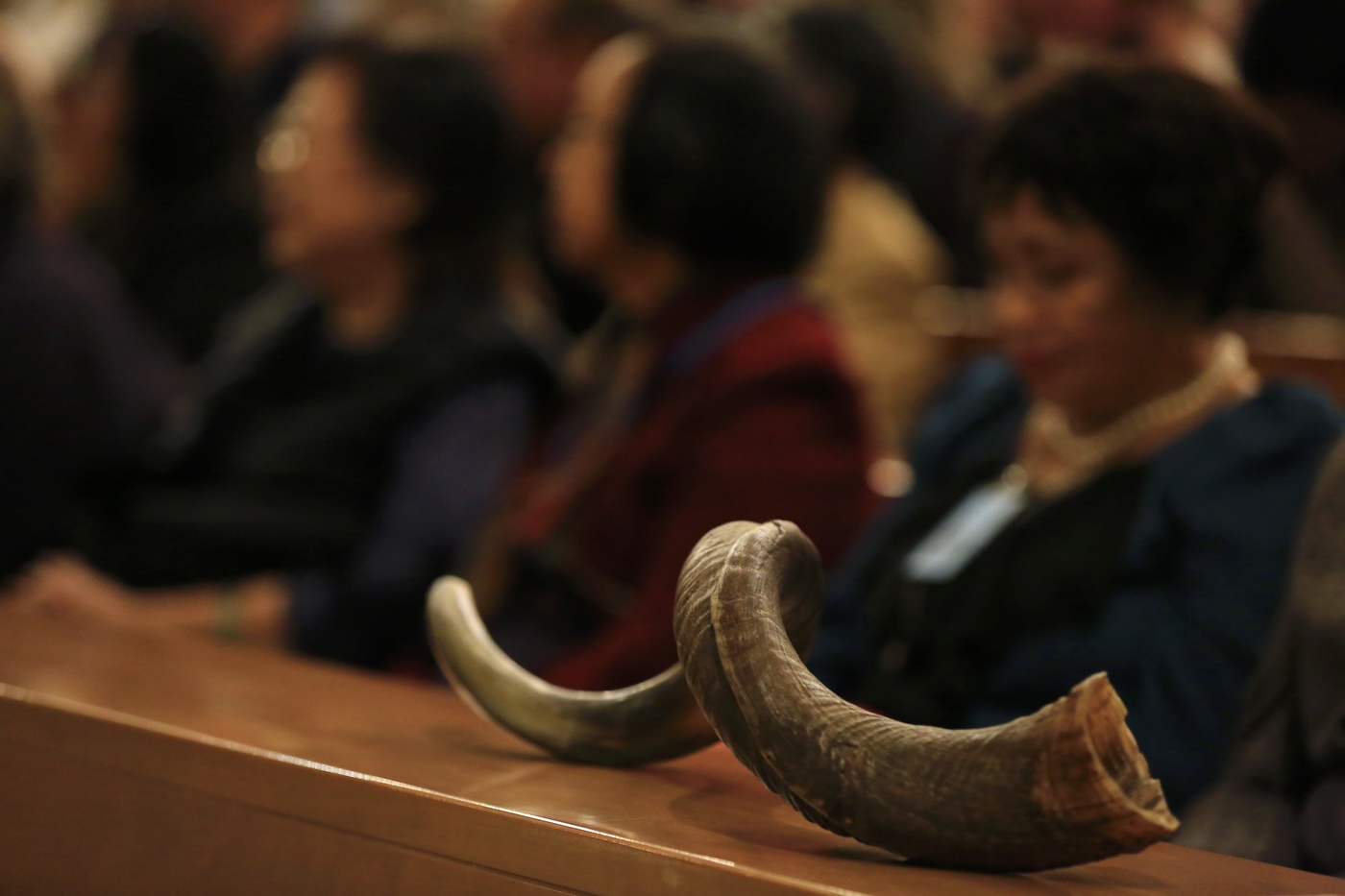 Rabbi Michael Lotker, who sounded the shofar, spoke about the importance of interfaith cooperation by mentioning some historic examples of the two faiths inadvertently benefiting from the other. "Tonight I am reminded of that holy day of Hanukkah. It's that other holiday in December, and Hanukkah is a perfect metaphor for what we are doing tonight."
He explained: "The holiday of Hanukkah is not in the Hebrew Bible, and we would know a lot less about Hanukkah, if it weren't for the Books of Maccabees preserved by the Catholic Church. Thank you, Catholic Church.
"But the holiday of Hanukkah was a successful revolt, which took place 160-some years before the birth of Jesus. So if it wasn't for Hanukkah, there might not be a Christmas. You're welcome, Catholic Church," he said to applause and laughter.
Mark and Judy hope to be able to attend similar events in the future. Judy, who holds a master's degree in History of Religion from Harvard University, said, "For me to be with a group of people of different faiths singing together is more joyous than anything I could ever imagine."
But she wants these ecumenical evenings to grow to include all religions. "I was thinking today of all the great Protestant traditions that were not included, and it would be wonderful to have that as well," she said before mentioning also her hope to include the Buddhist and Hindu faiths.
"Those were all my classmates," she said. "And I know that when we come together, we are very strong."
SPECIAL OFFER! 44 issues of Angelus for just $9.95! Get the finest in Catholic journalism with first-rate analysis of the events and trends shaping the Church and the world, plus the practical advice from the world's best spiritual writers on prayer and Catholic living, along with great features about Catholic life in Los Angeles. Subscribe now!