As the L.A. wildfires continue, Catholics reach out to serve those evacuated and those fighting the blazes
"The actual evacuation went very, very smooth. Walkers went first. Then those who needed walkers. And finally those who needed more assistance because they were in a wheelchair or something. It started at quarter of 7, and by 8:30 a.m. we were at our villa place on Westchester in Los Angeles. They had breakfast for us: scrambled eggs, bacon, plus fruit, coffee and yogurt. We were at the villa all day. And then by late afternoon, we were assigned to cars to go to apartments where our sisters live and Nazareth House for retired priests and St. John of God nursing home."
So explained Sister Dorothy Hrubosky. The 87-year-old member of the Sisters of St. Joseph of Carondelet, Los Angeles Province, was sitting in a rough semi-circle with five other members of her religious community at the Carondelet Center. The retirement and care facility on top of a hill in Brentwood was evacuated early Dec. 6 as the Skirball Fire, which started about 4 a.m. in a nearby homeless encampment, spread quickly north along the east side of the 405 Freeway. The fire hadn't jumped over it but the smoke was getting thick, posing serious lung problems for elderly residents.
"Were you scared," she was asked.
"Oh, heavens, no! They were so organized, and it was so calm and very peaceful. I knew God would take care of us," Sister Dorothy said with a chuckle.
The 98 sisters were able to return home to the Carondelet Center after three or four days. The Skirball Fire never jumped the 405, so nothing on the property was damaged.
Sisters Eileen Parker, 87, Elizabeth Malone, 91, Regina Clare Salazar, 89, and Cecil Therese Beresford, 91, readily agreed. There was no problem, no panic. Living in a fire area, and having the bedrock common sense of women religious, the community was totally prepared. Members had their red emergency bags all packed and ready to go as opposed to a Los Angeles Times headline: "Nearly 100 nuns at a nursing home near the Skirball Fire were evacuated. With nowhere to go, staff took them in."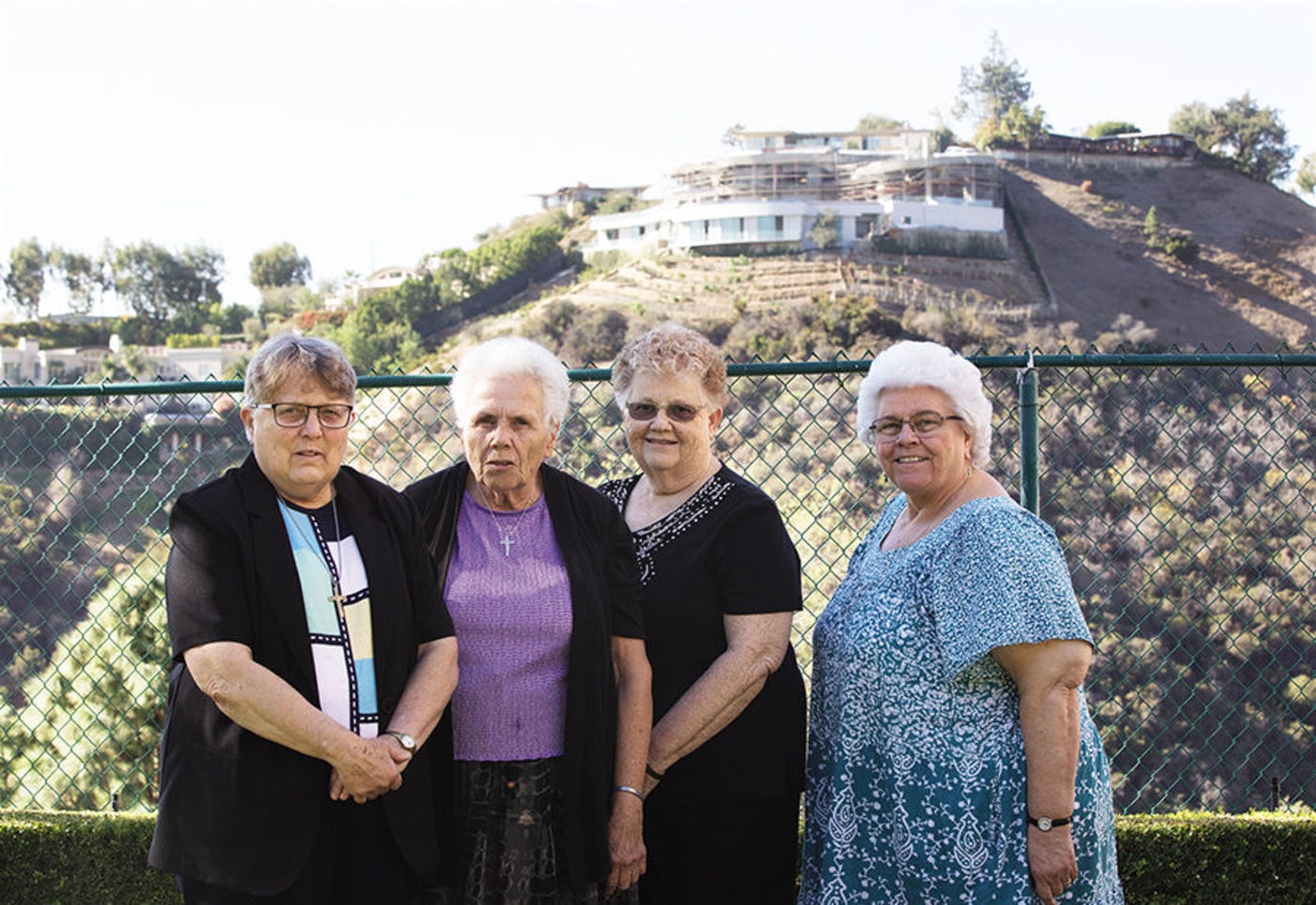 Thomas Fire not contained
Many homeowners weren't so lucky, with fires stretching from Ojai to San Diego and from California's coast to San Bernardino County. The final statistics of destruction — caused by Santa Ana gusts up to 80 miles per hours and record low humidity levels — won't be in until all of the fires are out. And while almost all are contained, the Thomas Fire continues headed towards Santa Barbara. More than 160,000 total acres have been burned as of Dec. 18, when Angelus went to press. Close to 900 homes and other structures have gone up in flames. Two deaths related to the fires have been reported. And over 8,300 firefighters have been deployed.
The parish of Mission San Buenaventura in Ventura was hit hard by the Thomas Fire. Father Thomas Elewaut told Angelus that he knows of several houses of parishioners and another 15 to 20 in Ventura's Our Lady of the Assumption Parish that were destroyed by the inferno.
The pastor and Santa Barbara's Auxiliary Bishop Robert Barron recently went to a Red Cross evacuation center.
"I was talking to one man," he said. "He broke down in tears because about five hours before that he had seen his house go up in flames. And even those who haven't lost their home but just had to be evacuated are having challenges with the smoke and ash — and the trauma of it. Some people weathered well and other people, understandably, are quite emotionally upset about it."
So what can you do for somebody who no longer has a house?
"Well, what I tell them is God loves them, and together we're gonna get through this," Father Elewaut pointed out. "But when they've lost everything, what do you say? You just say, 'I'm here with you. We're gonna pray about this. Yesterday, there was just a steady stream of people coming into the mission and praying five to ten minutes."
The pastor and the other priests plus a seminarian stayed in their rectory despite an evacuation recommendation. They just "hunkered down" without electricity for three days, making the best of it. He explained, "Because, personally, I feel like I'm the captain of the ship and have to do whatever I can to make sure the mission is safe."
The mission has offered its industrial-sized kitchen, parish hall and parking lot to the World Central Kitchen nonprofit to prepare hot gourmet meals for firefighters and fire victims. Some 2,000 complete lunches, dinners and sometimes even breakfasts are prepared and packaged every day to go out to evacuation centers for displaced people and to first responders by 5 p.m. Some of the daily 100-plus volunteers who help out the professional chefs daily belong to the parish. "Offering our facilities is the least we could do," said Father Elewaut.
"We find that the faith of these fire victims is strong," he reported. "I mean, that's the glue that's holding many of them together. We haven't heard anyone ask 'Why did God do this to us?' Instead they say 'We wish God will help us and take care of us.' They've been very strong people of faith and very hopeful: 'We'll rebuild. We'll get through this.'"
After a moment, the pastor added, "My mantra, which a nun had taught me years ago, is that 'We may not have it all together, but together we have it all.'"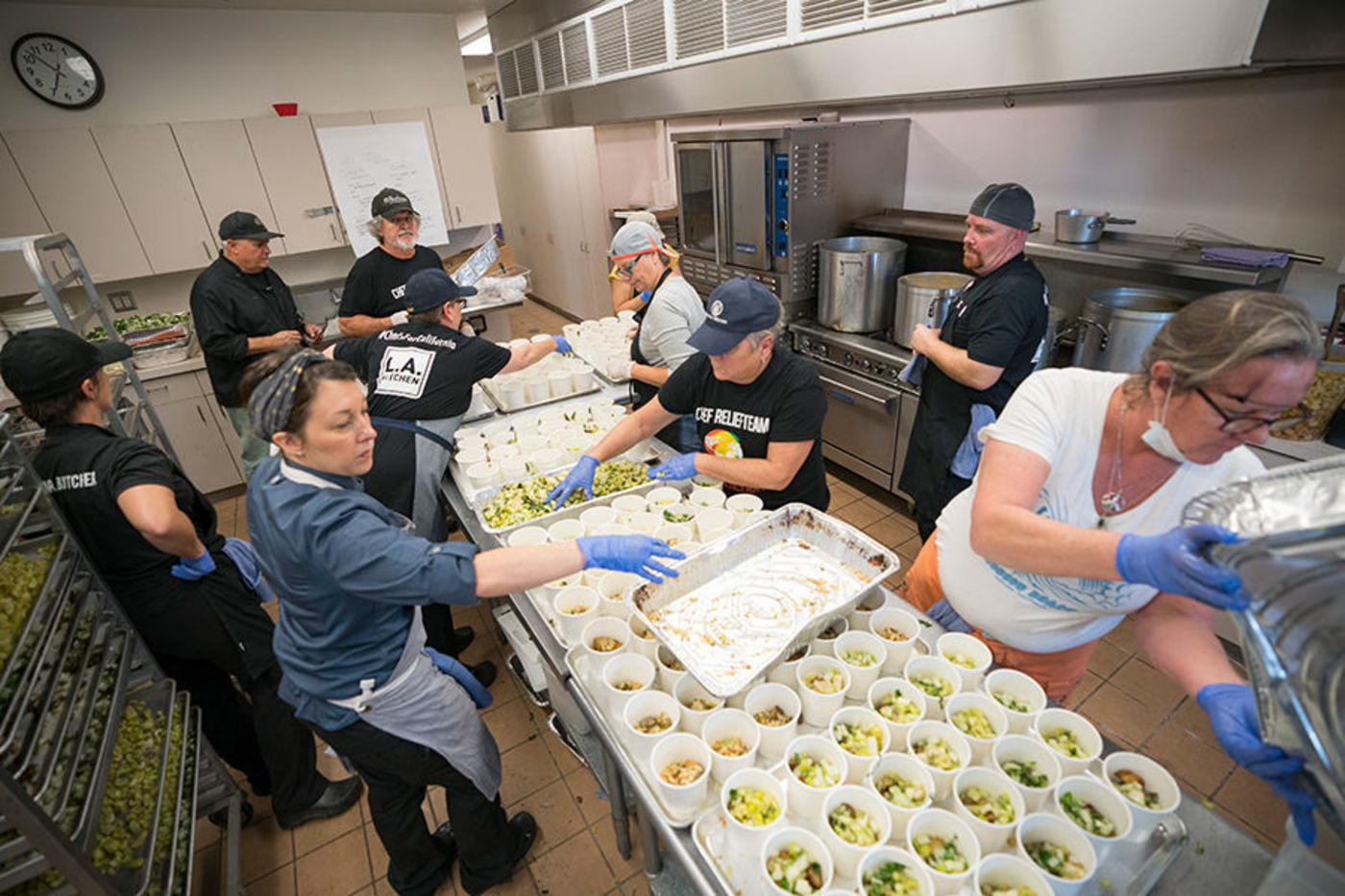 Catholic Charities, St. Vincent de Paul respond
Daniel Grimm is Catholic Charities of Los Angeles' regional director for both Ventura and Santa Barbara counties. "We have been serving an awful lot of people," he told Angelus. "And we have been the recipient of a great outpouring of generosity on the part of people across the country sending things from many states: clothing and socks, and underwear and food, and money to Catholic Charities of Los Angeles. So, really, it's been wonderful."
The people who have sought immediate help have been the people who always need help.
"We've been issuing a lot of blankets and sleeping bags," he said. "A lot of people who have been coming to us are the homeless who live in the fire area. And, of course, they have no shelter and everything they have is horribly contaminated with the ash and the smoke. So they've been coming for water and masks to wear and new beddings. Stuff like that.
"So many of them live in the Ventura River creak bottom. It's been entirely surrounded by fire. But the creak bottom didn't burn, thank God. If that happened, many of them would have died."
Catholic Charity sites in Ventura, Santa Barbara and, especially, Carpinteria have also been providing clothing and some financial help to people who lost their homes. But not the million dollar mansions that dot Montecito and Santa Barbara. Those homeowners can help themselves, he said. And most have good fire insurance.
"Disasters in our communities are a little different," Grimm said. "A lot of people have resources to handle it. We are here for any who don't. And we're trying to be creative about the ways we can help people. The thing that we're thinking about right now a lot is the marginal people whose income depends on gardening and housekeeping in those big houses
"Or people working in restaurants and shops. All of that is collapsing. With the horrible smoke, nobody is going out to eat, nobody's doing gardening. So we're looking at doing some more rent relief and utilities relief."
Pretty much the same goes for the Society of St. Vincent de Paul. David Garcia, operations director, also said the majority of families whose big houses in the hills were burnt down are probably not going to be seeking assistance. But the people who work for them will be. The society's parish conferences most affected by the still growing Thomas Fire are Our Lady of Guadalupe and St. Sebastian, both in Santa Paula. Working class folks there, who lived in destroyed apartments, were going to need assistance getting into new places.
"We're not first responders," he said. "The Red Cross takes care of that. The people we serve usually come in later. Because these people will need financial help with housing deposits and first month's rent. That's something the society helps with. And as soon as these people get resettled, they are gonna need furniture, and we have a free distribution program through our stores. We can provide beds and any furniture people might need.
"We've done that before for families displaced by a trailer park fire in Oxnard. So we'll probably be doing the same thing now."
The other parish really affected by the fires was Our Lady of the Assumption in Ventura where a number of houses burnt to the ground.
"Right now we're assessing the need and trying to come up with some funding to help those parish conferences as soon as the phone calls start," said Garcia. "And talk about horrible timing. It's Christmas."
"Ministry of presence"
Currently, crews are working around the clock shifts to keep the Thomas Fire from engulfing thousands of homes in Montecito and Santa Barbara. The massive blaze over 270,000 acres has already burnt nearly1,000 homes and buildings, forcing more than 100,000 Californians to evacuate their homes. Over 8,400 firefighters and 400 fire engines are still no match for the fire driven by Santa Ana and Sundowner winds.
The bishop of the Santa Barbara pastoral region has been out visiting evacuation centers talking to victims and also meeting with his priests.
"It's mostly a ministry of presence," Auxiliary Bishop Robert Barron told Angelus after celebrating Mass on Dec. 17 at St. Joseph Church in Carpinteria, a coastal town in south Santa Barbara County. "I mean, to give any kind of explanation is kind of fruitless. I think it's mostly, you sit with people, you hold their hand as they cry and tell their story, and you listen. You bring the care of the Church in your person. There's not much you can really do in terms of explaining things."
But he's also been offering concrete help — telling fire victims about different Catholic agencies like Catholic Charities, the Society of St. Vincent de Paul and the Knights of Columbus. Plus, he's brainstormed with local priests about getting money from the Cardinal McIntyre Funds for Charity as quickly as possible. He noted how outside of losing a loved one, one of the most devastating things a person can go through is having your home destroyed.
"Everyone up here is living on tenterhooks, living with anxiety," he reported. "So that's where the Church can just generally come in to help people and calm their fears. I especially feel for the elderly who are living on their own. And they're facing the prospect of evacuation, which is pretty scary. I've been encouraging people to, you know, pray for each other, to notice the good works being done with God's presence and grace."
Interested in more? Subscribe to Angelus News to get daily articles sent to your inbox.