All Sister Mary Elizabeth Galt, BVM, ever really wanted to be was a grade-school teacher. She honed her first tutorial skills not by practicing teaching in college or graduate school, but by looking for the nearest pupil she could find. 
"I used to harass my poor little sister, Kathy, trying to teach her. Poor little thing!" chuckled Sister Mary Elizabeth in an interview with Angelus. 
"I had three older sisters and a brother, but she was the only one who would let me teach her. So I bugged her all the time." 
"But," the lifelong teacher was quick to add, "she was well prepared for school!"
Entering religious life was also always in the back of her mind. She had two books about the lives of the saints — one for canonized men, the other for canonized women — and would read them over and over until the edges of their pages were frayed.
"I thought naively I was going to be a saint when I grew up," she said with a chuckle.
Those were the first steps in a journey that eventually brought Sister Mary Elizabeth to serve as chancellor of the largest Catholic diocese in the country. And now, after more than a half-century of service in the Archdiocese of Los Angeles, she is ready for the next chapter. 
"In July I'll be 79, and that's why it's time to retire," Sister Mary Elizabeth said. "The thing that I would honestly say is I have been totally blessed with a career, a profession — whatever you want to call it — in the archdiocese. I really have been blessed."
Sister Mary Elizabeth's calling to the classroom and her vocation to religious life were both nurtured at St. Brendan's School in the Hancock Park-area of Los Angeles, which was staffed by the Sisters of Charity of the Blessed Virgin Mary (BVM).
"They really seemed to care about the kids, the students," she said of the nuns who educated her. "They would be on the playground at recess time. I found that they really liked us. And they were fun. They just seemed to always be there and enjoyed it.
"And they were good teachers, I'll tell you," she stressed. "Excellent teachers."
After graduating from St. Mary's Academy in South LA (the campus moved to its present location in Inglewood a few years later), she entered religious life right out of high school. The religious order she chose to enter was none other than the "BVMs." Later she went off to study at Mundelein College in Chicago, where she earned a Bachelor of Arts in 1964.
Upon returning to Los Angeles that same year, she started teaching sixth-graders at Our Lady of Lourdes School in Tujunga. After three years, it was on to St. Philip's School in Pasadena teaching other grades. Her favorite was first grade, however, where learning to read was the No. 1 lesson.
"Think about it," said Sister Mary Elizabeth. "A child goes into first grade and learns those squiggly marks on a paper really mean something. It's a little like magic. And they learn the joy of reading. And I was determined to help them."
After St. Philip's, she spent a total of 13 years at St. Robert Bellarmine School in Burbank, first as a teacher, then as principal for the last six years. 
"I told you I can't keep a job," she quipped while recounting her employment history.
Next came a one-year international fellowship at the University of Nottingham in England studying curriculum development and comparative education from 1982 to 1983. There,  something about the country's educational system really surprised her, and it wasn't how the residents believed in the legend of Robin Hood stealing from the rich to give to the poor.
"Their educational philosophy was so different," she recalled. "It wasn't the teacher's job to teach reading or whatever. It was the child's job to learn. The responsibility was put on the child. And I found that amazing. So if the student didn't learn to read, that's too bad. Here we would make sure the students in our schools would learn."
Upon returning from England, the classroom and administration veteran expected she'd be tasked with another assignment as a principal at a Catholic school. But she was offered a post as an elementary school supervisor in the San Fernando Pastoral Region of the archdiocese. She accepted, and worked there for eight years. 
In 1991, she became associate superintendent of all elementary Catholic schools in the archdiocese, and in 2000 was named superintendent of elementary schools.
But three years later, the religious sister was confronted with a radical ministerial shift when then-Archbishop Cardinal Roger Mahony's vicar general at the time, Msgr. Royale Vadakin, asked her to become the Archdiocese of Los Angeles' second woman chancellor, replacing Sister Cecilia Louise Moore.
"Well, I was in shock," she recalled when asked about her reaction to the offer. "You have to remember, Sister CL, as she was called, had a Ph.D. in chemistry. I taught first grade. Just a little difference there."
Instead, Sister Mary Elizabeth gave Msgr. Vadakin a list of the names of the women she thought he should choose from.
Msgr. Vadakin responded by asking her to talk to Sister Moore. 
'She was very good, very helpful in changing my mind," remembered Sister Mary Elizabeth. "She said, 'No, at this time you're the right person.' So I accepted."
That was back in 2003, at the height of the clerical sexual abuse crisis, a moment that Sister Mary Elizabeth described as "a horrifying time."
"There were so many decisions that had to be made. That was a terrible time."
Sister Mary Elizabeth credits prayer and the advice of coworkers for helping her embrace the "tremendous pressure" on the archdiocese at the time to bolster its child protection policies. That included coordinating its response and ensuring its compliance with regular audits from the United States Conference of Catholic Bishops (USCCB). 
As chancellor, she was also responsible for collecting all the necessary data from around the archdiocese, including from departments like the Vicar for Clergy's office, the Department of Catholic Schools, and the Office of Religious Education.
Today, she strongly believes that children in local Catholic schools and parishes are safer than ever before. The last time the auditors made an on-site visit to Los Angeles, they paid the "highest compliment" to the archdiocese, reporting something that really struck her.
"They said they had never seen in any archdiocese or diocese here in the United States departments and ministries work so well together to develop and carry out a comprehensive plan to protect youth from being abused," said Sister Mary Elizabeth. "And that made me proud."
As the second female chancellor in the archdiocese, Sister Mary Elizabeth believes that women bring a different, more maternal perspective to the job. Today, she looks back with gratitude, saying it's an opportunity she's very glad to have had.
"I have always felt respected as a woman religious," she pointed out. "When I was a principal, I felt the pastor respected me. And I felt that even when I was a school supervisor and went out to different schools. And I have to say, I've always felt respected certainly by Cardinal Mahony and now Archbishop Gomez. They always respected my opinion."
When she started as a sixth-grade teacher at Our Lady of Lourdes School, Sister Mary Elizabeth said she "never, never" imagined she would one day end up retiring from this position. She's most grateful for the "wonderful people" she's worked with, especially her assistant, Gerri Spray, who has worked with her since she took on the job. 
Stopping to gather her thoughts, Sister Mary Elizabeth looked for something to say that could sum up her 56 years serving the Archdiocese of Los Angeles. 
"I've been blessed unbelievably."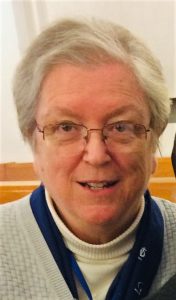 A new chancellor for LA Catholics
A member of the Sisters of Notre Dame (SND), Sister Mary Anncarla Costello is no stranger to the archdiocese, having served as the Vicar for Women Religious from 2004 to 2011. 
After teaching at high schools in the LA and Ventura Counties, Sister Mary Anncarla spent six years in community administration at the congregational level at the SND Motherhouse in Rome, Italy.  
"My experience in the archdiocese gave me a glimpse into the life of our local Church," she told Angelus. "My time in Rome at the heart of the congregation and the Church gave me a broader vision into the world beyond Los Angeles, beyond California, and beyond the United States." 
Sister Mary Anncarla said she is thankful for Archbishop José H. Gomez's trust in her. 
"I view this new ministry as a privilege to minister with him, my coworkers at the Archdiocesan Catholic Center and my sisters and brothers in the archdiocese," she said. 
She also had words of gratitude for Sister Mary Elizabeth Galt, whom she calls "not only a friend, but a mentor to me for the years we worked together."
"I thank her not only for ministry well done, but for her support as I continue in her footsteps."
Sister Mary Anncarla's tenure as chancellor begins in early June.