His life could easily be defined by the hundreds of games and dozens of championships his Santa Clara High School teams won. But Lou Cvijanovich had a broader vision for his players that extended beyond final scores or names on a trophy.
"For him, coaching wasn't about accolades, or wins and losses," said Bob Swisher, who served as a player in the 1970s and assistant coach in the 1980s for the legendary leader of Santa Clara's basketball team.
"Teaching us about life was Coach's main thing — taking a group of kids and showing them that if you work together and put your mind to it, you can overcome obstacles anywhere, whether on the basketball court or in life. 'Without hard work,' he said, 'you go nowhere — but with it, you accomplish so much more than you think you can.' "
Swisher, who now teaches and works with at-risk youth in the San Diego School District, was one of many former players, colleagues, and friends who came to a public viewing November 30 at Reardon Mortuary in Oxnard for Cvijanovich, 92, who died November 24 at home in Oxnard, following a long battle with cancer and a heart ailment.
And Swisher was one of many who spoke about the man who, in 41 years at Santa Clara, compiled one of the greatest coaching records in California prep history, yet is remembered by those who knew him for far more than wins and losses.
"He made me the man I am today," Swisher said, struggling to contain his emotions, as he introduced his adult son to a visitor. "I named my son Luka — that was Coach's given name, and I was proud to give it to my son."
On this pleasant Friday afternoon, visitors at the mortuary stopped to greet, offer condolences, and share stories with members of the Cvijanovich family. They spoke of games won in the last minute, of dominant and not-so-dominant seasons, and of enjoying time with the man forever known as "Coach C."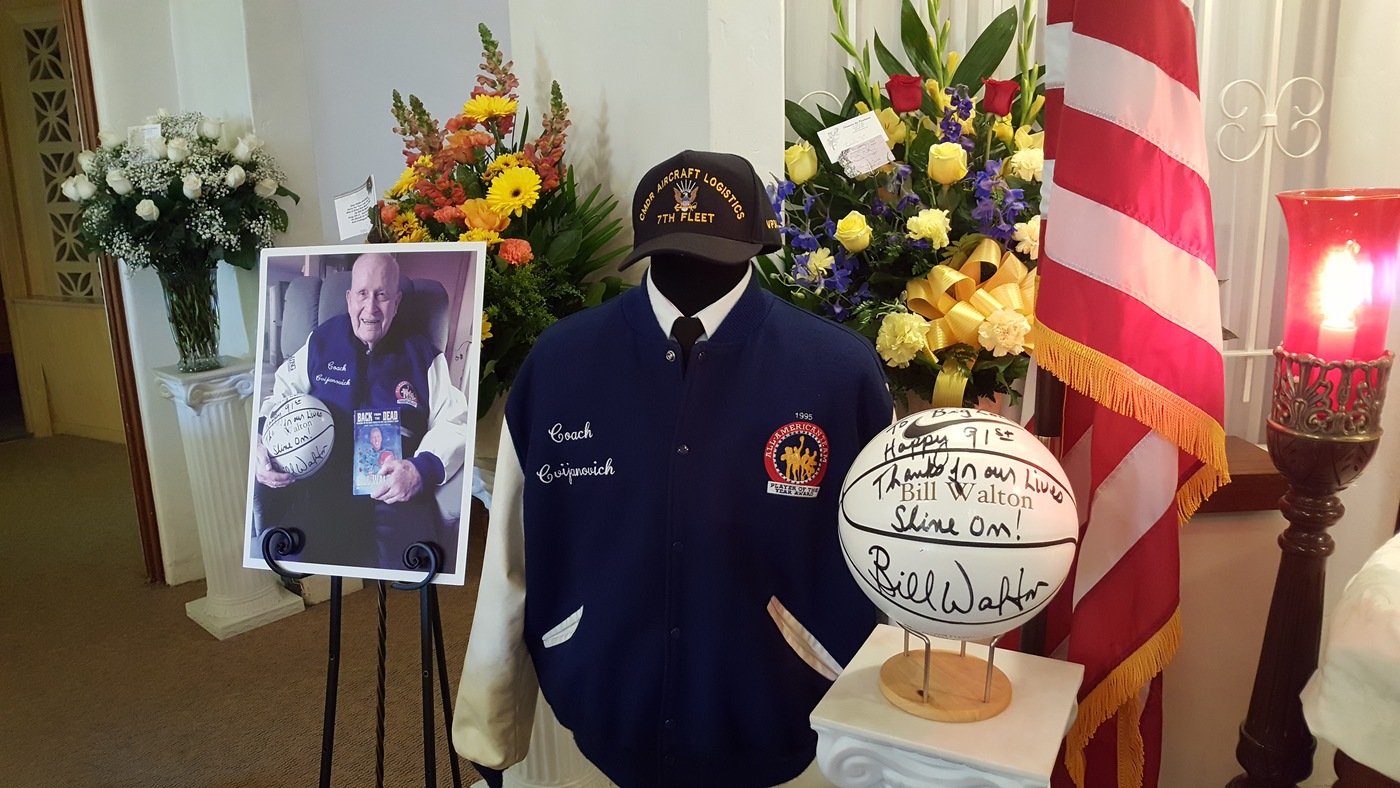 A few also recalled how, uh, challenging Cvijanovich could be at times, especially if he thought the effort wasn't as maximum as it should be.
"Yeah, he could get a little, let's say, raw at times," smiled Scott Cvijanovich, the sixth of the eight Cvijanovich children and a member of the 1980 CIF-Southern Section championship team. "I think for myself and my siblings who played for him, he held us to higher expectations than everyone else, so he'd get more raw with us."
"It probably wasn't as bad for the girls," chuckled Sue Cvijanovich, the fifth child (and oldest of two daughters), who played for Santa Clara in the mid-1970s. "Dad wasn't our coach, but he'd help out if we made the playoffs and he let us know when we were falling short."
And yet, the Cvijanovich children noted, their father knew when to apply the brake, so to speak.
"He was very forgiving and supportive, as a coach and as a father," said Sue. "If you made a mistake, he'd sit down with you, analyze what happened and help you figure out how to do better next time."
"Athletics were only a small part of what he was trying to teach us," added Stacey Cvijanovich, the youngest of the eight and the CIF-SS Player of the Year for the 1985 Santa Clara CIF-SS champions. "It was more about respect, discipline, and giving 100 percent. If you were making the effort, it was OK to make mistakes as long as you learn from them."
"He had an innate sense of who could take how much criticism," added Scott, "so he would back off before it got out of hand. And he never cut anyone from his team, either."
Never?
"Never," Scott repeated firmly. "Because for years, Santa Clara basketball was the biggest event in town on a Tuesday or Friday night, and kids grew up dreaming of wearing the Santa Clara uniform, of playing for the Saints. And Dad knew that, so if a kid came out for the team, Dad made sure he had a uniform and that he felt welcome."
"He encouraged the nonathlete kids, those who might have been cut right away at another school, to stay with the program, maybe to become team managers or statisticians," said Sue. "He created a real sense of community that way."
His own family was a community in itself. Born in Arizona to Yugoslavian immigrants, Luka Cvijanovich Jr. was an all-state athlete and U.S. Navy veteran who, in 1948, married the former Martha Sue Stanley.
After graduating from Arizona State, Cvijanovich moved his family to California and taught in Ventura County junior high and high schools before coming to Santa Clara in 1958.
As he built a local powerhouse in basketball (and coached football and baseball as well), he and Martha built their family: Sam, Stefan, Stan, Stuart, Sue, Scotty, Sherri, and Stacey.
"He was a great dad, but we had him only part of the time," smiled Sue. "He gave his life to the school."
At Santa Clara, Cvijanovich swept the basketball court, lined the football field and taught year-round — impressive at any school, and certainly for a Serbian Orthodox coach at a Catholic school.
"Dad wasn't Catholic," said Scott, "but he had great faith, and one of the things he was most proud of was receiving an apostolic blessing from Pope John Paul II."
Before he retired from coaching in 1999, Cvijanovich had become friends with legendary UCLA Coach John Wooden, whose principles he tried to incorporate into his own philosophy.
"Dad evolved as basketball evolved, from a more deliberate offense to more wide open," said Sue. "He was a real student of the game, and was one of the first to take his players to summer leagues, to clinics, anything to make them better."
Along the way, Cvijanovich developed his own set of admiring colleagues, perhaps none moreso than Mater Dei's Gary McKnight, who has surpassed Cvijanovich as the state's all-time high school coaching leader in games won. That was clear the day before he died.
"Coach McKnight was taking his team to Santa Barbara for a game, but he went out of his way to stop in Oxnard," Scott noted proudly. "He and Coach Pat Frank [of St. Bonaventure High, who played for Cvijanovich in the 1970s] spent more than an hour with Dad, and that
means so much to us that they took that time to be with him."
Much more meaningful, Coach C might say, than any championship.
Lou Cvijanovich is survived by Martha, his wife of nearly 70 years, and their eight children, seven grandchildren and four great-grandchildren, plus many nieces, nephews, and grand-nieces and nephews. A Celebration of Life will take place December 15, 2 p.m., at Santa Clara High School. Donations may be made to the Coach C Scholarship Fund at Santa Clara High School, 2121 S. Saviers Road, Oxnard, CA 93030.
Mike Nelson is the former editor of The Tidings (predecessor of Angelus News).
SPECIAL OFFER! 44 issues of Angelus for just $9.95! Get the finest in Catholic journalism with first-rate analysis of the events and trends shaping the Church and the world, plus the practical advice from the world's best spiritual writers on prayer and Catholic living, along with great features about Catholic life in Los Angeles. Subscribe now!