When he was told that Pope Francis had appointed him to be the next bishop of the Fresno Diocese, Los Angeles Auxiliary Bishop Joseph V. Brennan was surprised.
He shouldn't have been.
The son of a San Fernando Valley grocer and the ninth of 10 children, he speaks fluent Spanish, and has a twin brother living in the diocese he will lead — a 35,000 square-mile territory with about 1.2 million Catholics situated in the heart of California's agriculture-rich San Joaquin Valley, known as America's "salad bowl" and the "food basket for the world."
A native Angeleno, Brennan served in several parishes around the archdiocese and as vicar general before Francis named him an auxiliary bishop for Los Angeles in 2015, together with Bishops Robert E. Barron and David G. O'Connell — a trio reportedly referred to by Pope Francis as "the triplets."
Brennan's appointment to Fresno was announced March 5 in Rome. The 64-year-old Brennan will succeed retiring Bishop Armando X. Ochoa, a former Los Angeles auxiliary bishop who has shepherded the Fresno Diocese since 2012.
His appointment coincided with the announcement that Pope Francis had named Msgr. Alex D. Aclan as LA's newest auxiliary bishop. Aclan, who most recently served as the archdiocese's vicar for clergy, is expected to replace Brennan as episcopal vicar for LA's San Fernando Pastoral Region.
A few days before the Vatican's official announcement, Brennan sat down for an exclusive interview.
He spoke of growing up in a "Catholic bubble," his vocation to the priesthood, and what Catholics in the Diocese of Fresno can expect from him. The following is an edited transcript of our conversation.
Tell me a little bit about where you come from.
JB: I grew up in Van Nuys, here in the San Fernando Valley. I have six brothers and three sisters.
I'm number nine out of 10, so, yeah, I'm almost the baby. I have a twin brother, Terrence, and then a younger brother, and we were known in the family as the three little boys. They still call us the three little boys, even though we're not little, or boys, anymore.
My twin is married, with kids and grandkids. Actually he lives in the very southern part of the Diocese of Fresno. I can't wait to tell him I'm going to be his boss.
Did the pope know that when he named you?
The pope did not know that. I don't know if the pope knows me — if he did, he probably wouldn't have made this decision!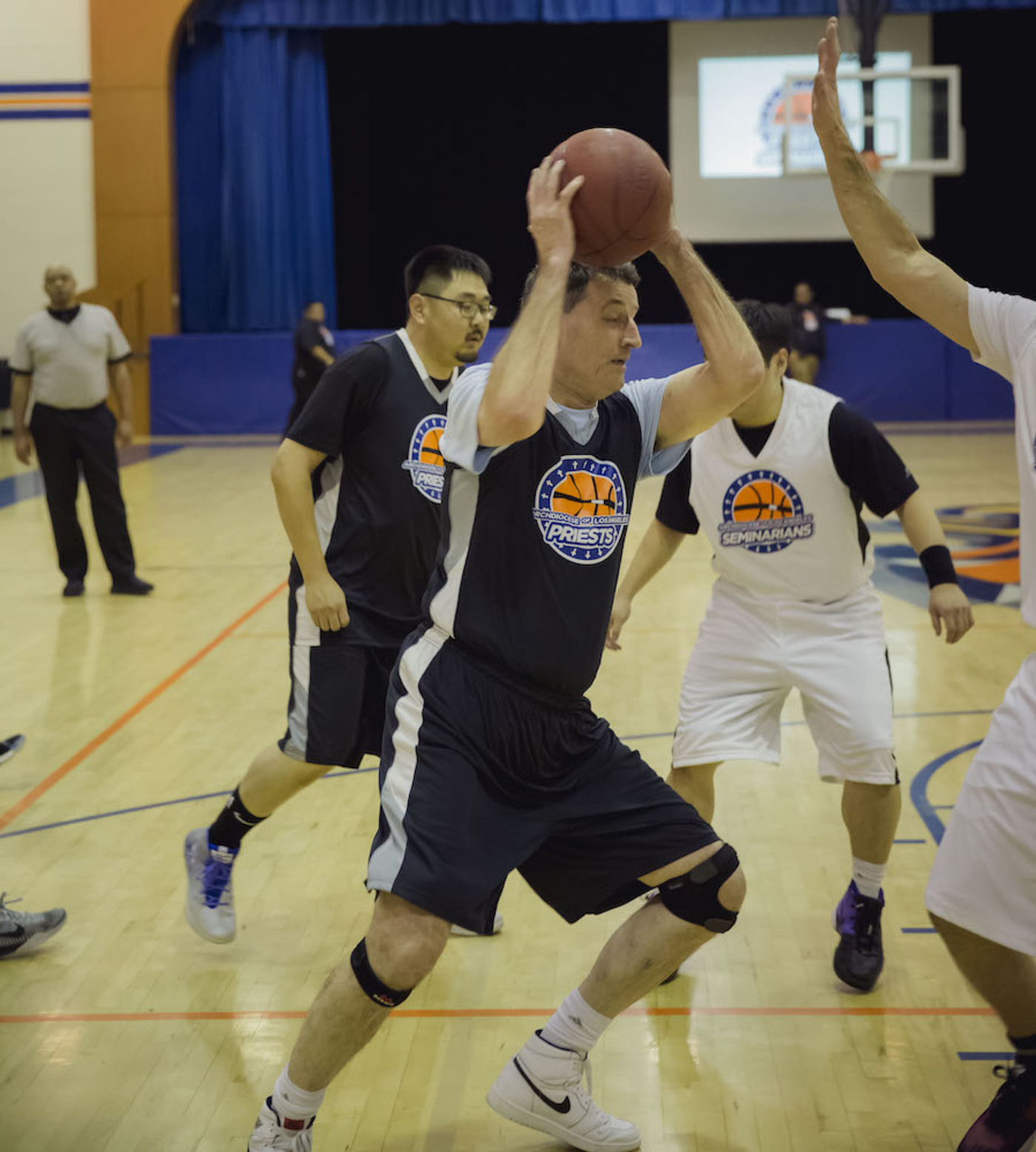 What was your growing up like, and what led you to hear the call to the priesthood?
Growing up in the San Fernando Valley was absolutely the most wonderful time to grow up, I think: a lovely kind of social, cultural, Catholic bubble. We were a block away from St. Elisabeth in Van Nuys, our home parish.
The seeds of the vocation were planted at home, but certainly encouraged by our Catholic school upbringing there at St. Elizabeth's, where we had great young Irish priests as our associate pastors, and a curmudgeonly tough old Irish pastor, Msgr. Patrick F. O'Dwyer, of whom everyone was deathly afraid.
My Uncle John, or "Father John" was instrumental. He was an incredible inspiration, along with these awesome Irish priests. When he could come over for dinner on Sunday, he never really dressed as a priest; it was his time to relax and let his hair down. Black shoes, black pants, and he always wore a flannel shirt.
So it wasn't the uniform that attracted me, it was the person. It was just this obvious love of God that he had, this immense wisdom in his heart. Someone that, after being with him a few minutes, you can't get enough, and you wanted to be like him, because he's just so good.
Was there a single moment when you felt the call to the priesthood?
It was Sept. 21, 1973. It was the day when I really felt the Lord speak through the Scriptures, in an absolute, no-doubt-about-it way, the likes of which I had never experienced before, and really haven't experienced since, although I've tried to manufacture those moments.
Here I am, freshman year at the University of Portland, and I'm blessed in every way, I'm just immensely happy, and so the question shifted. I was intent on going back and teach, I was going to study literature, I was going to maybe coach basketball, because I couldn't play it.
And it just wouldn't go away, and the question shifted. Before, the question was all about me: What do I want to do, where do I want to go, what do I want to do with this? And so it shifted, I was bursting, so I had to talk to somebody.
There was a wonderful priest there, Father Fred Barr, the campus minister. We talked for an hour, and I gathered that God wants me to be a priest, but I don't know.
I gave him all the reasons why I shouldn't be one: Not good enough, holy enough, smart enough — the litany. And that's all true, it was then, and is now. He walked me through it and he asked me if I wanted to serve Mass for him. I said, yeah, sure.
It was the feast of Saint Matthew. I'll never forget the Scripture, because it hit me right between the eyes. He asked me to read the reading — it was Saint Paul's letter to the Ephesians, Chapter 4, and it began: "I plead with you as a prisoner of the Lord to lead a life worthy of the calling you have received."
It stopped me in my tracks. And then the Gospel of Matthew is so simple: Jesus was walking by the tax collector's table. He looked at Matthew and said, "Follow me." Matthew got up and followed him. Gospel of the Lord.
He can call a tax collector, he can call a sinner — that's what he does. He doesn't call us in spite of it, he calls us because of it.
I knew I had to try. I was never absolutely sure about the vocation until Cardinal Manning imposed his hands on me on the day of ordination. Then I knew. I was pretty sure, I knew I had to try, the call was clear, but you can run away from a call. You can ignore it, and cause great sadness in your life by doing so, but you can.
How did you find out about the recent appointment to Fresno?
Well, it was on President's Day,  Feb. 18, 2019, a day which shall go down in infamy (laughs). Another one of those moments that's etched in your heart forever.
Archbishop Christophe Pierre (the apostolic nuncio to the United States) had been trying to get in touch with me.
When I finally got through to him, he said, "Well, you're hard to find." "Well, yes, I am, Archbishop, I'm a busy guy — not as busy as you," I said.
And we had a little laugh, and then he said, well, you're going to Fresno. It hit me like a ton of bricks, because it's life-altering, it's life-changing. And I had to hold it together during the phone call, which I managed.
You didn't expect it at all?
No, not at all. Honestly, I fully expected to end my days in the San Fernando Valley where I was born and raised. I've been the regional bishop there for three years, and I love, I love "El Jefe." I do. I love Archbishop Gomez. You can put that in writing.
I've said this to other people, I've said it before: I'd do anything for him, including being vicar general again, even though I was hoping he'd never ask me to do that again. But if he asked, I would do it. I wouldn't do it for anybody else, but I would do it for him.
So that's how it happens; you get a phone call and it does change your life.
You're going to another diocese with a very large Latino population. How's your Spanish?
I took the perfunctory two years of Spanish in high school, and just to get it over with. That was my attitude, I was going to study English, not Spanish. Then, as soon as I went to St. John's Seminary, I was introduced to and fell in love with Our Lady of Guadalupe.
I realized then that if I'm going to be of service, and do a full measure of whatever I'm capable of by God's grace in the Archdiocese of Los Angeles, I've got to learn Spanish. But it was more than that, I just, I fell in love with that language, and the culture, and the people. I've been to language school twice in Mexico.
So yeah, I'm pretty good at Spanish, I certainly can preach in it, I can carry on a conversation. I get in over my head fairly quickly if it's a very deep and personal kind of counseling situation. I'm still there, but I become much more of a listener in those situations, and that's not a bad thing anyway.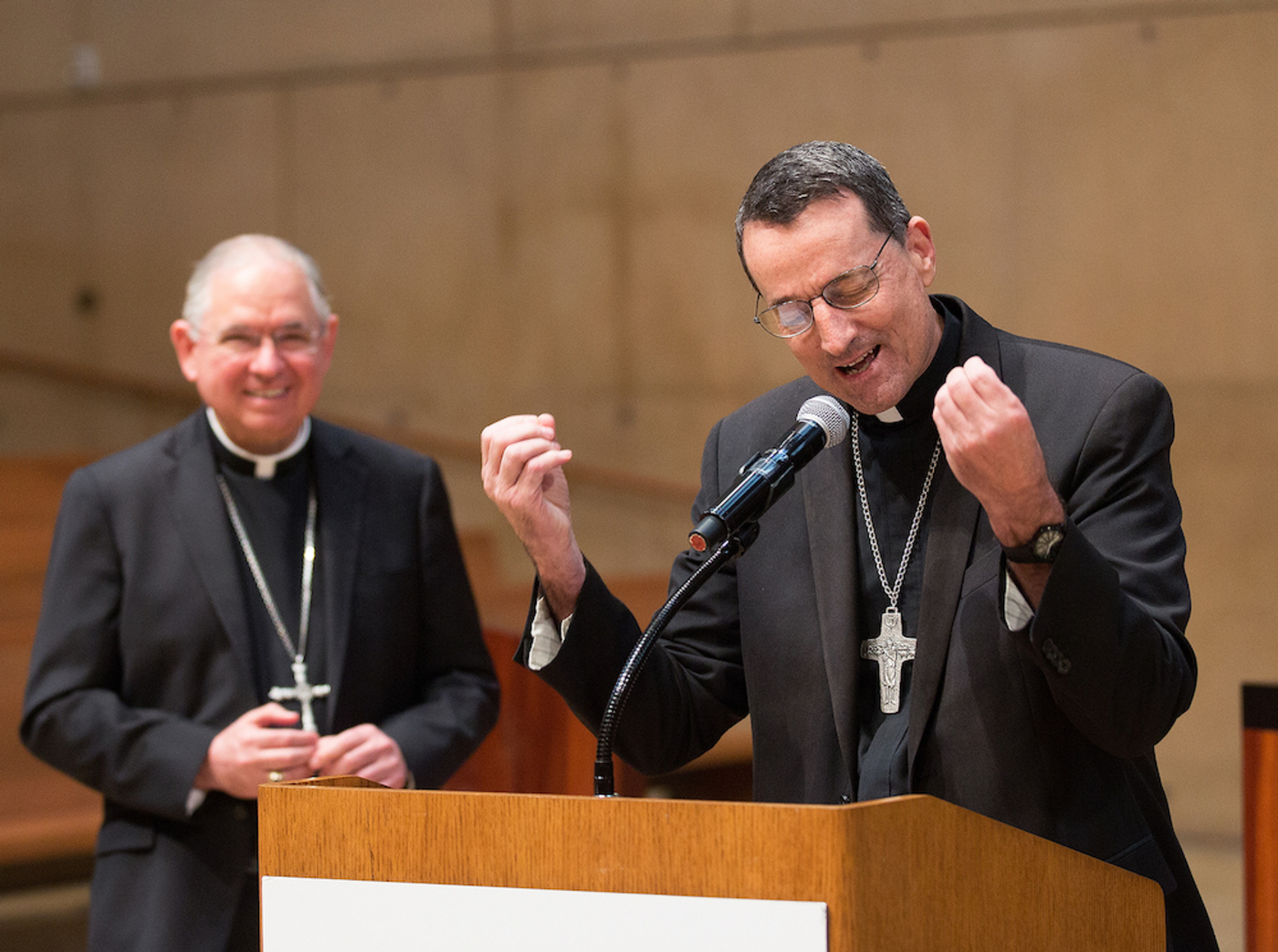 Pope Francis has made one of the themes of his pontificate to go out to the peripheries. Now he's sending you to Fresno, which comprises a big geographical territory, with lots of agriculture, lots of towns, long distances, and a large migrant population. What do you see your mission as in these "peripheries"?
Well, I'm going to put tons of mileage on whatever vehicle they give me, or I have to buy — I don't even know how that works in Fresno. I'll find out. I want to get into the fields. Fresno itself has homeless and has immigrants — all looking for a better life.
I want to get into the fields for lots of reasons. I think migrant workers need lots of support, they need spiritual sustenance. The San Joaquin Valley practically feeds the world in many ways.
I don't want to forget the growers. I wonder, I don't know if there's a Catholic growers association, but if there isn't, I'd like to start one. And build bridges between their workers, upon whom we depend and they depend.
I have some roots, agriculturally speaking. You can say that I'm involved in all phases in my family history: My grandpa was a farmer in Arkansas, so that's production. And then my dad was a grocer, so distribution. My sister Kathy, my oldest sister in heaven, followed in my father's footsteps as a grocer, and being involved in that business.
And then I'm in the consumption business, so all three ends are taken care of by the Brennan family — and I do my part (laughs).
The people who work, the people who produce, the ones who take the risk of ownership and administration too, that's immense. And we have huge issues with water supply, water quality, land use in the Central Valley, and in all of California. Those are huge issues, and I'm not up to speed at all on those.
Do you think the Church has a role to play in those issues?
Absolutely, because they impact the daily life of our people. Farmers need lots of water, and water quality, fair and equitable use, the distribution of those resources — those are questions of fairness, equity, justice.
It's going to be 3 1/2 years since you were named a bishop. You chose as your motto "Caritas Christi Urget Nos." ("For the love of Christ impels us…"). How has that motto guided you in the last three years in San Fernando, and what does it mean for your new assignment?
Well, it's, absolutely that: It's the love of Christ that impels us. There are different translations for that; the love of Christ urges us, I guess literally, "urget nos."
And for me, it's personal in this way, as I was sharing with you, I sometimes end up in places I wouldn't have gone otherwise, that I would never have chosen for myself. So sometimes, once in a while in my life, I need to be impelled, I need to be urged.
I'm not exactly a reluctant shepherd, but I do need to be encouraged. And sometimes urged into areas where I would have some fear and trepidation. So that motto guides my life.
It seems like any talk about the Church nowadays is clouded by the sexual abuse crisis. How do you see your mission as a bishop in these difficult times?
Victim-survivors have to be our focus. And that also in a context of perpetual vigilance and perpetual care. Care for those who've been on the receiving end of such heinous, horrific behavior; those who've been on the receiving end of crimes, spiritual and physical.
So, on an episcopal level, as a bishop, continuing the crafting up and the implementation of, I think, real and concrete protocols that apply to everyone, bishops included.
This recent gathering in Rome by the presidents of conferences of bishops from all over the world gave us what I was hoping it would give us, and that's a green light for what we [the U.S. Catholic bishops] were hoping to do in November [at the bishops' annual meeting in Baltimore].
But looking back on it, as disappointed as we all were at what happened in November, that in a sense, we were asked to put on the brakes and were told by Rome "not so fast" — there's wisdom in the pope's decision, because it's given us time to hone and to really craft, even better, some of those recommendations. And they'll be proposed and voted on in June.
But if any bishop thinks that somehow, this situation, this crisis, is somehow behind us — they're wrong. Because maybe as humans, and I think, maybe even bishops have this disease more than others, we sometimes want to put things in our rearview mirror that don't belong there, as if to say, "Well, phew, that's behind us now, that's done, that's solved."
No, this is nothing that you can solve. It's only something you can work through and live through and do your best to prevent, because even one instance is one too many, anywhere in the world.
So we've got to be careful about patting ourselves on the back. We can't compare ourselves to other people.
We have to compare ourselves to Christ, because when we compare ourselves to other people and other institutions, and we'll either come out looking pretty good in our own estimation, or, say, "Well, I'm not as bad as he or she is."
That's not a good moral compass; the moral compass needs to be much more challenging than that. I think my role as bishop is to hold myself accountable to that, and to hold that up for the people I hope to serve and shepherd.