When nuns give concerts — even ones with flashing lights, contemporary music, and a drummer — costume changes are out of the question.
But the Daughters of Saint Paul know how to create an entertaining evening while staying true to their traditional religious habit and to their mission of evangelization.
On December 15 and 16 at the Barnum Hall in Los Angeles, the group of singing nuns rotated between wearing silk sleeves, waving red hats and dancing through a selection of musical numbers that included both traditional and contemporary Christmas songs.
The two LA performances were the final leg of the sisters' 2018 Glorious Night tour, which included stops in New York, Boston, St. Louis, Cleveland, and New Orleans.
In between each song, a sister elaborated on a spiritual lesson based on a personal experience, giving audience members a glimpse into the world of convent life.
"One of the really great things about this performance is that [the sisters] really demonstrate that they are just real people at the end of the day," Fr. Tom Gibbons told Angelus News. Fr. Gibbons is the director of development at Paulist Productions, a faith-based media company that often collaborates with the sisters' publishing house, Pauline Books and Media.
The audience's standing ovation and demand for an encore showed that the nuns had been successful at displaying talent and conveying a spiritual component.
One notable story during the concert came from Sr. Julia Mary Darrenkamp. She told the audience that at the age of 13, she and her best friend came across the novel "The Song of Bernadette" at the public library. Both she and her friend were Protestant but the book sparked their interest in Mary, someone they had only heard about from the nativity story.
During a trip to Philadelphia, the two friends came across a Catholic bookstore and bought a stack of books on the lives of the saints — but the sister at the checkout counter decided to add one more: the Catechism of the Catholic Church.
"Long story short my girlfriend and I both became Catholic together. And we entered the convent together. And after 45 years we are still together," Sr. Julia Mary said to loud applause as a picture of the two nuns appeared on a stage screen.
"So we just want to make a plug for the value of a good book and what a good book can do for you. It can actually change your life."
Sr. Julia Mary is the illustrator for a number of books sold through Pauline Books and Media. After the concert, she signed copies of her latest project, "Our Blessed Mother: The Story of Mary for Children."
Sr. Nancy Usselmann, FSP national director, shared a story about her aversion to becoming a nun. She became more open to the idea when she met the Daughters of Saint Paul and realized that they were evangelizing through movies, music and books.
"I had my plans and that wasn't part of it to the point where I'd even pray after Communion when I'd go to Mass, I'd say to the Blessed Mother, 'Help me to know my vocation but just not to be a nun.' "
After accepting the possibility of religious life, she decided to enter when she was 17.
"Here I am 30-some years later. I'm part of this amazing musical group. And I'm a film reviewer for Hollywood. And I wrote a book about movies, music and God."
Fr. Gibbon commented on Sr. Nancy's story, saying, "I think too often today we tend not to look at religious life or at religious vocations as viable options.
"I just encourage people to think of it as an option. Don't take it off the table. If you are thinking about being a dentist or thinking about a stockbroker…keep religious life in the mix of that."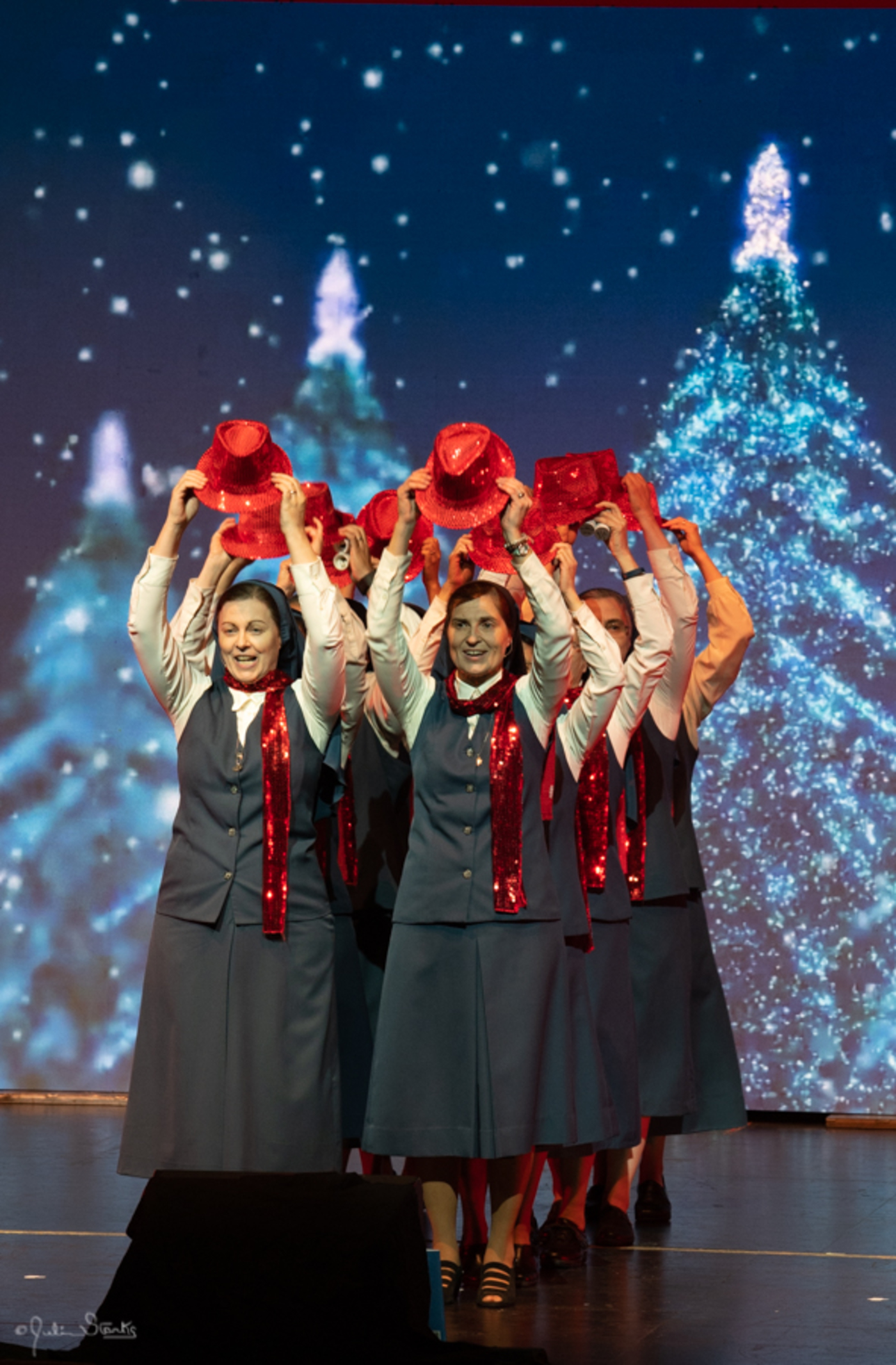 The coast-to-coast concert tour is a continuation of a time-honored tradition of concerts from the media-oriented religious order, but in recent years, the sisters have taken a more modern approach to the tour.
Years ago, the nuns performed as a traditional choir. "I don't even think they moved their eyeballs," Sr. Nancy Usselmann joked during the concert.
Still, Sr. Nancy says traditional music is important. "I challenge you to pay close attention to the words. The Lord can really touch our hearts through these really traditional hymns."
Start your day with Always Forward, our award-winning e-newsletter. Get this smart, handpicked selection of the day's top news, analysis, and opinion, delivered to your inbox. Sign up absolutely free today!