For a woman pregnant with her eighth child, Abby Johnson's task was not an easy one: Speak before tens of thousands of people at two separate pro-life rallies just hours apart on opposite sides of the country.
So what was it that convinced the 38-year-old to come to this year's OneLife LA one day after speaking at the 2019 March for Life in Washington D.C.?
"When tens of thousands of people show up to proclaim life, I think it's important for as many of us who speak on a national platform to show up and help them keep up the fight," said the activist and author, whose decision 10 years ago to quit as a Planned Parenthood clinic director has led to a movie about her life coming out in March.
"Here in California, when you're in a battle both spiritually and legislatively, people know what's at stake and you need the community to fight that battle," said Johnson, who was set to speak at a "Rally for Life" in Austin, Texas the following week. "That's why the crowds come. It's why I came."
On Saturday, January 19, an estimated 15,000 people made their way to the fifth-annual celebration of life from conception to natural death. It started with a walk from La Placita Olvera and worked its way around some puddles and mud that had collected at the Los Angeles State Historic Park after a week's worth of rain.
Spirits, however, were not dampened for those who entered the park past a banner that read: "Proclaim Life. Defend Life. Embrace Life."
Archbishop José H. Gomez addressed the enthusiastic crowd as it gathered in the park just after the march on the warm afternoon, thanking those who "are living lives of self-sacrifice, generosity and service."
He called Jan. 22, 1973, when the U.S. Supreme Court made abortion legal, a "dark day." But he added: "We are going to be people of light. God's light is the light of life."
Archbishop Gomez called for not just a change in laws, but for a change in hearts.
"We need to keep working to be a society where children are cherished," said the archbishop, who founded OneLife LA in 2015. "Let's make Los Angeles a place that really supports mothers and fathers, children and families. Let's make Los Angeles a place where life is loved and protected. Especially those most weak and vulnerable. The sick and the elderly, the lonely and the mentally ill. The disabled and the poor. The prisoner. The migrant. The refugee. The most vulnerable of all is the child in the womb.
"This is what OneLife LA is all about. This is our vision."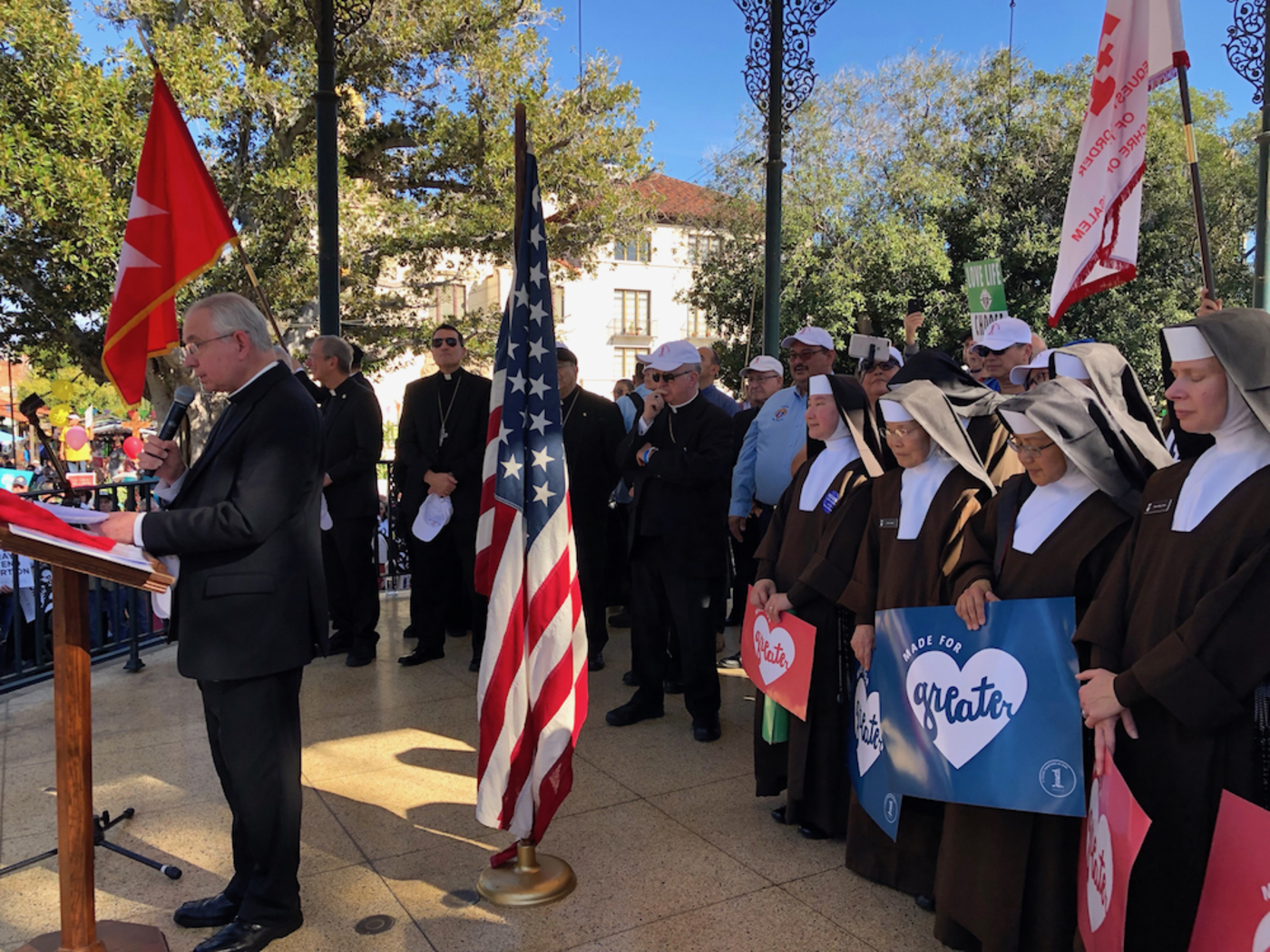 Christine Rich of Palos Verdes, a member of the OneLife LA advisory board since its inception, said she wanted to support Archbishop Gomez vision and co-founded a mission-based company called My Saint My Hero, which also created special bracelets for OneLife LA.
She said it was important to come with friends from Holy Trinity Parish in San Pedro because, as much as she may have wanted to be in Washington D.C. for the National March for Life, "this was a way to be here and show what we believe in."
"We already know what so much division in our world brings today," Rich added. "But who works on unity? We should stop talking about what divides us and look toward what unifies us. We need to get out of our bubble and broaden our spectrum, stop thinking about ourselves and see where we can work together, where we are the same person working side by side with each other."
Holding a handmade sign that read "All Lives Matter," with photos of her family's baby pictures, Mary Beth Garcia of Whittier, a parishioner at St. Bruno Catholic Church, stood in the shade the march began at La Placita, not far from a youth rally held to the sounds of Christian music. She said she felt compelled to come to her first OneLife LA event with her teenage niece, Jill.
"I want her to understand what is going on with the issue of abortion, how it's not the best alternative, and how there is a community here who can come together and support life," said Garcia.
Among those present belonging to various holy orders, Sister Meredith and Sister Mary Clare of the Carmelites Sisters of the Most Sacred Heart of Los Angeles watched from the crowd and were pleased by what they witnessed.
Sister Meredith, who works in the order's mission advancement office in Alhambra, pointed out that it was important for the nuns to be visible to the crowd, but "also for the youth to see each other, because they can easily go along with mass thinking. Pro-life can be a mass mentality that's not always highlighted in the media. It's encouraging for themselves to visually see the goodness here."
Sister Mary Clare, assigned to Marycrest Manor skilled senior care nursing facility in Culver City, added that for those who might have been hesitant about showing support for something that could be politically charged, "this feels like this is an event that is a safe place to encounter faith. There are a number of organizations represented here, because it's about realizing every human person, no matter where they are in life, is totally and completely loved by God. Our job is to love them that same way."
Among the organizations present, ranging from pregnancy clinics and foster care, services for homeless youths, support for those who survive human trafficking and connecting those who need help with the sick and dying, Teresa Garay of the Hollywood Hills said she was honored to be part of the Alzheimer's L.A. representation.
"This is a time to put aside all political positions, and to get information out as the overriding cause," said Garay, who added that she was on a county commission working on women's health issues and explained how many of the issues overlap when it comes to mental illness affecting the homeless and those who are without health care.
A dozen speakers and singers took to the main stage over a two-hour period, addressing attendees from congregations and colleges across Southern California.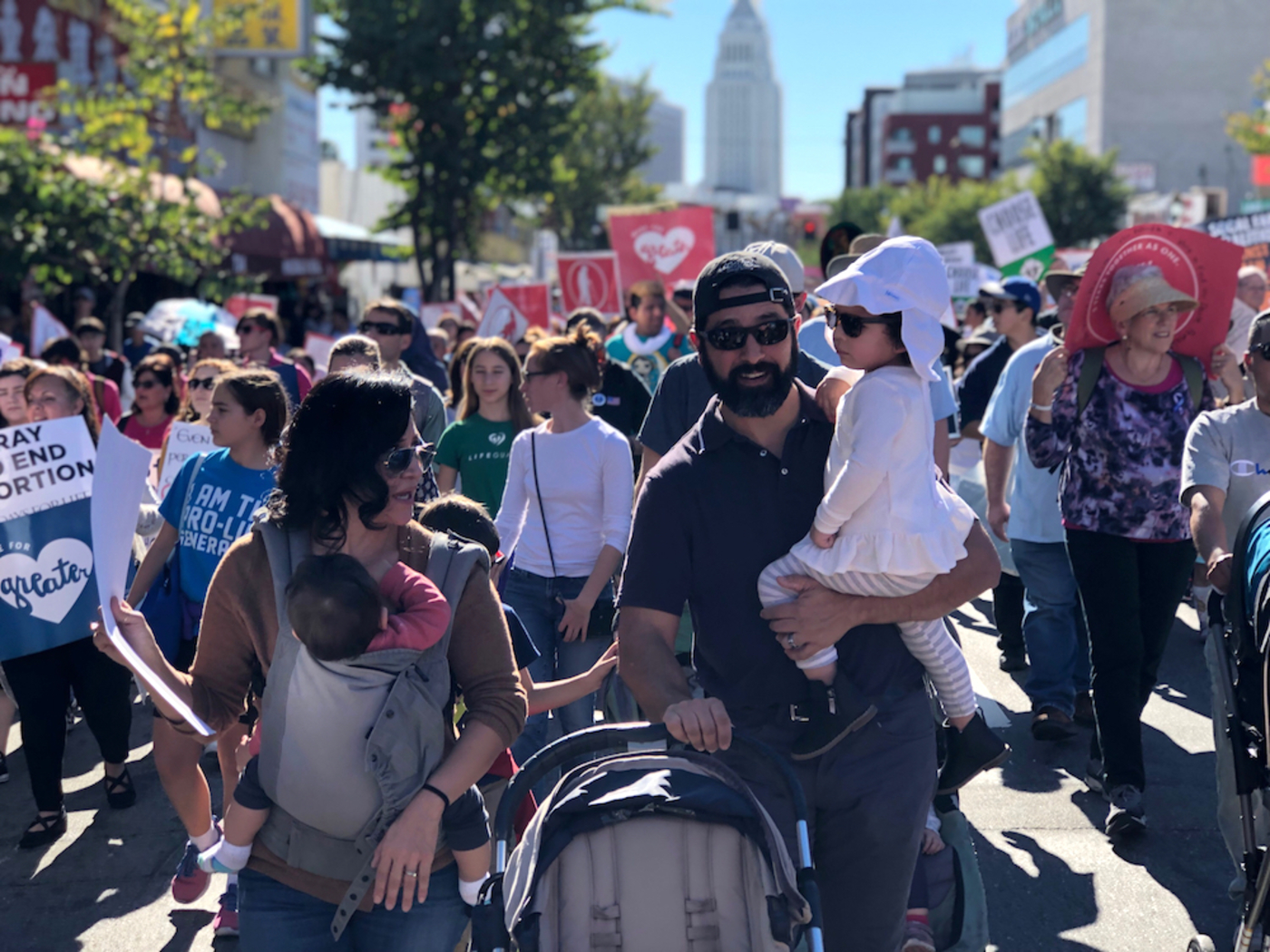 Beatriz Sandoval spoke in Spanish about her experience as a suddenly homeless mother of two teenage girls and an ailing husband who "let my Latina pride" get in the way of their family hardship. Turning to her community at St. John the Baptist in Baldwin Park, she was able to overcome any embarrassment she had and "I learned how to receive compassion, receive hope and receive love."
Sandoval is now a field organizer and housing justice advocate for "Everyone In L.A.," a local campaign dealing with homelessness.
She found it poignant that as participants made the mile-long march through Chinatown and past iconic places of hope such as the Homeboy Industry offices, all could see first-hand the issues with those living on the sidewalks with makeshift protection from the elements. She realizes she was not that far removed from that kind of reality.
"It is easy to turn your face away and look to the other side of the street," said Sandoval. "But we need to do something, and do it with love. They are part of our community. Part of my community. This is an opportunity to show compassion and educate our community about being homeless."
During her afternoon speech, Johnson informed the crowd about the efforts in her non-profit And Then There Were None movement where "we love abortion clinic workers out of the industry" and have so far "converted" about 500, including two who were in attendance.
Johnson also explained the upcoming arrival of "Unplanned" (based on a book by Johnson of the same name) in theaters nationwide on March 29, bringing actress Ashley Bratcher onto the stage to speak.
Bratcher said she knew very little about Johnson when reading a brief description about the movie that she auditioned for. But after getting up to speed watching videos of her testimony, Bratcher said she was "shaken to my core" and wanted the role. She flew to Oklahoma for eight weeks of filming. Four days into the movie shoot, she told about a conversation she had with her mother.
"I knew that when she was in high school, she had an abortion at 16, so here I was explaining to her what this movie was about," said Bratcher. "She started crying. She told me -- for the first time -- that she was in a clinic when she was pregnant with me when she was 19. She was on the table about to have me aborted. But for some reason, she got off the table and left. She said: 'I choose you.'"
"Right then, I knew that God plans our steps. He has brought me full circle in this story. I think this movie will change our culture."
As Johnson stressed the importance of practicing empathy, showing God's mercy and keeping faith in the power behind a pro-life philosophy, Johnson endorsed Archbishop Gomez's emphasis on focusing not on just one or two issues, but remembering there is a larger picture.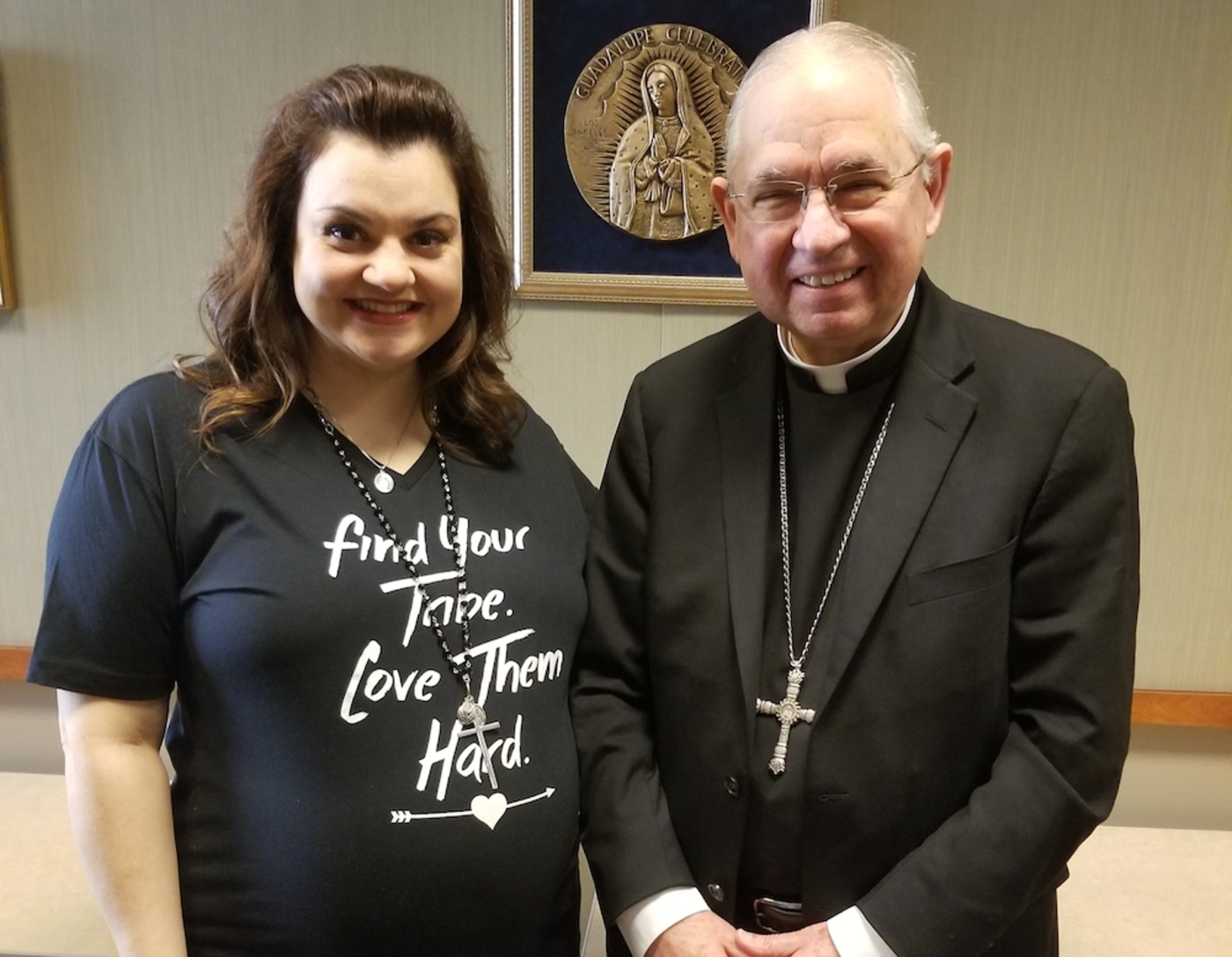 "It's easy to get pigeonholed on one subject, but it's important for anyone who is pro-life to consider taking on a consistent life position," Johnson said before her speech during a gathering backstage. "We care about all human dignity. I'm a fighter for social justice, and I recognize that social justice does begin in the womb. The unborn are the most marginalized in our society. We cannot take the lives of innocent human beings with abortion.
"But I'm also a strong fighter against the death penalty. My family is involved with the homeless community efforts. There is the care of immigrants for their wellbeing.
"We need to be bridge builders, right? The Catholic Church has an answer for you on all these issues. Some may think Catholics are only about this or that, but it is really the only institution, and the largest institution, that truly fights for the human dignity of all."
SPECIAL OFFER! 44 issues of Angelus for just $9.95! Get the finest in Catholic journalism with first-rate analysis of the events and trends shaping the Church and the world, plus the practical advice from the world's best spiritual writers on prayer and Catholic living, along with great features about Catholic life in Los Angeles. Subscribe now!