At his first community forum, Chief Michel Moore signals new level of collaboration with L.A. youth & families on immigrant rights, Muslim community relations, racial justice, de-escalation & rebuilding trust
Before the packed pews of Boyle Heights's Dolores Mission, newly sworn Los Angeles Police Department Chief of Police Michel Moore listened carefully to the demands, expectations and experiences of community activists and religious leaders. The night's agenda included calls for a goal of zero police shootings, new approaches to Muslim and immigrant community relations and a higher level of trust and respect from the police to the community in the nation's second largest city.
Thursday evening, leaders and members of LA Voice, a nationally recognized grassroots coalition of faith-based, immigrant-rights, racial-justice and youth development organizations, hosted the first community forum attended by Chief Moore. The "Transformation Agenda" for the LAPD presented by LA Voice reflects the commonly held goals of the 40,000 youth and families served by the network of 57 religious organizations.
"We gathered here tonight as the faces of diverse communities who have often felt that the LAPD was enforcing lines of separation and division, and in deep need of repair," said Reverend Zachary Hoover of LA Voice. "We appreciate that Chief Moore listened to our testimony, and we believe that he has heard our voices tonight. We have a long way to go to repair trust, but tonight was a step toward working together as active partners to create the relationship that we believe to be possible and that we know to be necessary."
The discussion included a public commitment by Moore that the LAPD would no longer base its approach to the Muslim community in the Counter-Terrorism and Special Operations Bureau. "After our fight for so long, we have achieved a starting point of bringing the Muslim community to be seen based on its Islamic principles of health, security and protection," said Umar Hakim, Director of the ILM Foundation. "Our next step is to organize."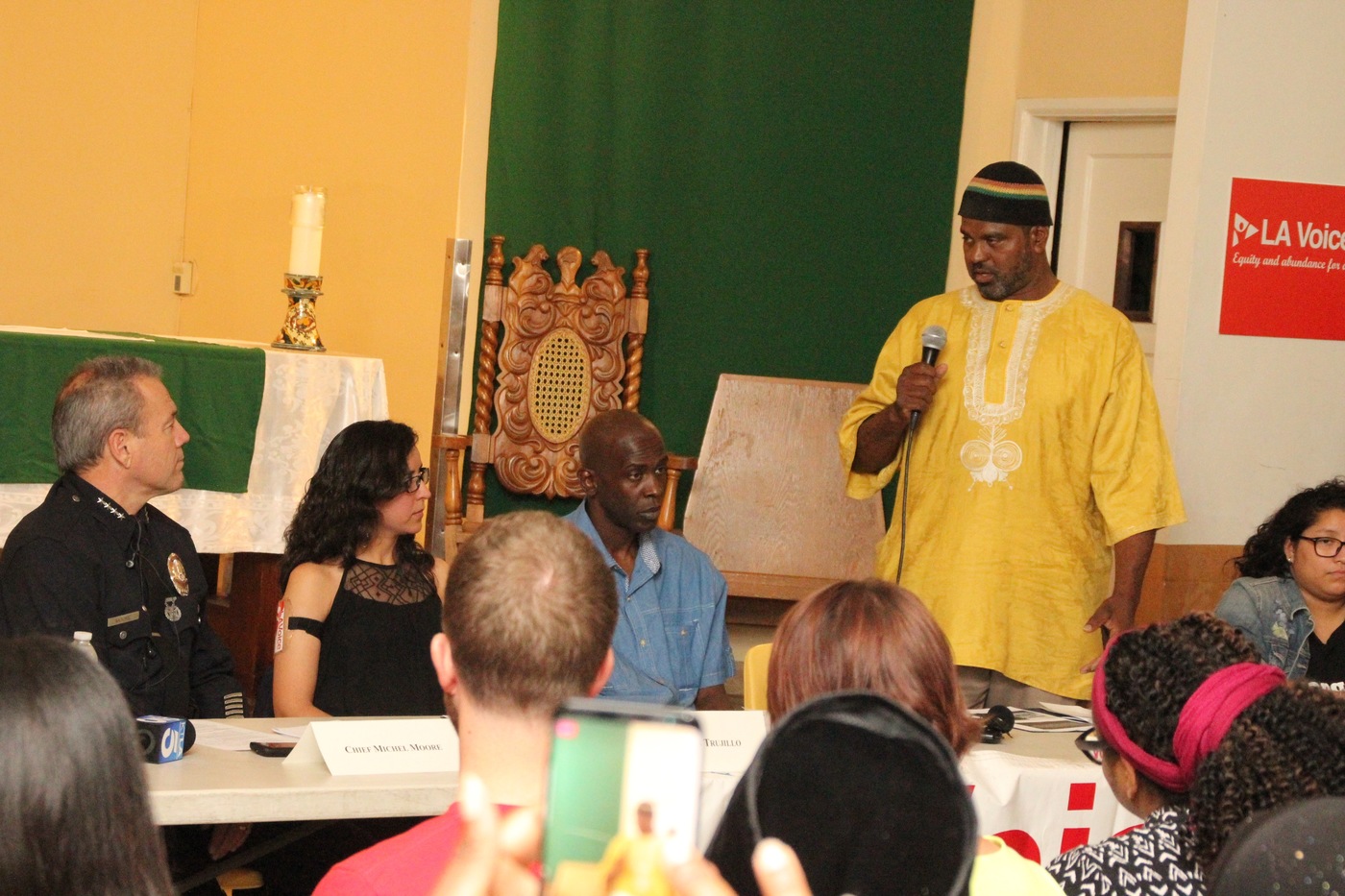 "We want to bring officer-involved shootings down to zero," said Reverend Eddie Anderson, pastor at McCarty Memorial Church in South Los Angeles and organizer with LA Voice. "He acknowledged that they need to get down to zero, but we didn't hear him say what that will look like. If we're going to build justice for the families of people who have been victims of police violence and use of force, then we have to dig deep and listen to their pain. Chief Moore is willing to listen. Now it's up to the community to hold him accountable."
Immigrant advocates challenged the LAPD's continued cooperation with immigration authorities despite policy intended to limit collaboration. "We know that immigration issues are complicated and involve federal and local law," said Yunuen Trujillo, immigrants' rights fellow with LA Voice. "We asked Chief Moore to make a commitment that the LAPD would reduce collaboration and information sharing with ICE to the lowest possible legal limit , and he said yes. We are happy about that commitment, but we believe the LAPD can still do more to limit database sharing and we look forward to working with him and the Department of Justice to figure out what the lowest legal limit is."
"I told Chief Moore about my experiences with abuse at the hands of police officers," said David Hernandez, a parishioner of Dolores Mission who has spent much of the last year living on the streets. "Homelessness is not a crime, and Chief Moore said the same: we need services and housing, not arrests. I hope the next time I speak to the police, they don't treat me as a criminal but as a human being."
"Let's have equitable expansion of positive youth programs in Los Angeles," said Pia Araujo of the Invest in Youth Coalition. "Most programs I've seen assume that kids are all potential criminals — why not assume that I might be president one day, and give me the tools for that path? The Chief said he would sit and listen to our ideas. I look forward to meeting with him and making that a reality."
"The Chief needs to understand the effect that trauma has on our families and communities," said Cedric "Choo" Estes, an LA Voice member who owns a South LA convenience store. "I heard him say that he favors programs that address trauma, and I heard him say that he is willing to apologize for the way the police have treated us. But I want to see the meat — real change, pilot programs in urban communities, so young people don't feel so scared of the police they cross the street when they see them coming."
Moore additionally praised the "Through Our Eyes" training developed by Legacy LA with youth at the Ramona Gardens public housing development and committed to including community representatives in police training. He described ongoing efforts to build trainings around de-escalation, unconscious bias and working with mental illness, and forum organizers plan to seek even more substantial commitments to move training in those directions throughout the force.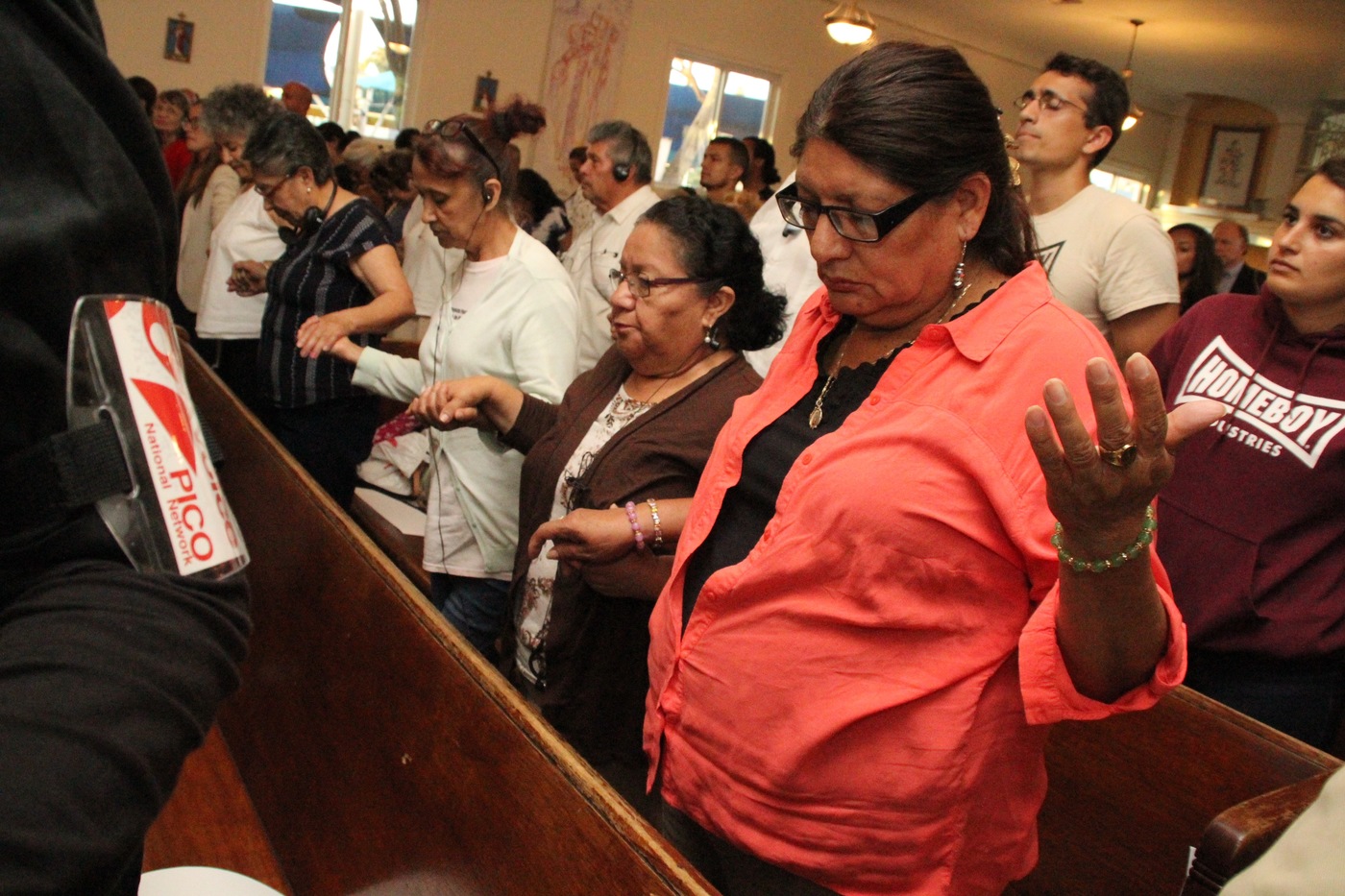 "We're a faith community, but that doesn't mean we take anything on faith," said Rev. Hoover. "Our brothers and sisters are here for accountability. Where we heard progress tonight, you can expect us to seek results. Where we need more clarity, you can believe we will continue to raise our voices together. There is too much at stake in the safety of our communities and the future of our youth."