Coming to terms with the tragic death of 9-year-old Trinity Love Jones resulted in a remarkable ecumenical memorial service which brought religious leaders and faithful together in a way perhaps none of them could have imagined.
The simple answer as to how a "Memorial of Light" funeral service happened Monday afternoon at St. John Vianney Church in Hacienda Heights attended by hundreds of mourners goes to the profound fact that the family accepted associate pastor Father Egren Gomez's invitation to host it.
But it goes much deeper.
On March 5, L.A. County workers doing maintenance work on Hacienda Boulevard near Colima Road found the body of a 55-pound girl in a duffle bag right at the bottom of an embankment, near an equestrian trail. No one knew her name.
The location was directly down the hill from the Hsi Lai Buddhist Temple, also in Hacienda Heights, just four miles east of St. John Vianney Church.
Upon hearing the news, the Buddhists immediately invited religious leaders from around the city to a communal prayer service at its memorial pagoda. Fr. Gomez was among them.
In the weeks that followed, tipsters led county prosecutors to locate and file murder charges against the girl's mother, 28-year-old Laquesta Graham, as well as her boyfriend, 38-year-old Emiel Hunt. They are accused of killing Trinity Jones on or about March 1. The three had been living in Long Beach but were said to have been homeless and staying in their car or a Santa Fe Springs hotel before the girl died.
As the community experienced more heartache in the daily updates in the case, it came time for the family to plan a funeral and burial. Would it, should it, could it be in this community where Trinity didn't grow up?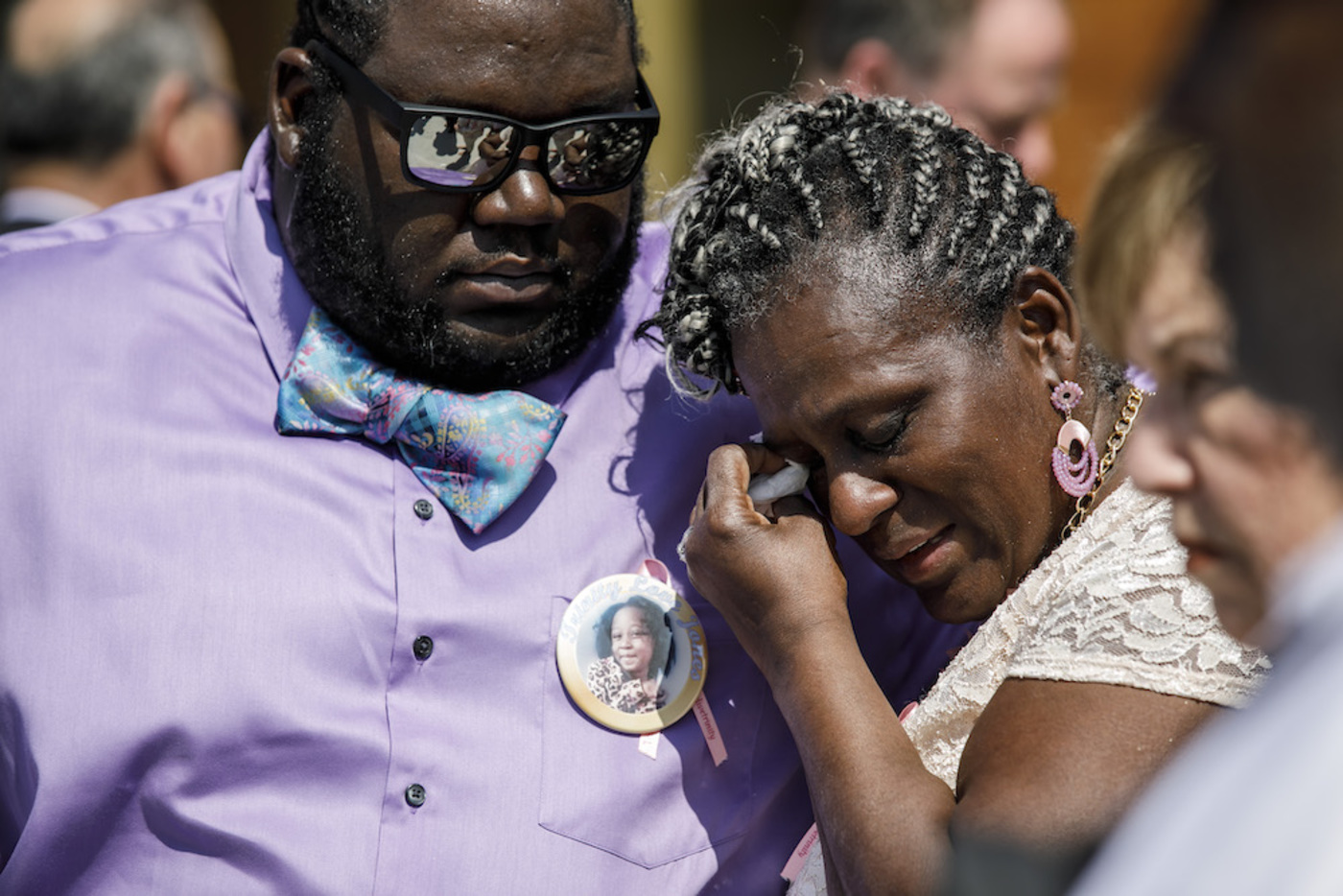 An ecumenical service brought together a Catholic priest in Gomez, a Buddhist monk in Venerable Miao Hsi and a Protestant evangelical leader in Pastor Darnel Hammock from New Life Community Church in Oakland. It was what the family, led by Trinity's father, Antonio Jones, decided would be an appropriate celebration after so many weeks of anguish.
"This was the result of a grassroots movement from our parishioner base," said Gomez as parishioners exited the two hour service Monday prior to the graveside service at Queen of Heaven Cemetery in Rowland Heights and a reception at the Hacienda Heights Community Center.
"We as a community gathered around the area where the body was found and we all felt this little girl was our little girl, she belonged to us. No one knew who her mother was when she was found. Our parish just took her, adopted her, and gave her motherly care. They were heartbroken."
Gomez said as the parish saw and wanted to do more, it reached out to the Jones family to offer any assistance.
"Our thought was: It's time to put our faith into action, to make it real, embody the mercy and compassion and outreach of Jesus Christ," said Gomez. "This is as community with a big heart and the mother Church stepped up today to envelope her, took her into her care and said, 'Today, you are no ordinary child.' "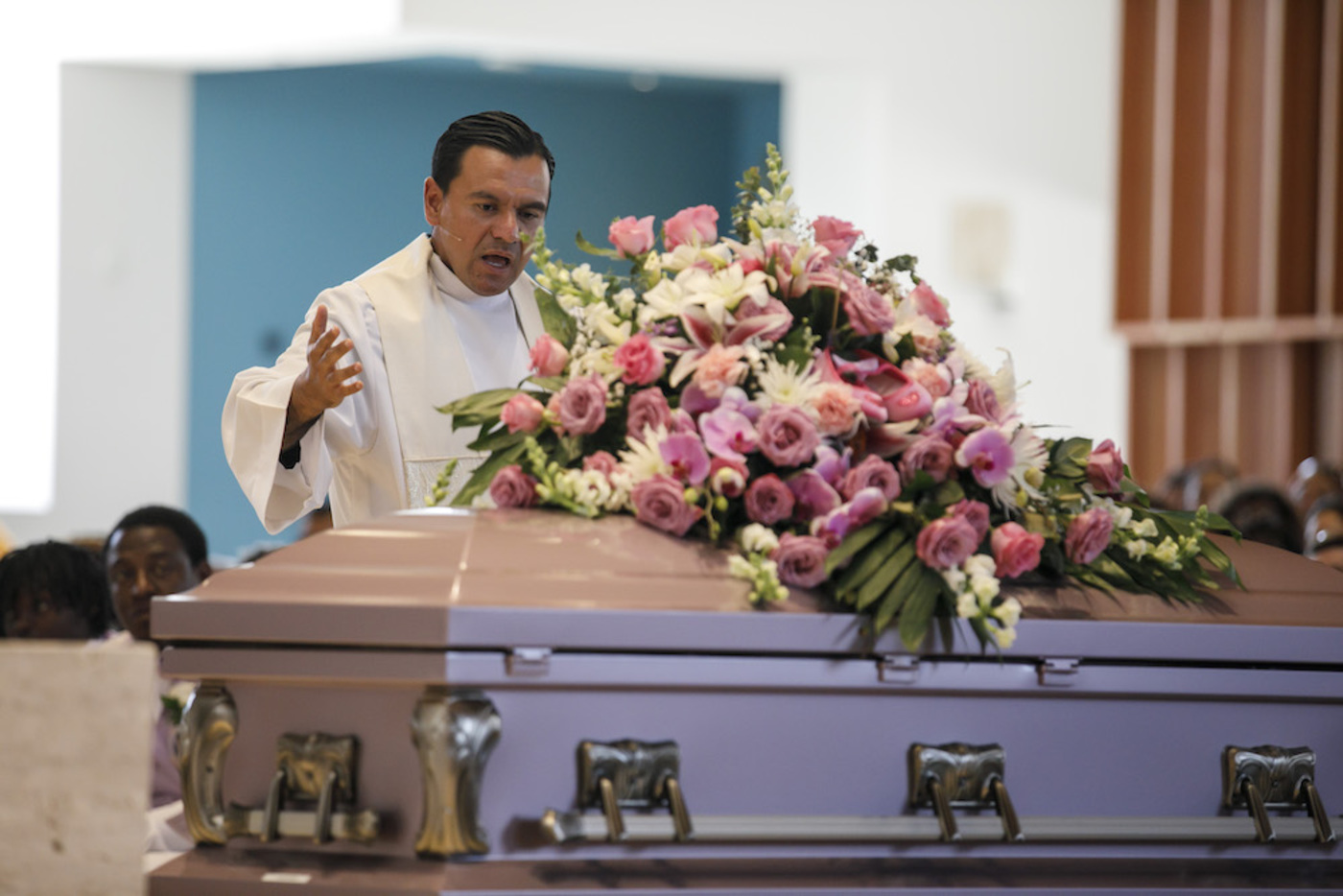 During the service, Gomez referred to Trinity as "our masterpiece" and "our little patron saint and martyr," as well as "our unity of love and light. This is her legacy for us."
This newest version of Saint John Vianney Church, where Msgr. Timothy Nichols is the pastor, opened just nine month ago. The former structure was burned down in 2011 by an arsonist.
The site of the former church is now a patio area where the ceremony for Trinity started at noon with 90 seconds of the church bell tolling nine times, plus 75 candles lit near her casket. Tables were set up nearby for a children's book drive in her memory. The pallbearers, including Antonio, wore lavender vests next to her coffin of the same color – Trinity's favorite color.
As the ceremony full of mourners — most of whom didn't know her — eventually moved inside, Gomez referenced in his homily the fact that St. John Vianney Church is recovering from its own act of violence.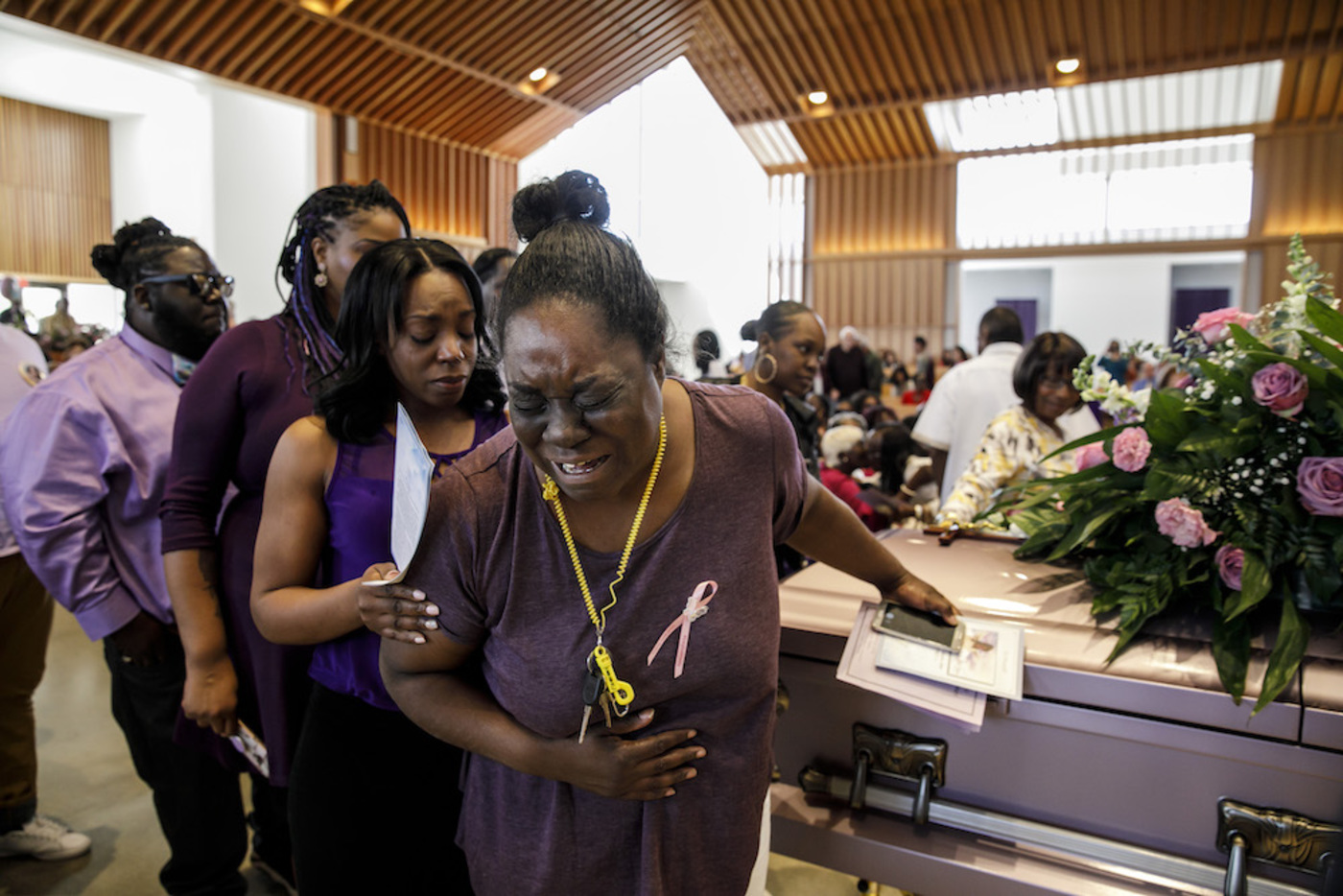 Trinity Love Jones' arrival in the sanctuary is a reminder "that the Resurrection is real. You can see how our new church was designed to bask in the sun rays of Southern California light. Today, Trinity Love Jones becomes a beacon of radiant light that makes it shine even more. The light of Jesus Christ cannot be extinguished. This little girl entered Hacienda Heights for a reason."
During his 10-minute eulogy, Hammock talked about how the girl's murder had served to bring very different people together.
"Something has to be said about this brilliant young life with the capacity to transcend generational borders, and surpass economic, religious, and even political party affiliations," said Hammock. "Those who knew her would argue they're not surprised by the surplus in attendance today."
During her time to speak, Hsi said the fact Trinity was discovered near the temple "demonstrates there is an affinity between this little girl and Buddhism. In Buddhism we believe when someone passes on, they go to another life, they are reborn and they will see us in the future. We celebrate Trinity's rebirth. We pray to Buddha for the children of the world, to bless and protect them. They are children who suffer abuse and violence, humiliation, and pain. Oh great compassionate Buddha, we hope more people of the world treat children with kindness and loving words. Protect and guide them."
Back near the Hsi Lai Buddhist Temple, a memorial remains full of photos, balloons, flowers, signs, and candles near the equestrian trail.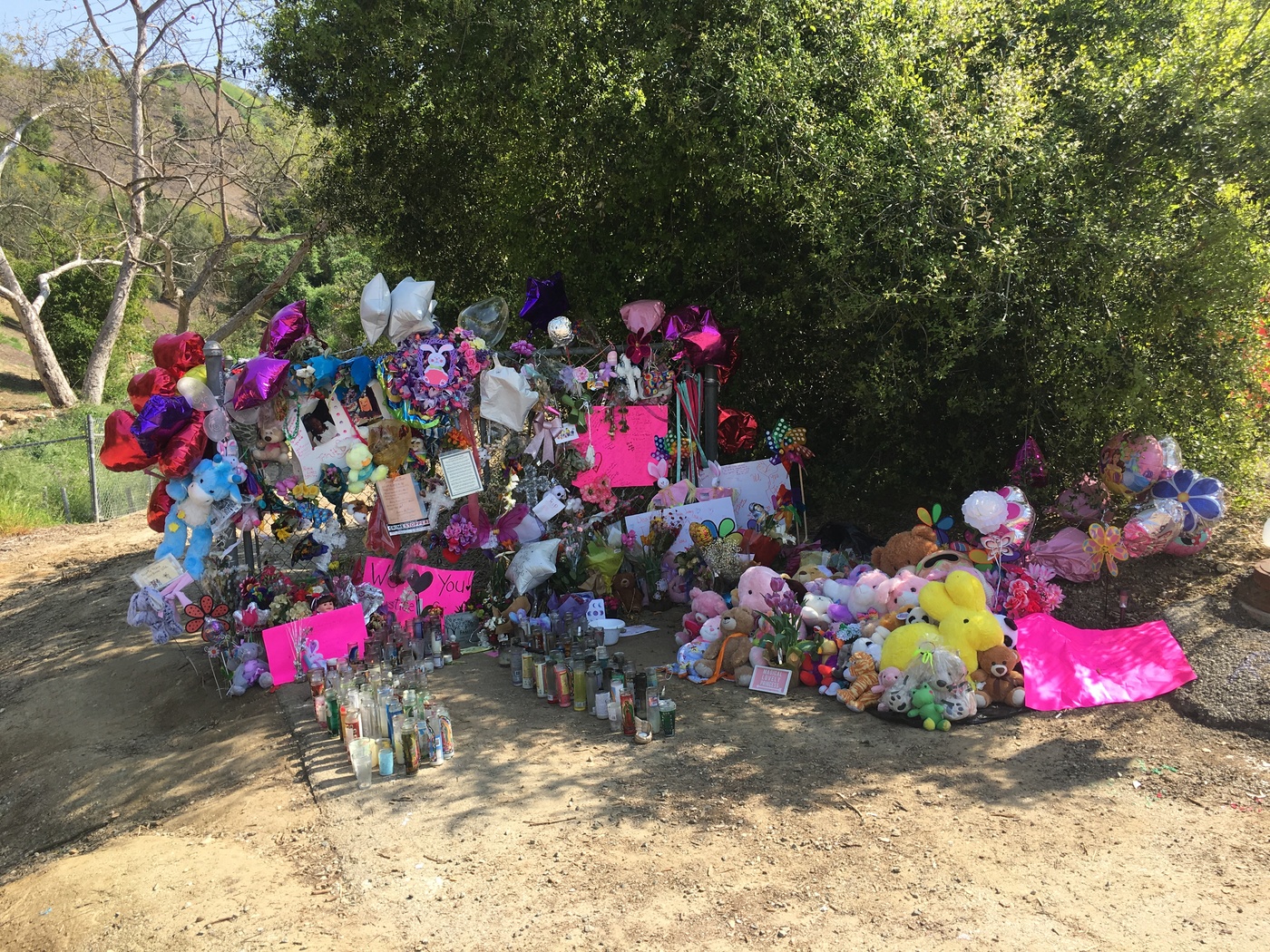 Gomez confirmed that the funeral service was done "as a gift to the family," and when asked by the family if it was OK to do the service at St. John Vianney Church, Gomez explained that "catholic means universal, so this would be the time to do it for someone named Trinity. It was without a doubt the right thing to do."
He added that the first ecumenical service in the history of St. John Vianney Church, interweaving Catholic Gospel readings and incenses with choir singing, liturgical dance and a half-hour procession for those in attendance to lay hands on the casket, was "a beautiful thing."
To him, it more deeply revealed what the holy Trinity was all about.
"The Trinity is complex to understand theologically — and I was just ordained nine months ago," said Gomez. "Whenever I have to talk about the Trinity, it's very hard. It's not to be understood intellectually or through a book. But today we lived out the Trinity.
"This little, young precious life gave us that sense of unity. She has become our Lenten icon, embodying a moment of darkness and suffering that has a great light at the end."
Gomez said that through the process of meeting with the family to plan the event, he taught them about what the word "Trinity" means in the Catholic church, and showed them the power of the sign of the cross — the Father, the Son and the Holy Spirit that is felt in the human person.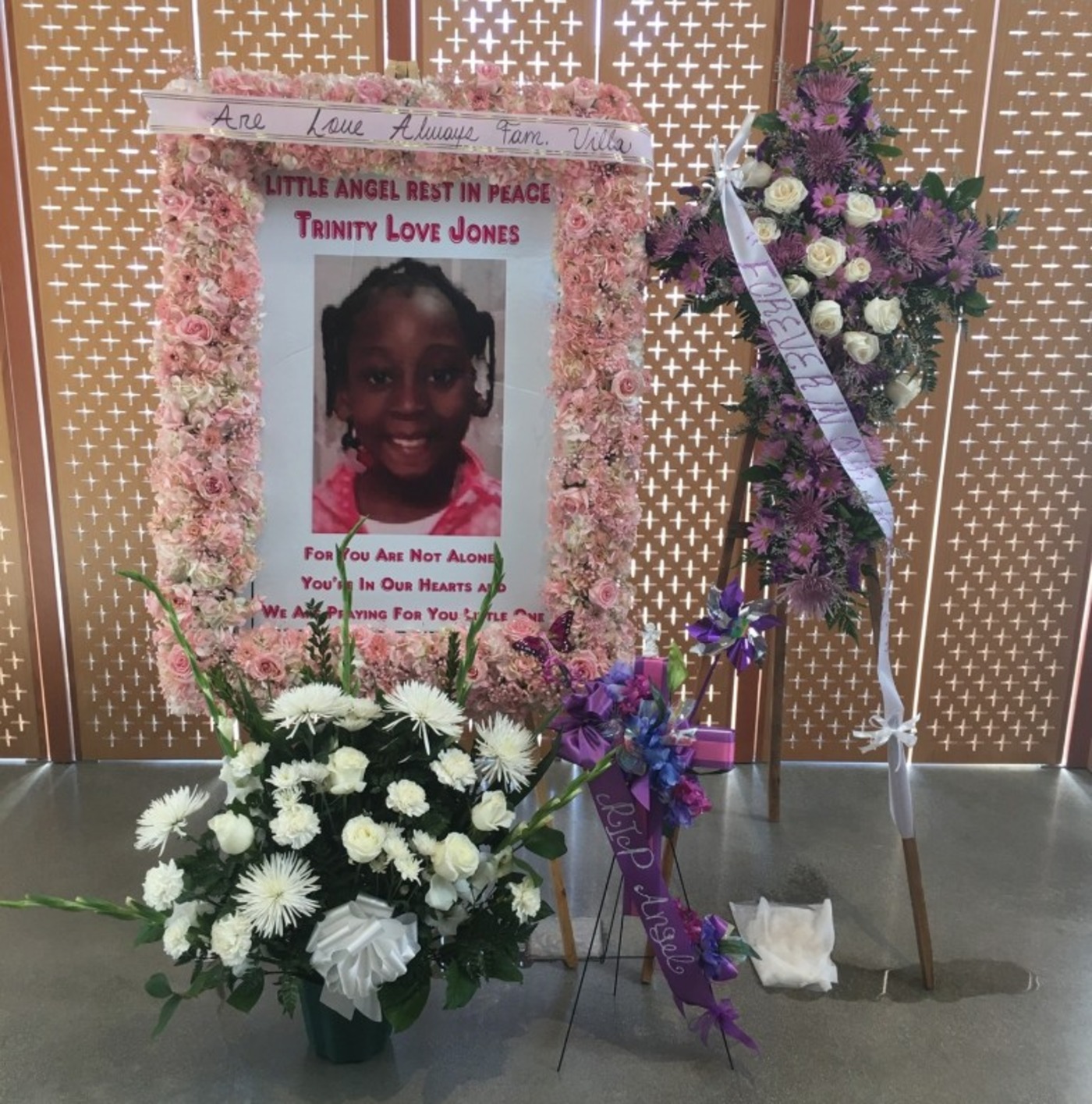 "It moved the grandmother to tears," said Gomez. "When our meeting was over, she asked me — she called me 'Pastor Father' — to show her again 'the thing you do for Trinity.' She said she is now signing herself every night to remember her little Trinity."
As Gomez said the community has experienced deep wounds, even heightened levels of fear and anxiety for the last month since Trinity's body was found on the day before Ash Wednesday, the funeral provided "a sense of peace that had a greater cause and purpose. She's in heaven praying for us as a saint."
Antonio said in an interview later Monday with NBC4's Patrick Healy that he wanted to create a special reception set up as a party with princess decorations. There were also stuffed animals at a table celebrating "Trinity's Tea Party."
"I just wanted to make her smile down from heaven," he said. "I think I did it."
Tom Hoffarth is an award-winning journalist based in Los Angeles.
SPECIAL OFFER! 44 issues of Angelus for just $9.95! Get the finest in Catholic journalism with first-rate analysis of the events and trends shaping the Church and the world, plus practical advice from the world's best spiritual writers on prayer and Catholic living, along with great features about Catholic life in Los Angeles. Subscribe now!