When then-31-year-old Alejandro "Alex" Aclan left his native Philippines for Southern California in 1982, he came as an immigrant seeking a better future.
More than three decades later, that future is still bearing surprises.
On March 5, the Vatican announced that Pope Francis had tapped the 68-year-old priest to become the newest auxiliary bishop for the Archdiocese of Los Angeles, where Msgr. Aclan has served as a priest for 25 years.
Aclan's nomination makes him the second Filipino-American priest to be named bishop in the U.S. The first was Bishop Oscar Solis, who served as an auxiliary bishop in Los Angeles from 2004 until 2017, before Francis named him Bishop of Salt Lake City. The Los Angeles area is home to the largest Filipino immigrant community in the United States.
The Vatican also announced Tuesday that Los Angeles Auxiliary Bishop Joseph V. Brennan will succeed retiring Bishop Armando Ochoa as the next bishop of Fresno. For the last three years, Brennan has served as episcopal vicar for the San Fernando Pastoral Region of the Archdiocese of Los Angeles.
Aclan served most recently as the LA Archdiocese's vicar for clergy before taking a sabbatical last summer.
He said he sees his new appointment as part of a peculiar pattern of surprises in his life.
"This was not part of my plan in any way," Aclan told Angelus News. "But, then, being a priest was not part of the plan either."
Aclan was born Feb. 9, 1951, in Pasay, Philippines, the third of eight children born to Geronimo and Emerenciana Aclan. His father had been a pilot in the Philippine Army Air Corps when Japanese forces attacked the Philippines days after the Pearl Harbor attack on December 7, 1941.
Geronimo was revered as a war hero among his countrymen for being among the handful of pilots who fought in several dogfights against invading Japanese warplanes during the first days of the invasion. He was later captured by the Japanese, escaped the infamous Bataan death march, and was briefly sent to the United States for training before the Philippines was liberated by Allied forces. After the war, Geronimo flew as a captain for Philippine Airlines.
In the Philippines, his father's World War II service is considered the stuff of legend, even after his death from cancer in 1984. But Aclan is most thankful to his father for being a living example of a different kind of service.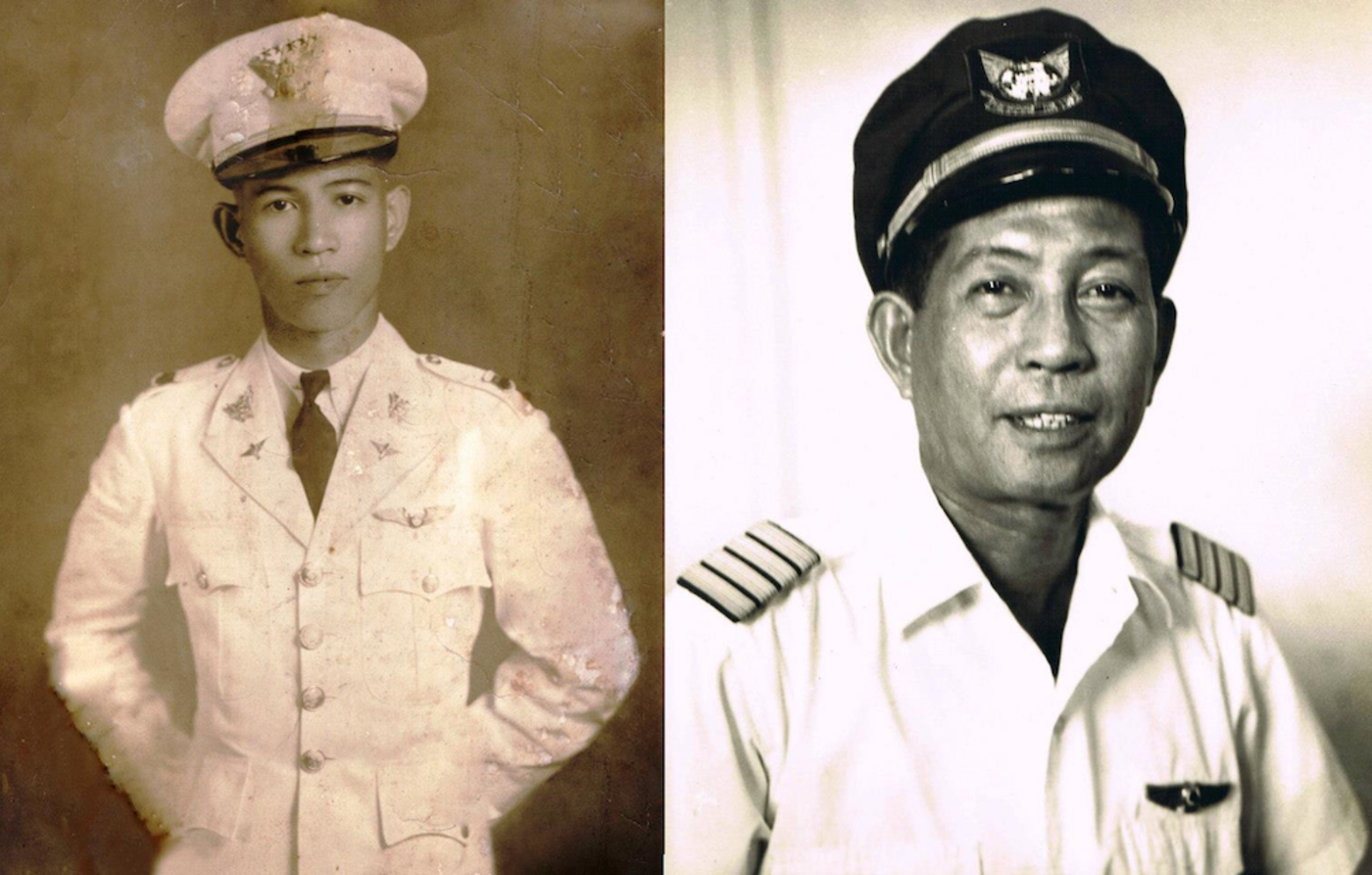 "He was the go-to person for people who had financial needs, people who needed to find a job,"  Aclan recalled. "But even when people had family problems, my father would be the one to intervene."
The bishop-elect remembers that his home was always open to hosting visitors, whether they were family, friends, or people who just needed a place to stay while in the Manila area.
When his family moved to Makati during Aclan's high school years, they lived in a house that shared a fence with the Catholic parish next door.
"Having priests and women religious around us was kind of something normal for us," he said.
But Aclan said "the first seeds" of his vocation were planted — not by the witness of priests and religious — but by the way he saw his parents treat other people.
Thoughts of the priesthood first began to stir during high school, where Aclan was taught by the Salesians and was first exposed to seminary life.
"The visits to a Salesian seminary and time spent with their seminarians in high school left a deep impression in me that never really went away," he remembered.
As devout as his parents were, young Alejandro, or "Alex," never felt pressured to pursue a religious vocation. He doesn't remember anyone even asking him to consider the possibility. Instead, Aclan had plans to become a doctor, as his father had once planned to.
"I seemed to be the one following in my father's footsteps as far as educational achievement was concerned, and so that was kind of an unspoken expectation. I was trying to set out to do what my father never completed, but it never worked out for me either!" he said with a laugh.
Aclan intended to study medicine at the University of Santo Tomas in Manila. He graduated instead with a degree in medical technology in 1971.
After staying at the university as an instructor, he changed course and pursued a career in electronic data processing, a precursor to what is known today as information technology. Beginning as a programmer and systems analyst, Aclan eventually rose up the ranks and worked in middle management positions for San Miguel Corp. and Citibank in his native country.
In 1982, the elder Aclan retired from Philippine Airlines. Aclan left the Philippines with Geronimo and two younger sisters and moved to Covina, outside Los Angeles, to join Emerenciana and another sister, who had already migrated there.
Aclan found work as a project manager for Union Bank in Los Angeles, while he and his family attended Sacred Heart Church in Covina.
It wasn't until Aclan was 35 years old when somebody first asked him the question: "Have you ever thought of becoming a priest?"
It was while praying at a RENEW retreat with fellow parishioners that he felt God was calling him to something different.
"From that moment on, the parishioners of the parish just did not let up on me," Aclan recalled.
Over the next four years, Aclan discerned his vocation, contacting the archdiocese's vocations office before finally deciding to give up the security of his career and enter St. John's Seminary in Camarillo in 1988. Five years later, he was ordained by Cardinal Roger Mahony.
Aclan served as associate pastor at St. Finbar Church in Burbank and St. John of God Church in Norwalk before being named pastor of St. Madeleine Church in Pomona in 2001, where he served for 11 years.
In 2011, he was named associate vicar for clergy, and in 2015 became vicar for clergy.
Throughout his 25 years as a priest, Aclan served a variety of other ministries in the archdiocese. He spent three years as the archdiocese's vocations director for teenagers and later was the regional vocations director for the San Gabriel Pastoral Region. He also served as secretary-treasurer of the Council of Priests, spiritual director to the Filipino Cursillo, and archdiocesan liaison to the Filipino Charismatic Prayer Groups at different times.
Looking back at 25 years of priesthood, the bishop-elect said he is still following the example that his parents set while he was growing up.
"The best part of being a priest is the ability to serve just like I saw my mom and dad doing growing up," shared Aclan. "The service is key for me, and that's what's most enjoyable, because you are able to alleviate people's conditions, and get people closer to God."
Aclan finds ministering to the sick to be especially rewarding. But he is also aware that in an era of secularization and crisis within the Church, his mission as bishop must also include never giving up on those who have fallen away from the faith.
"It's really hard," he replied when asked how the Church can call back the "lost sheep."
"First of all, what I've discovered is that it's important to listen to the people," he said. "And based on what you hear, proceed with whatever it is you think can help them. If they've lost faith, we need to help them regain what was lost."
Starting during his time at St. Finbar Church, Aclan saw the importance of helping immigrants preserve the cultural Catholic identity they brought with them. So, he went to work helping local Filipino Catholics organize into officially recognized groups in parishes.
These groups "help keep the devotional practices of the people coming from various parts of the world, and keep the faith of those people who are not originally from here strong and flowing," he explained, adding, "Their expression of faith in the archdiocese is very strong, it's very palpable. As a priest, you can sense it, you can feel it."
Filipino Catholics in Los Angeles got a boost when Saint Pope John Paul II named Oscar Solis as an auxiliary bishop in 2003, making him the first Filipino-American bishop in the U.S.
At the time, Aclan saw up close what a shot in the arm the appointment gave to the local community.
"Bishop Solis was the glue that bound us Filipino priests together in the archdiocese," said the bishop-elect. "And the Filipino community here in the archdiocese found greater unity here thanks to him. He was a unifying force for us."
Now, Aclan will follow Solis as the second Filipino-born Catholic bishop in the United States.
And LA Archbishop José H. Gomez is looking to Aclan to carry on the mission to Filipino Catholics in the archdiocese.
Calling him a "proud son of our vibrant Filipino community," Archbishop Gomez said in March 5 statement: "Bishop-elect Aclan is a man of prayer and he has a true heart for Jesus — and a deep concern for the people he is called to serve. And I know he will be a voice for Filipino Catholics, who are a beautiful sign of growth and renewal in our Church here in Los Angeles and throughout the country."
Because he's only seen bishops do their "work" at a distance up until now, Aclan expects he'll have a lot to learn, especially in an archdiocese with four other active auxiliary bishops assisting Archbishop Gomez.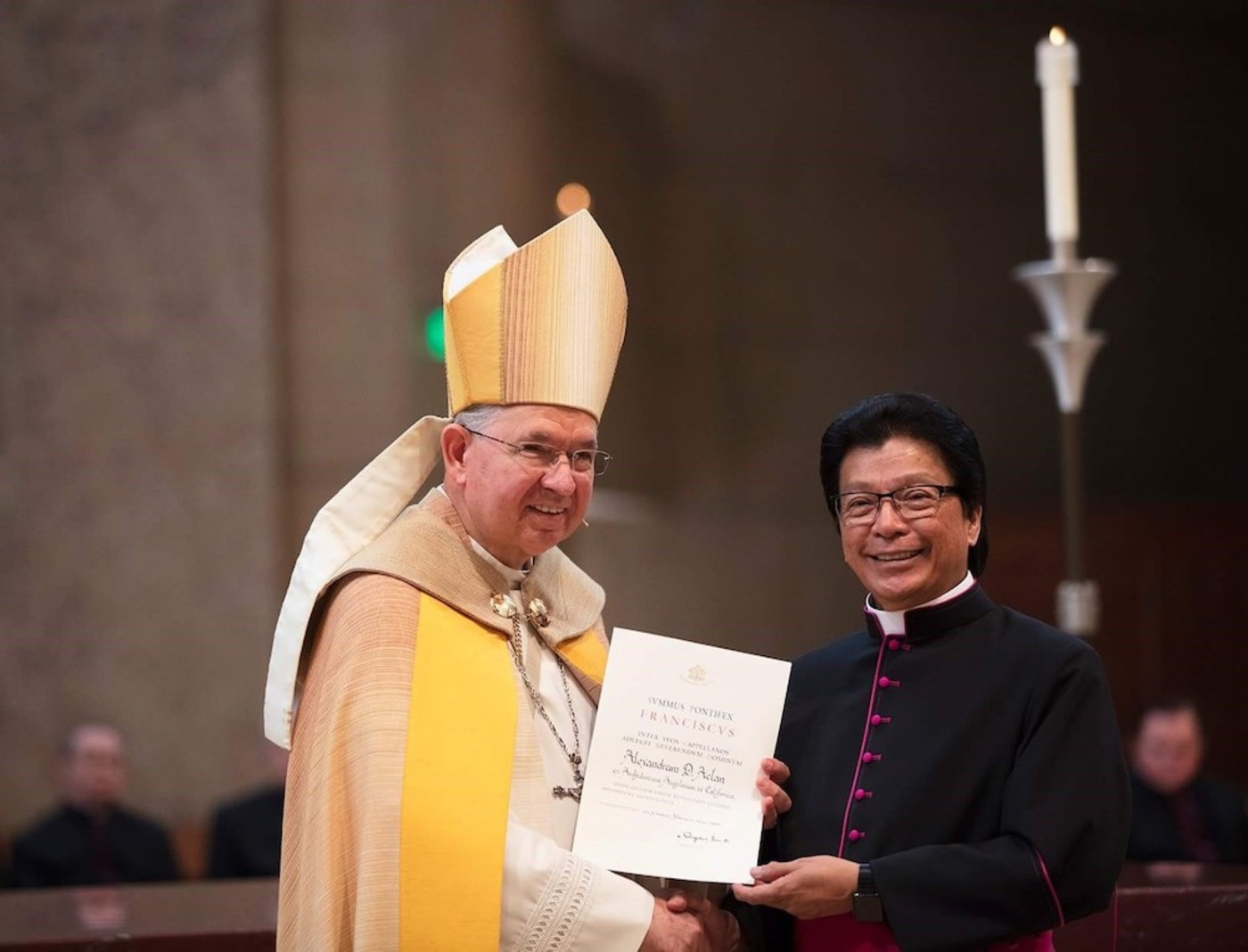 "I don't know what's going to happen, but it's an opportunity to learn again. And I'm eager to learn," said Aclan with a smile.
And he knows he won't be alone.
"I know for a fact that there's a lot of people praying for me," said Aclan, who said he is assured of the constant prayers of at least two prayer groups, and, most importantly, "my mother and father in heaven."
"With that, I know that whatever challenges are sent my way, with God's grace, I should be able to handle them."