"God sent his only son in the world so that we might have everlasting life. And this is love. Not that we have loved, but God loved us and sent his son for us."
Damian Delaney was reading from a recent Sunday post-Easter Scripture passage to his 19 students. He had taken off his Navy suit jacket. But the orange tie stayed tight around his button-down collar. He was slowly walking in front of them sitting in four rows of desks at all-girls' Bishop Conaty-Our Lady of Loretto High School in Los Angeles.
"So that is a beautiful summary of what love is," he explained. "Our love for God is always a response to God's love for us." And then Delaney asked, "So based on this last passage, what is love? What image, what reality does Jesus give for the greatest expression of love?
Raising her hand, a student with a ponytail softly ventured, "The commandments?"
"OK, we have to follow his commandments to show we love God, right?
Many of the other girls nodded.
The religion teacher took a couple of small steps to the right, where most of the students were sitting. "But what is the greatest love you can give to someone?"
"To lay down your life for your friend," answered another student.
"Yes, so, according to Jesus, is love a feeling or a choice?"
"A feeling," a girl toward the front said.
The dialogue took a Socratic turn. "A feeling, you think? Would laying down your life for your friend feel good or would that be scary?
"Scary," chimed in other students. After a moment one spoke up: "A choice."
"So love is a choice, right?" asked Delaney. "In fact, it's putting someone else before you. A sacrifice."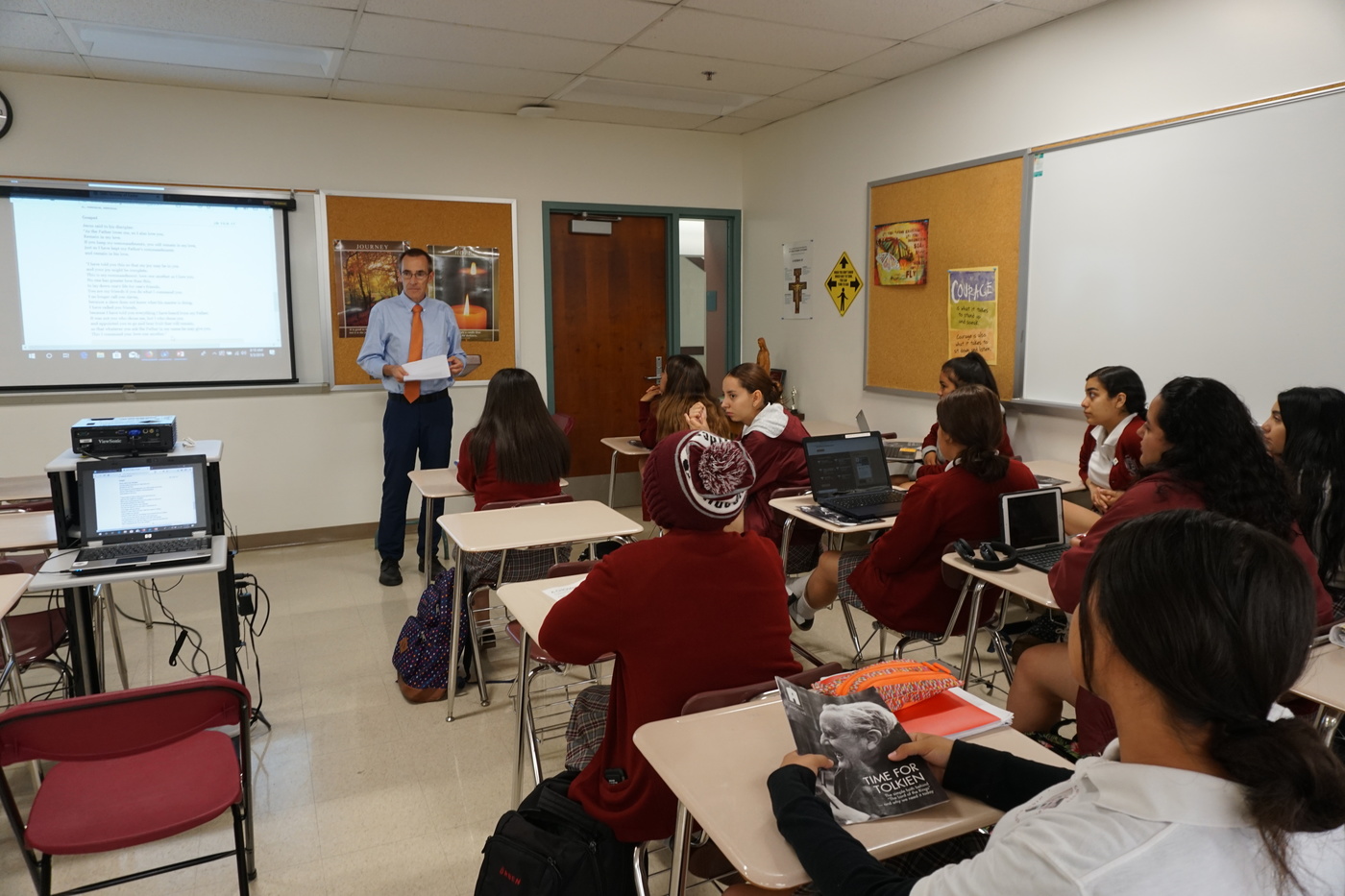 'Love is a choice'
Delaney made that choice — twice. In 2017, a good running friend he ran marathons with started complaining about aches in her side when they would train together. The pain got worse before doctors found she had a rare disorder of her liver swelling with cysts that would require a transplant.
Nearly 17,000 people in the U.S. were on the national transplant list last year for liver transplants, with only about 7,000 actually being performed. More than 95 percent came from deceased donors, with the rest coming from living donors. Only 12 of those came from anonymous donors.
This year, Delaney was one of them.
A transplant from a living donor is possible because the liver is the only organ in the human body that regenerates itself. Also, a person uses only one of its two lobes.
When one lobe is taken from a live donor, it usually grows back to nearly its normal size in four months. The transplanted liver will grow back, too. But it was only in 1989 that the first living-donor transplant was done.
The high school religion teacher didn't know any of this when he volunteered, and then was found to be a match for his marathon-running friend. But the week before the transplant surgery was scheduled on April 11, 2018, doctors at Keck Hospital of USC canceled the surgery because her liver started to function again.
Nevertheless, he was still signed up that day for an "anonymous" donor list, where his liver could be paired with anyone in need found to be a match.
"For me the motivating thing was when I saw my own friend suffering," Delaney told Angelus News. "I saw a very strong woman reduced to tears when she realized that at the time she needed a transplant. She couldn't control her own life, you know. She was relying on someone else to stay alive.
"After my friend got better, I thought there are people out there who are literally waiting for someone else to donate for the chance to live. They can't control their own destiny. What would I want if I was in their shoes? I'd be praying for someone to step forward. And I was 'ready to go' for a match after all the tests they did on me.
"So I had the opportunity to put myself out there for another suffering person," he explained. "Because I'm healthy. Nothing is preventing me. So it was bothering me at night thinking about it: 'Gosh, I really need to step up and take advantage of this opportunity,' because I didn't think I could live with myself if I just out of fear said, 'No, I can't do it.' "
Anonymous match
Later, the doctors at Keck did find a match — a woman in San Diego suffering from autoimmune hepatitis. The surgery took place Dec. 12, 2018, so part of the recovery would be over the high school's Christmas break.
Two teams of surgeons performed the five-hour duel operations. Some 60 percent of Delaney's liver went to a recipient he only knew was a 29-year-old woman.
After taking six weeks off to recover, Delaney tried to return to teaching in mid-January, "but I came back a little too soon," he told Angelus News with a chuckle.
While in the hospital for a week after the transplant, Delaney developed a blood clot, which his doctors detected and dissolved. The only health problem today, which he describes as minor, has to do with the removal of his gallbladder during the transplant surgery. He still has a problem digesting dairy products, and anything sweet turns his stomach.
Staff from USC's media relations team — stressing how rare living liver donors were — asked if he would like to meet the recipient and if they could film it. He readily agreed to both proposals, and in March he found himself in a room wearing a mic with cameras rolling and asked to "act naturally."
That was the first time he met Breana Shaw of San Diego. Their story aired on NBC's "The Today Show" April 15.
"She's now 30 and I'm 57," he pointed out. "So she's young enough to be my daughter. But she's a wonderful person, and it would make me happy to see her starting to live her life again.
Delaney and Shaw have kept in touch since their encounter. Her body is still in the process of accepting the new liver — a process that requires weekly trips to the hospital to get her abdomen drained. She is still unable to work, but now has permission from doctors to drive, she told Delaney.
Would he do it again?
"Oh, yes, in a heartbeat," he said. "For sure." And there was another chuckle. "I mean, it's easy to say now. The recovery was difficult. But, yeah, to see what it's done for another person — giving them hope."
'What Jesus would do'
Out in the hallway after class, three students in that 8 a.m. junior theology class agreed that's the kind of person Delaney really is. All knew how rare it is for anybody to make a living liver donation.
"For me he's actually a role model, because not everyone is willing to donate something of themselves to a stranger," said Yolanda Laind, 17. "So I look up to Mr. Delaney for doing that."
"I think what he did was a real-life version of what Jesus would do," remarked Nancy Martinez, 16. "I feel like God was in him and gave him the power to take the initiative and just give a part of himself to someone else. And he willingly did that."
For Arely Ortiz, 16, the liver transplant was a rare, unselfish act in today's self-centered society.
"It was just, like, one of the bravest things I know, and he's one of the bravest men I know right now," she said. "Probably, there's like a 1 percent chance of people donating an organ to a stranger. To do that is amazing."
The students were asked to dig deeper into their religion teacher's motivation: Why do you think he did such a radical good deed?
"Well, Mr. Delaney has a passion for religion and Jesus," said Laind. "I mean, I know he wouldn't say 'no.' So I think he really did it from the heart."
With a smile, Martinez agreed. "Because Mr. Delaney is, like, a very kind person who always puts other people above himself. He knows that God is supporting him and guiding him. And to me, he made the right decision."
"For him to do that, especially for a stranger," Ortiz said, "it's like one of the bravest acts that anyone can do."
R.W. Dellinger is the features editor of Angelus.
SPECIAL OFFER! 44 issues of Angelus for just $9.95! Get the finest in Catholic journalism with first-rate analysis of the events and trends shaping the Church and the world, plus practical advice from the world's best spiritual writers on prayer and Catholic living, along with great features about Catholic life in Los Angeles. Subscribe now!