The dynamic dialogue that comes from the teachings of Italian Catholic priest Father Luigi Giussani, and the evolution of the Communion and Liberation (CL) laity movement over the last half century as the call to action from his theology, has a foothold in more than 90 countries.
But even in a culturally eclectic metropolis like Los Angeles, it may still be a mustard-seed-like concept.
In the pursuit of building "a more authentic Church" that resonates with younger, mobile Christians as they process recent institutional scandals, an event that celebrates Giussani such as the one March 12 titled "Seeking A Path Forward," sought to generate more awareness about this ecclesial life conversion and its practicality as a path to holiness.
As part of a 10-city nationwide tour this month, author Alberto Savorana joined panel discussions to talk about how his recent 1,444-page biography, "The Life of Luigi Giussani," can bring more context to transitory, modern-day world issues.
Catholic News Service editor-in-chief Greg Erlandson joined Savorana in Washington, D.C., in early March. Crux editor and longtime Vatican reporter John L. Allen Jr. noted the impact of Giussani's work as a pathway to holiness in relation to Dorothy Day or Saint Teresa of Calcutta.
"If 20th-century Catholicism had a Hall of Fame, Giussani would probably be a cinch for a first-ballot inductee," Allen wrote recently.
The Los Angeles stop in Little Tokyo brought in Pepperdine University political science assistant professor Jason Blakely and Colburn Conservatory of Music history chair Kristi Brown-Montesano.
Against the backdrop of a meeting room that had chalk-like portraits of cultural LA figures such as John Wooden, George Lucas, and Serena Williams, a two-hour thoughtful examination of Giussani's impact took a more academic tone, but still gave the dozens in attendance a chance to ask questions about the practical applications of Giussani's messages of experience, truth, and charitable work.
One high school teacher sought advice on how to better understand pushback she said she gets sometimes from students who insist "my opinion is the same as your reality," tied to the "#fakenews" permeation in much of today's dialogue.
"It seems to be a new way of 'armed formalism,' " she said. "There's a rise of kids really sticking to a position and not very open to listening to other things. How do you live that message of openness in front of people entrenched in an ideology?"
Blakely responded that as a teacher, he shared a similar struggle.
"When Pope Francis said 'truth is a relationship,' what I think he meant was that we can degenerate in our contact with reality if we don't have a regenerative relationship," answered Blakely. "Without a sense of self-worth we won't have the ability to stay in front of the truth. So perhaps a lie allows me to preserve myself a little bit longer. I see that as a problem."
"Love and truth go together. If I am not loved, then there is a problem with truth, and the problem with truth in our society could be a problem with love."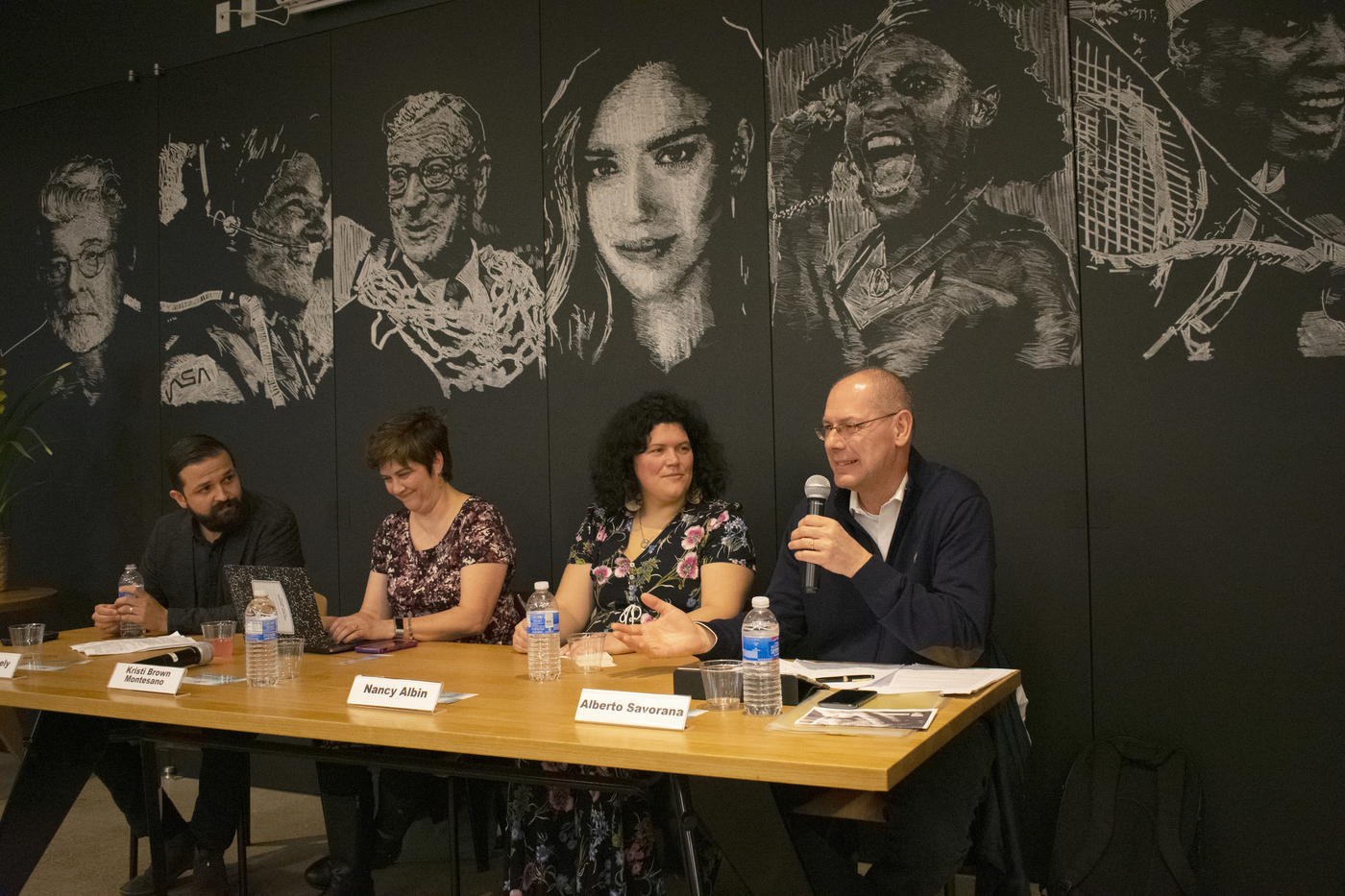 Brown had earlier talked about how she can channel Giussani to try to understand her students within "a messy, real-world context." She talked about a desire to surpass societal dichotomy and "work for a way forward that isn't caught in that dialect between two sides."
While Giussani started his youth initiative in Milan in 1954, the term Communion and Liberation wasn't used until the more radicalized post-Vatican II time in 1969 — a conviction that Christians living in communion is the foundation for authentic liberation. It was enthusiastically supported by Saint Pope John Paul II, Pope Benedict XVI and, now, Pope Francis.
LA event organizer Guido Piccarolo said he found a calling to be the co-founder of the nonprofit Los Angeles Habilitation House in Long Beach as a result of studying under Giussani at Catholic University in Milan before coming to the U.S. in 1997.
Piccarolo's first CL gathering at St. Sebastian Catholic Church in West L.A. happened after he experienced it in New York. He has continued with meetings based at St. Anastasia in Westchester, as well as rotating at churches in Santa Monica, Pasadena, Eagle Rock and Orange County.
Asked how he describes CL to anyone asking for the first time, Piccarolo said simply, "Come and see." It is an iconic quote of Jesus referenced in John 1:39, but it was also frequently used by Giussani, whose cause for sainthood was launched in 2012.
"The first thing Giussani would say in class is: I'm not here to convince you of anything but to give you a criteria so how you can face your life in Christ," said Piccaralo. "Criteria isn't selling you something, like another Apple product, that to some may be considered almost like a religion.
"This is about a daily discovery, a passion for life, which is not always easy in LA. You may be driving for hours to get to work every day. You move around. So what sustains your life? My encounter with Christ helps me understand my surroundings."
Blakley, who converted to Catholicism from atheism, noted that as the American Catholic world "is suffering through many self-inflicted wounds, Giussani's approach is to look at the world as nondefensive, at the level of responding to the person who's in front of you," he said.
"It's bigger than any left-right politics. The original way Jesus formed relationships was not to ask, 'How many people are here?' It was more about the mysterious impact you have on the people you encounter. You really don't know.
"There is a new challenge in how to live an integrated Catholic life given that parishes in the territorialized Church find people move a lot. The modern world tends to fragment and compartmentalize faith. There can be a consumerism mentality that reflects the culture. The Catholic answer used to be that you live your whole life in one parish. But that's not so much the way anymore. You find a lot of different ways to live the Church without going through rituals."
Marissa Moran, active in the LA movement for the last five years, said that her cradle Catholic upbringing on the East Coast never introduced her to CL until after college, when she moved to Colorado.
"It took me awhile to catch on, but something kept drawing me — the community of people," said the 31-year-old Moran, a communications professional for a nonprofit in LA. "When I moved to London for a time, it was introduced to me again, and it became my Catholic community. It happened again when I moved to LA," she said.
"Before that, my activity was around my local parish, but this is a more modern way to root my faith. CL can be challenging to permeate. The charism is rooted in reality. but sometimes the language can be a little lofty.
"Giussani was a high school teacher, but an intellectual and a philosopher as well, and his writing might be hard to grasp at first. But all he was trying to do was encourage Christians to connect their daily life experiences to their relationship with God, and recognize that everything is a gift from him."
Tom Hoffarth is an award-winning journalist based in Los Angeles.
SPECIAL OFFER! 44 issues of Angelus for just $9.95! Get the finest in Catholic journalism with first-rate analysis of the events and trends shaping the Church and the world, plus the practical advice from the world's best spiritual writers on prayer and Catholic living, along with great features about Catholic life in Los Angeles. Subscribe now!