"We are in season 11 of our productions, with 1,019 done. Three shows a week — usually Tuesday, Wednesday, and Thursday here at KCHS Los Angeles. So, it's maybe a hundred shows a year we are doing on average. And they're all live."
That's not some hotshot Hollywood TV producer going on about his output. It's De La Salle Christian Brother Roch Dufresne telling Angelus News about the 15-minute morning TV broadcasts his students produce three times a week at Cathedral High School after morning prayer.
He and a visitor were down in the cramped broadcast quarters of the all-boys' secondary school that the Christian Brothers opened in 1925. Three cameras on tripods were aimed at a lit black, cloth-covered, cocktail-size table with two high chairs on a makeshift set.
Some 20 students hovered nearby, many over big-screen computers, including a row along one side wall that the 53-year-old religious brother approached.
"How are you, brother?" asked a student, looking up with a half-smile at the man in the long, black cassock.
"Good, good, good. Welcome!" he said in a French-Canadian accent picked up from his native Quebec province.
Dufresne is quick to introduce the workspace: students working on graphics, script writing, and even a  live "Rundown Twitter" monitor, like those used in big-market TV newsrooms across the country.
"The graphics director assigns graphics to be done," he explained. "When done, the technical director knows a graphic is ready. And through the network, the graphic can be picked up where it would be during the show with the anchor talking. It's really, really cool."
Now, with 30 minutes to opening prayer, the students get to work on their desktops. Dufresne explains how many high schools into broadcasting today do the show beforehand just to make sure everything is perfect.
He has insisted on one detail: that Cathedral's program be broadcast live.
"I say to my students, 'Imagine that you are in front of the camera, it's your homework you are doing," he said. "We have 800 people here at Cathedral who will correct your homework. If you look stupid, everybody will tell you that you looked stupid. And if the show sucks, they will tell you that you were bad this morning."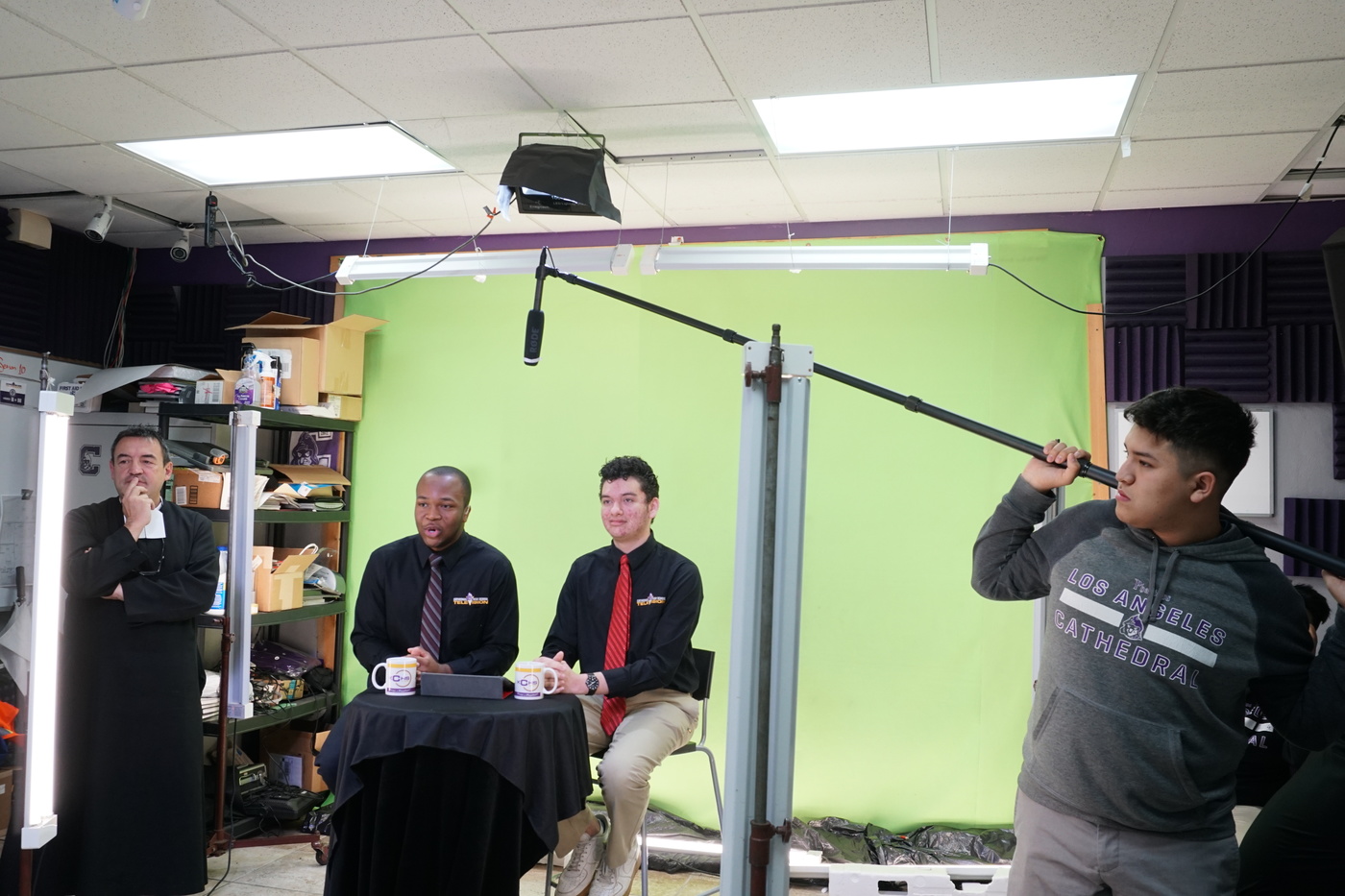 Classroom comeback
Dufresne, who entered the Christian Brothers at 18, first came to Cathedral in 1995, starting the broadcasting program four years later. But then he was called to the headquarters of the Institute of the Brothers of Christian Schools in Rome as communication director and webmaster.
Thanks to his efforts, the LaSallians were able to broadcast their general chapter meeting around the world.
"We were the first ones," he said.
"But I told the archbishop in Rome, 'It's really fun working in Rome. But I miss my students in the classroom.' So, I came back in 2007. But it's not Brother Roch's broadcast. It's the student-run broadcast. I'm very proud of that — that I'm not doing anything on the show."
With 15 minutes to broadcast, the buzz from the students was building, and the Christian Brother was paying no attention.
Looking around with his arms crossed, he observed, "It is great to see them working out problems together. I have top-notch students. And I'm not looking for A students. I'm looking for students who are dedicated and really want to do this because Los Angeles is the broadcast center of the country. This is why we started the program almost 11 years ago.
"Now I have students who are working in the field," he said. "ESPN on the East Coast. In Arizona running the 9, 10, and 11 p.m. news shows. Two here working in Los Angeles in sports at ESPN. And I'm very excited about that. I love to do this. Coming to work is just having fun with the students and learning."
Dufresne teaches three levels of broadcasting to sophomores, juniors, and seniors. Second-year students at Cathedral get the basics, while third and fourth learn mostly by hands-on work in the studio.
This live broadcasting with anchors and correspondents for sports and other fields is no amateur thrown-together production. Every morning students get graded on the individual job they've done as well as for the overall production of the show. "So, they are pressured," he pointed out. "This is their classroom. Absolutely. Absolutely. And it's quite a lot of work that they do."
"Brother, do you want the sports report at the end?" asks a budding scriptwriter, with now only five minutes left to air.
"Write me one paragraph about it. OK, we will write one paragraph on golf. If we feel at the end we don't have enough time, this can be killed. Then we'll go with it tomorrow. OK, it's not critical."
Turning to another student, Dufresne asked: "Do you have any graphics left to do?"
"Just one."
Now in a louder voice, he said, "Can we verify all the spelling of every graphic, please? And don't forget what time it is. OK, let's go!"
"One minute 30 seconds before going on air," said one of the student directors.
The background buzz had reached a crescendo before a second warning signal. Then the morning prayer came on, answered by a chorus of "Amen!" from the young crew.
"Signal. Music. Thirty seconds. Quiet on the set," declared Dufresne.
And another student director counted down, "Four, three, two, one."
"Good morning, Phantoms!" announces a male student anchor to the live audience, addressing the students by their nickname (derived from the school's supposed location over a graveyard).
"Today is the sixth-best day of the week, Tuesday, Feb. 26, 2019. We're in the hour block schedule. And my name is Blake Shepherd, co-anchor."
"And my name is Ivan Cobian," answered the other anchor.
The two seniors were sitting around the cocktail table set. Both wore black dress shirts and ties.
Another student in a gray sweatshirt off set held a mic on a pole above them.
"And Phantoms, a lot of important events since the last show," added Cobian. "I mean, 'Green Book' won the Best Feature Film at the Oscars. A musical about music, 'Bohemian Rhapsody,' won Best Film Editing.
And Disney finally stepped off the throne for the best animated feature with 'Spider-Man: Into The Spider-Verse' taking the spot.'"
Then Shephard: "We've also had our own news. With the golf team playing their first game yesterday. The mother and son dance on Friday. And the biggest upset of the year, the soccer team, unfortunately, losing their match in the CIF finals."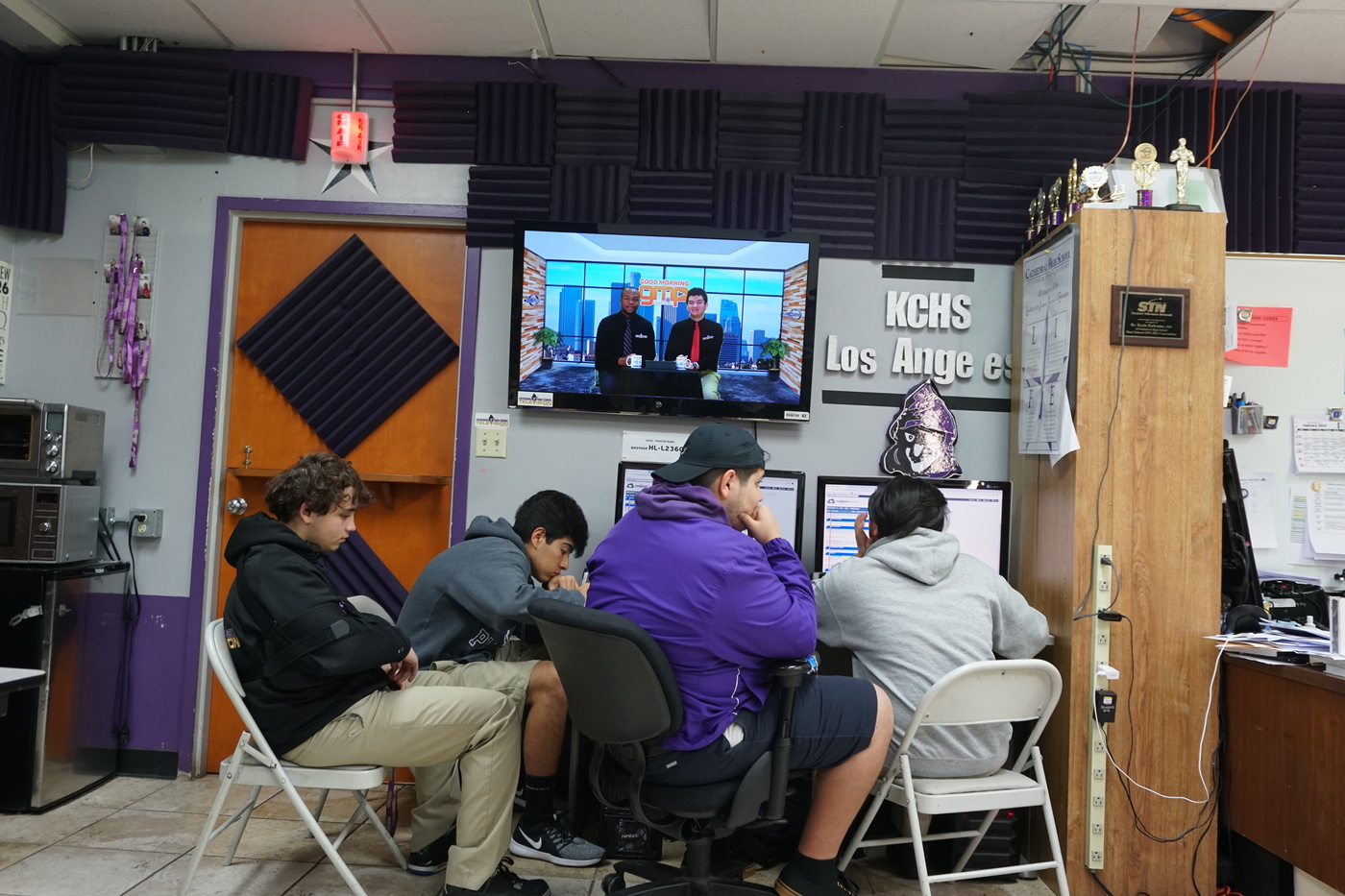 For the next 10 minutes, school news went back and forth between co-anchors. Maybe not up to "Saturday Night Live's" "Weekend Update's" standard, but a fast-paced repartee about an upcoming walkathon, the parent-teacher conference's $500 tuition raffle, a physics boat race and other school happenings.
"Well, that does bring us to the end of the show. As always, it's been a pleasure. My name is Blake Shephard."
"And my name is Ivan Cobian. Have a great rest of your day, Phantoms.'
A behind-the-set student said, "We are good," which was followed by clapping and cheers from the crew.
"That was very nice," said Dufresne. "You are wonderful."
'Not a job'
After the broadcast, the religious brother wanted to show off the new arts building on Cathedral's campus right off the Pasadena Freeway near Dodger Stadium. Inside the dark, brick building, he couldn't stop beaming, pointing out the large editing and newsrooms, soundproof set and control booth. All will be filled with state-of-the-art broadcast equipment for the 2019-20 school year.
"For me, it's not a job to come here," Dufresne mused.
"The students give me 3,000 times more than I give them. It's very rewarding to see the students enjoying the program so much even now. They're here all the time. We are working together. I tell them, 'This is your private space.' Only KCHS students can come here. And next year more kids — kids who maybe science and math are not their thing — can do broadcasting.
"So for me, it's a way to kind of revisit our founder, Saint Jean-Baptiste de La Salle, patron saint of teachers, responding to the needs of presence. We are not in 1700. We are in 2019. So how do we respond to the needs of kids today? It's my way to do it with using communication, social media. But using it responsibly. I think this is really, really important."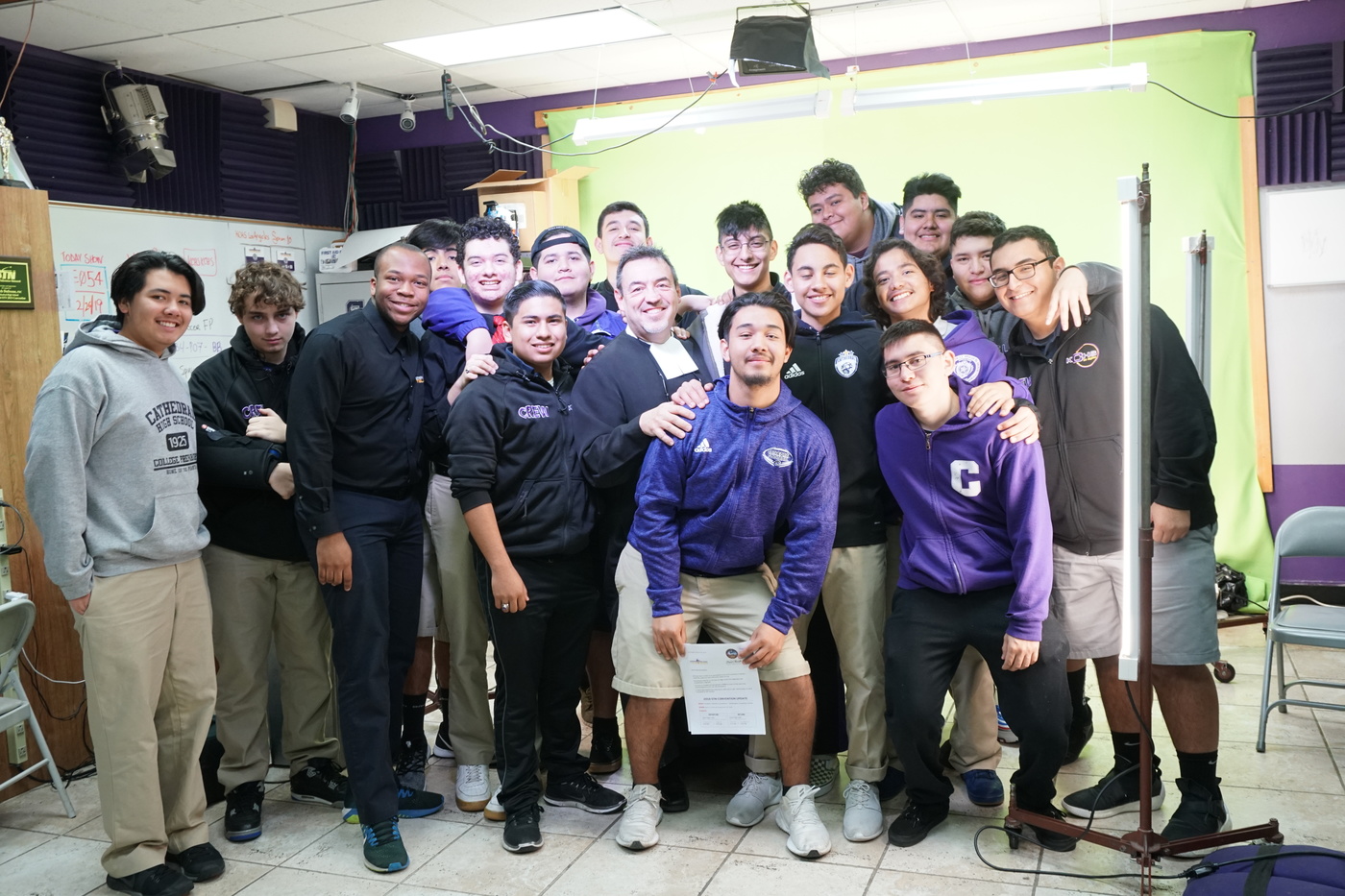 The honored Christian Brother says it's all about how you relate to students. He respects them, and they respect him. That way he can criticize their work when it doesn't come up to professional broadcast standards, and they'll accept it.
"I can be harsh on them because I tell them, 'I'm not teaching high school. I'm teaching college prep, college. So this is what I expect from you.' And if they don't do what needs to be done and meet deadlines, in the real world they would be fired right away, and 'you are fired right now' I tell them," he stressed.
But Dufresne said there's something loftier he's trying to get across to his students than the latest technology, which evolves at a pace that can seem impossible to keep up with. More important, he believes, is the spirit of working together and helping one another out.
"Sure, competition is important," he acknowledged with a shrug. "But it's not only that. So, this is why I came back to teaching. To help them discover that alone you cannot do that much. But when you have the power of the group and with Christian values — with Lasallian values — that is what I want my boys to remember when they graduate."
R.W. Dellinger is the features editor for Angelus.