Sitting at a dark-wood dining room table next to her close friend and mentor, Daniela Luna begins to tell her story.
"At the border, I presented myself first and then my brother, José, because we wanted to live with my mother in East Los Angeles. She told us that she wanted us to live with her because we were alone in Mexico," recounted the 20-year-old Mexican immigrant in an interview with Angelus News.
It's a story that began four years ago when she and her brother, a year younger, fled Mexico for the U.S. They left in hopes of reconnecting with their mother, who like them had suffered abuse from the children's father at their home in Durango.
"There was no money. Their mother was gone. And the father was not really a support when they needed it," said Martha Delira, Daniela's former translator and mentor when she successfully crossed the border from Mexico, who explained that their father left the family to start a new life with another woman. On top of that, the children faced the threat of violence in Durango as well.
Daniela and José's journey together ended at the San Ysidro border crossing, where they were separated. He would be allowed to pass, she was not. Instead, officials sent her to a juvenile detention center just miles away, where she was kept for more than a week.
"The immigration returned her to Tijuana," explained DeLira. "But instead of calling a family member, she was placed in child protection, supposedly. But she really was traumatized there seeing things, with maybe 80 girls in small rooms."
"It was very cold, and we only had an aluminum covering," recalled Daniela. "It was hard because you were alone. You didn't know what time it is. And we had to wear a hospital mask until we were examined by a doctor."
She spent most of her time writing to her mother, who left the family when Daniela was 14. When she was released after nine days, she wanted to go back to Durango. But then she decided to try one more time to cross. So once again she presented herself to U.S. authorities.
This time they sent her to a shelter in Arizona, where she stayed for less than a week. And after a plane ride back to LA, she was finally reunited with her mother, who paid for her airfare. For some reason, her brother was never detained and had already made it to their mother in East LA.
Finding legal representation
Linda Dakin-Grimm worked for 30 years as a corporate attorney at Milbank LLP, one of the top legal firms in the world. She retired some four years ago, and since then, she has been Daniela's pro bono lawyer.
She was referred to the unaccompanied minor by KIND (Kids in Need of Defense), which helps unaccompanied immigrant and refugee children find legal representation. As a member of the SoCal 4 Diocesan Task Force for Immigration, started by now-Auxiliary Bishop David O'Connell, she's represented more than 100 migrant unaccompanied children.
"Daniela is so typical of these kids," she said. "They're not gang members. They're not losers. They're kids who were just trying to stay alive. They're almost all success stories after they get here. And the journey from Central America or Mexico, it's brutally hard. Kids don't leave their homes and families and culture and everything they know just because living in the U.S. would be easy, because 'When I grow up I can take somebody's job.' It's just not like that."
She pointed out that Daniela, in fact, wasn't an asylum-seeker. She got "Special Immigrant Juvenile" status because she was abused by her father. To obtain that status, a minor must have been either abandoned, neglected, or abused.
The lawyer, who also holds a graduate degree in theology, readily admitted that among the large numbers of unaccompanied minors to arrive in the last few years, "you're going to get somebody who isn't like Daniela."
Still, "to see them all painted with that brush by the Trump administration is frustrating," Dakin-Grimm said.
Besides representing her case in immigration court, Dakin-Grimm also lent her help in another way: leading a small group that included O'Connell and the Catholic Education Foundation (CEF) to get Daniela into a Catholic high school.
Their efforts resulted in a CEF donor providing a special scholarship award for high-risk students to Daniela for her three years at Sacred Heart High School, an all-girls high school in West Covina.
Daniela admitted that at first she wanted to stay put at the public high school where she had first enrolled. But DeLira and others persuaded the teen that a Catholic high school education was nothing to turn down. So Daniela, although understanding little English, relented.
"It was very different because it's all girls. And you don't have to worry about 'Oh, what am I going to wear?' " she said. "Other students in my classes translated for me. Teachers gave me extra help and CDs of their classes in Spanish. So I got more successful. But, yes, it was hard the first year. I loved Sacred Heart because of the community service we did and because it made my faith stronger."
DeLira gave her a knowing look. "After school, she would go to 'Google Translate.' She would stay up late until two in the morning trying to finish her homework because she wanted to get good grades. So that tells you she's a fighter."
Asked how she got through the first year and did better her junior and senior years at Sacred Heart, Daniela just answered, "Working hard on my assignments."
The principal of Sacred Heart remembers well when Daniela came to his high school in 2016 as a sophomore.
"She was shy because, number one, obviously, she hardly spoke any English," said Raymond Saborio. "Number two, it was a new school. Maybe in public school, teachers wouldn't go the extra mile for her. But when she was on our campus, it must have been like, 'Wow! I feel comfortable. This is so welcoming. I'm going to definitely do my part.' She did, and she was awesome."
To help Daniela adjust, Spanish textbooks were ordered for some classes to accompany the English ones. A part-time resource teacher coached her in English. A school-issued iPad allowed Daniela to record some of the lectures.
Assigned "peer buddies," fluent in Spanish, sat with her in class. If she didn't understand something, the peer buddy would translate the lesson or re-explain it to her. And after school and on weekends, the other student was accessible by email and phone.
Daniela's discipline and determination did come with a downside for her, however: "I didn't have time for sports or extracurricular activities because I was studying all the time."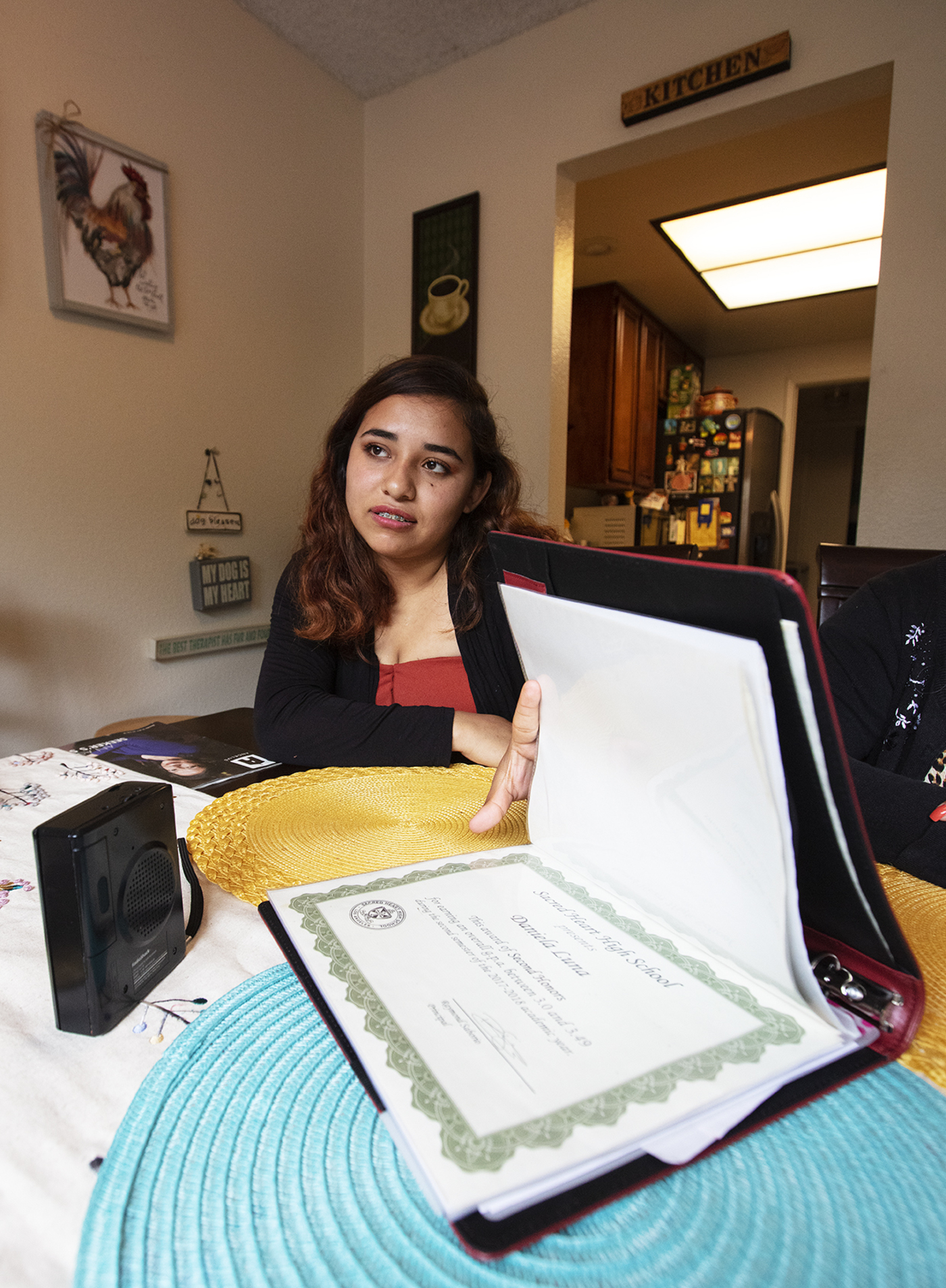 Faith kept her going
On May 22, the unaccompanied minor graduated with her classmates from Sacred Heart High School. She said it was her Catholic faith that kept her going since she and her brother left Durango. And she believes that faith will continue to grow as she climbs the higher education ladder with a "Transfer Pathway Collaboration" award from Loyola Marymount University.
Under the partnership, she'll attend East Los Angeles College for two semesters, taking approved Loyola Marymount University transfer classes. If she keeps a 3.0 or better GPA, she'll be automatically admitted to LMU. And if she earns a 3.75 GPA or higher, she'll receive a $5,000 annual "Transfer Merit Scholarship" for all three years at LMU.
"Now that I have graduated from high school, I want to continue my studies, and I've already enrolled at East LA College," she said. "I'm going to really try to keep a 3.0 average, so I can go on to LMU. I'm contemplating either going into medicine or engineering."
On April 26, she got her permanent resident Green Card as a "Special Immigrant Juvenile."
"I thank God, and Linda and Martha, and all the people who have helped me," she said. "I thank God for everything that happened to me with the adversity of struggles I had. I feel blessed. It has made me stronger and determined to do good. And being resilient."
The mother she fled to, of course, is very proud, "Because I am the first in my family to graduate from high school," Daniela pointed out. "And I'll be the first to go on to college."
"I personally want to tell the other undocumented teenagers and children who are crossing over not to give up," said her mentor-translator. "To have faith."
"And courage," added the unaccompanied minor.
"Pray and hope like Daniela did," said Dakin-Grimm. "To have faith that there is someone out there who will be able to help them, and not give up in their studies. Because education is the most important thing they can obtain so they can have a brighter future. Because that's the reason they're crossing over — to change their lives."
"'Cause anything can be done with faith and hope," said Daniela.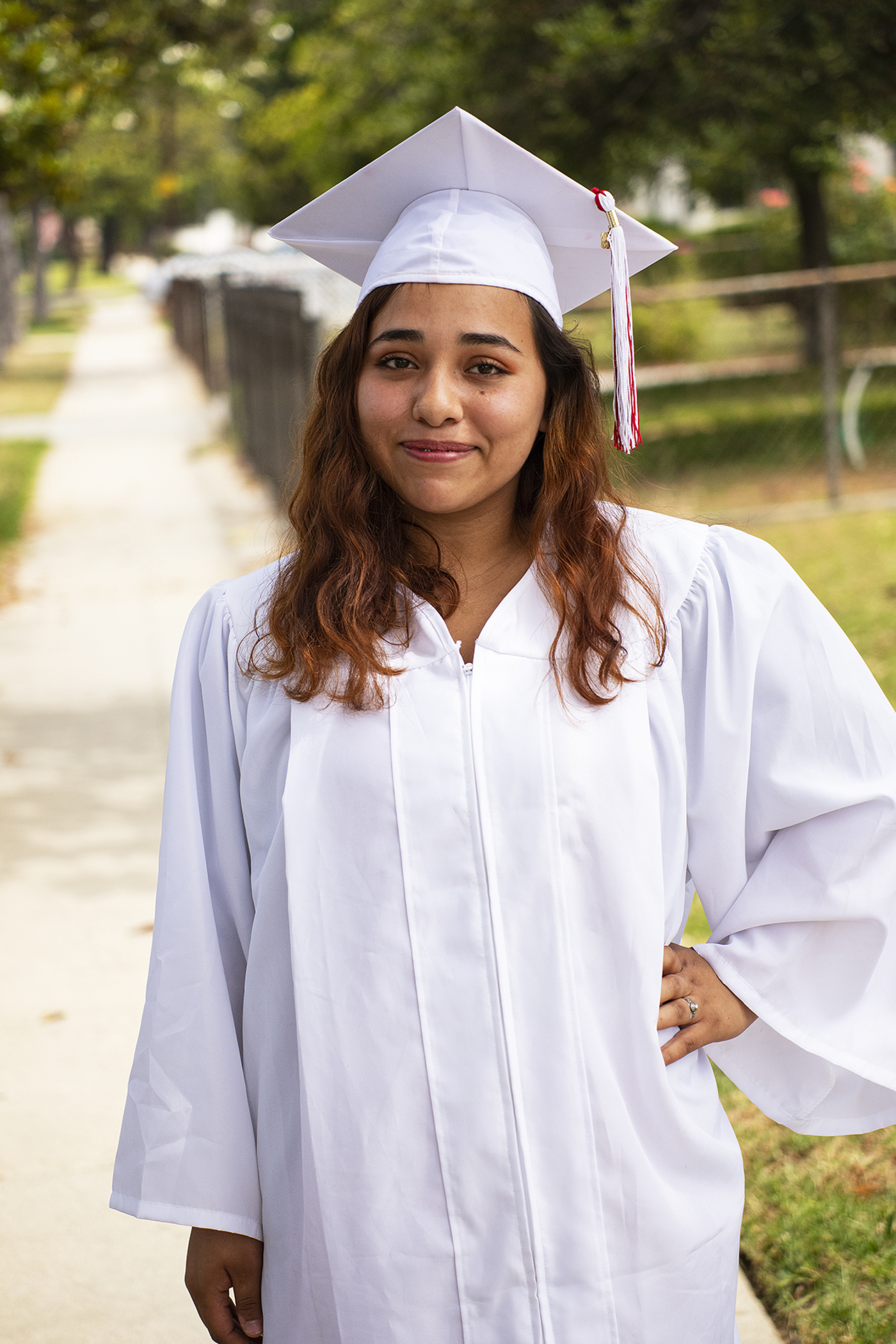 SPECIAL OFFER! 44 issues of Angelus for just $9.95! Get the finest in Catholic journalism with first-rate analysis of the events and trends shaping the Church and the world, plus practical advice from the world's best spiritual writers on prayer and Catholic living, along with great features about Catholic life in Los Angeles. Subscribe now!