Less than 24 hours after a shooting massacre left 12 dead just a couple miles away at the Borderline Bar & Grill, Thousand Oaks mayor Andrew Fox stood at the lectern at the Saint Paschal Baylon Catholic Church altar on Thursday night and asked for three things.
"I'm going to steal a bit from St. Paul," said Fox, "but I want to talk about faith, hope, and love."
Fox had already spent the morning and afternoon speaking to national and local media about the shock that affected his tight-knit community. Then he attended a civic center candlelight gathering of more than 1,800 in attendance that focused on the theme of "Thousand Oaks Strong."
But as the long sorrowful procession turned into night, and a local wildfire had now come into play that also challenged the citizens' levels of anxiety and anguish, Fox said he felt "at home here at Saint Paschal with my Catholic brothers and sisters," where he and his family are parishioners. He was joined by more than 300 for a 45-minute service led by Saint Paschal Pastor Fr. Michael Rocha, assisted by associate pastors Fr. Luis Estrada and Fr. Al Enriquez, and concelebrated by Archbishop Jose H. Gomez.
In his homily, Fr. Rocha admitted he could not answer the question of why this all had happened, only that "people are going through their own tests and trials and sometimes they communicate their own problems in horrific ways.
"We stop and pause and reflect upon our own mortality and our relationship with God." Also remember, he said, that "healing takes time … your grieving is among the most sacred and human things you'll ever do. Honor it, and healing will take place."
Archbishop Gomez also reminded everyone that "God's love for every one of us is stronger than any evil, stronger even than death, and Jesus is near us now in our sadness."
He also asked that "our Lord in his mercy, receive the souls of those who have died, and may he comfort those of us who have been spared. We pray for peace in our communities and for peace in the hearts of all those who are troubled and disturbed."
In the words of Auxiliary Bishop Robert Barron, whose statement was read by Father Paul Albee, "prayer and charity" were the things to remember in a time when powerlessness can lead to anger. The bishop, who serves as episcopal vicar for the Santa Barbara Pastoral Region that includes Thousand Oaks, offered prayers for Ventura County Sheriff Sergeant Ron Helus, each victim and their families, "and yes, even the perpetrator."
Fox, who attended this service with his wife Letitia, insisted Thousand Oaks would move forward because he knows the qualities of its citizenship and how it relates to a belief in basic Christian qualities.
"We are fortunate as Catholics because our faith is strong," said Fox, "and we actually believe Christ died for our sins, so we pray for that same faith for those families that lost loved ones, many of them at a very young age."
Hope, he continued, is about "a better tomorrow. A better next week. … Other communities have gone through these tragedies and, over time, they've come to realize life does go on."
As for love, Fox said he was "reminded of scripture just last week when Jesus was asked about the two greatest commandments. He said: Love God with all your heart, and love your neighbor as yourself.
"We're very fortunate in Thousand Oaks to demonstrate that love for our neighbors. In the next days and weeks to come there will be many memorial services and funerals. There will be opportunities for the Saint Paschal family to attend these services — many for people you may not even know. But it's important as a community that we put our arms around one another and we love one another as we would love ourselves."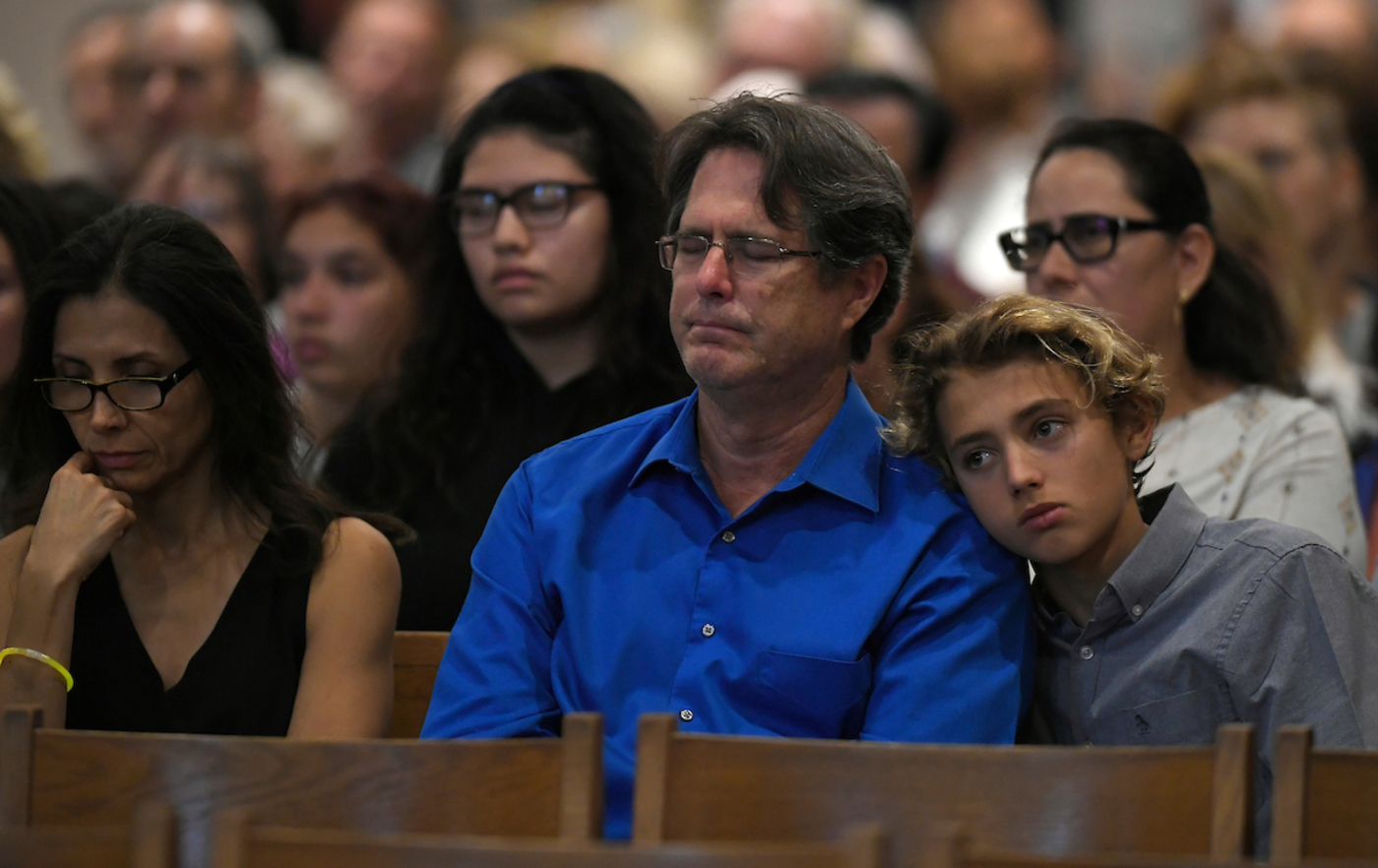 As the services ended and parishioners quietly filed out into the brisk winds that whipped up the strong scent of nearby brushfire smoke into the air, Lucy Deukmejian stood off to the side of the main exit.
She handed out small fluorescent glow sticks to those who might need a reminder to "be a light in the world," as she said.
"This is what we're called to do — love and support each other and be a community," said Deukmejian, a Thousand Oaks marriage family therapist and Saint Paschal parishioner.
Deukmejian said her best friend's five sons had been at the Borderline Bar & Grill on Wednesday night, but all of them escaped unharmed. She felt a need to be there and give some thanks.
"This light is also a reminder to love ourselves," she added. "Many don't love themselves enough so it's hard to love others and love God. We need to be a light when it's darkest up on the hill, and light up with whole world with our love."
Tom Hoffarth is an award-winning journalist based in Los Angeles.
SPECIAL OFFER! 44 issues of Angelus for just $9.95! Get the finest in Catholic journalism with first-rate analysis of the events and trends shaping the Church and the world, plus the practical advice from the world's best spiritual writers on prayer and Catholic living, along with great features about Catholic life in Los Angeles. Subscribe now!