One of the most famous re-enactments of the Passion of the Christ will take place next year in Oberammergau, a small town 60 miles south of Munich.
In 1633, the townspeople of Oberammergau promised God that if the Black Plague, which was sweeping through Europe, passed over their town, they would faithfully organize a live performance of Christ's death and resurrection every 10 years. The 2020 production is the continuation of this promise.
If residents of Los Angeles cannot be one of the anticipated 750,000 audience members in Germany next year, there are many other options right in their own hometown this Lenten season.
"The Last Days: the Passion and Death of Jesus, the Christ" will be performed at Immanuel Presbyterian Church in Central Los Angeles from April 5 to April 19, ending on Good Friday.
Jonathan Roumie (Mindy Project) and Maria Vargo are the producers, directors, and lead actors of the production, playing Jesus and Mary, respectively.
The two artists first met in 2013 when Roumie played Jesus and Vargo played St. Faustina Kowalska in the one-woman production of "Faustina: Messenger of Divine Mercy," a live drama of Saint Luke Productions.
Roumie's role as Jesus was pre-recorded and played each night on a screen to depict the Divine Mercy apparitions. "Every night, I would get to act with him, except he wasn't there," Vargo said, laughing.
Maria's role as St. Faustina was a four-year commitment that saw her perform 300 shows throughout the U.S. She said the sacred play transformed more than just the audience members.
"As I started to learn and prepare for the role, I began to learn how much [Faustina's] life was really an offering to God of sacrifice." She explained that the rigors of being on the road and the minor illnesses during that time became a way to live the mystery of offering sacrifices to God.
"That allowed me to really enter into the character even deeper and enter into the understanding of what 'offering it up' meant."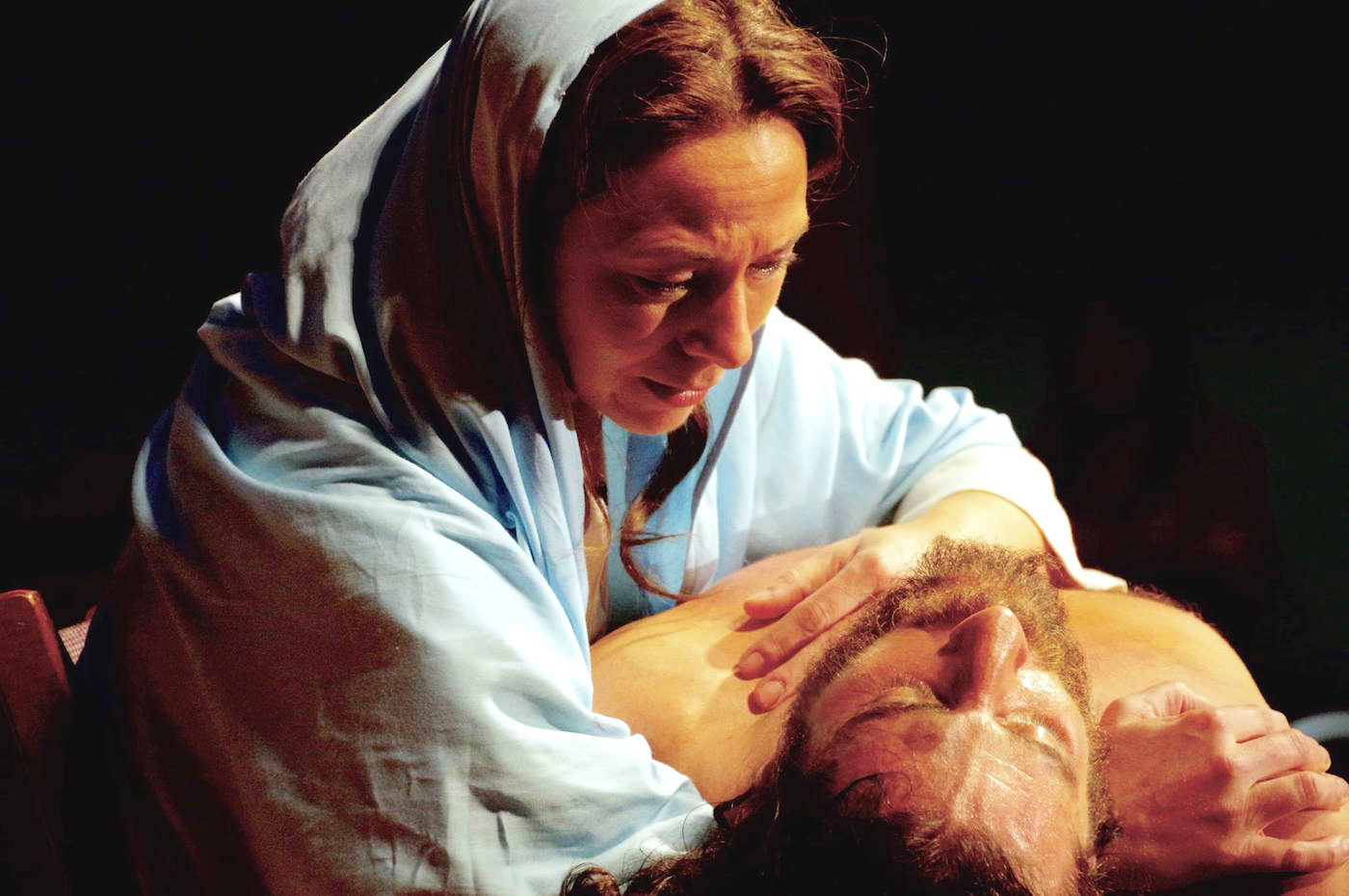 Roumie has had a similar experience playing Jesus year after year. "Faustina" was the first of the many times that he would play Jesus.
In addition to his four years playing Jesus in the Lenten passion plays, Roumie was cast in "The Chosen," the first-ever multi-season TV series about the life of Jesus. The project has already raised $11 million through crowdfunding campaigns. The first episodes will premiere next month, distributed by VidAngel.
"I'm not just spending a few weeks learning some lines," Roumie said, "but now I am spending three months out of the year meditating on what I am going to bring to the role." When Roumie was cast in "The Chosen," he said, it "extended the amount of time I spend putting myself in Jesus' sandals, so to speak."
He added, "[God] has ordained me to do this for a greater purpose, and I believe that is to bring more souls to him in a way that is relatable, that is media-friendly, that is artistic and is truthful."
Vargo and Roumie first began working on the passion play at St. Monica Catholic Church in Santa Monica, but the energetic response from the audience over the years has pushed Roumie and Vargo to seek a larger venue at Immanuel Presbyterian Church.
"We both felt that we needed to keep going and to reach out to a wider audience and a more ecumenical audience at that," Roumie said.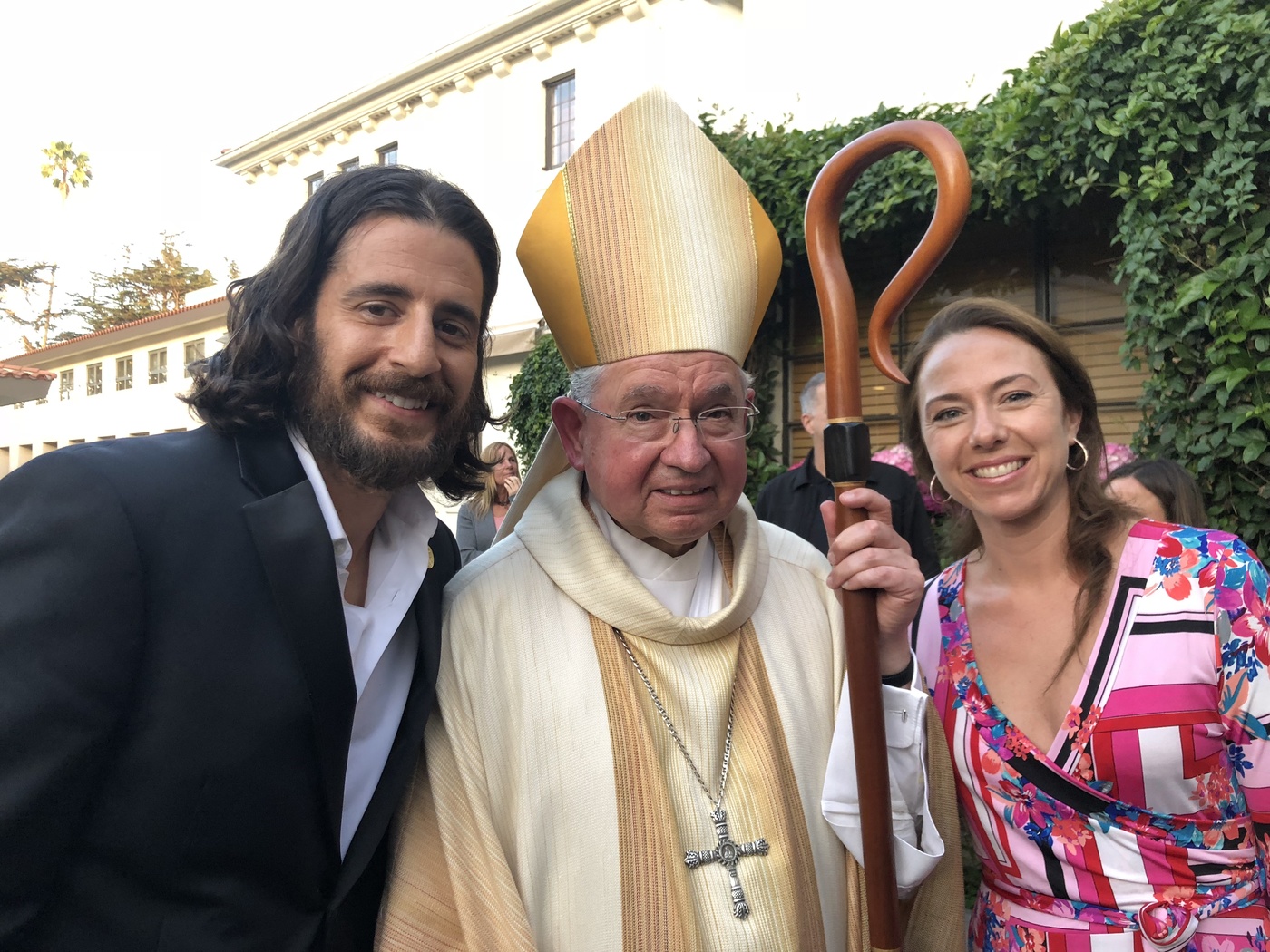 While there are many TV and film adaptations of Christ's passion, Roumie said that nothing comes close to a live performance. The century-old Cathedral where the performance is held is built in French Gothic Revival style and allows for a semi-interactive performance with the audience. "It brings a special level of connection and spirituality," said Roumie.
Vargo sees the impact their performances has on the audience. "I'm behind the scenes looking at what's going on. People are crying almost through the entire thing."
Vargo and Roumie wrote the script, which is based on the Bible — with some additional elements — with writer Kate Whitney. "We are just sort of filling in some creative blanks," Roumie explains.
Vargo added that it was important to give speaking roles to the women of the Bible. Both the Blessed Mother and Mary Magdalene have monologues. "It's very male driven and heavy, but we wanted to really see what it would be like to hear those women speak."
Vargo hopes the performance will be a moment of grace for those who come to witness the sacred play. "We want to bring the highest quality of art and beauty so that people will be attracted to it, but most importantly, moved by it."
"Just imagine how much more powerful and how much more complete the person's Lenten experience could be by actually seeing this," Roumie said. "We want people to have that."
Start your day with Always Forward, our award-winning e-newsletter. Get this smart, handpicked selection of the day's top news, analysis, and opinion, delivered to your inbox. Sign up absolutely free today!