Call it the Aclan Fan Club.
There's a nice pontifical ring to it, but it also comes with a miter, crozier, and pectoral cross. And the club's boundaries are only suggested by the size of the church.
The thousands of faithful who fanned out into the Cathedral of Our Lady of the Angels May 16 to celebrate the episcopal ordination of new Auxiliary Bishop Alejandro D. "Alex" Aclan had several moments to show their love and appreciation for the second Filipino-American to have this title in the United States.
But perhaps the most appropriate moment was when the 68-year-old was handed a papal decree from Pope Francis, proclaimed by Archbishop Christophe Pierre, the apostolic nuncio to the United States.
With the large unrolled scroll, Aclan beamed as he held it up and walked past the bishops concelebrating the Mass at the altar. They applauded.
With his grin widening, Aclan then brought it past Archbishop José H. Gomez. From his chair, Archbishop Gomez leaned forward to pretend to get a better look at it, then signaled with a thumbs up. Even more applause.
Aclan then took it to the pews. Up a side aisle, cutting across the first section, down the center aisle, in front of his family members — one of his sisters even gave him a high-five — and finally bringing it back to the altar. Outbursts and waves of applause erupted in each section.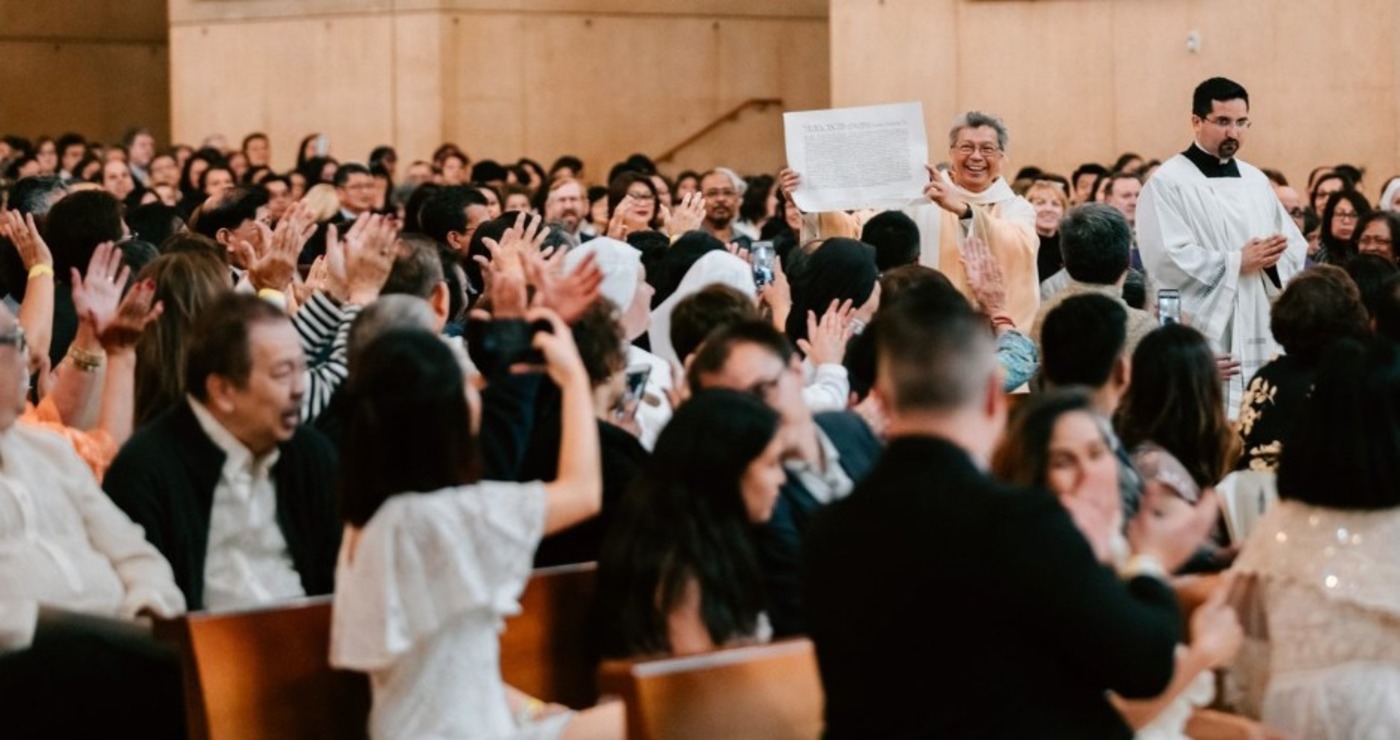 At a point in the Mass where Archbishop Gomez was about to start his homily, he paused.
"I think you should have gone all the way to the back [of the church]," Gomez said. "That's where the real fans are."
Eventually, that happened. Near the conclusion of the Mass, Aclan was in full bishop attire, taking what resembled something like a victory lap around the cathedral. He did so accompanied by Archbishop Gomez and the two "co-consecrators" chosen by Aclan: Archbishop Emeritus Cardinal Roger Mahony, and fellow Filipino-American Bishop Oscar Solis of Salt Lake City, who himself served as an auxiliary in Los Angeles from 2004 to 2017.
The scene encouraged excited visitors to raise their cellphones to take photos, reach out to touch him, and even kiss his ring.
In becoming the second Filipino elevated to bishop in the United States, in the largest archdiocese in the country that has the largest population of Filipino Catholics, Aclan was not only making history, but making more new friends by his actions and his words.
His journey to this moment began in the Philippines, where he grew up the third of eight children and the son of a war hero. He studied medicine in college, went into computer data programming and systems analysis and then into bank administration before he felt a profound calling to the priesthood in his late 30s.
At an ordination Mass in which the three readings were proclaimed in Tagalog, Spanish, and English — a reflection of the three languages Aclan is fluent in — it was also witness to the impact he has already had in the City of Angels, and beyond.
"He's the reason why I'm a priest," admitted Father Nock Russell, who made the trip from Fayetteville, Texas, where he serves in the Diocese of Austin. Russell met Aclan at St. Finbar Church in Burbank decades ago and had similar backgrounds in the computer business world before their conversions.
"He was the one who opened my heart to God's calling," Russell continued. "If he moves people as much as he's moved me, in opening one's heart to the Holy Spirit, that's his best quality. I'm so proud of how we've been very close friends. I had to be here."
There are several words and phrases in Tagalog, the official language in the Philippines, that resonated with some of those who came to Thursday's Mass.
"I think of 'papasalamat,' which means gratitude and thanksgiving to God and to our faith, to have this wonderful human being as a bishop," said Jo Solomonson, a parishioner at Holy Name of Mary Church in San Dimas. She attended the Mass with Tess Domingo, president of the Federation of Filipino Rosary Groups, also of Holy Name of Mary, and someone who knew Aclan in the business sector before he even became a priest more than 25 years ago.
"We are grateful of all the people, not just the Filipinos, who will embrace him," Solomonson added. "It gives all of us great pride. He is such a remarkable character, and I know he will be able to bring not just the Filipino culture but all the cultures together."
Father Rolando Clarin, the pastor of Immaculate Heart of Mary Church in the East Hollywood area of Los Angeles, referred to "katapatan sa kangyan pagkatawag" — which translates to "faithfulness to one's calling."
"It's a confirmation of the strong faith and dedication he has to the Filipino Catholics around the world," said Clarin, who Aclan lived with at his parish while serving out his term as vicar for clergy. "He is always accommodating and welcoming, very easygoing and friendly. But he also knows if there is something important to talk about, he's very straightforward."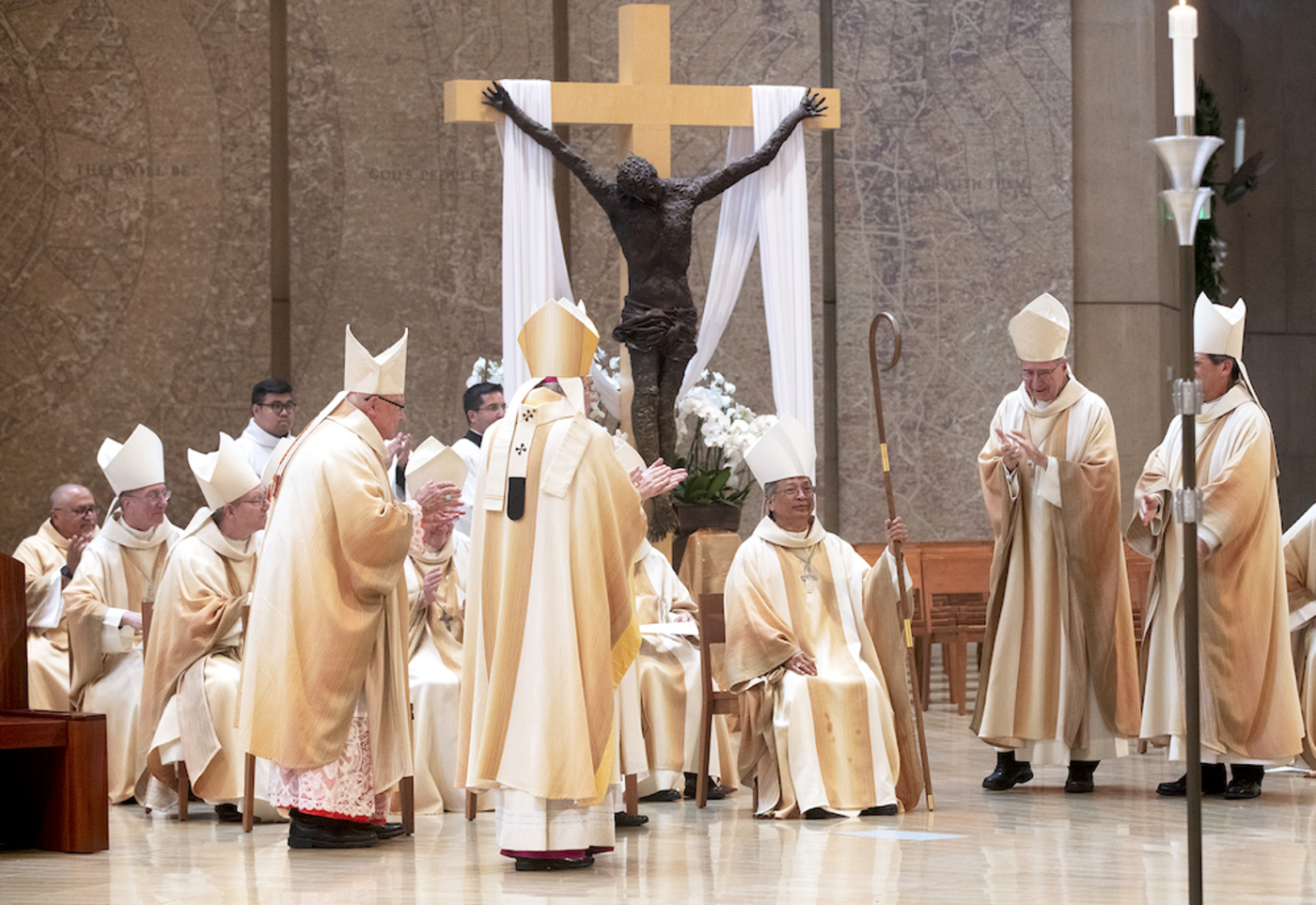 Solis, the first Filipino bishop of the United States and the Bishop of Salt Lake City since 2017, remembered the first time he met Aclan upon arriving to LA as an auxiliary bishop in 2004.
"Considering we're both Filipinos, we had a special affinity and affiliation for each other," said Solis. "Filipino people are very comfortable with him. This is something I admit I miss in Salt Lake City — Filipinos are so scattered over 85,000 square miles. I miss talking to them in our dialect, helping with common cultural values and traits.
"Alex is a typical Filipino: He has a warm heart, affectionate, and I see a dedication to his ministry that is proven by his six years in the vicar for clergy office. That's a challenging ministry and he did so well."
Solis was one of the first Aclan called with the news of his papal nomination. Solis was ready with some advice.
"He was apprehensive and had trepidation, like any human weakness, because of the unknown," said Solis. "I told him to just rely on the power of God's grace. Knowing his personality and his ability to interact and relate to people of all types, he is the type of person who will really reach out to people of grace easily."
Aclan's other co-consecrator, Mahony, ordained Aclan a priest in 1993.
"The fact he's such a people priest — of course that comes from a Filipino background where every family has about 1,000 members," said Mahony with a laugh.
"He keeps with the Filipino culture of a devotional life of the church. And having so many Filipino people in our archdiocese, that's a huge blessing. When he goes to the San Fernando Pastoral Region, he won't need to have any Mass of welcome — he already knows everyone."
When Pierre spoke at the Ordination Mass, he joked to Aclan, "I know you wanted for a nice quiet sabbatical, but the Holy Father has called you to something great in the service of the Church.
"Service is something you also know about, having heard the loving example of your parents. Your father is revered as a hero in the Philippines, knowing his share of suffering and yet making sacrifices in the name of freedom. Now God is calling you to something heroic — to preach his Gospel and lift the burdens of his people.
"These days, everyone wants to see the 'Avengers' movie. I suppose we could speculate about your superhero name. But there can be no question about your superpower — the power of prayer."
Archbishop Gomez told Aclan in his homily that God had called him to become a bishop "in a time of renewal and reform in the Church."
"My brother, Jesus reminds you today in the Gospel that as a bishop — you are not a  'lord,' but a servant," Archbishop Gomez said, recalling the Gospel proclaimed before the rites of ordination. "You are not a 'master,' but a father.
"As a bishop, you need to let Jesus be your only teacher."
At the Solemn Vespers the night before, then Bishop-Elect Aclan focused his homily on reminding the congregation about its own special power, having just heard the reading of Hebrews 7:24-27.
"Vatican II teaches us that every baptized person is a priest," said Aclan. "What is a priest anyway? He has two roles — to act as a mediator between humans and God, linking the human with the divine. The other is to offer the proper sacrifice of praise and worship to God."
Aclan stressed that "exercising our priestly duties bring about reconciliation and peace, something our Church needs so much of in our time and we can all help bring about.
"With Christ at the center, [he is] just as a whirlpool draws everything around it into its center. As we get closer to the center, we on the periphery get closer to each other as well. When we bring ourselves to Christ and the power of his priesthood, we become agents of reconciliation and peace."
At the oath of obedience, the ring, miter, and crozier, or "pontifical insignia" that will accompany Aclan's ministry were brought forward by three of his sisters: Elena Kim, Corazon Simpson, and Susan Alfonso. Of Aclan's eight brothers and sisters, six are in the United States, some residing as close as Chino Hills, Chino, and Covina, others as far away as Chicago and Trenton, New Jersey.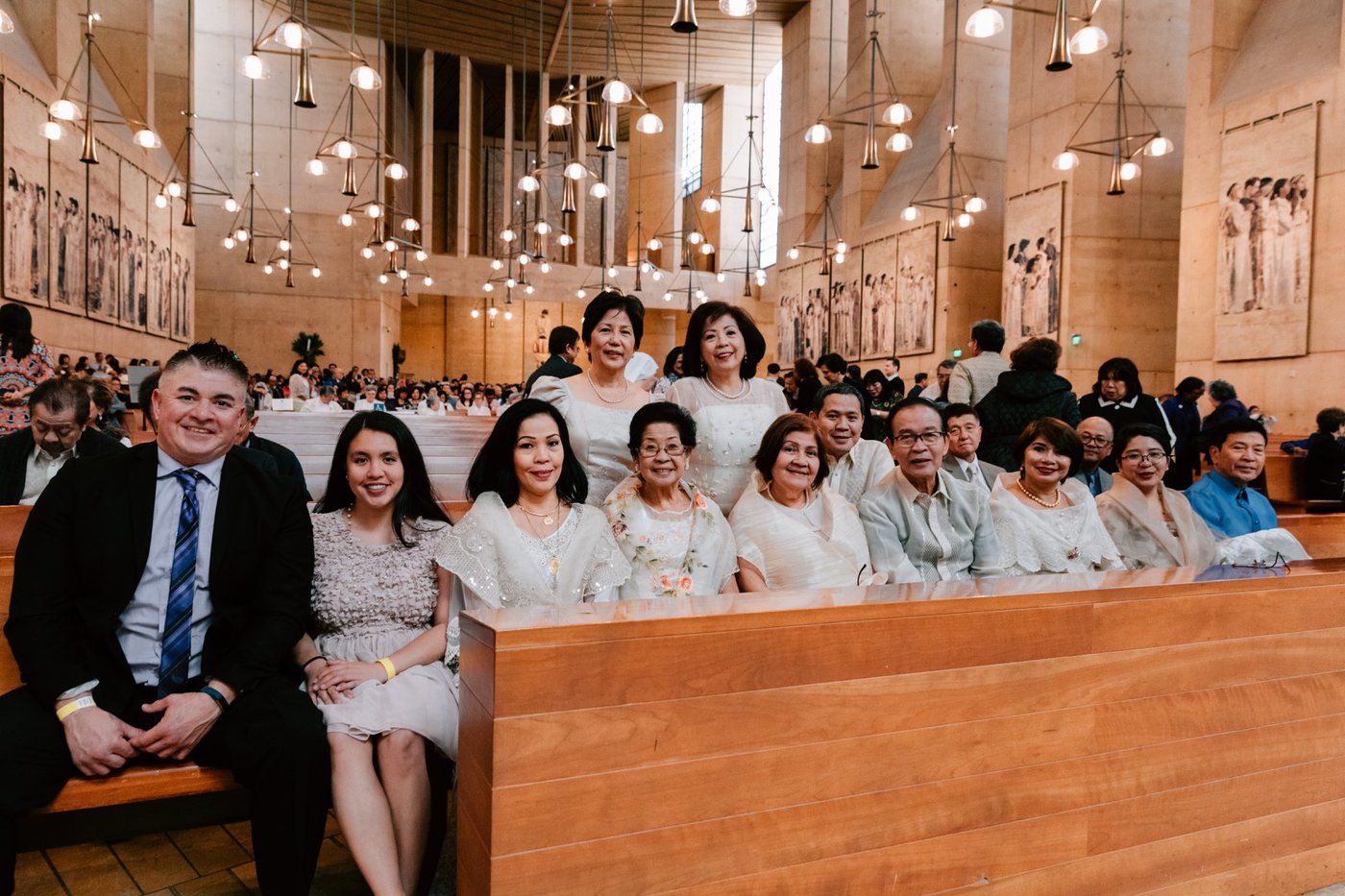 At Thursday's ordination, Aclan thanked his deceased mother and father for their support.
"We know that our liturgies — especially the Eucharist — are a foretaste of heaven on earth," Aclan said before the end of the Mass. "I cannot think of a better foretaste of heaven than this."
Alan Flordeliza, the son of Aclan's sister, Maria, who came from New Jersey, said, "For someone from my family to receive this honor, it's truly amazing. This has really made me realize just how long he's been in the priesthood and been giving to the community."
Flordeliza admitted that through the years, he's been most comfortable using the term "Uncle Alex." It's a tough habit to break.
"We were all just finally getting used to calling him 'Father Alex'," said Flordeliza with a laugh. "Out of respect, we do that in a church setting. But really, I would just call him overall a really super awesome guy."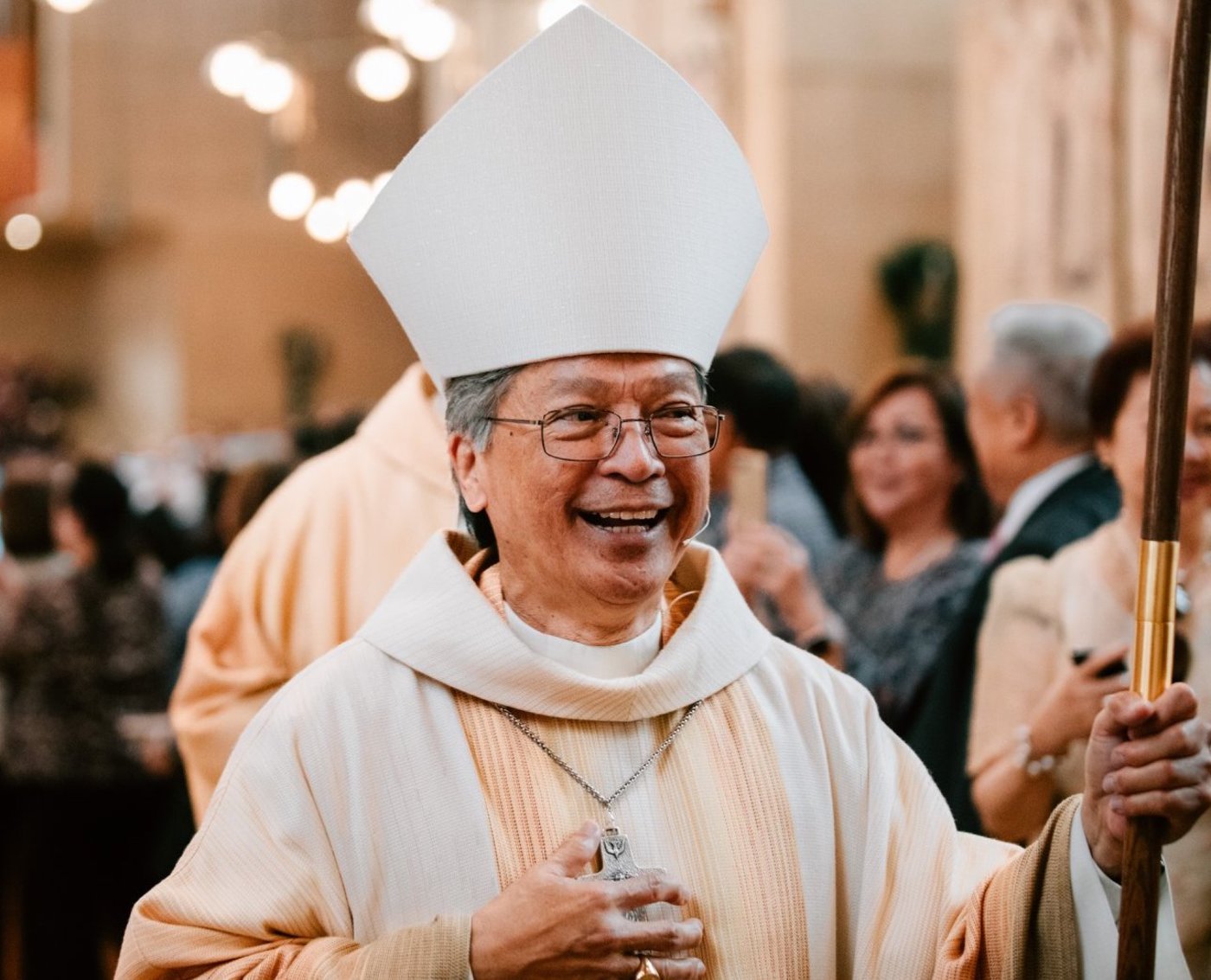 If Aclan could be given a road map on how to best serve the San Fernando Pastoral Region, he has a resource in Bishop Joseph V. Brennan, whom he is replacing as the area's auxiliary bishop.
Installed May 2 as the sixth bishop of Fresno, Brennan said Aclan is "landing in clover, not so much because I left the region in such good shape — I can deconstruct anything in six years, they just didn't give me enough time," he joked.
"But I was thinking, if I could have named a successor, I would have named him," Brennan said just prior to Thursday's ordination. "He has a deep sense of justice and accountability. He has always brought a collaborative ministry, someone who comes to a consensus and then is not afraid to make a decision."
While there may seem to be some physical distance from the downtown Los Angeles area, the San Fernando region "will feel even more connected now" with Aclan, said Brennan, who was the vicar general in Los Angeles during the time when Aclan was a vicar for clergy.
"He makes tough decisions in a gentle way and can deal with serious aspects of life, situations that need attention and can sometimes be on a very painful basis. He can deal with that because, at the core of his heart, he is a joyful man."
 Angelus editor Pablo Kay contributed to this story.