"After much work and prayer by so many members of the College community, we gather now to bless and dedicate this new lecture and concert hall to St. Cecilia," declared Archbishop José H. Gomez at Thomas Aquinas College on Monday, August 27. "It will be a center of the College's lecture and concert series — and a place for its students' performances and other wholesome entertainment."
The archbishop visited the college's Santa Paula campus to impart his blessing on the recently completed St. Cecilia Hall, which features a 580-person auditorium, a seminar discussion room, a recreation area, and a student coffee shop. Made possible by an $8.5 million grant from the Fritz B. Burns Foundation of Los Angeles, St. Cecilia Hall is the 14th of 15 buildings called for in the college's master plan.
The day's events began in Our Lady of the Most Holy Trinity Chapel, where Archbishop Gomez, joined by three of the College's chaplains, served as the principal celebrant at a votive Mass of St. Cecilia, the 3rd century virgin, martyr, and patroness of musicians. "The legend we all know is that St. Cecilia sang to God in her heart on her wedding day that she might remain a virgin, and her prayer was answered," said the archbishop in his homily. "So in a special way today we need to ask for her intercession for the purification of the Church and a new spirit of holiness and chastity."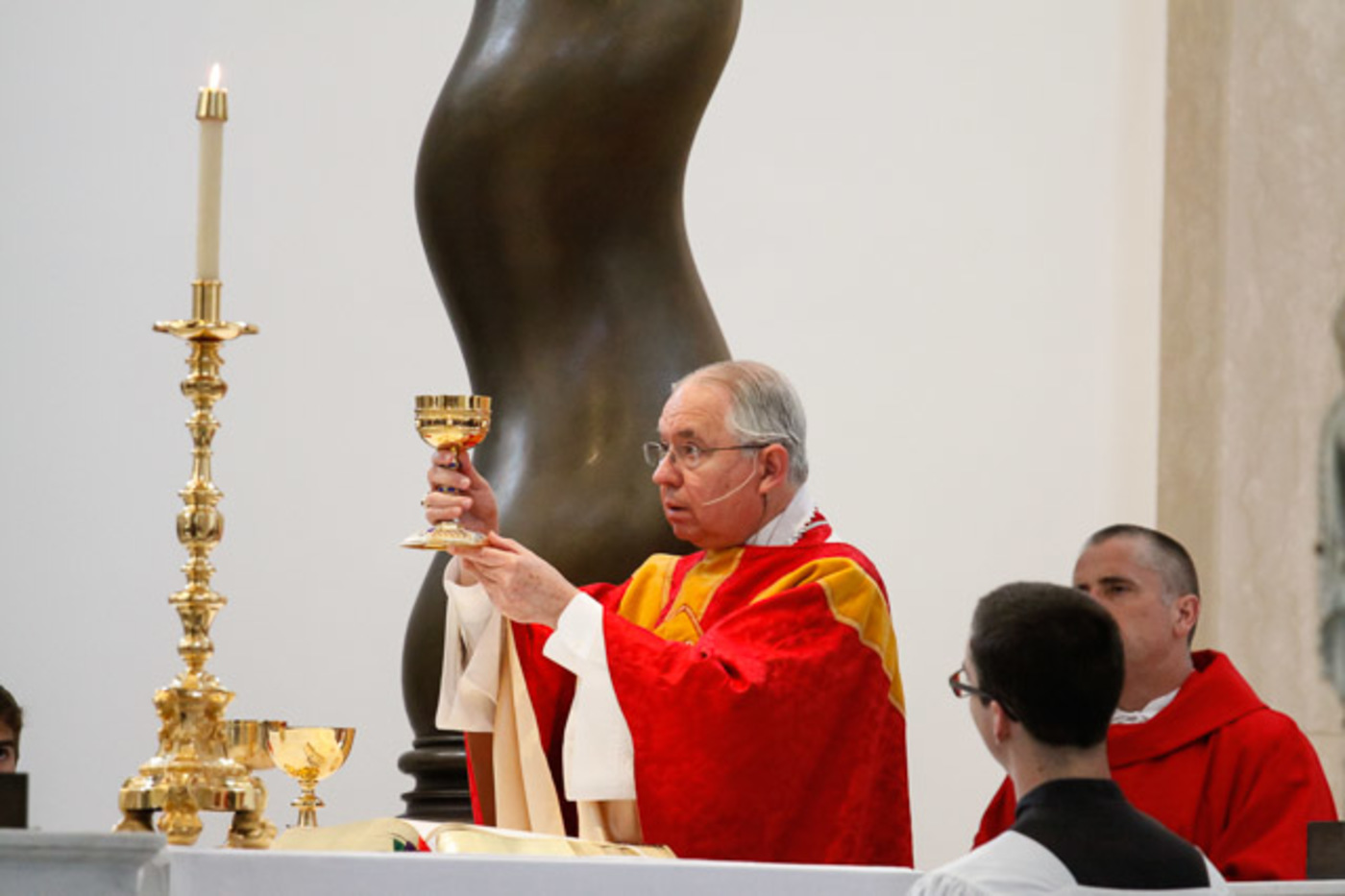 Following the Mass, the congregation processed into St. Cecilia Hall, gathering in the Fritz B. Burns Auditorium for the dedication ceremony. "Foremost among our guests today is our own archbishop, the Most Reverend José Gomez, who despite a very full schedule has made the time to be with us on this joyful occasion," said President Michael F. McLean. "We also specially welcome the trustees of the Fritz B. Burns Foundation, Maureen and Rex Rawlinson and Cheryl Robinson, with whom we have developed a warm friendship and to whom we are deeply grateful."
Dr. McLean noted that, in the few short months since its completion, St. Cecilia Hall has already become a hub of campus life. "As you can see, it is a beautiful building, and one that is proving to be tremendously useful," he continued. "Already it has been the site of a variety of activities and events that have greatly enriched the life of the College community." Among those are several lectures, a concert by world-class pianist Peter Serkin, two student productions, multiple dances and dinners, two Summer Seminar discussions, various parts of the High School Summer Program, and this year's Matriculation ceremony.
After Dr. McLean's welcome, Archbishop Gomez formally dedicated St. Cecilia Hall, pronouncing his blessing and walking across the stage, through the foyer and around the interior of the building. While the archbishop sprinkled holy water both on the building and on members of the college community, the Thomas Aquinas College Choir sang "Veni Creator Spiritus" (Come, Creator Spirit) from the auditorium balcony.
While making his way back to the auditorium, the archbishop paused to bless the Dillon Seminar Room, named for late Thomas Aquinas College president Dr. Thomas E. Dillon. Members of Dr. Dillon's family were on hand for the occasion, as was another of the building's namesakes, Joyce Skinner. Mrs. Skinner's late husband, Ken, was executive director of the Fritz B. Burns Foundation, and St. Cecilia's café — the Ken and Joyce Skinner Coffee Shop — is named in their honor.

Also in attendance were Fritz B. Burns' daughter, Frannie Morehart, and her daughter and son-in-law, Missy and Glen Mueller, as well as representative of the firms that designed and constructed the building.
"To Rex, Maureen and Cheryl, really there are no words that we can offer of gratitude," said R. Scott Turicchi, chairman of the College's Board of Governors. "I hope you will take away two things that we continue to pledge to the foundation: One is to remain true to the founding document on which this campus, and this institution was founded, and the second is that we put your generous donations to good work."
As an expression of gratitude, Mr. Turicchi presented the trustees with photos of the building as well as recordings of student musical performances — mementos of the intellectual and artistic life of the College that their generosity so deeply helps to enrich.
Start your day with Always Forward, our award-winning e-newsletter. Get this smart, handpicked selection of the day's top news, analysis and opinion, delivered to your inbox. Sign up absolutely free today!