68-year-old Alex Aclan was ordained as Los Angeles' newest auxiliary bishop on Thursday, becoming the second Filipino-American Catholic bishop in the United States.
Aclan was consecrated a bishop by Los Angeles Archbishop José H. Gomez, with emeritus archbishop Cardinal Roger Mahony and Bishop Oscar Solis of Salt Lake City serving as co-consecrators. Bishop Solis, who himself served as an auxiliary in Los Angeles from 2004 to 2017, was the nation's first Filipino-American bishop.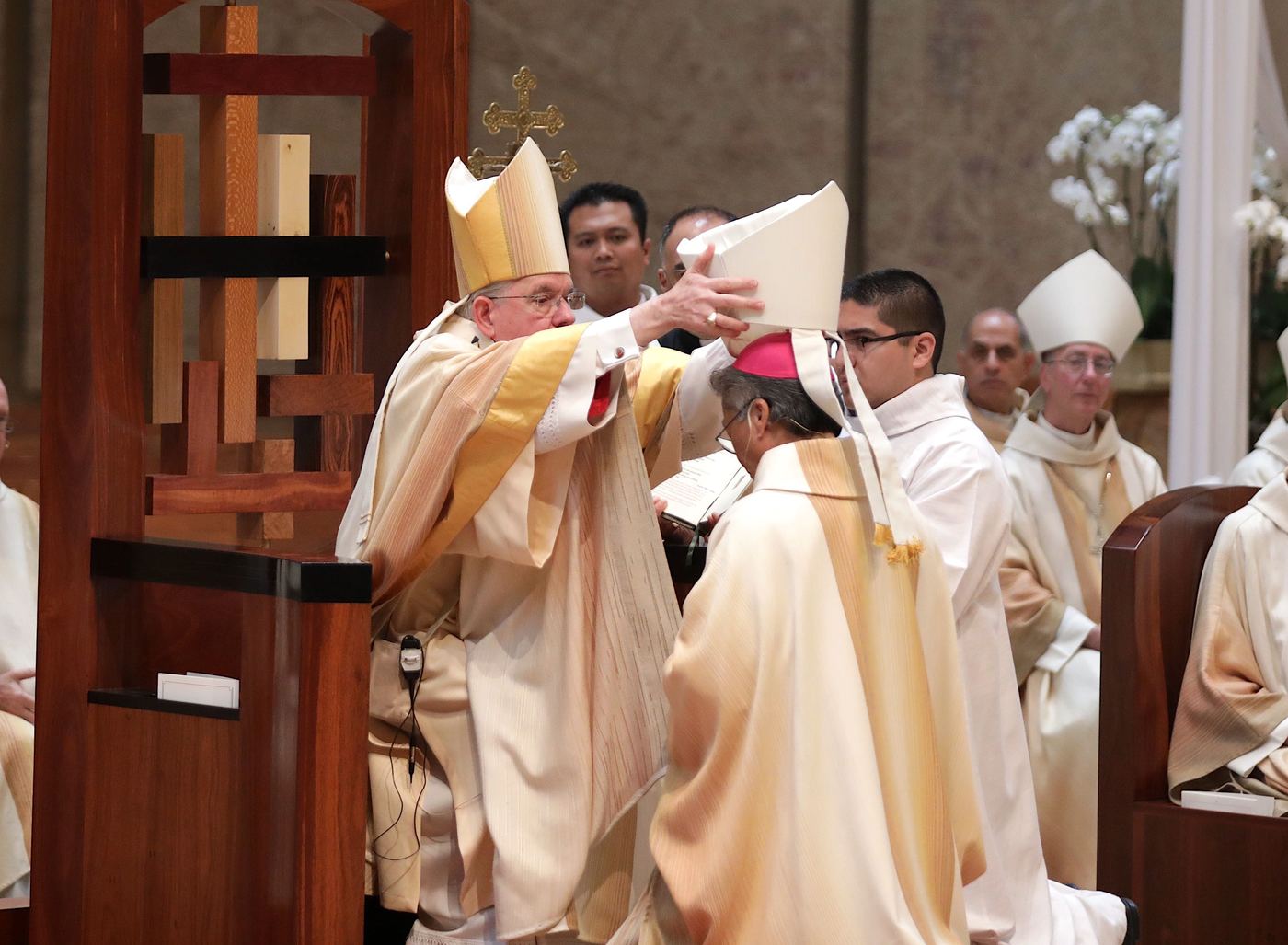 The rites of ordination took place before thousands of faithful — many of them from LA's Filipino community — as well as more than a dozen bishops.
During the Mass, the Apostolic Nuncio to the United States, Archbishop Christophe Pierre, joked about Aclan's appointment in March, which happened midway through a yearlong sabbatical for Los Angeles priest.
"I know that you wanted a nice, quiet sabbatical, but the Holy Father has called you to something great in the service of the Church," joked Pierre before reading the mandate from Pope Francis formally appointing him a bishop.
"Now God is calling you to something heroic, to preach his Gospel and lift the burdens of his people," the nuncio told Aclan. "These days everyone wants to see the Avengers movie. I suppose we could speculate about your superhero name, but there can be no question about your superpower: the power of prayer."
Gomez told Aclan in his homily that God had called him to become a bishop "in a time of renewal and reform in the Church"
"My brother, Jesus reminds you today in the Gospel that as a bishop — you are not a 'lord,' but a servant," Gomez said, recalling the Gospel proclaimed before the rites of ordination. "You are not a 'master,' but a father."
"As a bishop, you need to let Jesus be your only teacher."
In his remarks to the standing-room only crowd gathered inside the Cathedral, Aclan thanked family, fellow clergy, and all those who had supported him in his vocation — especially his mother and father, who are both deceased.
"We know that our liturgies — especially the Eucharist — are a foretaste of heaven on earth," Aclan said before the end of the Mass. "I cannot think of a better foretaste of heaven than this."
Bishop Aclan will take over for former auxiliary Bishop Joseph Brennan as the episcopal vicar for the Archdiocese's San Fernando Pastoral Region. Brennan was installed earlier this month as the Bishop of Fresno.
Start your day with Always Forward, our award-winning e-newsletter. Get this smart, handpicked selection of the day's top news, analysis and opinion, delivered to your inbox. Sign up absolutely free today!