Raul Guerra was home at last, at St. Alphonsus Catholic Church in East Los Angeles last week.
Ruben Valencia made sure of it.
In the mid-1950s, when they were 11-year-olds growing up in nearby Montebello, Guerra made sure Valencia joined him at St. Alphonsus for Mass every Sunday. The two had formed a brother-like bond — both were sons of single mothers, put together by their fifth-grade teacher to watch out for each other.
In 1964, just months before Valencia would receive a draft notice from the U.S. Army and Guerra would follow by enlisting in the U.S. Navy, Valencia asked Guerra to be the best man at his wedding.
"Raul asked me right away if I had made all my sacraments. I had been baptized and made my First Communion, but I hadn't been confirmed yet," said Valencia. "So Raul said to me, you have to do this before you get married. I'll be your sponsor. I felt he was like my godfather."
Again, Guerra made sure that happened. Again, at St. Alphonsus.
Last week, when it came time to plan a funeral Mass for Guerra — more than 50 years after his death in Vietnam, a process that included more than a decade just to clarify his identification and finally return his remains — Valencia told the mortuary planners about their childhood connection to St. Alphonsus.
"Nancy Valdez, the coordinator at Risher Mortuary who has been a guardian angel through this whole process, heard that and said, 'That's where we had to have it,' " Valencia said last Saturday morning from his home in Pico Rivera, becoming emotional again. "It just took us back to when we were so young."
More than 100 people attended the funeral for Guerra April 25, as Montebello police officers served as pallbearers, LA County first responders showed up in force, and the Garfield High ROTC members and musicians participated. Clusters of Vietnam veterans, many arriving via motorcycles, also attended.
Hundreds more waved American flags and offered salutes on a 10-mile motorcade procession up Whittier Blvd., through Montebello and Pico Rivera toward the burial site at Rose Hills Memorial Park.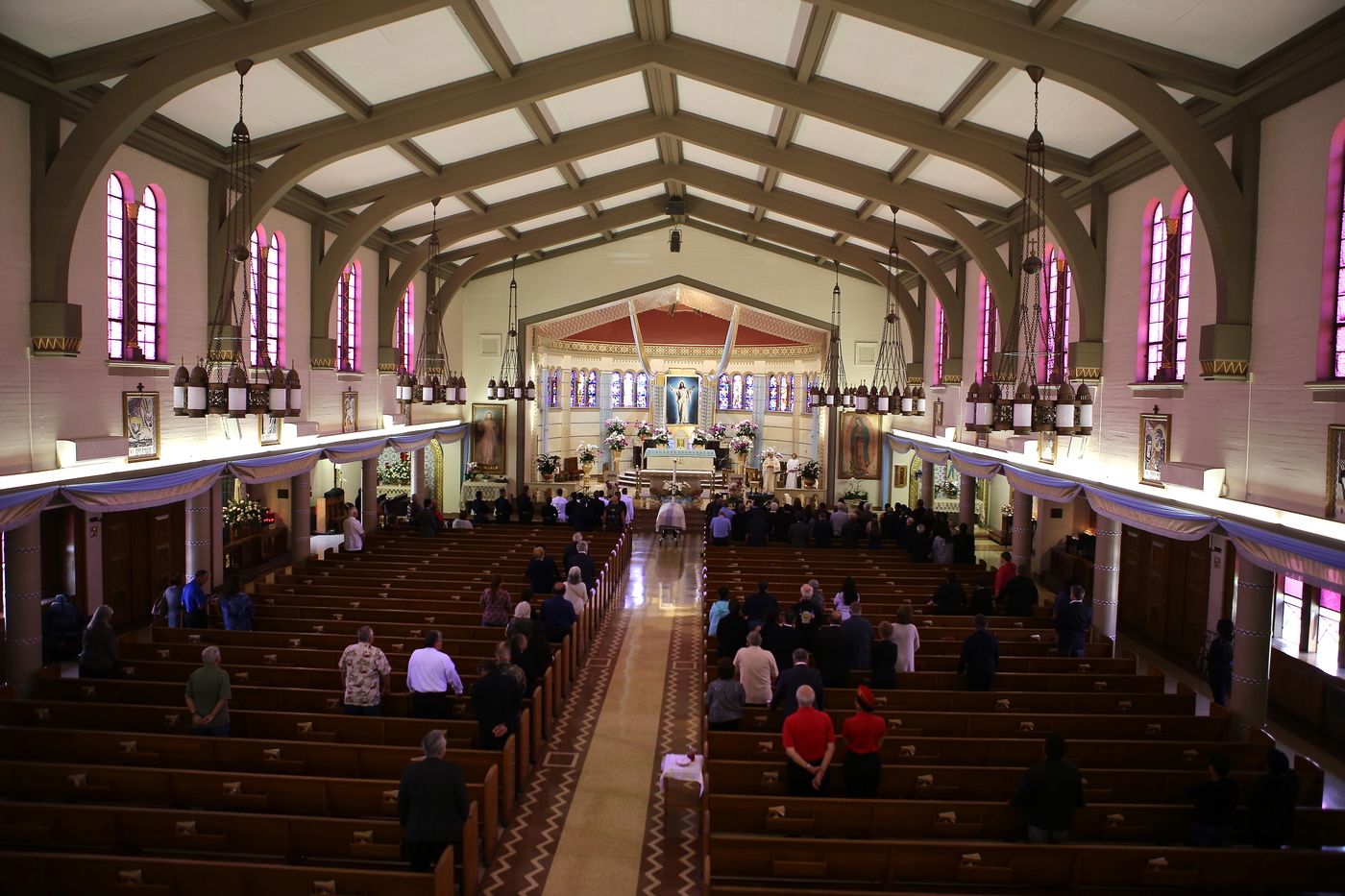 Through it all, Valencia said he felt his prayers to bring Guerra back were finally answered.
"I prayed every day — please help me accomplish this, let him come home," said the 74-year-old Valencia. "My faith has played a big part ever since Raul and I went to church together.
"Never knowing who my own father was, I always thought of God as my father. Through my life in Vietnam when things were difficult, my faith in Jesus carried me. My belief in God now is stronger than it ever has been."
Guerra was a petty officer, third class Navy enlistee at age 23, trying to start a writing career as the editor of the East LA College school paper and covering sports for the local Montebello newspaper. Valencia was his Montebello High classmate, as well as with his wife-to-be, Emily, who he met in a math class. They all graduated in 1963.
Guerra had a fiancé, Mary Barrow, who attended rival Garfield High but met up with him at ELAC. They decided to put off a wedding until he returned from Vietnam.
In the summer of 1967, Guerra was sent to serve on the USS Oriskany, joining John McCain, the future U.S. senator and presidential candidate.
Less than three weeks before McCain would be shot down on a mission and taken as prisoner, Guerra volunteered to be on a reconnaissance flight over Da Nang in an E-1B Tracer, with four others.
As the plane returned on Oct. 8, 1967, it crashed into a steep mountain. It was only a few months short of Guerra's 25th birthday.
The site in hostile territory was inaccessible because of hazardous terrain. Over the course of 40 years, more than a dozen recovery missions were unsuccessful. It turned out the remains had been discovered and buried by a Vietnamese farmer.
Before leaving on that mission, Guerra sent a letter to Valencia telling him about it — he was interested in flying over a part of Vietnam where Valencia was stationed. But Valencia had been wounded and returned to Los Angeles by then, receiving a Purple Heart in May, 1967.
Five months later, Valencia got a call from Guerra's mother asking him to come over. Navy personnel were coming with the news of her son's death.
It wasn't until 2007 when the bodies of all five on the plane were finally recovered and flown to Hawaii. As the remains of the four others identified were buried in Arlington National Cemetery in Washington, D.C., Guerra's ID had to wait. Valencia didn't know about it until he was told by his daughter about a story in the Whitter Daily News.
That delay lasted another 12 years. As Valencia tried to help with the process, it was discovered Guerra had been adopted in Mexico and brought to Montebello as a youngster. There were no DNA matches, and no next of kin willing to offer any.
Last February, the U.S. Department of Defense POW-MIA Accounting Agency finally confirmed the remains of Guerra through circumstantial evidence.
Guerra, whose name was recorded years ago on the National Vietnam Veterans Memorial in Washington D.C., was released to Valencia last March. A cemetery plot at Rose Hills was donated for Guerra's resting place.
Valencia and his family met the casket containing Guerra at LAX on April 23. A vigil and memorial took place the next night. The funeral Mass was the following day.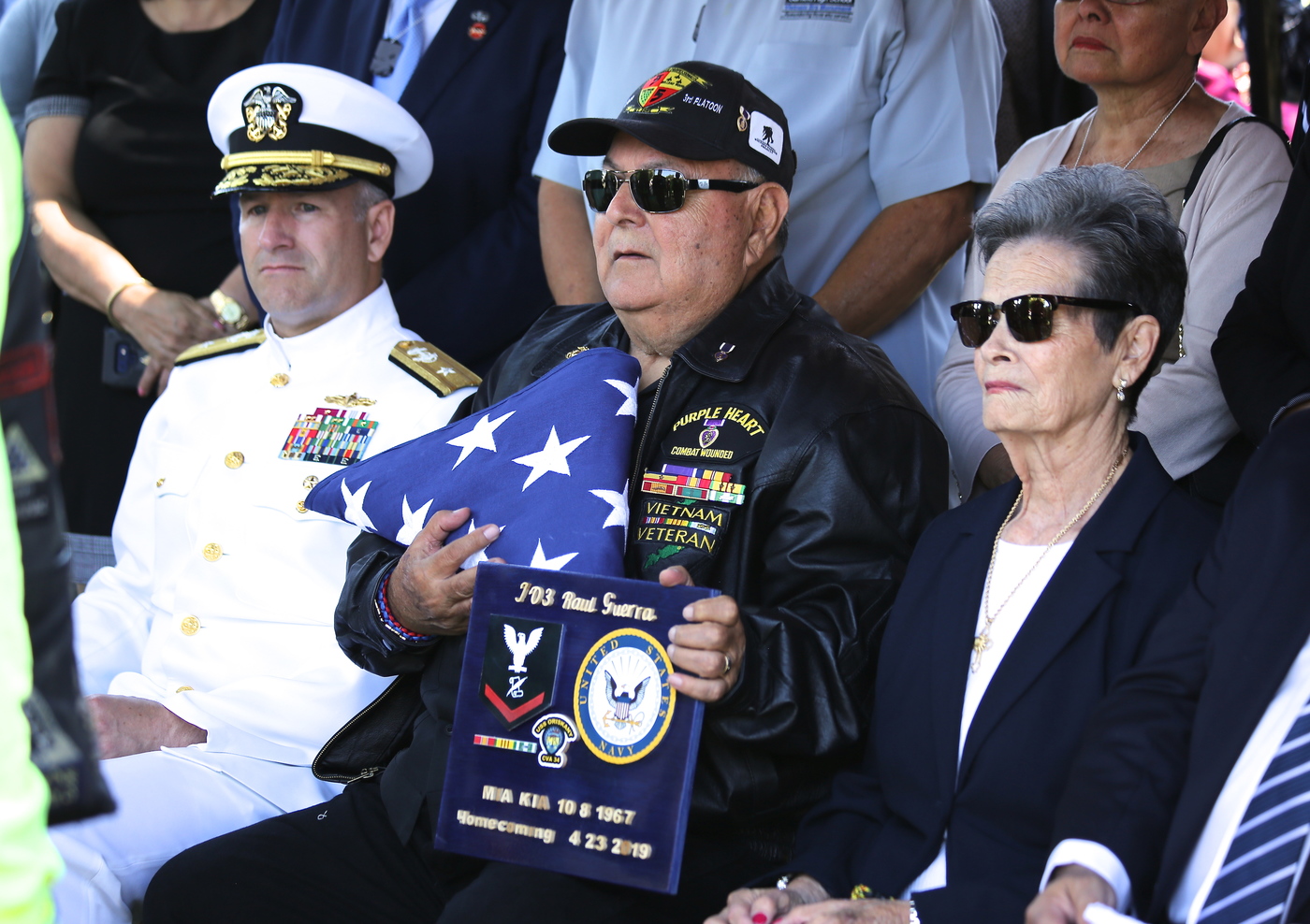 Father Alex Ibarra said during the homily that it was "an historic moment for Raul and for our nation. … These last 52 years may seem like a lifetime — it's longer than I have been alive — but not for God. Everything has transpired the way God intended. …
"We accompany our brother home and give him the gift of eternal rest. For Ruben and his family, his restlessness never stopped and they worked to give him peace. It is fitting we come to this church during the octave of Easter as Christ has risen from the dead. The memory of our brother Raul has never died. We speak of Raul in the present as he's alive in all of us and his legacy is alive."
Jose Munoz, a Navy veteran who served in Vietnam and attends St. Benedict Church in Montebello, said it was important for him to witness this Mass because "this gives rest for a fellow brothers in arms. For many veterans, including me, this is part of therapy. Serving in Vietnam probably brought me closer to God. I kept hoping I would come home to see my wife and 1-year-old child. I thank the Lord we are here to see this after all these years."
Ibarra stood off to the side at the Rose Hills burial site while more Navy rituals were taking place, including the release of white doves and an honor guard playing taps.
"It's very moving to be able to witness to this," said Ibarra. "I'm still kind of speechless about the ramifications of this whole story.
"There is true patriotism and commitment, but also the beauty of not leaving anyone behind and being a true friend as Jesus himself told us: There's no greater love than to lay down one's life for a friend. It's obvious Ruben did that to bring his friend home," he said.
"This was a homecoming for everyone. St. Alphonsus is important for the East LA community. It has a longstanding history. We are blessed to provide this closure for all them sacramentally, spiritually and physically to be together."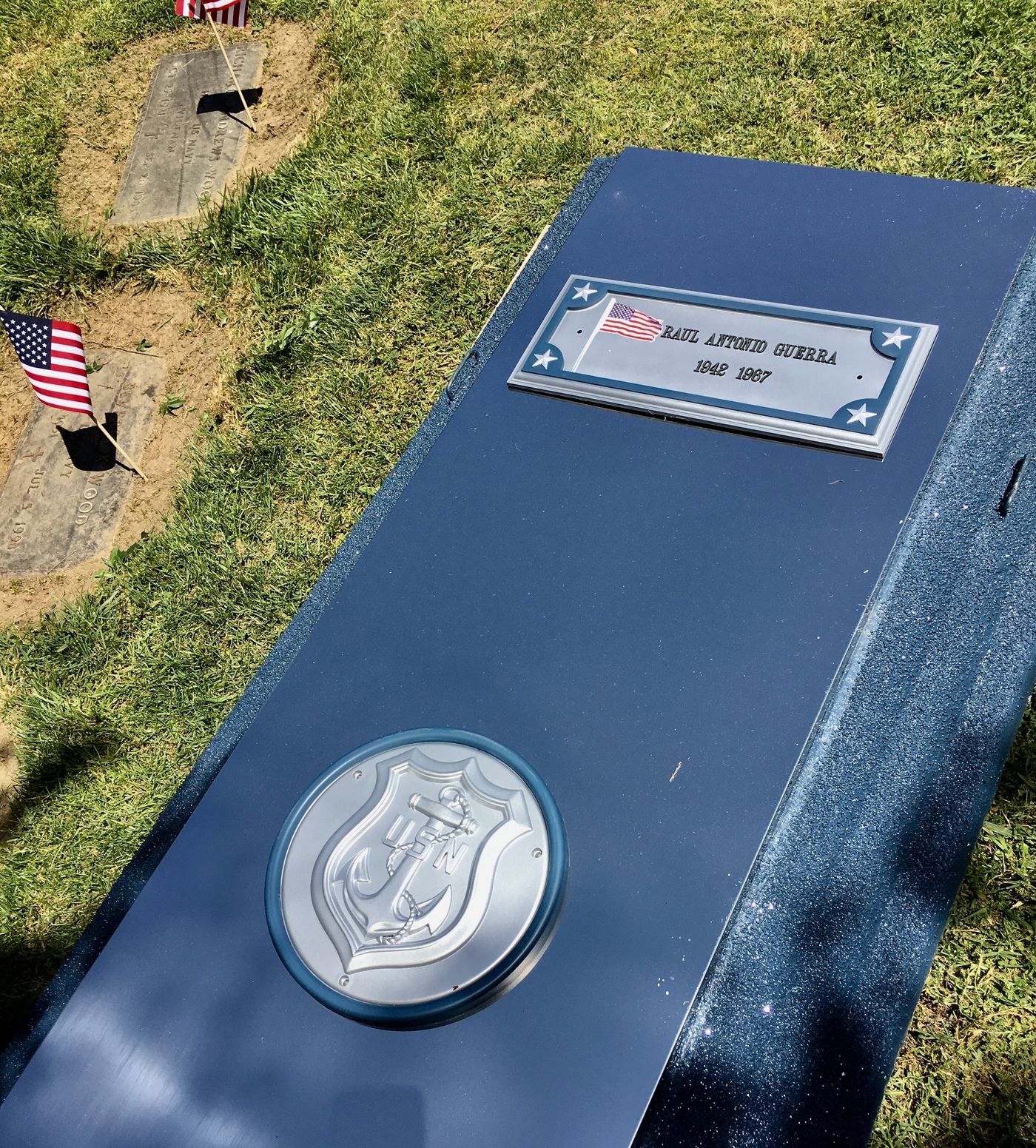 Valencia told news reporters at the burial site that his home is not too far away. As he stands in his patio, he can see the Rose Hills sign near the 605 Freeway. Valencia is also painfully aware that 44 years after the Vietnam War's official ending, there are some 1,500 American servicemen who remain unaccounted.
"This was my brother," Valencia said of Guerra. "Any brother would go look for his brother. I know I now have my brother close to me.
"Once all this is over, I'll go to the gravesite, take my chair, bring a lunch and we'll reminisce."
Tom Hoffarth is an award-winning journalist based in Los Angeles.
SPECIAL OFFER! 44 issues of Angelus for just $9.95! Get the finest in Catholic journalism with first-rate analysis of the events and trends shaping the Church and the world, plus practical advice from the world's best spiritual writers on prayer and Catholic living, along with great features about Catholic life in Los Angeles. Subscribe now!