Some social media-savvy nuns turned this year's Super Bowl into an unlikely opportunity for evangelization with the return of a fun Twitter hashtag.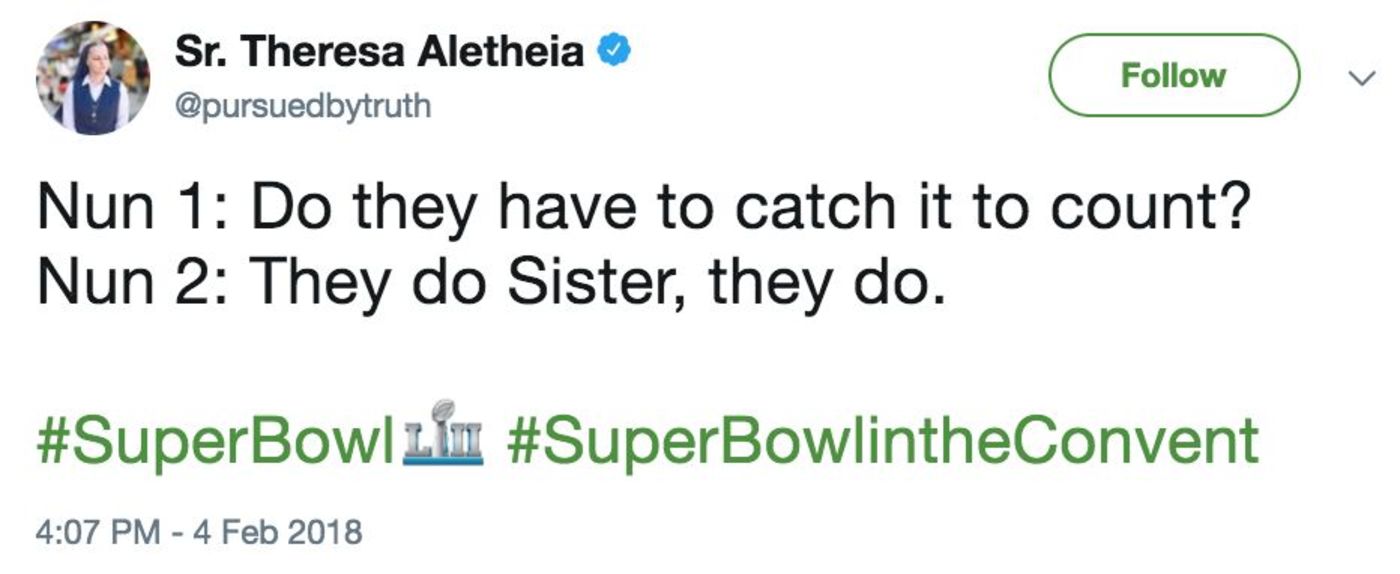 #SuperBowlintheConvent built on its popularity from last year thanks to a pregame tweet from Sr. Theresa Aletheia inviting her fellow religious to share real-time reactions to the championship game between the New England Patriots and Philadelphia Eagles.
The responses did not disappoint.
"Wow, look how that #Eagles player flew in the air! Wonder if his guardian angel gave him a lift?" read a game- time tweet from Sr. Margaret Michael.
"I think one of the Sisters went to the chapel to pray for their team!" one nun tweeted. "That touchdown was a visible sign of all of my Hail Mary's #FlyEaglesFly" read another tweet.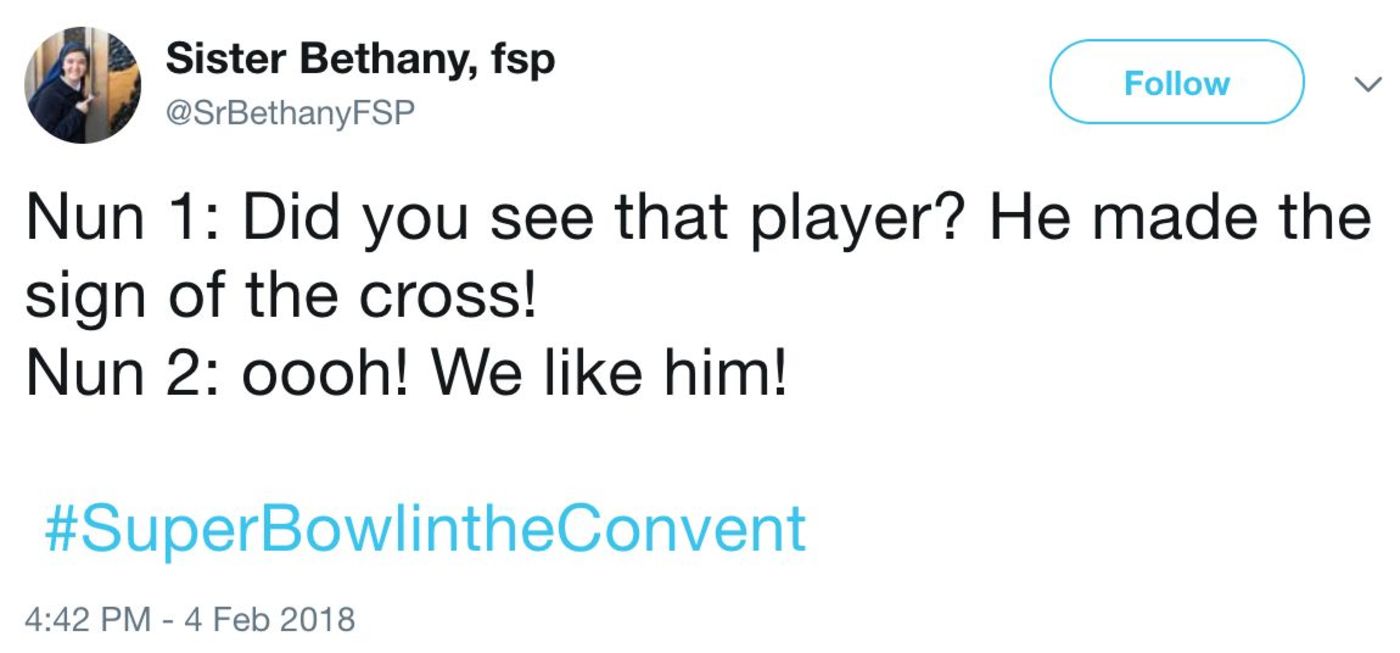 When asked about the inspiration behind the hashtag, Sr. Theresa says she recognized a primetime opportunity for people to better understand the vocation to the religious life.
"The hashtag was just a way to share how much joy can be found in religious life, no matter what we are doing." Sr. Theresa told Angelus News. "People love learning about nuns and, for some strange reason, they are always delighted and surprised that we enjoy life so much."
The series of associated anecdotes, pictures and videos from inside convents across the U.S. posted with the hashtag on Sunday drew plenty of praise from Twitter users.
#SuperBowlInTheConvent is my favorite thing about tonight" read a tweet from user. "Next year I want to be invited to the party."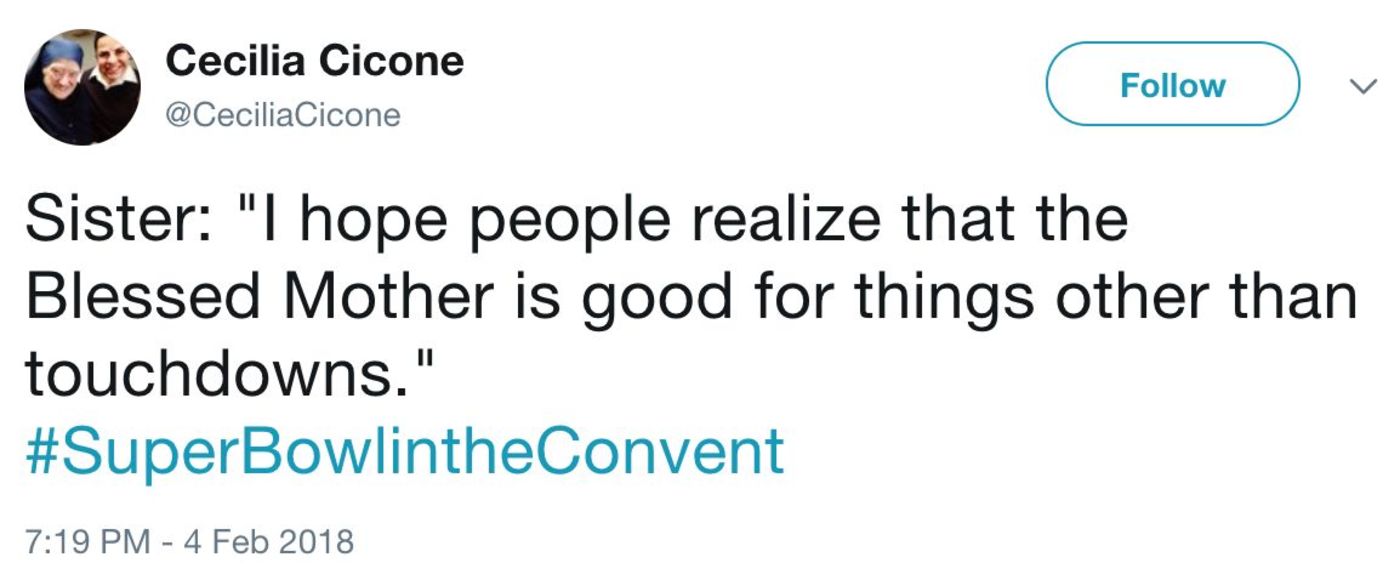 Better yet, reactions to the hashtag suggest it's possible to evangelize from inside convent walls.
"This nun's Twitter feed may prove to be my gateway drug back into Catholicism" wrote one person, referencing Sr. Theresa.
"#Superbowlintheconvent is making me think about converting to Catholicism," read another.
Hashtags aside, Sr. Theresa insists the key to reaching people's hearts rests in prayer.
"The silent sacrifices of our sisters, especially our older sisters, are powerful," she says. "I know this silent work of our sisters draws down many graces. But our joy-filled tweets definitely don't hurt either!"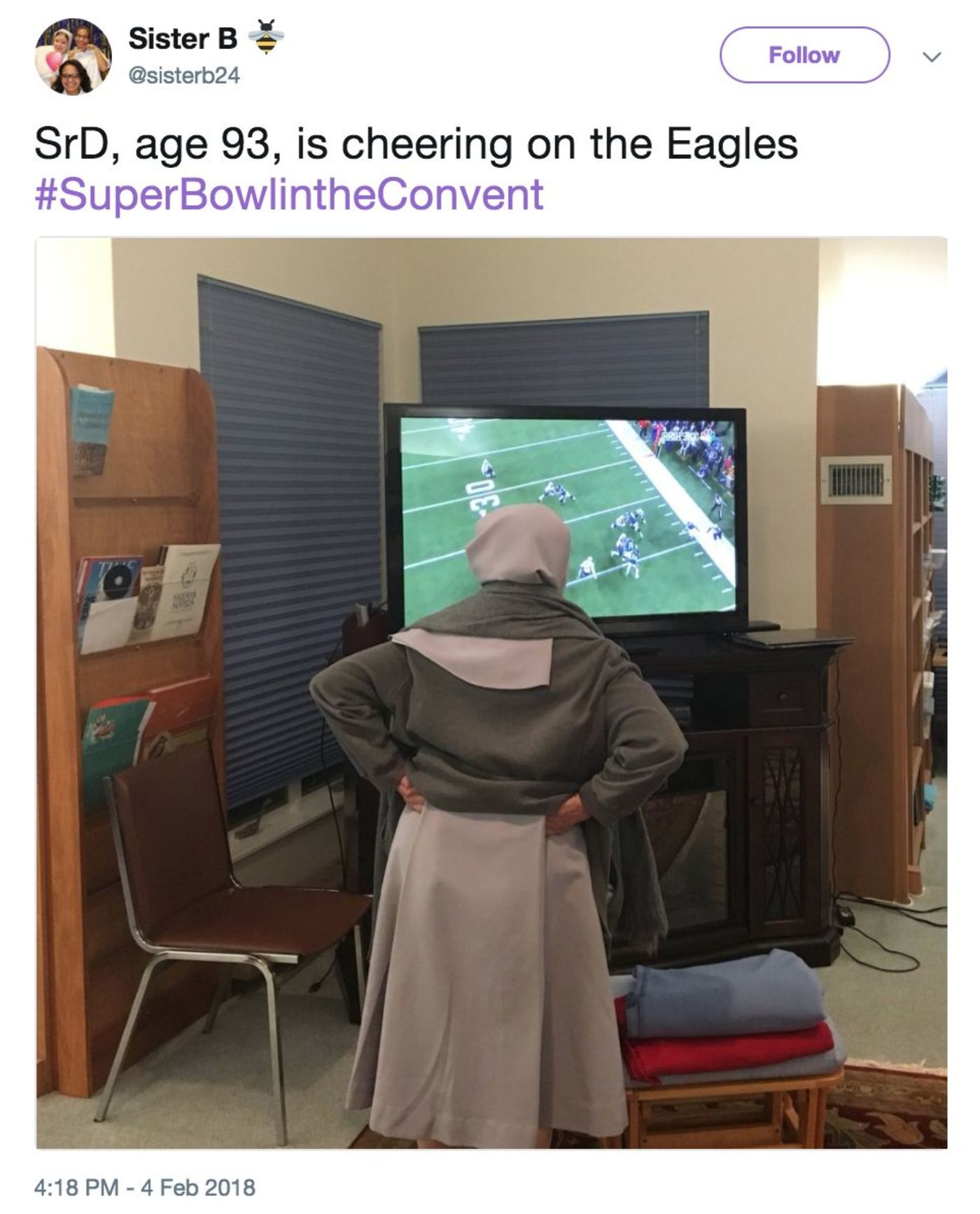 Interested in more? Subscribe to Angelus News to get daily articles sent to your inbox.