ROME — Looking ahead as 2018 comes to a close, next year is already shaping up to be a busy one for Pope Francis, who is set to make four international trips in the first half of 2019 — trips that not only demonstrate his continued attention to the peripheries and his keen interest in advancing Catholic-Muslim dialogue, but also his advocacy on behalf of migrants.
Francis will kick off the year with a Jan. 23-27 trip to Panama for the international World Youth Day gathering, followed by a Feb. 3-5 visit to the United Arab Emirates and a March 30-31 visit to Morocco.
In addition to these three, the Vatican announced Thursday that the pope will make an inner-Europe trip, heading to Bulgaria and Macedonia May 5-7.
Though his agenda for the final two trips have yet to be announced, initial takeaways from the pope's travel itinerary are that Francis continues to place heavy emphasis on engaging influential Muslim authorities throughout the world, while also maintaining attention to small Catholic minorities — especially those that have been scarred by war.
In the United Arab Emirates, a trip described by Vatican spokesman Greg Burke as "a perfect example of the culture of encounter" and interreligious dialogue, Francis' main appointment is the UAE's International Interfaith Meeting on "Human Fraternity," which will also be attended by the Grand Imam of Al Azhar, Ahmed Al Tayeb.
Francis has met with Al Tayeb twice at the Vatican in a bid to thaw relations between the Catholic Church and the Sunni Muslim community after a freeze caused by comments made by Pope Benedict XVI in 2011, with Muslims claiming he had "interfered" in Egypt's internal affairs by condemning a bomb attack on a church in Alexandria during the time of Coptic Christmas.
The culmination of this dialogue was Francis' visit to Egypt and the prestigious Al-Azhar University for a peace conference in Cairo in 2017, which, like his visits to the UAE and Morocco this year, was aimed at bolstering interreligious dialogue, particularly with the world of Islam.
According to government figures in the UAE, which is a majority Muslim nation, some 1 million of the nation's population of 9.5 million are Christians from varying denominations who live in the seven emirates, ruled by an absolute monarchy. Of these 1 million Christians, nearly 70-75 percent are believed to be Catholics.
Similarly, in Morocco Christians are also a minority, with little more than 27,000 Catholics present in a population of roughly 34 million, according to statistics.
In the UAE, a large portion of the Catholics are also immigrants hailing from India, East Asia, North America and Europe. Many of them arrive through trade or oil and get jobs in construction or as domestic helpers, at times working under poor conditions.
With a strong push for increased tolerance in the region, the Vatican has been eager to take advantage of efforts to increase interfaith engagement and have encouraged UAE pledges to fight extremism.
When he meets with Sheikh Mohammed bin Zayed Al Nahyan, Crown Prince of Abu Dhabi, on the first day of his visit, immigration and dialogue will likely be key talking points. With the UAE being the second largest economy in the Middle East, wealth distribution and poverty might also come up in the discussion.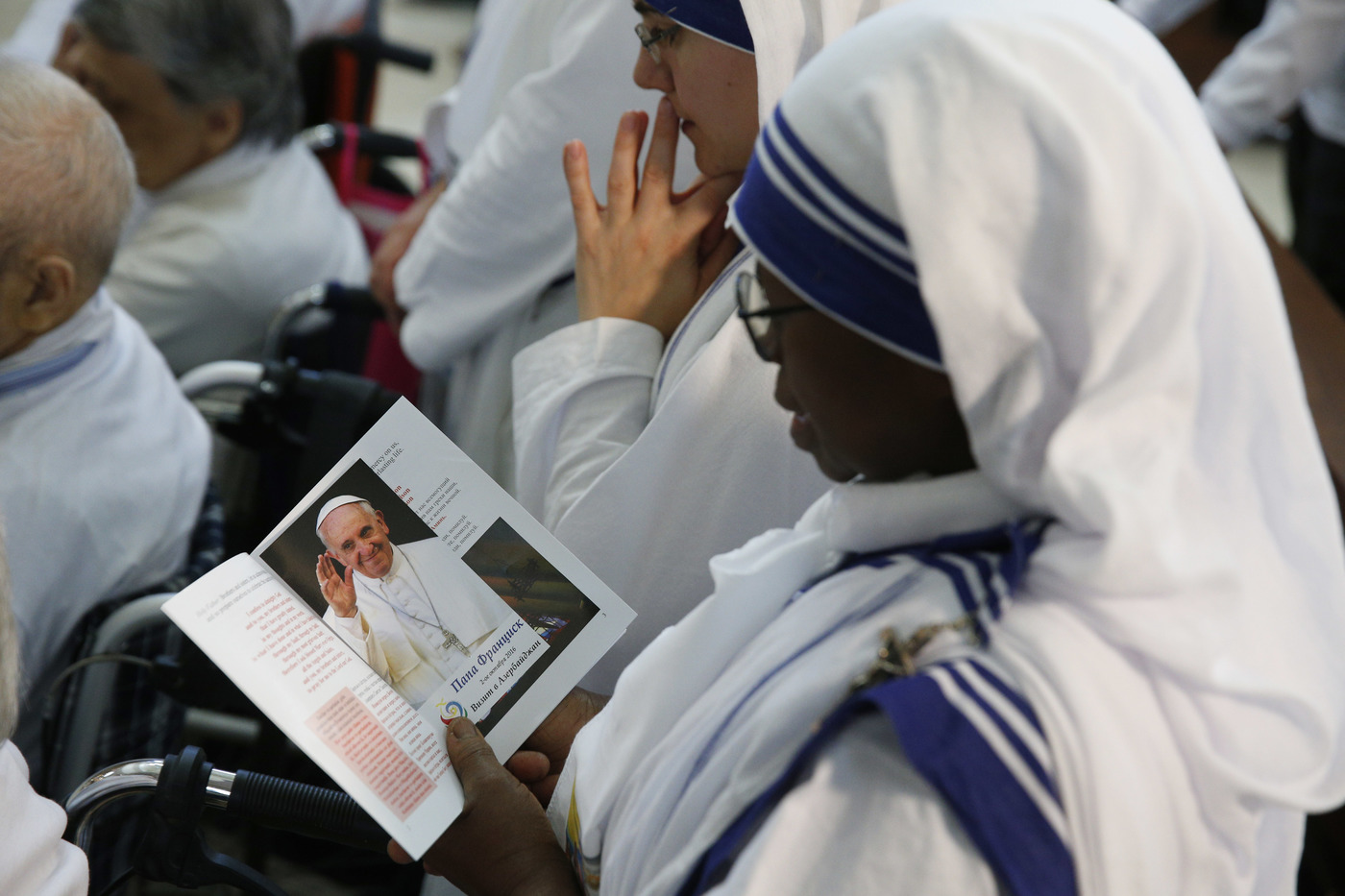 Two months later, Francis will pay homage to the servant of the "poorest of the poor," when he visits Skopje, Macedonia, birthplace of St. Teresa of Calcutta, on May 7, 2019.
Born Agnes Gonxhe Bojaxhiu in 1910, Teresa lived in Skopje for 17 years until she entered a religious order, eventually branching out and establishing a new order, the Missionaries of Charity, which has gained an international reputation for its outreach to the poor and needy.
Francis, who canonized Teresa in September 2016 during the Jubilee of Mercy, has often pointed to the nun, who spent the majority of her life serving in the slums of India, as a witness of mercy and someone to emulate in her love and service to the poor.
His visit to the majority Orthodox nation, which has a small Catholic minority, will mark the first time a pope has stepped foot in the country since its independence in 1991. Part of the former Yugoslavia, Macedonia and its citizens likely still feel the pangs of the ethnic conflicts and wars for independence that led to the disintegration of the Yugoslav state in 1992.
Prior to visiting Macedonia, the pope will spend two days in Bulgaria, which is also a majority Orthodox country and which for many years was under Soviet control.
His visit to Bulgaria overlaps with the major national holiday of St. George's Day and the national day of the Armed Forces.
Though no details have been released about the pope's schedule for Bulgaria and Macedonia, the trip is in sync with Francis' attention to the peripheries and previous visits to small European nations such as Albania, Bosnia, and Herzegovina, where Christians suffered persecution under communist regimes, and where interreligious and ecumenical dialogue are key to a peaceful coexistence.
With a packed spring ahead of him, it's clear from his itinerary that Francis is holding strong on the key priorities of his papacy — priorities that show little sign of fading from his agenda anytime soon.
Elise Harris is the senior correspondent for Crux in Rome.
SPECIAL OFFER! 44 issues of Angelus for just $9.95! Get the finest in Catholic journalism with first-rate analysis of the events and trends shaping the Church and the world, plus the practical advice from the world's best spiritual writers on prayer and Catholic living, along with great features about Catholic life in Los Angeles. Subscribe now!