Basketball: Mater Dei wins Open Division championship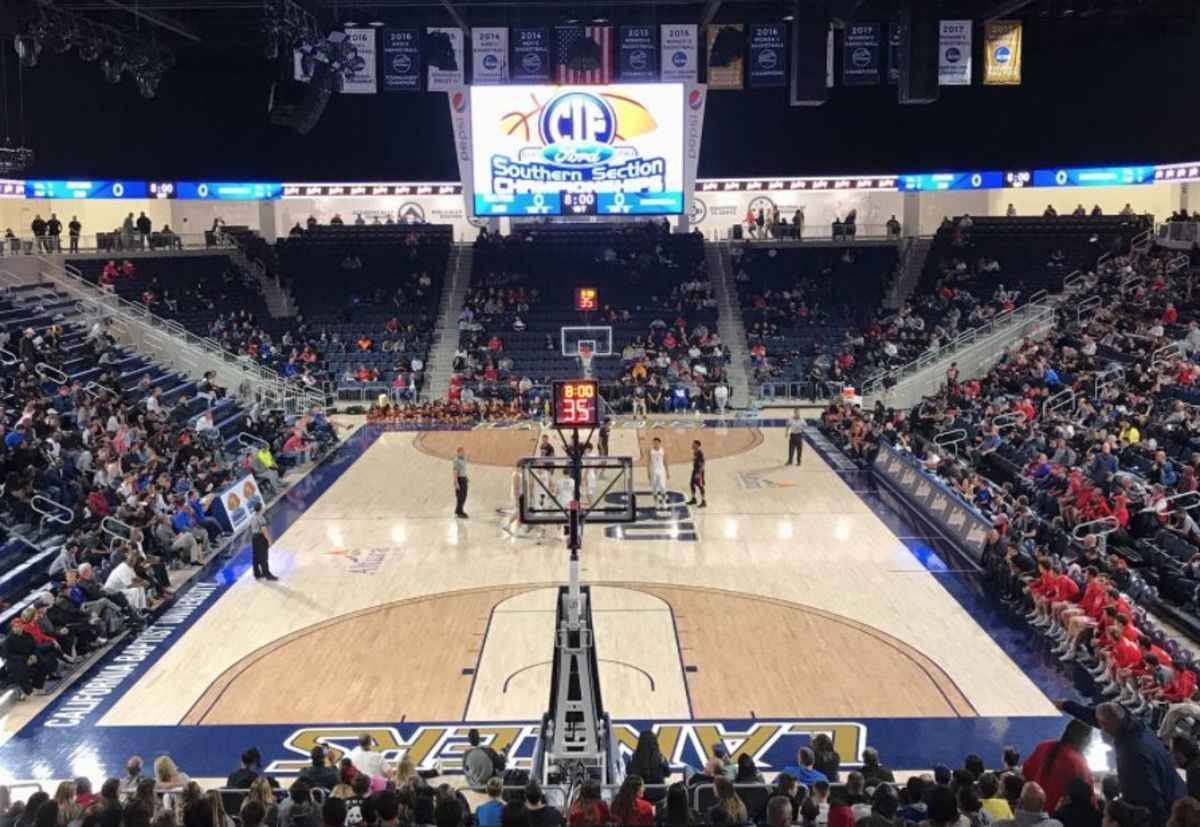 It wasn't easy at the end, but Mater Dei High School held off Sierra Canyon, 55-53, to win the CIF-Southern Section Open Division championship March 2 at The Pyramid in Long Beach.
After playing tough defense throughout, the Monarchs survived a last-second jump shot attempt and two tip-in tries, all of which fell away, to secure their 23rd CIF title under coach Gary McKnight (and their first since 2014.) Mater Dei held Sierra Canyon to 0-for-8 in 3-point attempts, while converting 8-of-17 themselves.
But the Monarchs' 33-23 halftime lead disappeared quickly when the Trailblazers rallied to tie the game at 36 in the third quarter. Yet Mater Dei never fell behind and, with Michael Wang scoring 14 points and Spencer Freedman 13, led 51-44 with four minutes remaining until Sierra Canyon made a final push that fell short.
One and one for DiMuro family
There was joy and disappointment for the DiMuro family of Simi Valley March 3, as Coach Kelli DiMuro's Chaminade Eagles were edged, 46-45, by West Torrance for the girls' Division 1 title at Azusa Pacific University.
DiMuro was attempting to lead top-seeded Chaminade to its third CIF title in four years. The Eagles (22-7) built a nine-point halftime lead but, despite Jasmine Moore's 17 points (15 in the second half) and Leslie Hunter's 14, could not hold back West Torrance.
Earlier that day, however, DiMuro's husband Rob coached Grace Brethren of Simi Valley — featuring the DiMuros' daughters, Aliya (sophomore) and Alexis (freshman) — to the Division 5AA championship by defeating St. Pius X-St. Matthias Academy of Downey, 59-33, at Godinez HS in Santa Ana.
For the Warriors (14-14), it was the end of a magical run that saw them prevail against higher-seeded teams until running into Grace Brethren (23-3).
Bishop Amat, St. Bonaventure fall short
In the boys' 3A title game March 2 at Azusa Pacific University, No. 1-ranked Notre Dame of Riverside (27-3) outlasted Bishop Amat of La Puente, 51-46. It was the first CIF basketball title for the Titans, while the third-ranked Lancers (26-6) were in their first final in 15 years, and cut an 11-point third-quarter deficit to three early in the fourth before losing.
Hillcrest of Riverside (30-3) broke away in the second half to defeat St. Bonaventure (22-7) in the boys' 4AA final March 3 at Godinez HS. Hillcrest, ranked No. 1 in 4AA, led 23-16 at halftime, 39-29 after three quarters, and held the Tri-Valley League champion Seraphs of Ventura to just 9 fourth quarter points.
Because the Open Division bracket had only eight teams, losing teams played consolation round games. Bishop Montgomery, which lost to Sierra Canyon in the semifinals, won the third place contest over Etiwanda, 65-51, to run its record to 27-1. St. John Bosco (23-7) earned fifth place with a 72-60 win over Crespi (26-4).
State Playoffs
The CIF State Regional Basketball Championships (boys' and girls') will be played March 7, 9, 10, 13 and 17, 2018. The State Finals will be played March 23 and 24 at the Golden 1 Center, Sacramento.
Champions and runners-up in most divisions are likely to be invited to the tournament by the CIF-SS Coaches Advisory Committee. Among the at-large teams already announced is St. Monica Academy of Pasadena, in boys' Division 5. Other selections will be announced soon.
---
Read the latest local and global Catholic News.
Sign up for our newsletter.
---