Call it lockdown, stay at home, "flattening the curve," or self-quarantine: The spread of the coronavirus (COVID-19) pandemic means that the coming weeks and months will see families spending most — if not all — of their time at home until the risk of infection passes. 
To help you not just get through the time of the coronavirus, but make the most of it, Angelus has compiled a "quarantine entertainment list" with book, TV, and film recommendations from our contributors.
BOOKS: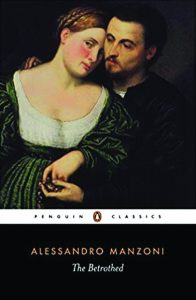 'The Betrothed'
"The Betrothed," by Alessandro Manzoni (translated by Bruce Penman, Penguin Classics) is available for e-book purchase on Amazon Kindle.
Let's get straight to the point: There is hardly a better book to read in these times of pandemic. "The Betrothed" — the story of a couple of peasants who want to get married but can't — has at its center a breathtaking picture of Northern Italy swept by the devastating plague of 1630. 
No one like Manzoni can make you feel the psychosis of the pandemic, the outright terror, the devastation of losing loved ones (try reading the Cecilia episode in Chapter 34, a masterpiece of world literature, without crying). 
But most importantly, this timeless classic, arguably the greatest novel in Italian literature, is written by a man (Alessandro Manzoni) who converted to Catholicism after much suffering, who spent 20 years of his life to complete a book which sought to show that, even in the harshest circumstances, our life is directed by a loving God. 
In it, Renzo and Lucia will have to learn from life and in life to overcome their limits and love each other truly. Maybe that's why Pope Francis recommended the novel to young couples in  2015. The plague will reveal the thoughts of many hearts: the sanctity of Father Cristoforo (the character who impressed St. John Henry Newman so much that he converted not long after reading the book), the incurable evil of Don Rodrigo, the cowardice of Don Abbondio. 
"The Betrothed" is a majestic fresco on Providence, a story of conversion in the face of hardship and death.
— Stefano Rebeggiani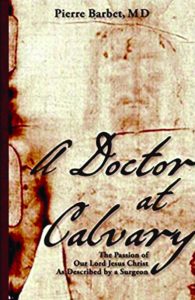 'A Doctor At Calvary'
"A Doctor at Calvary: The Passion of Our Lord Jesus Christ As Described by a Surgeon," by Pierre Barbet, M.D., is available for e-book purchase on Amazon Kindle.
The Shroud of Turin has long been revered as the cloth that bound the body of Jesus Christ after his death, but what can medical inspection of this sacred relic tell us about what our Lord actually endured? 
In this eye-opening account, Barbet leads his reader through a medical and historical examination of the shroud, unveiling with astounding detail the method and physical impact of the Savior's suffering and death. Although the description of the torture is at times unsettling, the text allows the reader to contemplate the Passion with a new sense of its reality. 
As a result, it provides not only an enlightening educational perspective but also a profound spiritual aid. "A Doctor at Calvary" is perfect spiritual reading for Lent, and during this time of disruption to daily life, it puts our current inconveniences in perspective and encourages gratitude for the ultimate sacrifice that redeemed the world.
— Sophia Martinson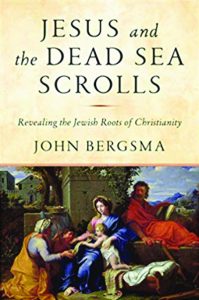 'Jesus and the Dead Sea Scrolls'
"Jesus and the Dead Sea Scrolls: Revealing the Jewish Roots of Christianity," by John Bergsma, is available for e-book purchase on Amazon Kindle and Google Books.
Since their discovery in the 1940s, the Dead Sea Scrolls have held the world in thrall. Found by a shepherd boy in the Judean Desert, they contain Scriptures of our Old Testament, along with liturgies, prayers, and commentaries. Early reports claimed that these texts would be the undoing of Christianity, showing Jesus to be little more than a plagiarist. 
But Catholic scholars, from the beginning, have recognized their immense value for understanding the cultural and religious context of the Gospels. The great Jesuit scholar Jean Danielou produced an early study that astonished Catholic readers. 
The scrolls showed the Messiah presiding at a thanksgiving banquet of bread and wine. They showed a celibate contemplative community living in seclusion. They showed clergy with three distinct hierarchical offices. 
Father Danielou, however, was working with limited information, since many of the scrolls had not yet been published. In the decades since then, the scrolls have been released, with a tidal wave of scholarship in its wake. Now, at last, a great Catholic scholar of the scrolls has written an introduction to the text that spells out their significance for the history of doctrine and biblical interpretation. 
Here Dr. John Bergsma dives into how the scrolls show clearly the link between the assembly of the Old Testament and the Church of the New Testament. Read it and you'll see the Gospels and the sacraments more vividly than ever before. 
If you read just one book about first-century Judaism, let it be this one.
— Mike Aquilina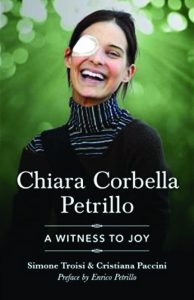 'A Witness to Joy'
"Chiara Corbella Petrillo: A Witness to Joy" is available for e-book purchase on Google Books.
From a human point of view, the married life of Chiara Corbella Petrillo seemed like an unjust series of tragedy after tragedy. 
Shortly after her marriage to Enrico, she delivered her first daughter, Maria, stillborn. A year later, she gave birth to Davide, who only lived a few minutes outside of the womb. In the middle of her third pregnancy, a cancer diagnosis presented her with a choice: save her own life by receiving treatment that would end her unborn son's, or forego it to help preserve his.  
In the pages of "A Witness to Joy," two of Chiara's best friends (married couple Simone Troisi and Cristiana Paccini) introduce us to a young, joyful Roman girl who from a young age discovered that faith is "not to use God to make Him do what you want" (in the words of Enrico), but something quite the opposite.
Since her death at the age of 28 in 2012, Chiara's cause for sainthood has been opened by the Vatican. This book doesn't sugarcoat its subject's spiritual and physical suffering. In the time of the coronavirus, here's a book that shows how God calls people to holiness — and happiness — through extraordinary circumstances.  
"The Lord is giving me a cross, so I should carry it," says Chiara's husband, describing their attitude after learning her second child would not survive. "Because in that cross I will discover what the Lord wants to tell me."
— Pablo Kay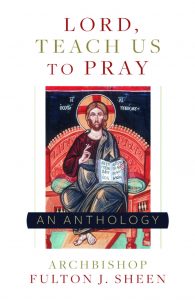 'Lord, Teach Us to Pray'
"Lord, Teach Us to Pray: An Anthology," by Archbishop Fulton Sheen, is available for e-book purchase on Amazon Kindle. 
Many a saint, like Ignatius of Loyola and Francis of Assisi, took their first radical steps toward God following a time of confinement and reading. What did they read? Scripture, of course, but also books written by wise and holy people. 
In our own time we can read Ven. Archbishop Fulton J. Sheen's newly released collection, "Lord, Teach Us to Pray: An Anthology" (2019). 
This book includes Archbishop Sheen's Good Friday sermons relating the Our Father to the last words of Jesus from the cross. Another chapter relates what happened on Calvary to what happens in the Mass. Times of trouble are times made for prayer. But how should we pray?
Archbishop Sheen advises, "No one else in the world has a heart just like you. Nor has he the same problems, and worries, and sins. That is why you should often make up your own prayers. Suppose you met our Divine Lord on the shores of Galilee. What would you say to him? Say it now." 
But true prayer, says Archbishop Sheen, is more than speaking to God, "It is really not so important what we say to God. It is important what He says to us." "Lord, Teach Us to Pray" is a book ready-made for encountering God in our forced solitude. 
— Christopher Kaczor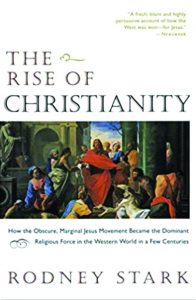 'The Rise of Christianity'
"The Rise of Christianity: How the Obscure, Marginal Jesus Movement Became the Dominant Religious Force in the Western World in a Few Centuries," by Rodney Stark, is available for e-book purchase on Google Books. 
For me, the blueprint for evangelization was written by an agnostic. 
In 1997, when it first appeared, I read Rodney Stark's "The Rise of Christianity: How the Obscure, Marginal Jesus Movement Became the Dominant Religious Force in the Western World in a Few Centuries." It tracks Church growth through the first three centuries, when the practice of the faith was illegal — punishable by death. 
During that period, Stark demonstrates, the Church grew at a steady rate of 40% per decade. It happened not through mass conversion, not through promises of heaven or threats of hell, but largely through love, through the reconfigured family, and through the fundamental belief (which was new on the world scene) in universal human dignity. 
Stark does this using sociological research and historical methods. Of special interest today is his treatment of the Christian response to epidemics. When you finish this book, you'll want to read its sequel, "Cities of God: The Real Story of How Christianity Became an Urban Movement and Conquered Rome," in which Stark takes on critics of his earlier book.
— Mike Aquilina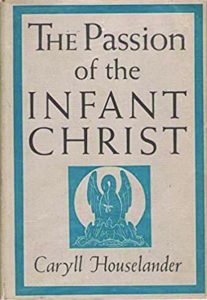 'The Passion of the Infant Christ'
"The Passion of the Infant Christ," by Caryll Houselander, is available for e-book purchase on Amazon Kindle and Google Books. 
This incredible work is back in print and e-book purchase at just the right time. A sensitive and thought-provoking writer, Houselander brings us a meditation on the mystery of the Christ-like life within each one of us. 
Seeing through the eyes of the divine Child, who is born into us through our baptism, we begin to see all the Father has created and desires to share with us. The eyes of the Child sees God in all the circumstances of our lives, big and small. We are united to him in all things. 
It is for times like these, the book reminds us, that we must take Jesus' instructions to heart, to become like children once again and to trust our loving Father, who will care for us in all our needs.
If we embrace the Christ-child "inscaped" in us, then our suffering necessarily participates in Christ's redemptive sacrifice. Our suffering has meaning, and our resurrection is assured. So easy to read, so beautiful to ponder, I truly believe this is Houselander's finest book. 
— Kris McGregor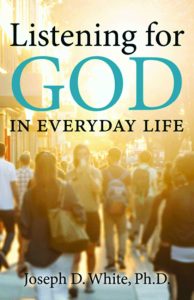 'Listening for God in Everyday Life'
"Listening for God in Everyday Life," by Joseph D. White, Ph. D., is available for e-book purchase on Google Books.
At a time when so many are anxious and afraid, this timely new book shines a bright light in all the areas where God is seeking to console and guide us. White helps us to see the many unexpected ways in which God is present and waiting to touch our lives at a time when we may be asking, "Where are you, God?"
If we can begin to hear and see God in all things, our relationship deepens with one who knows us better than ourselves. We realize we are not alone, especially in our fears and struggles.
White is a nationally recognized clinical psychologist and deep man of prayer. He offers practical insights and questions for us to reflect on to aid our ability to listen with the ears of our hearts.
— Kris McGregor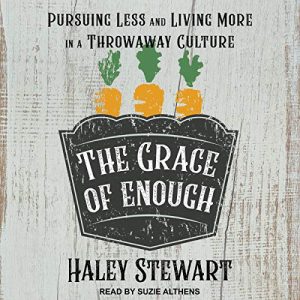 'The Grace of Enough'
"The Grace of Enough: Pursuing Less and Living More in a Throwaway Culture," by Haley Stewart, is available for e-book purchase on Amazon Kindle. 
Last Lent I decided to reflect on the discipline of fasting. I wanted to think about the things that were crowding my heart and examine ways that I might make more room for spiritual ones. I had this line from Scripture running through my mind: "For where your treasure is, there also will your heart be" (Matthew 6:21). 
Where was my treasure? In an attempt to find out, I picked up "The Grace of Enough: Pursuing Less and Living More in a Throwaway Culture," by blogger Haley Stewart. Stewart leads the reader in a kind of examination of conscience about one's habits of consumption and waste.

By drawing back the curtain on the concrete ways that she and her family decided to commit to Pope Francis' call to resist the throwaway culture, Stewart makes a compelling and attractive case for intentionally cultivating an "integral ecology" within the ecology of the home. Not everyone will be called to follow her family's exact path — moving from a suburban home to a sustainable farm — but the themes she explores can be adapted for nearly every circumstance. 
I plan to pick up her book again during this time of social distancing and quarantine. At a time when many of us are making do with fewer material things and restricted access to amenities without our choosing, this book might just prompt you to consider how you might live with less after this period of isolation ends.
Like me, you might find yourself convinced that in the end, less really is more. 
— Elise Italiano Ureneck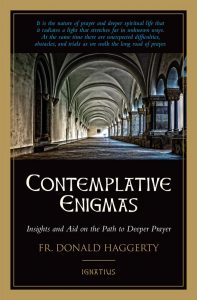 'Contemplative Enigmas'
"Contemplative Enigmas," by Father Donald Haggerty, is available for e-book purchase on Amazon Kindle. 
There's a new book called "Contemplative Enigmas" that is somewhat stunning. At a time when God is so clearly wanting so many of us to spend time in silence listening to him, truly trusting him, giving him all of our agony, Father Haggerty walks us through what that might look like. 
How do you even sit still when the world seems to be falling apart around you, when nothing seems familiar? Know that God "loves the souls who gaze with unseeing eyes at his secret presence within their own dark silence." 
"Contemplative Enigmas" is written in such a way that although it deeply penetrates the soul's longings, the spiritual wisdom and direction are offered in small enough doses that they are accessible and digestible for anyone, wherever you are on the journey to union with the Lord. The book imparts the richest knowledge.
The author will come to be a friend, sharing his own heart for God as it has been made clear in prayer. For those for whom retreats are not a new experience, for whom prayer is a great love, you may just find yourself consoled in the fact that you are not alone in what you receive in prayer and may you may come to rejoice more completely in the truth of a loving Father who never leaves us orphans — even and especially when our beloved churches are closed! 
— Kathryn Jean Lopez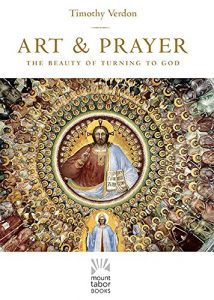 'Art & Prayer: The Beauty of Turning to God'
"Art & Prayer: The Beauty of Turning to God," by Timothy Verdon, is available for purchase on Amazon. 
In this time in which so many of us are at home, separated from the liturgical rites that give us such comfort, it's essential to develop a robust life of prayer. 
Timothy Verdon's "Art & Prayer: The Beauty of Turning to God" is a vital resource for developing a prayerful disposition. Msgr. Verdon, an art historian in Italy, guides the reader through an act of "visio divina" ("divine seeing"), a prayerful meditation on nearly 100 different pieces of sacred art. 
The reader, working his way through the book, will not only discover the history of various pieces of art. Msgr. Verdon is forming the reader in a way of carefully attending to details in these images, discovering in the process an invitation not just from the artist, but from God, to bend the knee before the wondrous gift of the incarnation, passion, death, and resurrection of Jesus Christ. 
This is a book meant to be savored, read over the course of weeks rather than hours. By the end, the reader will never look at sacred art in the same way, as simple pedagogical images, but as icons through which God manifests his glory to his children. 
— Tim O'Malley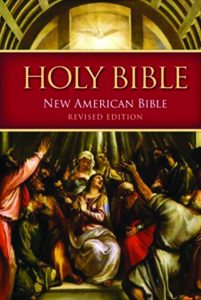 The Bible
Reflecting on the question of what books we should be reading in this time of the coronavirus, I come back to one — the Bible, and especially the Gospels. 
I always remember a story about St. Mother Teresa of Calcutta. She was visiting some very poor people in Nezahualcóyotl, Mexico. She asked them what their greatest need was. One man spoke for all the rest: "La Palabra de Dios" ("The Word of the Lord").
This is our greatest need, too. In the Gospels, Jesus opens his heart to speak to our hearts. That means we need to read and reread his word with our hearts open to his heart in prayer. 
When we read the Gospels prayerfully, we enter into the life of Jesus Christ. We become his followers as he moves from town to town. We hear his teachings, we are "present" as he heals and works his miracles of mercy and love. 
Our goal in reading the Gospels every day is to imitate Jesus, to love him more, and to have the "mind of Christ," seeing the world as Jesus sees, finding him present always in our lives.
My prayer is that in this challenging time, you will nourish yourselves daily on the word of God. Keep this word close to your heart, ponder his teachings, and try to live your lives more and more like Jesus in these days. 
— Archbishop José H. Gomez
STREAMING:
'The Crown'
"The Crown" is streaming on Netflix. 
If you are not yet a fan of the Netflix series "The Crown," now is your chance to get caught up.  
It follows the fortunes and misfortunes of the British Royal Family, starting with the marriage of Queen Elizabeth to Prince Philip and moving forward in time toward the present. All of the first three seasons (10 episodes long each) are now streaming. 
Contrary to what its subject matter might suggest, this isn't a florid gossip driven soap opera.  Each episode is a finely crafted drama, building on the character development that has gone before, and just gets richer and richer every season.
One particularly enjoyable episode worth a mention is "Moondust" (Season 3, Episode 7), in which a middle-aged Prince Philip undergoes a midlife spiritual crisis sparked by the heroics of the American moon landing and a growing disenchantment with what he has come to perceive as his tedious, backward looking "religion." 
That's until he actually meets his heroes, the American astronauts, who unintentionally renew his faith and renew his respect for tradition.
— Robert Inchausti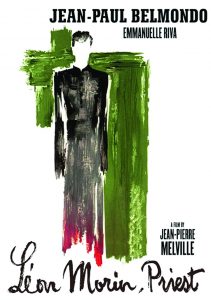 'Léon Morin, Priest'
"Léon Morin, Priest" is available for streaming on Kanopy. 
"Léon Morin, Priest" is an award-winning 1961 black-and-white French film scripted and directed by Jean-Pierre Melville ("Army of Shadows," "Les Enfants Terribles"). It's also a kind of anti-"Fleabag" — the wildly popular Netflix series featuring a priest and a freewheeling sexual libertine who predictably succumb to temptation.
The Germans are taking over France in World War II. Jean-Paul Belmondo plays Father Léon Morin; Emmanuelle Riva is the Communist militant, staunchly atheistic mother of a small daughter. One day, in a kind of larkish self-dare she goes to church and enters the confessional. The priest, however, takes her anti-Catholic jibes seriously and engages her in intellectual discussion. The two, both of them young and attractive, begin an ongoing conversation and a relationship fierce with emotion of various kinds on both sides. 
Passion here is not sublimated. Thanks largely to the moral strength of the priest, it is rather offered up, with all the agony that inevitably entails.
Roger Ebert notes, " 'Leon Morin, Priest' " is a consistently intriguing film, because Melville so cleverly plays with our expectations." How refreshing to watch a film featuring a priest who actually lives what he professes to believe. And the acting, all around, is superb.
— Heather King
Your best quarantine streaming friend?
Kanopy is a film streaming channel you've probably never heard of, available for free to most library cardholders. Many city-county libraries subscribe to this streaming service (as do most university and college libraries) and their patrons are members automatically. 
At the most, you may have to enter your library card number onto the Kanopy site to get the service. Just access Kanopy via Roku (or other channel provider) and then go to the membership link. Or contact your library online or via phone and ask if they provide access to Kanopy for their cardholders.
Kanopy has a huge and diverse film collection, including the entire Criterion Film Collection, not to mention a World Cinema section, Classic Films, instructional films, music films, kid's films, drama, documentaries, comedies, and television series from all over the world.
— Robert Inchausti