It was 2020, and the world suddenly lost its bustle. Isolated from the workplace and other social contact, we were left with ourselves, and none of our distractions seemed adequate to the task of amusing us. We were ready to learn how to think.
And then came Zena Hitz's "Lost in Thought: The Hidden Pleasures of an Intellectual Life" (Princeton University Press, $16.95). Reviews in major media were effusive in their praise. The Wall Street Journal called it "disarmingly simple and deeply engaging." NPR praised it as "a very thought-provoking book." To scholar Stanley Fish it was "thrilling." Rapper MC Hammer called it "an amazing book."
"Lost in Thought" is part-memoir and part self-help book. Hitz tells the story of how she achieved early success in academia, only to find the joy drained from her work. She had entered the field of classics because she loved literature, but then learned that literature was often less important to academic life than cliques, competition, and gossip.
So she dropped out. She left a high-prestige position and spent several years revaluing the elements of her life: work, friendships, reading, and thinking. She also converted to Catholicism. 
She spoke with Angelus about her discoveries, and why the life of the mind is for everyone, not just the elites. 
There's a rich tradition of books that lead us in the cultivation of an intellectual life, from Boethius to A.G. Sertillanges. Why do we need to be reminded so often?
The simple answer is that intellectual life is always an effort! It's an achievement to live out our nature in this way. We can survive at a bare animal level without thinking or studying. Worse, our inner autopilot goes for impressing others or securing comforts over the activities that matter just for us and our own growth, like study, prayer and simple acts of love.
That said, I don't think there are enough books about intellectual life! Sertillanges is a hundred years old. Think of how many books we have to help us to pray. Prayer is more important than thinking, but there should still be almost as many books to help believers and nonbelievers to think.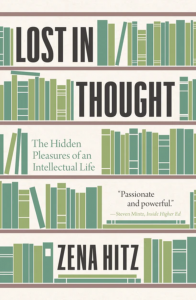 Are the same impediments and distractions common to all the ages? Is there anything peculiar to our time?
Human beings of all times and places face the same challenges on a basic level: our need to please and impress others, our desire for comfort rather than greatness, our aversion to suffering. But our age is special in that we have large corporations that have developed sophisticated ways to make money off of our worst impulses. 
Technology reaches into even the most intimate corners of our lives. We need to remember that as we face our technological distractions, someone is making money off us. We can't trust the masters of technology to act only with our good in mind.
In your book, you describe an intellectual or vocational conversion — and your religious conversion. Is it possible to make a hard distinction between the two? Or was it the same work in two movements?
I found my way from a more conventional and high-prestige intellectual life to a more authentic one, in the years following my conversion from a secular nonbeliever into a Catholic. I think the movements are probably distinct in principle, in that some people do resolve difficulties about the meaning of work without the benefits of faith. 
But for me, the recovery of my intellectual vocation was a development of my original conversion, the fruit of my rebirth in faith. It came to me from following the teachings of the Church about prayer, discernment, and sacrifice, and I definitely experienced it as grace.
Your book is rich and yet the language is simple. There's no specialized vocabulary to be mastered. It's a work of philosophy in the manner of Augustine or Pascal. How did you come to write it this way?
I'm very flattered to be compared with Augustine or Pascal! I wanted to reach as many people as possible. I was convinced that the message of the book would matter to all sorts of people, not just academics or Catholic academics. So I made an effort to avoid any jargon. 
It's also true that the book is the fruit of my philosophical, intellectual and spiritual maturity. I lived for a few years in the Madonna House community, and that time had the effect of bringing focus and clarity to my thinking, and it helped to detach me from the narrower academic audiences I used to write for.
You draw examples of intellectual life from surprising places, not just professors, authors, and professional thinkers, but laborers and prisoners. You take pains to do this and even draw attention to it. Why is that?
I'm persuaded that intellectual life is for everyone, not just for the professionals. Success distorts our perception of what intellectual life is. It isn't leading a fancy lifestyle with wine-and-cheese parties, and it isn't the power and prestige of publishing books or having one's name in print. Because those things belong to the professional forms of intellectual life, professionals just don't display the meaning of the intellectual life as well. 
Not that none of us professionals are authentic, but it is harder to see that we are. Whereas a political prisoner under a totalitarian regime might pursue the intellectual life for no reason other than his or her own dignity, to develop his or her humanity. They get no status, no encouragement; no one may even know what they are doing. Likewise, there are all kinds of ordinary people whose intellectual pursuits are only known to their friends or family. We can all aspire to an intellectual life of this kind. 
The men and women who fight for the time and the space to think and to read, whether they be working people, or caregivers, or religious, are my heroes. They know why thinking matters, and professionals like me are always in danger of losing touch and getting distracted.
How does the intellectual life of Catholics today compare with different moments in the past? Was there a golden age for it?
I think there was a kind of golden age that coexisted with a golden age for secular intellectual life, in the middle of the 20th century. People of all walks of life were learning and studying and struggling with great books or fundamental questions. Learning and study for its own sake was mainstream, a part of our broader culture. 
Writers like Jacques Maritain or Yves Simon are the product of that time. We've lost that, and with it much or most of the institutional support for that kind of study for most people. However, I have to say that I'm very optimistic. There are many inspiring young Catholic writers right now, and I think we will see wonderful developments in the coming decades.
What would be distinctive or different about the intellectual life of a Catholic? Are there any helps or advantages built into Catholic faith and tradition?
For me the core of the Catholic faith in this regard is the idea that grace builds on nature. There is a natural desire to know and to understand that we share with all other human beings. It is deeply related to our inbuilt destiny to know and to love. That means that we can find God through all sorts of inquiry: watching birds, looking at plants, mathematics, as well as philosophy or literature. 
It also means that our intellectual life can be a bond with other human beings, nonbelievers or believers in other faith traditions. We ought to seek out these bonds with our fellow human beings. That said, there are inbuilt problems with intellectual life for human beings: It degenerates into the pursuit of status and power. 
There Catholics have the advantage of knowing the paths of grace through prayer and the sacraments. Only grace can free us from the bondage to our worst impulses and bring us into the freedom and happiness of becoming our best selves.