At her 2016 canonization Mass, Pope Francis stood beneath a large tapestry of Teresa of Calcutta with her inimitable, disarming smile, and gave the thousands in St. Peter's Square a tough assignment.
"Let her be your model of sanctity," the pontiff said.
For anyone familiar with the life of St. Mother Teresa, the pope's words represent a tall order to fill. And yet, 25 years after her death, a moving new documentary suggests what her model of sanctity can accomplish in the 21st century.
Written and directed by Emmy award-winning filmmaker David Naglieri, "Mother Teresa: No Greater Love" premiered in Rome in late August at various small screenings for Vatican officials and the Catholic press. Produced by the Knights of Columbus in partnership with the Missionaries of Charity, the film will be shown in 900 theaters across the United States and Canada on Oct. 3 and 4.
The documentary follows Mother Teresa's life from her childhood in Albania through her death and beatification. It includes interviews with specialists, historians, and close collaborators — including, notably, the postulator of her canonization cause, Father Brian Kolodiejchuk.
But in addition to presenting the life of Mother Teresa, the filmmakers also document the extension of her mission today. They show us what the apostolate of the Missionaries of Charity looks like in five continents, in places as different as Kenya, the Bronx, Brazil, and India. The interviews with various Missionaries of Charity, as well as the words of those touched by their works, offer an intimate look at the heart of Mother Teresa's charism.
When the Albanian nun started picking up people who lay dying on the streets of Calcutta — the sick, the disfigured, the unwanted — she did so not with any goal of advancing the social conditions of the poor. She wasn't on a crusade against systemic racism, social injustice, or class exploitation, and her primary goal was not even to convert people to Christianity. Her wish was simply to make them feel loved, to love them in the same way God loved them.
"No Greater Love" poses a difficult question to viewers: Can we really imitate her? Can she really be a model for us, as the pope suggests?
For me, the honest answer is no. Yes, I can perform some acts of charity. I can do things out of a sense of obligation, like the time in college when I went to visit the homeless in the outskirts of Rome. It was a short experience that made me feel like a terrible hypocrite, realizing I could not get myself to truly love anyone — let alone the poor.
But to really love the sick, the rejected, the ugly, to care for them genuinely, the way a mother cares for her child: that is an impossible mission.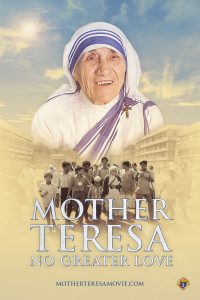 To make things more complicated, the example of Mother Teresa does not necessarily imply doing active charity work. In a piece of original footage at the end of the documentary she suggests, "You cannot do what we do, but you can still be a saint." For "hunger for food is not the main problem, there is a greater hunger, all around us, a hunger for love," she says. 
One can approach this documentary as a call to conversion. And, if we follow this woman's model of sanctity, the first act of conversion would be to recognize our own inability to live up to this measure of love. I cannot be like Mother Teresa, no matter how hard I try. But we can, like her, start by acknowledging our own nothingness — no small feat for most of us.
But there is a second important step. The documentary also reveals what made Mother Teresa capable of what she did. 
As Patrick Kelly, Supreme Knight of the Knights of Columbus, describes it in the film, "When Mother Teresa was feeding the hungry or holding the hands of someone as they lay dying, she was treating them as she would the most important person in her life, Jesus Christ himself."
Or, as one of the Missionaries of Charity remarks in the documentary, "Our work for the poor is an overflow of our love for Jesus."
But how can this love become ours? In one of her letters, Mother Teresa asks her confessor, "Please ask Our Lady to give me her heart — so that I may with greater ease fulfill His desire in me."
Here is the second way to imitate Mother Teresa. Through my own efforts I cannot be like her, but I can ask of God the same thing: to give me a new heart.
The third way to follow Mother Teresa's model comes from the documentary's detailing of the saint's inner struggles, which came to light only with the posthumous publication of her letters to her spiritual directors.
The beginning of Mother Teresa's mission was accompanied by mystical experiences. She heard the voice of Jesus and felt the incomparable sweetness of his inner presence. Yet all of that stopped, for long years, during her mission.
"Please pray for me," she wrote at the time, "the longing for God is terribly painful and yet the darkness is becoming greater." 
"There is so much contradiction in my soul," she adds in another letter. "Such deep longing for God — so deep that it is painful — a suffering continual — and yet not wanted by God — repulsed — empty — no faith — no love — no zeal."
It is sobering to think that at the height of her mission, Mother Teresa worked tirelessly without a drop of consolation. But this suffering was not without fruit. That excruciating spiritual pain, the feeling of being abandoned — even rejected — by God made her share more fully in the experience of Christ. It helped her identify more closely with the poor, the lonely, and the outcast. Through this inner torment, her love for God and for the poor grew and was purified.
The same is true for us. "No Greater Love" offers vivid evidence that suffering isn't a punishment, but one of the ways that God uses to make us capable of truly loving. And that's the third way to imitate Mother Teresa: by embracing the mysterious experience of the cross that makes us one with our Maker.