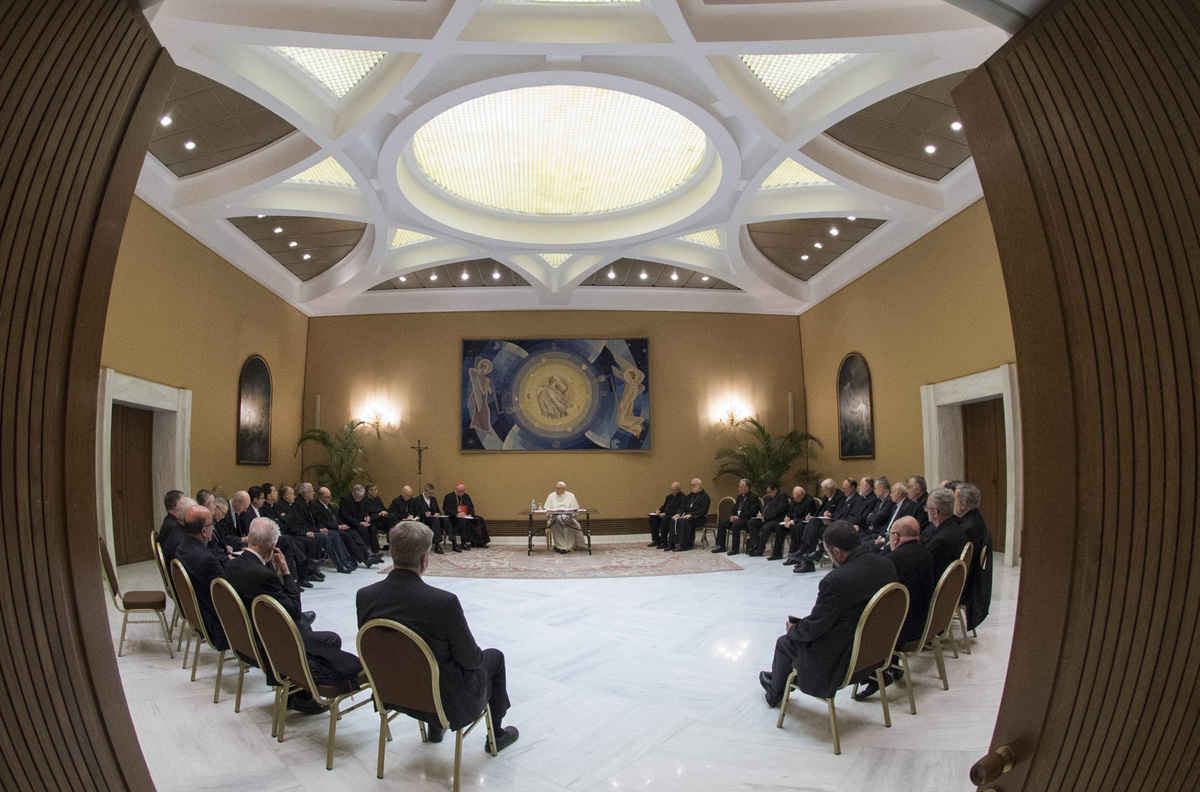 All eyes are on Chile as Pope Francis meets with victims and considers bishops' resignations
The dramatic conclusion of a May 15-17 summit meeting between Chile's bishops and Pope Francis in Rome sent shock waves throughout the Catholic Church when each one of them offered the pontiff their resignations en masse.
The pope also made headlines at the meeting when, without naming names, said there was evidence that at least some covered up cases of clerical sexual abuse, mishandled accusations, failed to protect children and destroyed damaging evidence.
Now, the outcome of a number of critical developments are poised to determine the way forward for the country's ongoing Catholic crisis.
On June 1-3, Pope Francis will welcome nine people, five of whom are priests, and three of them victims of an "abusive system" imposed by Father Fernando Karadima in the parish of El Bosque.
Though it's not clear which abuses Father Karadima perpetrated on each of them, he was found guilty by the Vatican in 2011 of sexually abusing minors, and also of abuse of power and conscience.
Three of the nine who will fly to Rome, Father Alejandro Vial Amunátegui, Father Eugenio De La Fuente and Father Francisco Astaburuaga Ossa, held a press conference in Santiago May 23 to talk about the invitation, which they said "came directly from the pope."
The nine will travel to Rome on June 1, have Mass with the pope on Saturday morning and meet with him both as a group and individually. They will stay in the Santa Marta, the hotel within Vatican grounds where the pope lives.
This will be the second time in more than a month that Pope Francis has welcomed victims of Father Karadima.
Juan Carlos Cruz, one of Father Karadima's victims who was with the pope in late April, said on Twitter that he knows the priests who are going to the Vatican and defined them as "extraordinary" and that they "deserve this and much more."
Father Astaburuaga Ossa, who accompanied survivors Cruz and James Hamilton during the past 20 years, said the pope's invitation is "a consolation and hope," even more so because it came after the pope had met with the victims.
Speaking of Cruz, Hamilton and Andres Murillo, the Father Karadima victims who were in Rome, Father De La Fuente said that the three priests know them and are "tremendously thankful for them, their testimony, their courage and friendship. They have helped the Church a lot."
Though they refused to give details of what they will tell Pope Francis, they did agree with the pope's assessment that measures in the "short, medium and long term" are needed to solve the "structural crisis" of the Catholic Church in Chile.
"We hope our experience will give a voice to those who have been abused and those who have accompanied victims," Father De La Fuente said.
Then there's Cardinal Francisco Javier Errázuriz, emeritus archbishop of Santiago and a member of Pope Francis' "C9" council of cardinal advisers, who published a letter in one of Chile's newspapers, La Segunda, on May 22. 
In it, he responded to an article from the previous week, the headline of which was, "What to do with Errázuriz, [Cardinal Ricardo] Ezzati and [Archbishop Ivo] Scapolo."
The three clerics have been accused by victims of Chile's most notorious pedophile priest of not providing Pope Francis with accurate information.
Furthermore, both Cardinal Errázuriz and Cardinal Ezzati, currently the archbishop of Santiago, have been accused of covering up for Father Karadima, and his victims want to see both cardinals stand trial for it.
According to Cardinal Errázuriz, the story from May 18 spreads "falsehoods and defamations," which led him to write a letter to the editor of the paper, in "respect of the truth and the readers."
Regarding the accusations that he misinformed the pope on the case of Bishop Juan Barros, whom Pope Francis transferred to the southern Diocese of Osorno in 2015, the cardinal said that it hadn't been him. Accusations arose in April, when the pope sent a letter to Chile's bishops saying that he'd made grave errors of judgment, in part because he didn't have accurate information.
In his letter, Cardinal Errázuriz also claims that he asked the Vatican to lift the Church's statute of limitations so that Father Karadima would be tried, which shouldn't have taken much persuasion. 
The 2001 apostolic letter "Sacramentorum Sanctitatis Tutela," issued by St. Pope John Paul II, authorized the Congregation for the Doctrine of the Faith to waive the statute of limitations on a case-by-case basis. In practice, the congregation has done that for virtually every case it's handled since.
Yet allegations against Father Karadima were presented to the Diocese of Santiago in 2003, 2005 and 2009, and it wasn't until early 2011 that the Vatican found him guilty and sentenced him to a life of penitence and prayer.
Cardinal Errázuriz also said that the pope told him he had informed him correctly, something the cardinal also told a reporter who questioned him in Rome last week.
Cardinal Ezzati, who's over 75 and had presented his resignation to the pope even before he arrived in Rome, was born in Campiglia dei Beici, Italy. In 2006, Chilean law 20.100 granted him citizenship as recognition for the "fruitful and valuable work" he'd done in the country.
In the first three days of a petition on Change.org, 3,000 people signed to take that citizenship away, saying that every bishop — "those accused of abuse but also those who covered up" — should be accountable. Among those backing the proposal are two members of Chile's chamber of deputies.
There's also the case of Legionaries of Christ member Father John O'Reilly, who was found guilty by Chilean courts in 2014 of sexually abusing minors.
He was convicted of molesting a pre-teen girl between 2007 and 2012, while he worked as the spiritual guide at the Cumbres school located in the affluent neighborhood of Las Condes.
Chile's justice system condemned him to four years of probation, which will be up in seven months. When his sentence is up, he will be deported back to Ireland.
Despite the 2014 sentence, in April 2018 he insisted he's innocent.
News reports coming from Chile say that now, almost four years after the sentence, the judicial vicar of the Archdiocese of Santiago, Father Jaime Ortiz de Lazcano, is heading a new canonical investigation against the priest. 
The family that made the allegations against Father O'Reilly has already testified again, and the new reports will be sent to the Vatican.
Inés San Martín is a Vatican correspondent for Crux Now.
Interested in more? Subscribe to Angelus News to get daily articles sent to your inbox.
---
Read the latest local and global Catholic News.
Sign up for our newsletter.