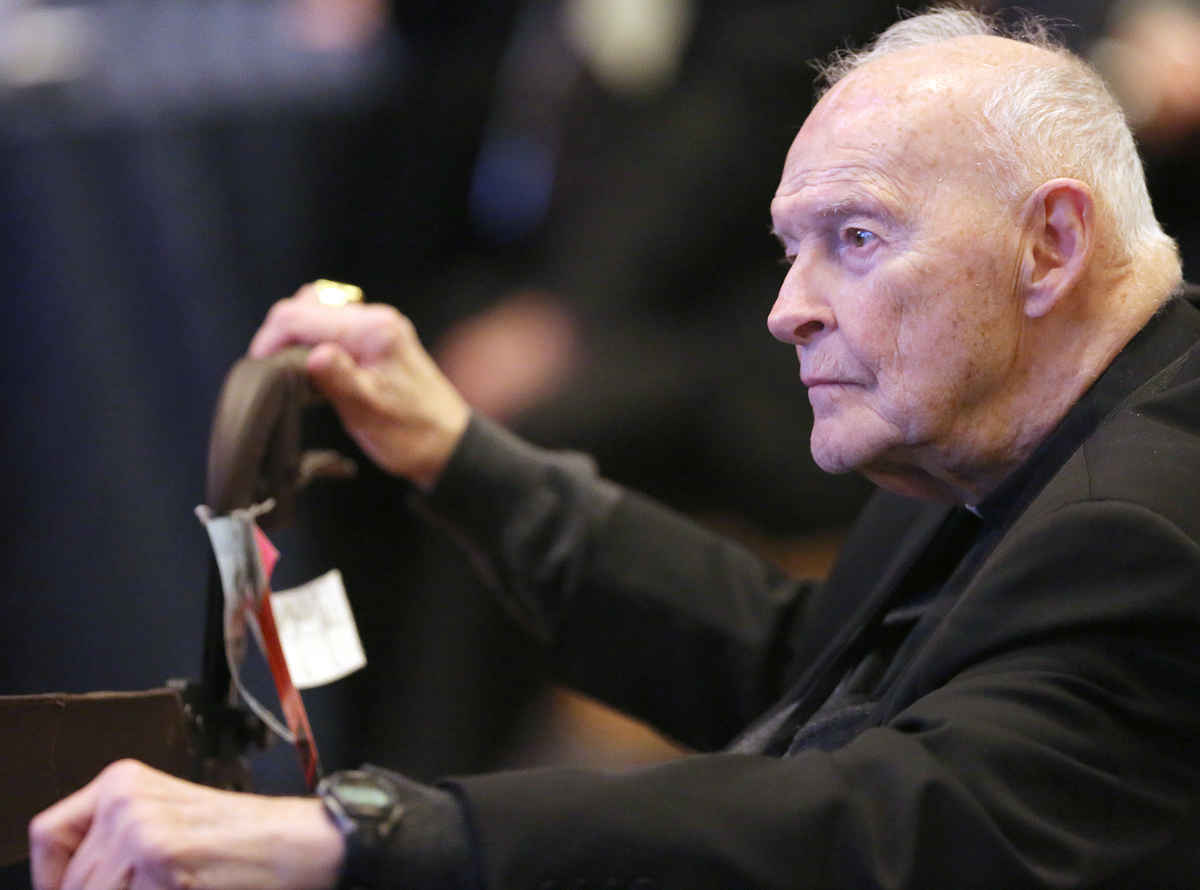 As Pope Francis moves to suspend a disgraced U.S. cardinal, all eyes are now on the U.S. bishops and what they will do
Since allegations of sexual abuse of a minor, along with a broader pattern of sexual misconduct with seminarians, first went public against retired Cardinal Theodore McCarrick in June, observers insisted over and over again that how the case would be handled in Rome represents a major test of Pope Francis' commitment to a "zero tolerance" policy.
On July 28, most people would say, the pontiff passed the test.
For one thing, the Vatican confirmed that Cardinal McCarrick remains suspended "a divinis," no longer able to celebrate Mass or the sacraments, and added that status remains intact pending the outcome of a canonical trial — the first public confirmation that such a trial is underway. 
In theory, that process could end in Cardinal McCarrick being laicized, meaning expelled from the priesthood, which is the most dramatic penalty possible in Church law for a cleric.
Many Church insiders are skeptical that will actually happen in the case of an 88-year-old disgraced cardinal in poor health. If it did, however, it would obviously have enormous symbolic resonance.
The even bigger news, however, was that Pope Francis had accepted Cardinal McCarrick's resignation from the College of Cardinals. That's an unprecedented step in U.S. Catholic history, and the first time anywhere in the world a cleric has exited the College of Cardinals due to abuse allegations. 
It's far beyond what happened in 2015, when Scottish Cardinal Keith O'Brien resigned the privileges of his office over abuse allegations but retained the rank.
The only parallel over the last 100 years would be the French Jesuit Louis Billot, made a cardinal by Pope Pius X in 1911 but who resigned his status in 1927. Cardinal Billot was a strong supporter of the conservative French movement "Action Française," defying the will of the next pope, Pope Pius XI.
The outcome is all the more remarkable given that Cardinal McCarrick had been a Pope Francis favorite, a figure who played a behind-the-scenes role in the election of then-Cardinal Jorge Mario Bergoglio of Argentina in the March 2013 conclave, despite being over 80 at the time and thus ineligible to cast a vote. 
Since that time, Cardinal McCarrick had become a sort of informal diplomatic troubadour on the pontiff's behalf.
In that context, skeptics wondered if the Vatican would try to find some kid-gloves solution to the Cardinal McCarrick mess. The fact that's not what happened obviously burnishes the pontiff's reputation for seriousness.
Yet if Pope Francis seems to have risen to the occasion, the verdict on the U.S. bishops remains undecided. 
Given that only a pope can discipline a cardinal, the burden was on Pope Francis to take action. 
However, there's a much broader question surrounding the Cardinal McCarrick affair, and it's largely on the U.S. bishops to answer: Who knew about Cardinal McCarrick's behavior, or should have known, and what, if anything, did they do about it?
Bishop Michael Olson of Fort Worth, Texas, acknowledged that burden in a two-page pastoral statement released on Saturday in the wake of the Cardinal McCarrick announcement.
"Justice also requires that all of those in Church leadership who knew of the former cardinal's alleged crimes and sexual misconduct and did nothing be held accountable for their refusal to act thereby enabling others to be hurt," Bishop Olson said.
Cardinal Joseph Tobin of Newark, which is especially affected by the Cardinal McCarrick scandal since he served as the city's archbishop from 1986 to 2001, has declared his intention to discuss the question of who may have facilitated Cardinal McCarrick's misconduct with his fellow prelates in the United States Conference of Catholic Bishops.
The question is, what exactly will the bishops do?
Famously, bishops' conferences are more akin to gentlemen's clubs than national parliaments. They don't have any power to dictate an individual bishop's choices, since under Church law each bishop reports directly to the pope.
Yet Pope Francis has indicated he wants that status quo to evolve, with bishops' conferences taking over at least some of the responsibilities traditionally reserved to the Vatican. 
The aftermath of the Cardinal McCarrick fiasco would seem to provide a natural opportunity for the U.S. bishops to test that openness, taking upon themselves the burden of getting to the bottom of who knew what, and at least suggesting to Rome what sort of sanction is appropriate.
After all, lawyers and doctors in the United States do a reasonable job policing themselves, realizing that their credibility — not to mention their livelihoods — depend on enforcing a reasonable set of professional standards. 
At a time when the public credibility of Catholic bishops in the United States is at a low ebb, it's arguably time for the conference to develop a similar mechanism.
In theory, such a procedure already exists in Rome following Pope Francis' 2016 "motu proprio" ("of his own accord"), "Come una madre amorevole" ("Like a Loving Mother"), which referenced existing canon law provisions for the removal of a bishop from office for "grave reasons" while fleshing out what those grave reasons could be. 
It outlined a new legal mechanism for assessing and trying accusations against bishops, especially negligence in cases of sexual abuse of minors or vulnerable adults.
In reality, however, a promised Vatican tribunal to activate those provisions never materialized. In any event, even if it were up and running, in most cases such a tribunal would simply designate a U.S. prelate to handle the investigatory work — which begs the question of what, exactly, the conference is waiting for. 
Nothing is stopping the bishops from doing the spadework themselves right now, and then forwarding the results to Rome for action.
That's more or less what The New York Times columnist Ross Douthat had in mind when he recently suggested the bishops appoint a "special prosecutor."
Right now, more than 100 U.S. bishops are scheduled to attend the "V Encuentro," a summit of Hispanic Catholicism in America, to be held in Grapevine, Texas, September 20-23, and their next full meeting will take place in Baltimore November 12-15. 
Given everything that's happened, it'll be fascinating to see how the bishops use the time between now and then, and what decisions may result when they do next get together.
Start your day with Always Forward, our award-winning e-newsletter. Get this smart, handpicked selection of the day's top news, analysis and opinion, delivered to your inbox. Sign up absolutely free today!
---
Read the latest local and global Catholic News.
Sign up for our newsletter.