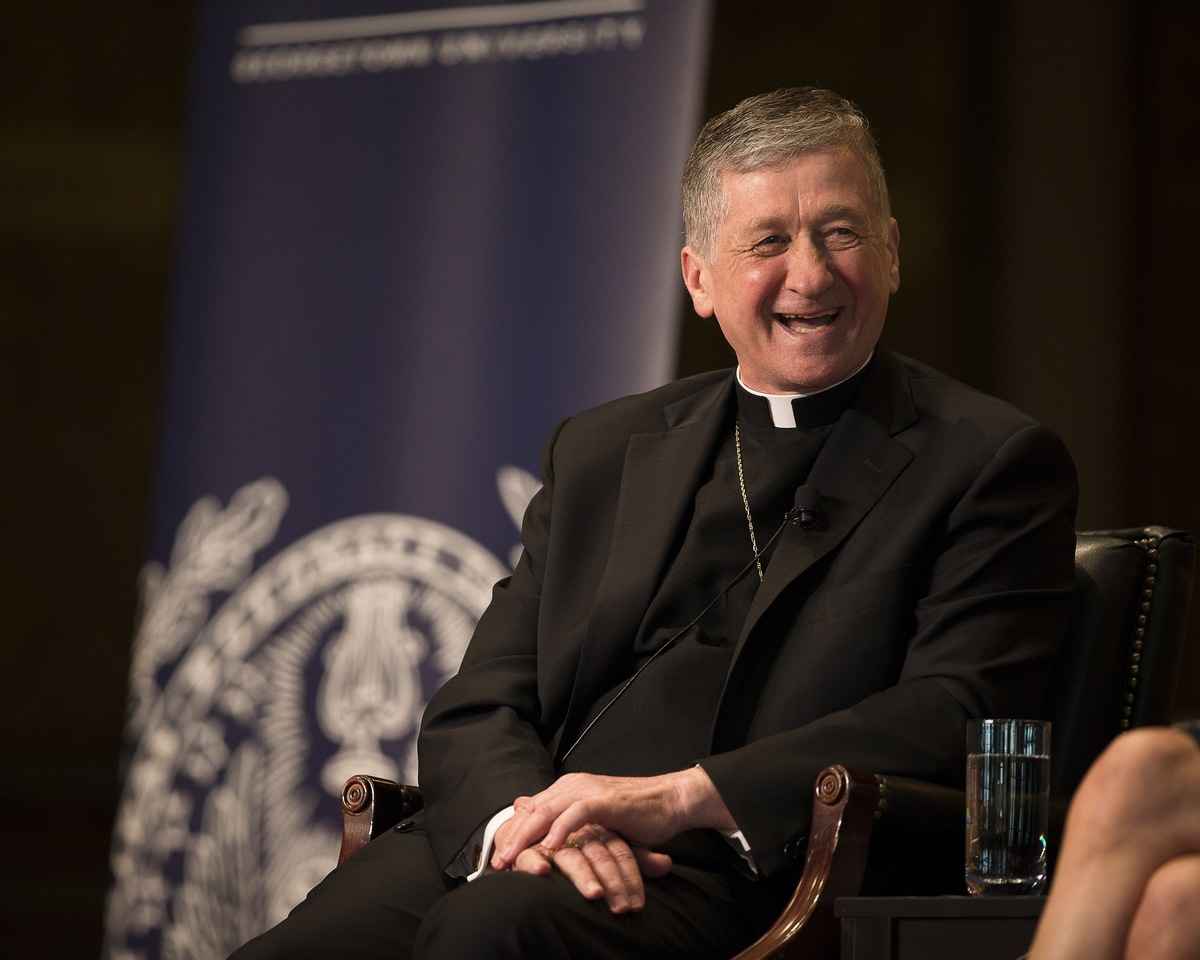 Astride the chasm that is our red-blue divide, polarization divides — and increasingly threatens to tear apart — our country and its institutions.
Polarization differs from partisanship, the notion of intellectually competing ideas that are thrashed out in healthy argument in the public square. It is more akin to parallel universes — next to each other but untraversable. 
"With polarization, it is the people themselves who are divided, living an isolated and siloed existence in their own spheres, depending on different sources of information, and distrustful, if not dismissive, of the other group and their sources of information."
The speaker of that statement was Cardinal Blaise Cupich of Chicago. He was one of two keynoters at a recent conference at Georgetown University that attracted nearly 100 Catholics of various political leanings. The other keynoter was Los Angeles' own Archbishop José H. Gomez.
"Though Many, One: Overcoming Polarization through Catholic Social Thought" was sponsored by Georgetown's Initiative on Catholic Social Thought and Public Life. Perhaps playing off the scriptural reference in the title, Archbishop Gomez noted that "there is no 'polarization' in the communion of saints; and there are no 'single-issue' saints."
Unfortunately, down here on the earth, we are not so blessed.
Several participants noted that politics is increasingly substituting for, or co-opting, religion. According to Cheri Harder of the Trinity Forum, 40 percent of marriages are interfaith, but only 20 percent are inter-party. 
Pollsters tell us that increasingly, Catholic Republicans look more like their fellow Republicans and less like their co-religionists who are Democrats, and vice versa.
Which is a tragedy, many of the conference participants argued, because Catholic social teaching may be a way out of the ideological cul-de-sac that both parties have led us into, but only if Catholics themselves embrace the opportunity.
As Bishop Daniel Flores told the conference in written remarks, "The Gospel and Catholic Social Teaching are larger than the confines of current political discourse."
Polarized Catholics may see a divide between the Church's moral teachings — on abortion, for example — and its social teachings — on just wages or the environment or immigration. This divide is the artificial construct of political ideologies, however.
As Princeton constitutional scholar Robert George put it, "Catholic social thought is Catholic moral teaching and vice versa." It is one integrated teaching about how Catholics should live their lives, he said. The core principle that unites the Church's teaching is the "profound, inherent and equal dignity of every human being."
The result, George admitted, is that it is "very difficult politically to be a Catholic." As one sees in the flurry of statements and press releases that weekly flow from the U.S. Bishops Conference, the Church stakes out positions on abortion, immigration, the death penalty, euthanasia and other issues that simply do not conform to the agendas of either party.
For George, this may simply be an unresolvable conundrum in this political climate. He quoted Father Richard Neuhaus: "It is not up to us to get the victory. Our job is to be faithful."
Yet many of the conference participants felt that Catholic social teaching provides the Church with two opportunities: to cross the ideological divides with a both/and message, and to reinvigorate the Catholic role and presence in the world.
This may also be the fond wish of some non-Catholics like Michael Gerson, author of a recent cover story in The Atlantic on the troubled plight of Evangelicals. "Modern evangelicalism has an important intellectual piece missing," wrote Gerson. "It lacks a model or ideal of political engagement — an organizing theory of social action." 
In the past two centuries, "Catholics developed a coherent, comprehensive tradition of social and political reflection," developing such principles as solidarity and subsidiarity. These principles, he admitted, "splendidly" complicate our politics by linking pro-life concerns with the plight of immigrant children, for example.
"Of course, American Catholics routinely ignore Catholic social thought," he acerbically concluded. "But at least they have it."
How to get Catholics to know Catholic social and moral teaching is a pressing need? The Church should commit itself to the formation of adult Catholics in such principles as solidarity and subsidiarity. 
It also needs to teach the principles of prudential judgment, which is far more sophisticated and demanding than the escape clause used by some Catholics who prefer not to be troubled by those teachings of the Church with which they disagree.
Is such a formation effort possible? It will take pastors who are unafraid of scowling parishioners and bishops willing to say goodbye to angry donors. 
But such a formation effort — combined with a genuine public witness as modeled by Pope Francis and Archbishop Gomez's beloved Dorothy Day — could go a great way to healing other divides, with Millennials, with Hispanics, with Black Christians and with the disaffiliated — by showing Catholicism to be more than a Church of "thou shalt nots." 
We could become living examples of the Church's inalterable commitment to the "profound, inherent and equal dignity of every human being."
Greg Erlandson is director and editor-in-chief of Catholic News Service.
Interested in more? Subscribe to Angelus News to get daily articles sent to your inbox.
---
Read the latest local and global Catholic News.
Sign up for our newsletter.