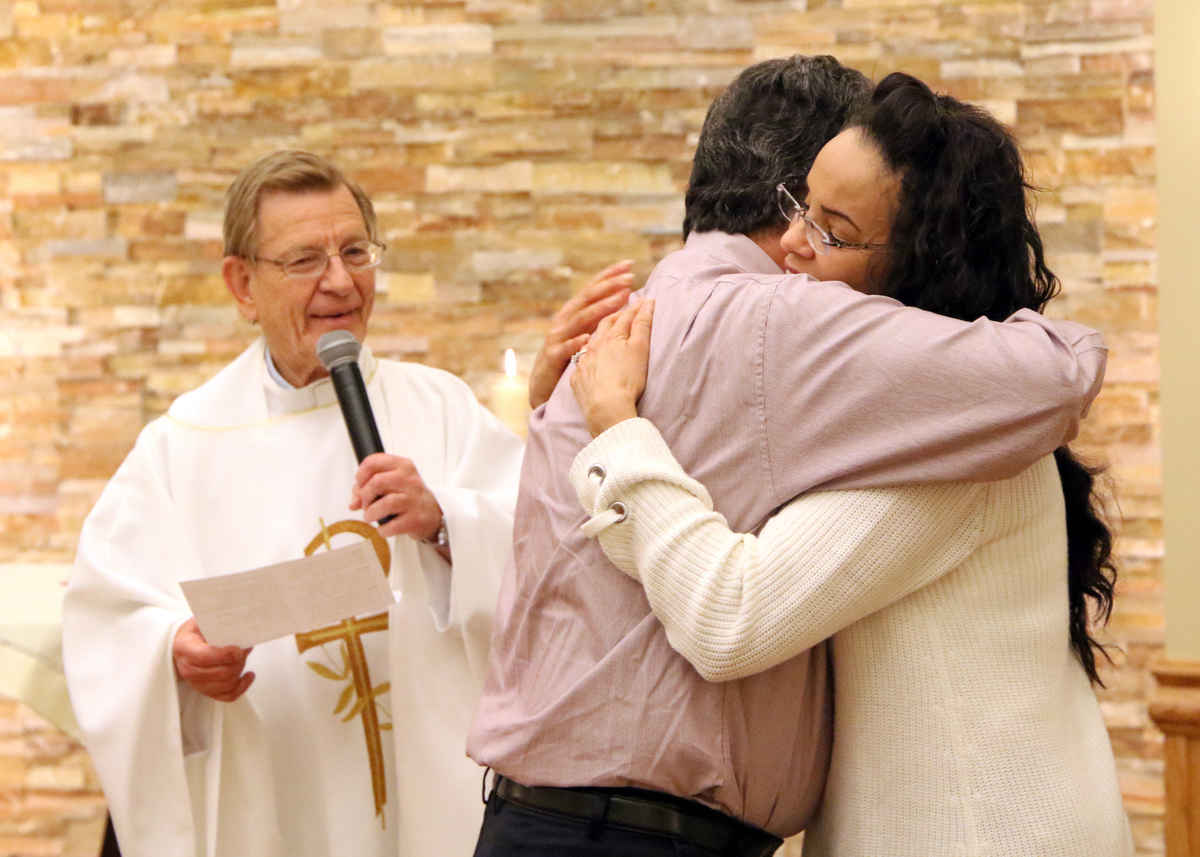 My husband and I are celebrating our 25th wedding anniversary later this year — as my husband likes to say, "Six of the happiest years of my life!" 
I'm not sure what that means, but it sounds vaguely wrong and true at the same time.  
Partly to mark the occasion, and partly because we like to participate in parish activities, we recently attended a couples retreat at our parish. It was the first of its kind in English, having been done to raving acclaim many times in Spanish across the Archdiocese of Miami.
The presenting couples and the two parish priests spoke English with thick accents and tortured expressions. Only my husband and a few other participants were native speakers, but it was done in English and it was beautiful.  
I had two illuminating realizations on this weekend — besides the most important one: my husband was made for me by God and I for him, so I was right to ask him out on our first date — and they both involve the life of the Church.  
First, the Church is not the building, priests and bishops, dogma and sacraments and books of wisdom. We are the Church. 
We are the members of the body of Christ, living and struggling, or home with our Father, brothers and sisters minding each other's business and especially each other's salvation.
Living this reality leads to events like the "Convenio Matrimonial" retreat — Catholics helping their fellow Catholics succeed spiritually in the trial that is life. It's put on by couples who have gone to one before, and experienced it as a benediction. 
And in the everlasting rhythm of faith, to experience the hand of God impels to action. It is not enough to learn or relearn that marriage is a holiness and a gift. That urgent message must be communicated to the stragglers and strugglers, which, let's face it, are all of us, at one moment or another, losing hope and falling behind.
At our "Convenio," 50 couples gave up their weekend, and who knows how many evenings of planning, to serve the retreatants. They cooked, cleaned, organized and toiled, and they gave their precious time.
We, the participants, felt truly loved, with the love that forgets itself in concern for the other — if our marriages were so important to these people, how could we take our relationships for granted?
To be loved is to feel one's worth, and the worth of our hopes and endeavors. To be loved by fellow men and women is also to feel, in some small but powerful measure, the love of the God who created us.  
Some couples gave testimonies, intimate and painful, of their own troubled marriages and how putting God in the center of their families enabled them to wake up to a new dawn of tenderness. 
It's hard to imagine a more thoughtful self-gift than being frank with strangers about our shortcomings and troubles. It goes against our instincts of self-preservation.
But these personal testimonies open tightly shut hearts. Suddenly we think, if he can forgive that offense and love his wife again sublimely, what smallness to hold on to my own resentments! If that couple can unite behind their troubled child, how can I let disagreements over the children weaken my relationship with my husband? 
And if that marriage can be so tender and close after that strong, active husband was paralyzed from the neck down, what can we do but love more when our spouse is weakened and hurt? 
My second realization was that the Catholic Church in America must incorporate the work of vibrant Hispanic ministries in order to thrive.
I travel a lot, and I attend Mass in parishes that are slowly dying, the pews sparsely populated, not a child in sight. 
But catch the Spanish Mass, and it's a crowded church with crying babies. You can sing along to the music with maracas and timbales. 
In Miami, as it is in many archdioceses across the U.S. with big Latino populations, the grassroots ministries are miracles of evangelization, and they are happening in Spanish. 
The happy, fervent groups that feed the homeless on Saturday nights and put on the Passion play during Holy Week are making their parishes cheerful, lively homes. 
To bring the love of God to others with your brothers and sisters is to find the happiness of self-forgetfulness and a road to salvation. A saving Church is a lively, engaging Church, where every person is a vital part of the salvation team.
If these teams are growing among recent immigrants who come with the cultural capacity to do this, they must be embraced and supported by an American Catholic Church that needs them badly. 
At our retreat, my husband and the other two non-Spanish speakers felt badly about putting the organizers through the difficulty of speaking English. The presenters were working hard to express themselves, and feeling inadequate. 
But the work of translation has to be done, speech by speech and ministry by ministry. All this beautiful fervor from immigrants can't be lost by English speakers or the second generation. The whole Church must benefit and grow.
It was a wonderful weekend, and nothing was lost in translation. That's what my husband says, anyway, and I've resolved to always think he's right.
Except, of course, when he's wrong.
Dr. Grazie Pozo Christie grew up in Guadalajara, Mexico, coming to the U.S. at the age of 11. She has written for USA TODAY, National Review, The Washington Post and The New York Times, and has appeared on CNN, Telemundo, Fox News and EWTN. She practices radiology in the Miami area, where she lives with her husband and five children.
---
Read the latest local and global Catholic News.
Sign up for our newsletter.