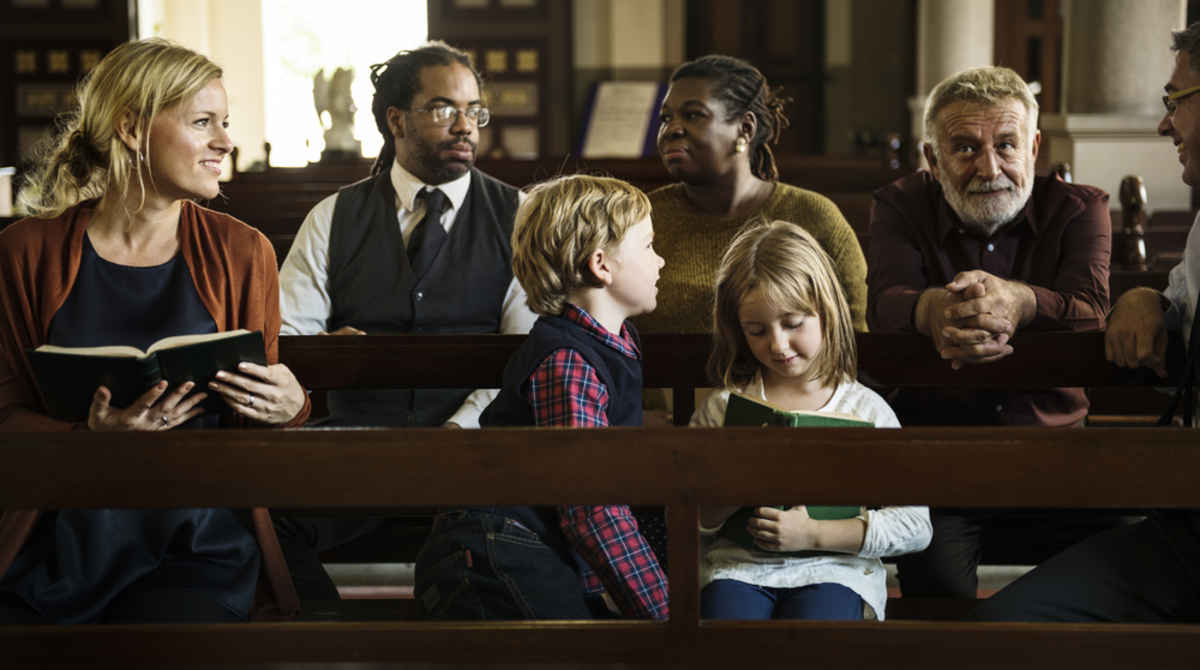 "If your children cry or become restless, please take them to our cry room outside the church and down the corridor."

Placed right in between "Please silence your cell phones" and "Take a moment to introduce yourself to those around you," this little comment made before Mass on Sunday admittedly made me feel uncomfortable as I sat with my 4-year-old on my lap, my eight and six-year-olds by my side, and my wife (then 2 months shy of bringing another beautiful baby into the world) beside them.
The discomfort was compounded by a comment made during the homily related to our Sunday Mass obligation: "Did you know, even if you are excommunicated, you are still obligated to attend Mass on Sundays and Holy Days of Obligation? Mass is for everyone. All are welcome."
The juxtaposition of these two comments sat with me for the rest of the day, wrestling around in my mind, battling it out to decipher exactly what message my parish was trying to get out. Is everyone welcome at Mass or is public worship only reserved for those of us who are old enough to sit silently through the entire sixty minutes?
I'm not interested in wading into the debate over having our kids at Mass and getting wrapped up in the baffling comments of folks who say they should stay at home, I've been there and done that. Instead I want to take a moment to challenge myself to embrace the message that, I think, is the message Jesus and the Church he founded want me to embrace: everyone is welcome at Mass.
Let me clarify. While I believe that we should strive to welcome everyone to Mass, I am not saying that everyone is welcome to receive the Eucharist. They aren't, and regrettably even I haven't been at certain times throughout my faith journey. The only people welcome to receive the Eucharist at Mass are Catholics in a state of grace. I know that, and I completely accept that.

That being said, I also believe our Church should fling the doors open wide to everyone who wants to come and participate in the Mass as much as the Church can allow. And if we're going to be a Church that publicly speaks about the importance of family, the domestic church, and being pro-life, that has to start by being welcoming to families. That includes families with children who are perfect little angels, families with children facing realities that make it difficult for them to be perfect little angels, families with children dressed in pajamas because that's the only way everyone was going to make it to Mass before the Gloria this week, and everyone else in between.
If we can't get the welcoming aspect of our Christian faith right with families trying their best to make Mass a part of their lives, how can we expect to get it right with people in situations that lead to them feeling typically unwelcome at Mass?
Catholics facing divorce, infertility, sexual orientation and gender identity issues, addictions, homelessness, poverty, mental illness, aging and dying, and other circumstances that are routinely stigmatized within our faith community, deserve to be welcomed. If our parishes don't go out of their way to help them feel that way, we are a stumbling block keeping them from the grace God wants so badly for them to have access to.
Everyone knows it's a challenging balance, preaching the truth in love while being welcoming to all, but Christ came to challenge us, not to offer a comfortable life where we stay content in our own bubbles while everyone who looks different, doesn't know all the prayers, or is fussy because they're teething is kept outside in a different space or not welcomed at all.
So what can we do? We have to go out of our way to explicitly be welcoming to everyone, and our parish should be oriented toward radiating that welcoming to people as soon as they walk in the door. We want to create and maintain an atmosphere where the loving embrace of God for every single person is palpable from the moment people find a place to sit, to the moment they are sharing a donut with the community after Mass.
We start by being creating this kind of atmosphere with families. Recognizing that every family is different, every child has different needs, and ensuring that everyone who walks through our parish doors knows that they are accepted and welcomed no matter what. If parents like the cry room, great. If they would prefer to help their children calm down in the pews without having to walk out, great. If they're at the point where their children can only make it through Mass if they have a paper and crayons to silently color, great.

All are welcome. None are made to feel as though they are on the outside looking in. We have to let every single person know that they are as much a part of our community as any of the rest of us, and we have to go out of our way to be Jesus to them and to see Jesus in them. 
"If your children cry or become restless, blessed be God, they are as welcome here at Mass as anyone else." That's the Sunday Mass welcoming announcement I'd like to hear.
Tommy Tighe is a Catholic husband and father of five boys. You can find out more about him at CatholicHipster.com.
Start your day with Always Forward, our award-winning e-newsletter. Get this smart, handpicked selection of the day's top news, analysis and opinion, delivered to your inbox. Sign up absolutely free today!
---
Read the latest local and global Catholic News.
Sign up for our newsletter.