When no one comes: What we can learn from Blessed Charles de Foucauld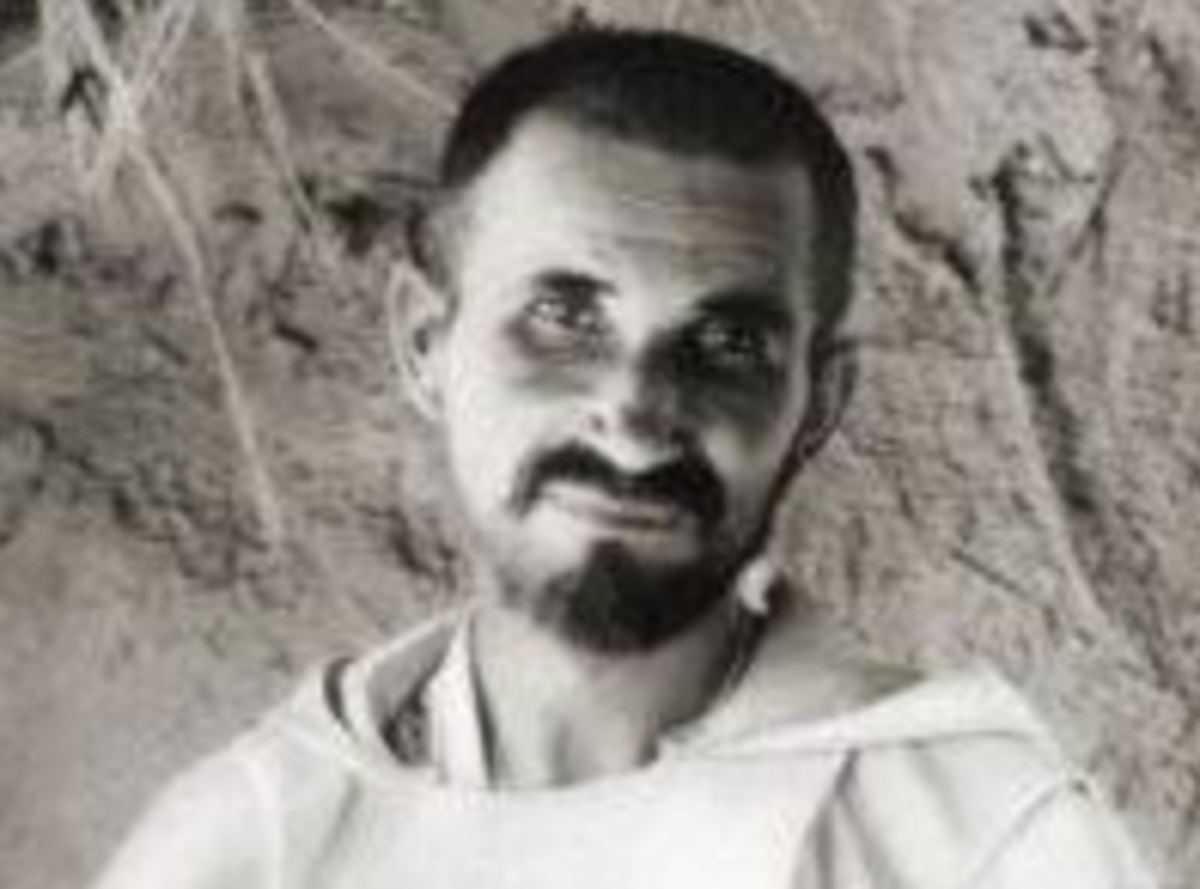 On a recent family outing to our local Pauline Book Center (the only bookstores with an adoration chapel, plenty of coffee, and completely run by religious sisters, by the way), I picked up a 570-page collection of the personal letters of Servant of God Dorothy Day titled All The Way To Heaven. It immediately became my go-to reading during daily adoration at our local parish, and as I plugged through the incredible collection, one holy man I didn't know much about kept getting referenced again and again: Blessed Charles of Foucauld.
Speaking of the spirituality of Blessed Charles that eventually grew into secular institutes and a lay association after his death, Dorothy once said,
"One of the reasons I am so strongly attracted to the spirit of this 'family' is of course its emphasis on poverty as a means, poverty as an expression of love, poverty because Jesus lived it. And then too the emphasis on humble manual labor is for all."
Blessed Charles of Foucauld was a French noble who never really practiced his Catholic faith during his younger years. He became a military man with ambitions of worldly success and glory. It was his travels in the military, however, that eventually sparked his reversion. He found himself flat out inspired by the Muslims he met along the way, as he watched them set aside everything to focus on worshipping God multiple times throughout the day. He soon left the military, moved back to be with family, and eventually made the decision to become a Trappist monk. An absolute about-face conversion like that would often be the end of the typical biography for saints we hear about, but Dorothy recounted a moment that pushed Blessed Charles even further in her 1959 article Retreat from The Catholic Worker:
"One night," Father Voillaume wrote in his introduction to his own book of spiritual conferences Seeds of the Desert, "he was sent by his Father Abbot to sit up with a person who had just died in the family of an Arab working man living in the neighboring village. This contact with the world of the very poor was a profoundly moving experience for him." Although he was living in the poorest of Trappist houses, Brother Charles wrote, "Oh, the difference between those buildings of ours and the poor workingman's house. I am not yet satisfied. I long for Nazareth."
And so, he left the Trappist order to live out his vocation as a poor and humble hermit living in a shack he built alongside one of the walls of the Poor Clares convent in Nazareth. He worked as a servant and handyman for the sisters, and it was during this time that he experienced a longing to establish Fraternities of Little Brothers "to imitate Jesus of Nazareth in the poverty, the daily toil and the social status of the poor amongst mankind." He moved to Algeria, where he lived in a mud hut and according to the aforementioned article by Dorothy Day "practiced hospitality, rendering service and caring for the sick, seeking to penetrate the secrets of their language, writing a Tamashek grammar and dictionary, collecting tribal proverbs and poems, studying their traditions and customs."
People were drawn to Blessed Charles. But he wasn't able to establish Fraternities of Little Brothers and increase vocations of those feeling called to a life of total abandonment to God as he was.
Charles spent hours in front of the tabernacle every day praying for the guidance of Christ, and while he still felt called to establish these fraternities, it never happened. As he put it, "I am still alone. Several people have let me know that they would like to join me, but there are difficulties."
On December 1, 1916, Blessed Charles was dragged from his hut by a gang of armed bandits intending to kidnap him. When the gang was disturbed by two guardsmen, however, one startled bandit shot him through the head, killing him instantly.
Blessed Charles, who gave himself totally to Christ both in the Eucharist and the poor, who felt called to start a fraternity of those who wanted to do the same, never got his chance. The Little Brothers and Little Sisters did come, of course, albeit after his death, and devotion to Blessed Charles has been on the rise over the last century.
I felt blessed to be introduced to him by Dorothy Day, and as I look at his life I see a valuable lesson for me moving forward. Most of us have felt called to do something in life at some point, and some of us have even experienced feeling called by God himself to accomplish a certain goal. If it's something at work, something around the community, a new ministry at our local parish, or even the call to be married and become a parent; we pray, ask God for his continued guidance, and take steps to ensure we're moving toward the goal we feel he has in mind for us.
And yet, sometimes, no one comes.
We start a new project at work, and no one comes to hear about it. We invite others to join in with helping our local neighborhood, but we're left to do it alone. We put time, money, and effort into starting a new ministry at our parish, and the first event is just us and a bunch of empty chairs. Even more painful, we yearn to be married and have children, and yet we find ourselves lonely, infertile, and heartbroken.
Why does God allow this kind of suffering? Why does he seem to push us in a direction, only to have it ultimately end in failure? Why does he leave us questioning if he's actually leading us at all?
In her article on Blessed Charles, Dorothy Day provides the answer:
"How far one's vocation will take one, is always a mystery, and where one's vocation will take one. But I believe it to be true always that the foundations are always in poverty, manual labor, and in seeming failure. It is the pattern of the Cross, and in the Cross is joy of spirit."
Let's pray for each other to persevere in the face of seeming failure, that we may persevere in whatever God wants for us.
Tommy Tighe is a Catholic husband and father of five boys. You can find out more about him at CatholicHipster.com.
Start your day with Always Forward, our award-winning e-newsletter. Get this smart, handpicked selection of the day's top news, analysis and opinion, delivered to your inbox. Sign up absolutely free today!
---
Read the latest local and global Catholic News.
Sign up for our newsletter.