We're Catholic, we talk about martyrs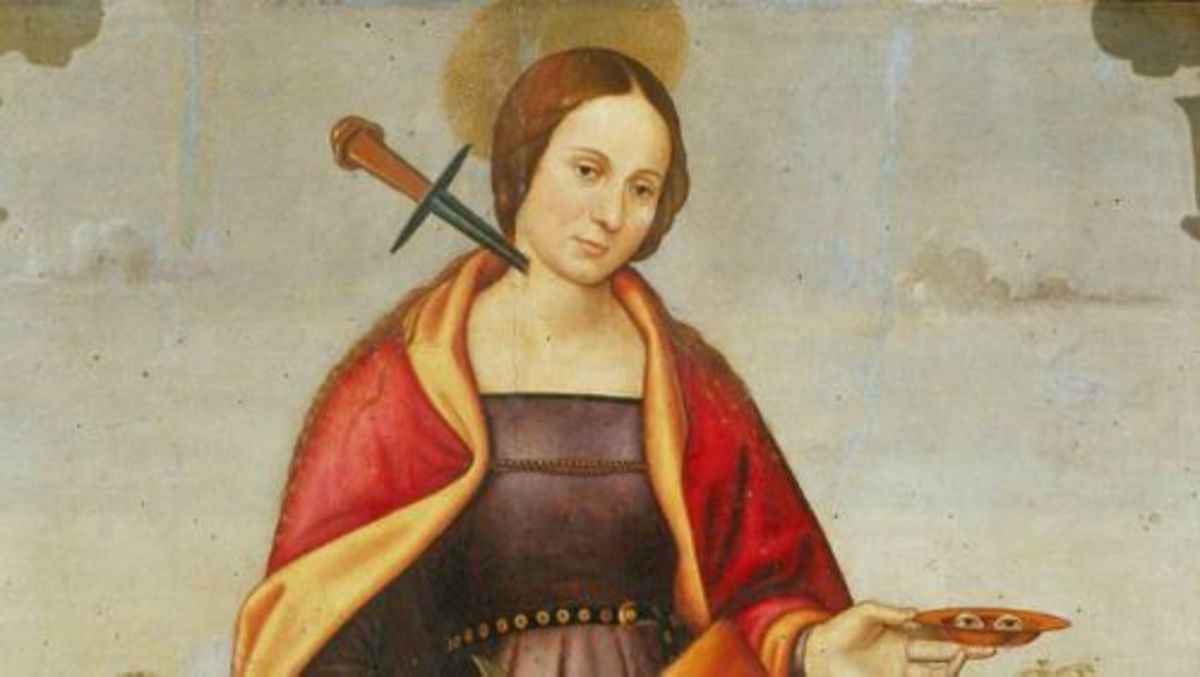 Walking into the kitchen on a recent Saturday afternoon, I got the opportunity to listen in on a conversation between our 8 and 3-year-olds as they scarfed their peanut butter and jelly sandwiches for lunch.
It went a little something like this:
8-year-old: "…so they shot him with a ton of arrows, but he totally survived."
3-year-old: "COOL!!"
8-year-old: "Yeah, but then they caught him and chopped his head off."
3-year-old: "Is there a St. Lucy?"
8-year-old: "OH! You're gonna LOVE this one!!"
St. Lucy, of course, famously had her eyeballs ripped out of her head after her martyrdom when the governor became enraged by her prediction that he would suffer greatly after her death. As they went to prepare her body for death after the incident, however, they found her eyes had been miraculously restored.

These stories of Catholic martyrs and holy heroes who gave up everything for Our Lord and his Church may sound shocking to non-Catholic Christian who seem to prefer not to contemplate all the gory details, but for the Catholic kids in my family, it is the stuff of legend.

Sure, stories about a young group of ninjas made from Legos are cool. Of course, superheroes saving the world by way of their incredible powers is regular reading. But when it comes to my children being absolutely captivated by a story, it usually helps if it involves saints who have sacrificed their lives for their faith.

Blessed Miguel Pro, Saint José Luis Sánchez del Río, St. Joan of Arc, St. Oscar Romero, St. Maximilian Kolbe; these are the names that cross my kids' minds when they think of heroes who were willing to go all in for their beliefs, and like my kids, I'm flat out inspired by their heroic lives. 
In the year 197, Tertulian wrote the now-famous words, "The blood of the martyrs is the seed of the Church," and while he may have been referring to the growth of the Church as a whole, I see this same premise applying to my young growing family.
Martyrs give us reassurance that our faith is true, they instill in us the hope that we too may be able to give up everything for Jesus, and they are just plain inspirational, an example of what it means to put the teachings of Christ into action. 
So, don't shy away from sharing the stories of the martyrs with your children, don't give into the impulse that they need to be shielded from the gory details of what happened to actual Catholics throughout the history of the world. 
They need to hear these stories. We need to hear these stories. The whole world needs to hear these stories. 
Tommy Tighe is a Catholic husband and father of five boys. You can find out more about him at CatholicHipster.com.
Start your day with Always Forward, our award-winning e-newsletter. Get this smart, handpicked selection of the day's top news, analysis and opinion, delivered to your inbox. Sign up absolutely free today!
---
Read the latest local and global Catholic News.
Sign up for our newsletter.