Don't pretend in front of Jesus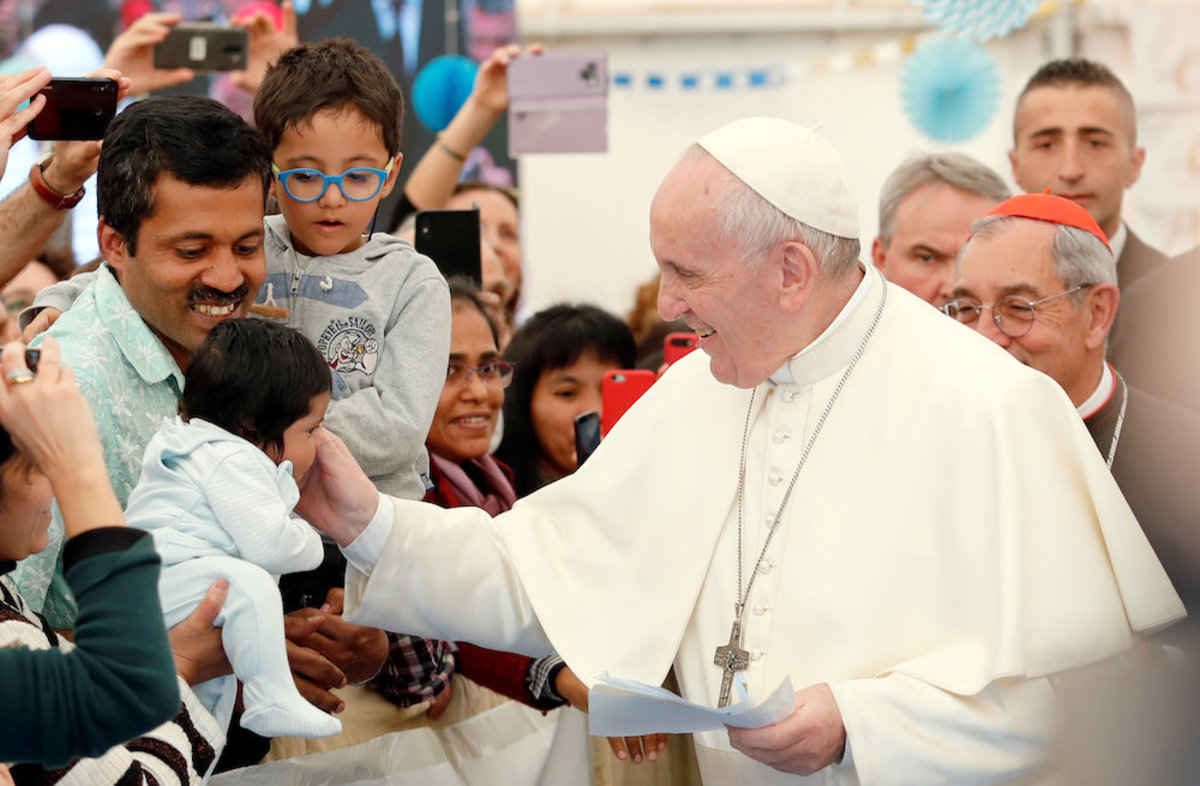 "Truly, I say to you, unless you turn and become like children, you will never enter the kingdom of heaven."
Whenever I heard these words of Jesus from the Gospel of Matthew, I always assumed they referred to the simple and unquestioning faith that children have. When I tell my kids the bread becomes the Real Presence of Jesus at Mass, they don't ask questions, they simply believe. As a parent, it's a radical thing to watch, and an amazing reminder of how muddled we make things when we become adults.

And yet, at our fifth son's baptism earlier this year, our dear friend Father Michael Liliedahl took this reading in a totally different direction, and I've been contemplating it ever since.

Instead of seeing the call of Jesus for us to become like children as a call to become like a 6-year-old who believes without questioning, Father Michael challenged us to see it as a call to become more like our beautiful one-month-old being baptized that day. When a baby needs something, they cry out. They can't help it. They don't try and hide their feelings, they don't lie to pretend everything is alright, they don't worry about making their needs immediately known and screaming about it until that need is met. When they need attention, when they need relationship, when they need help, they let their parents know.

To put it more pointedly, perhaps the challenge Christ is calling us to when he tells us to "turn and become like children" is to live in relationship with God as a baby lives in relationship with its parents.

I was reminded of this again when I came upon a speech Pope Francis gave to students preparing for Confirmation on April 7:
"Sometimes I hear someone say 'I don't talk to Jesus because he ruined my life. I am angry with Jesus.' But even getting angry with Jesus can be a way of praying. It is to say to Jesus: 'Look at this thing, it makes me angry.' Jesus likes to see the truth of our heart. Don't pretend in front of Jesus. Before Jesus you always have to say things as they are. 'I have this doubt. I don't believe it. I have this, and this…' To talk like this, this is a beautiful prayer, and he is so patient, waiting for us."

Don't pretend in front of Jesus.
This is such a powerful directive for me to contemplate as I go about my daily prayer life. When I say "thy will be done," do I mean it? Am I truly willing to abandon myself to God's providence, as mysterious as it may be? Or, am I saying "thy will be done" because I think that's what God wants to hear, that it will somehow make God happy with me even though I'm not feeling it?

Instead, am I willing to allow myself to be vulnerable to the point of turning and become like a child? Am I willing to cry out when I need him, be honest with my feelings, and to refrain from holding anything back?
Father Julián Carrón of the Comunione e Liberazione movement puts it another way:
"The child cries and looks for his mother not because he is good, but because he needs her. The point, then, is to use all of these needs, as we always say, even the most trivial gesture, even the most basic lack, as an opportunity to live a relationship with Christ. This is the missing piece. The child doesn't stop at not being good, doesn't worry about that, he cries because he needs a relationship, by crying he enters into a relationship. Everything is helpful for entering into a relationship. Similarly, the call to holiness concerns the possibility that everything we live become a road, become sacred, become an opportunity for a relationship. But it is necessary to discover this in reality."
Let's all take some time as Lent wraps up to ponder this idea, this call to be like a little child, crying out to God for the purpose of needing a relationship with him; to be authentic in front of Jesus, telling him exactly how we feel without holding anything back.
He didn't hold anything back, so returning the favor seems like the least we can do.
Tommy Tighe is a Catholic husband and father of five boys. You can find out more about him at CatholicHipster.com.
---
Read the latest local and global Catholic News.
Sign up for our newsletter.