CIF Catholic gridiron champs: Johnny O. and the Saints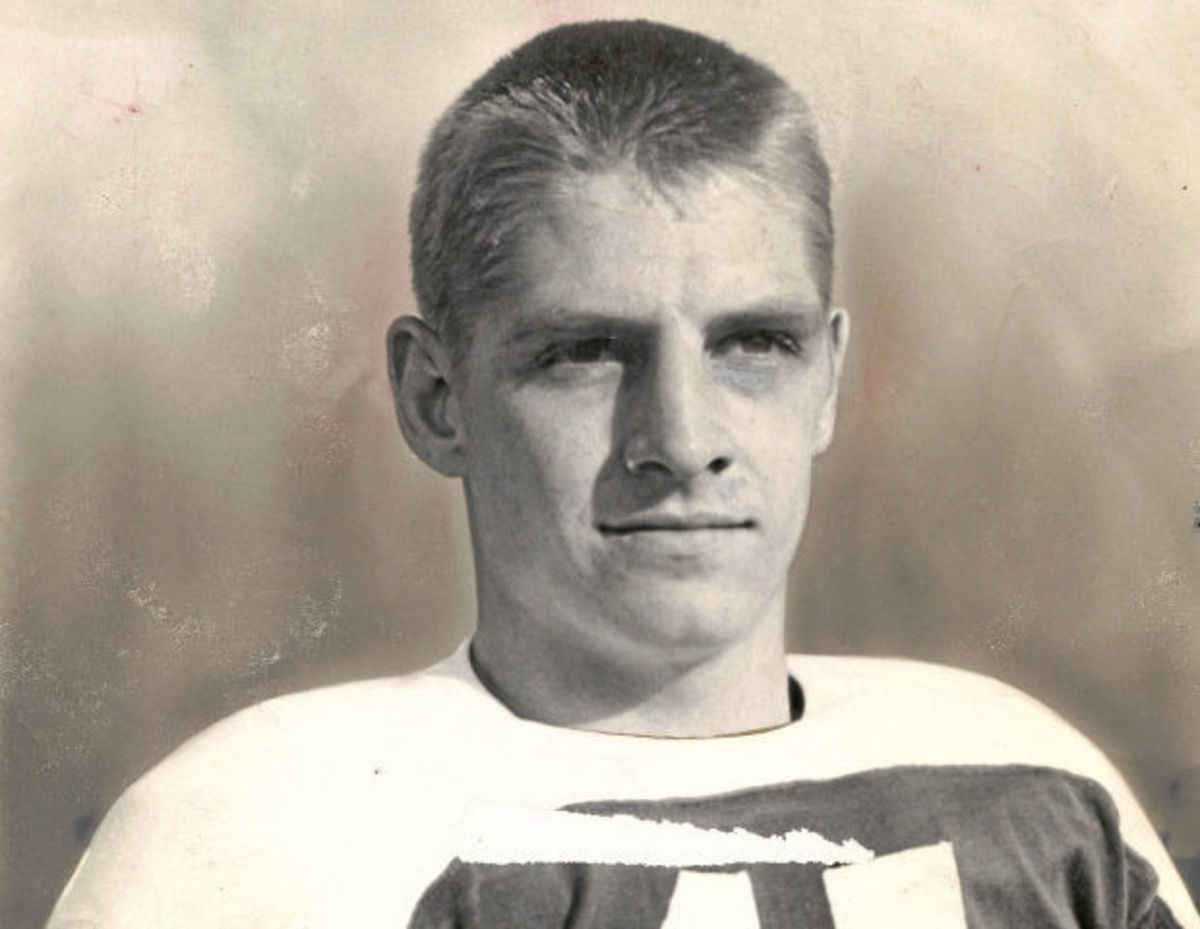 He was "Johnny O.," a "190-pound package of dynamite," described the Helms Athletic Foundation, which named him CIF Player of the Year in 1948 — the year he led St. Anthony High School of Long Beach to the first CIF football title ever won by a Catholic high school from the Archdiocese of Los Angeles.
Indeed, Johnny Olszewski — who piled up 27 touchdowns, 164 points and 1,613 yards from scrimmage in 11 games — earned an All-Southern California CIF first team berth in 1948, as did Saints quarterback Bill Mais and guard Jack Jarvis. Together, they led the Jacques Grenier-coached Long Beach squad to victory over favored Santa Barbara in that Dec. 11, 1948, title contest.
In fact, the game — played at the Los Angeles Memorial Coliseum — ended in a 7-7 tie, but St. Anthony earned the title by recording more first downs, 16-12. St. Anthony's lone score was a 32-yard touchdown pass from Mais to Mike Hendren, and the Saints — with Olszewski injured and unable to play much of the game — kept Santa Barbara at bay.
Last year, St. Anthony earned its first CIF title since that 1948 "Division AAAA" championship. This year, there are 13 CIF divisional titles at stake, and St. Anthony is among 22 Catholic schools that qualified for first round games played Nov. 10.
Title titans
Coincidentally, 22 Catholic high schools have won a combined 79 CIF football championships over the past nine decades, although it took some time to get the first (St. Anthony's) once the CIF began holding championship games near the end of World War I.
The first local Catholic school to play for any CIF title was Cathedral, which reached the 1930 finals of the Northern Division (one of several "lower" divisions then administered by the CIF), losing to Del Monte, 12-0. Three years later, St. Agnes was defeated by Colton, 21-7, for the Northern Division championship, and Pomona Catholic met the same fate in 1953, losing 34-12 to Paso Robles.
In 1946, Loyola, led by two-time Player of the Year Al Pollard, became the first local Catholic school to play for the CIF AAAA title, losing 7-6 to Alhambra. The Cubs returned to the championship game in 1962, beating Anaheim 14-3 behind the exploits of running back Steve Grady, the CIF Player of the Year and later a successful Loyola coach with 269 wins and two more CIF crowns.
In all, Loyola has won six CIF titles and finished runner-up six times, among the best records among Catholic high schools in Southern California. Only three Catholic schools in the Archdiocese of Los Angeles and Diocese of Orange, in fact, have won more CIF championships than the Cubs:
> St. Bonaventure of Ventura, 10 titles, including an extraordinary
nine wins (and only one loss) in 13 championship games from 1996 to
2008, and four straight wins (1999-2002).
> Mater Dei of Santa Ana, nine titles (and seven runner-up finish
es), starting with back-to-back wins in 1956-57, and six title game appearances in
seven seasons from 1994 to 1999 (four wins, two losses).
> Paraclete of Lancaster, eight titles (and four seconds), the first in 1967, the last 
n 2016, and five straight
from 1997 to 2001.
As 2017 playoff action began, Mater Dei and Paraclete were again in the hunt, along with: Servite of Anaheim and Bishop Amat of La Puente (five titles each); Notre Dame of Sherman Oaks, St. Paul of Santa Fe Springs and Serra of Gardena (four each); and Santa Clara of Oxnard, Verbum Dei of Los Angeles, Santa Margarita of Rancho Santa Margarita and St. Genevieve of Panorama City (three each).
In addition to St. Anthony, the group of schools that have won two championships apiece include Damien of La Verne, Crespi of Encino and St. John Bosco of Bellflower. Those with one title each are Salesian of East Los Angeles, Chaminade of West Hills, St. Monica of Santa Monica and Fermin Lasuen of San Pedro, which closed in 1971 and is now the site of the Jeanne Jugan Residence Home operated by the Little Sisters of the Poor.
Nine other Catholic high schools have reached a CIF divisional title game at least once: Alemany of Mission Hills, Bishop Montgomery of Torrance, La Salle of Pasadena, Mary Star of San Pedro, St. Joseph of Santa Maria and Bishop Diego of Santa Barbara, in addition to the aforementioned St. Agnes (now closed), Cathedral and Pomona Catholic.
Will any of this year's Catholic school playoff teams follow in the footsteps of the Saints of 1948? We'll know in a few weeks.
---
Read the latest local and global Catholic News.
Sign up for our newsletter.