The hope and redemption of 'I Can Only Imagine': director brothers, actress discuss film's message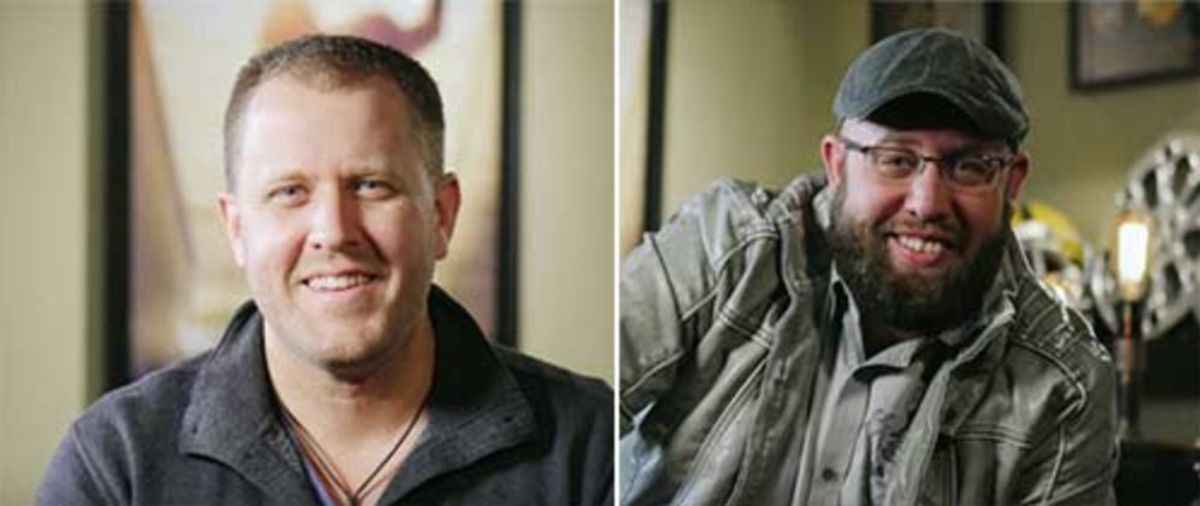 After crossing paths with Bart Miller, the lead singer of Christian rock band MercyMe and writer of the genre-transcending phenomenon "I Can Only Imagine," on the same day they received the script for a film about his life, brothers and directors Jon and Andy Erwin felt that it was meant to be.
And after sitting down with Bart and learning the extraordinary, unknown story behind the wildly popular smash-hit single — inspired by his father, who transformed from an abusive alcoholic during Bart's childhood to a God-fearing, spiritual man, and ultimately became Bart's best friend in his adulthood — the Erwins knew the film had to be.
"A story has to move our soul before we decide to chase it; you can't fake that," explained Andy, the elder Erwin brother. "And as we dug into the DNA of the story behind the greatest Christian rock song of all time, and followed the father-son relationship and redemptive thread, we were amazed that story hadn't been told yet, and we were pinching ourselves that we'd have the chance to tell it ourselves."
"We asked Bart, 'What does this song deliver?' and he answered, 'It's a rush of hope. I witnessed a monster transform into my best friend,' " added Jon. "It was the mending of their relationship that led to this multiplatinum hit. Who can't relate to a redemption story between a father and son? It was such a powerful, universally relatable story."
The Erwins are acutely aware that the relatability of this story could enable their latest film, "I Can Only Imagine," (much like the song of the same title and its capacity to broaden its appeal far beyond the Christian rock audience) to overcome the trappings that have plagued faith-based films in recent memory and attract a wide audience of people who enjoy the film regardless of their religion.
"You combat some of the problems that are facing Christian films one movie at a time," assessed Jon. "And I think that we've only scratched the surface as to what these films can be. I don't think they need to be divisive or alienate audiences. I think the tent poles of Christianity, its core values, when correctly presented, are universally appealing. And I think the true stories are the most powerful ones.
"For us, it's a process of just reaching out to the middle-American audience of faith from which we come to tell them that this is a great way to share our values with the world in a nondivisive, inclusive way. You can galvanize through anger and division, but at what cost? I think the higher road is to galvanize through values that are universal and universally appealing and just let the story speak."
The story in this film depicts the life of Texas native Millard (newcomer via Broadway J. Michael Finley) who, having been abandoned by his mother at a young age, has been left under the "parental guidance" of father Arthur (Dennis Quaid), an embittered alcoholic whose frustration with the way his own life turned out manifests itself in the form of physical and emotional abuse toward Bart.
Despite his contentious relationship with his father, Bart is the benefactor of positive influences in his life, such as his grandma (Cloris Leachman), whose exasperated catchphrase "Mercy me!" would one day inspire the name of Bart's band, and his high school sweetheart Shannon (Madeline Carroll), who showers him with support.
And when varsity jock Bart suffers a season-ending injury on the football field, he finds a new source of joy in a totally unexpected venue: as a performer in the high school musical.
Bart's newfound love for singing, coupled with his resentment for his father, prompts him to form a Christian rock band and take their act on the road. But when Bart's father is diagnosed with terminal cancer, it sets the stage for Arthur to re-examine his life, return to the Church and repair his relationship with Bart, who finds himself faced with the ultimate challenge of forgiving the man who hurt him most.
Bart and Arthur's road toward redemption and healing is a bumpy one at first, but culminates in Bart recognizing his father's earnest intention to change, and miraculously, leads to a heartwarming friendship that inspires Bart to write the song that would change both his life and the landscape of Christian rock as we know it.
From an early stage, the Erwin brothers were confident that the core of the film needed to be this unique, real-life father-son story of redemption that motivated Bart to write the music and lyrics for "I Can Only Imagine."
But it wasn't until rather late in the writing process that the Erwins learned of a detail that would influence one of the film's most memorable scenes: Singer Amy Grant (portraying herself), poised to debut Bart's song to a packed audience, decided at the last second that it was Bart's song to sing, and called him up onstage to do so.
"We were on a local radio show promoting a different movie of ours, and when we were asked what we have lined up, we mentioned the idea for 'I Can Only Imagine,' " Andy recalled. "And the DJ said, 'Oh my goodness, I was there that night when Amy Grant pulled him up on stage and gave him his song back. It was the most magical thing I've ever seen in all of Christian music. Maybe in all of music, period.' I called to confirm this with Bart, and he said, 'Oh yeah, I forgot to tell you guys!' And we were like 'Why didn't you lead with that?' [laughs] We knew we had a full movie at that point."
Once all of the story's elements were in place, the next step was to find the right people to bring them to life. The Erwins feel they hit home runs in the form of the seasoned Quaid and newcomer Finley.
"The biggest challenge was figuring out who would play Bart," recalled Andy. "He had to be able to sing and have this blue-collar grit and Midwest Texas feel to him, and then it was about finding who was going to be the person who anchored it as the father. Finding those two people was the movie. When we found John Michael and Dennis Quaid, the movie just exploded."
Arthur's 180-degree character arc is as extreme a character transformation as you'll ever see, but the veteran Quaid sells Arthur's earnest desire for forgiveness and redemption convincingly.
As a performer who collects rosary beads in every city he visits and says a prayer before he steps onto any set, Quaid relished the challenge to explore Arthur's extreme sea change.
"Prayer has a way of making us see the real truth of ourselves inside," said Quaid. "You have to be honest; you can't lie to yourself in prayer, really. This led Arthur toward the path of redemption and seeking this forgiveness. He came to seek himself for what he was, and that was the first step. God will give you a path, but you have to go walk it. And when you walk it, it's usually not pretty at all, and things get harder before they get easier. The gift that Arthur gave Bart was that Bart didn't have to walk around feeling that way about himself for the rest of his life. And if that hadn't happened, I'm sure we wouldn't be sitting here."
And despite having no prior film credits to his name, Finley impressively goes toe-to-toe with Quaid, matching his energy at every turn, resulting in what the Erwins believe to be some of the most potent moments in the film.
"A great cast equals a great team, and this is a performance vehicle," stated Jon. "It was very much a process of reduction in terms of filmmaking and almost stepping back and just letting those performances shine. The takes were longer, the shots were simpler, and my favorite scene in the movie was when Arthur first tries to apologize, and Bart is trying to forgive him but is wrestling with being able to forgive him. And the movie just stops: There's no music, there's no camera tricks, it's just two actors portraying the emotion of this scene brilliantly."
The Erwins' calculated restraint and their confidence in the inherent strength of the core story rendered the film a tremendous showcase for talented actors to bring the story to life through their performances.
Indeed, veterans Leachman and country music star Trace Adkins in his role as a brutally honest record producer who becomes Bart's manager shine in their supporting roles. But perhaps the most compelling supporting performance of all is delivered courtesy of 21 year-old Madeline Carroll.
The old adage states, "Behind every great man is a great woman." Behind the real-life Bart Millard was Shannon, whom he had known ever since elementary school. And elevating Finley's in performance is the supporting work of Carroll, who immediately identified Shannon as being a kindred spirit.
"I was really struck by what a good person Shannon is," stated Carroll of her potential breakout role. "She wasn't the typical 'we're breaking up in high school and I'm never talking to you again' type. I thought her inner peace and stillness was so admirable. I read a lot of high school drama, boyfriend-girlfriend scripts, but to be able to play someone who is wise beyond her years is great.
"She was much more ready for a relationship than he was — he had a lot of growing to do — but the fact that she didn't abandon him and cut off her nose to spite her face, she allowed him to do his growing, too. And I think that's different; that's something that we don't really see in movies nowadays. It's rare to find a diamond in the rough like that."
"Shannon knew that Bart was being called to do something great, and that what was going on in his house and with his family wasn't going to hold him back from what God had in store for him," Carroll continued.
"Sometimes that's all we need. I have had Shannons in my own life who have spoken to me and encouraged my calling. I just felt like I knew her just from knowing the people like that in my life. I felt really excited and blessed, and so honored to play that."
Considering the fact that Carroll was first discovered at the age of 3 1/2 years old by an agent who happened to be at the same nail salon as her mother, one could easily get fooled into believing that Hollywood has always been a natural fit for the very physically attractive Carroll.
But she very openly revealed that, on the contrary, the offer to play Shannon arrived at a time in her life when, frustrated that she was being offered such a multitude of roles requiring nudity and various things she steadfastly rejected, was on the verge of leaving Hollywood and never coming back.
"At this time last year, right before we started filming, I was ready to give up," recalled Carroll. "I was done with acting. I was so heartbroken but felt like acting wasn't what I was meant to do anymore. I was turning down role after role, my agents at the time were getting upset with me, angry that I wasn't going to do nudity, etc., and I stuck to my guns, but it became so hard.
"I said 'God, I am making these choices for you and trying to stand out by being different. I'm not seeing you anymore.' And I thought 'OK, if this isn't what you want, I'll do whatever else you have in mind for me, because I can't take this anymore; it's too hard.' I had this whole meltdown in my bathroom when I got a text message from this director who had remembered me from a year prior, auditioning for something totally separate, and he had kept me in mind and said 'I want you to be in this movie.' And it felt like 'OK, God, so I am meant to be here.' It completely revived my calling and career, and just meant so much to me because I honestly never thought I would have this chance again."
In the same vein that the role of Shannon provided Carroll with the opportunity to rediscover God's love and purpose for her, the Erwin brothers hope that that narrative of "I Can Only Imagine" will encourage audiences to do the same.
But, much like the song that inspired it, the Erwins are quick to point out that, although "I Can Only Imagine" has religion at its core, the crucial themes the film tackles can be profoundly impactful not just for Christians, but for our culture as a whole.
"For me, this can be a story of Christianity changing someone's life for the better, and yet, for a broad audience, this can be the story of the reconciliation between a father and son," explained Jon.
"Everyone's enjoying the film for different reasons. And I think we've forgotten that there's this middle ground that we're all missing. We've only just begun to discover what faith film can be. My hope is that the great theme of this story is that no one is the sum of their mistakes. No one is beyond hope and redemption. People can change. Relationships can change. Pain can be mended. Hearts that have been broken can be restored. I think that's a message that a lot of people need today. Frankly, I think it's a message we need today from a cultural standpoint."
---
Read the latest local and global Catholic News.
Sign up for our newsletter.