'Miracle Season' finds good in grief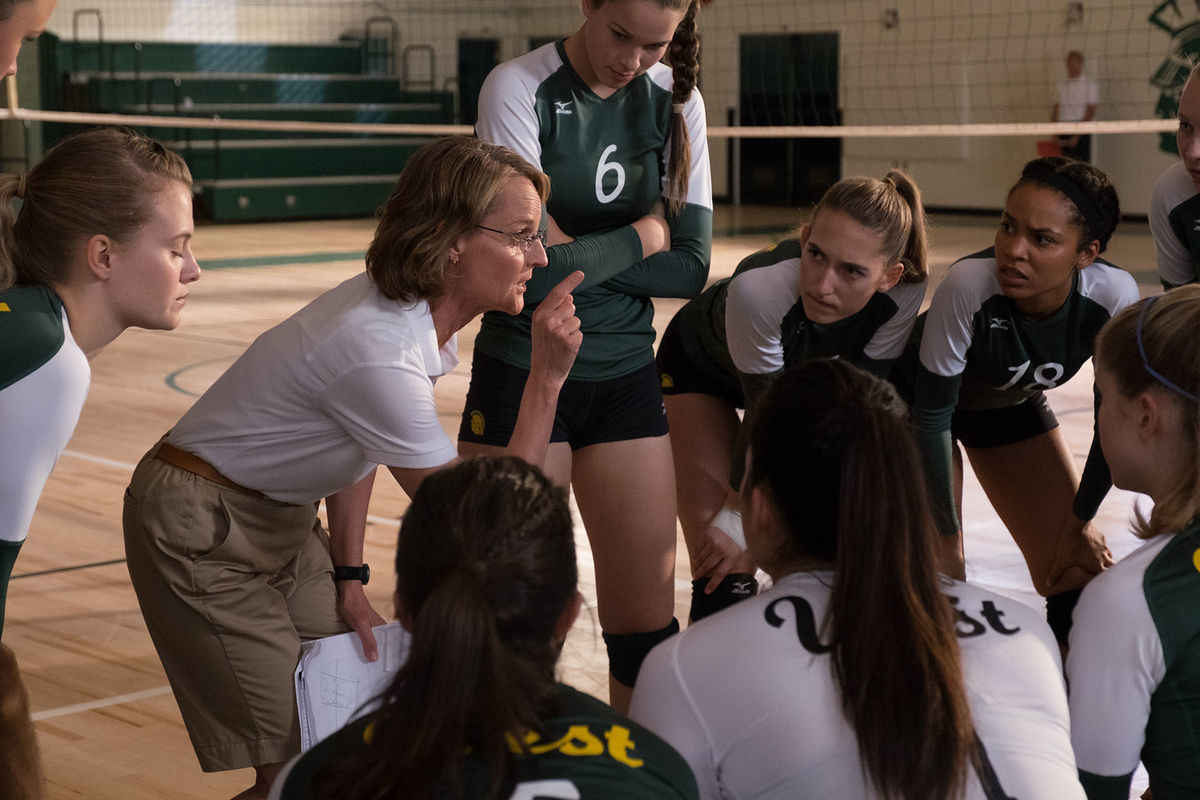 A new film starring a pair of Oscar winners tells the story of a community moving forward when tragedy puts it to the test
Inspirational sports films are produced so often in contemporary Hollywood that, in order to stand out from the metaphorical herd, such a film needs a truly unique story supported by an adept script. Thankfully, "The Miracle Season," directed by Sean McNamara, does both.
Sure, the fact that "The Miracle Season's" story revolves around a high school girls volleyball team (and not a football, boxing, basketball or baseball one) certainly helps the film in its quest to bring a breath of fresh air to the tired genre.
But what really sets the film apart is its capacity to make the true story of the 2011 Iowa City West High School girls volleyball team — which won a state championship despite the tragic death of its best player early in the season — a story of finding the courage to move forward in the face of sorrow.
In "The Miracle Season," which debuted in theaters nationwide April 6, moving on from grief entails a number of trying challenges for a myriad of people when a small suburban Iowa community witnesses the death of high school senior and girls volleyball team captain Caroline "Line" Found (Danika Yarosh) in a horrific moped accident.
For the team's head coach Kathy "Coach Brez" Bresnahan (Oscar winner Helen Hunt) the most basic challenge lies in motivating her grief-stricken players to show up for practice. Never mind the task of defending the team's state championship from the previous season, an especially difficult one after the death of the very player whose vocal leadership helped the team navigate prior adversity.
Then there's Line's teammate/best friend Kelley Fliehler (Erin Moriarty), whose boundless grief in the wake of Line's death extends far beyond the volleyball court. 
Because Kelley and Line had been virtually inseparable best friends since kindergarten, life without Line forces Kelley into a life she's never truly known.
Perhaps the film's most heart-shattering sequence after Line's death occurs when Kelley carries her lunch tray into the cafeteria but, reminiscing on Line's refusal to allow anyone to sit alone at the lunch table, can't even bring herself to sit down without Line being present, and instead brings her tray to the bathroom stall.
But as sorrowful as Kelley's life has become in one traumatic instant, it can't even compare to the cross that Line's father, Ernie (Oscar winner William Hurt), must now bear. 
An orthopedic surgeon who also served as an ever-reliable, calming presence in the fan section at City West games, Ernie's Catholic faith is put to the ultimate test when his daughter's death is followed merely two weeks later by his wife succumbing to her ongoing battle with cancer. 
A particularly poignant, telling sequence features a fellow doctor and good friend of Ernie's leave a voicemail offering his condolences and inviting Ernie to join him at church, prompting Ernie to pick up the phone and chastise his friend's suggestion, as he spitefully barks, "Forgive me if I don't feel so close to God right now," before slamming the phone down.
Moments like this in the film's early stages evince "The Miracle Season's" willingness to explore the fact that, in life, when we are faced with unspeakable sorrow, screaming, "Wwhy have you forsaken me?" at God and questioning him is an option that's available, and even understandable. 
But to the film's credit, it likewise isn't afraid to challenge us to view life's most trying hardships as an opportunity to instead seek out God more than before.
"The Miracle Season" soars as it depicts the triumphs that result from the second option. The reserved Coach Brez opens up more to her players and becomes a sounding board for them as they wrestle with their grief, while Ernie finds himself in the crowd for the girls' games again, and ultimately, in the pews thanking God for the lives of his daughter and wife. 
And at the center of it all is Kelley, who bravely takes to the loudspeaker at school and announces that Line would want them to get back on the court, then backs up her words with courage. 
The team's rallying cry becomes "live like Line," a plea to mirror Line's enthusiasm for life and generosity toward others both on and off the volleyball court, and no one takes the message to heart more than Kelley; she honors her best friend's legacy not only by taking over her position as the team's featured setter, but also by stepping into Line's role as the vocal leader that it so desperately needs.
"The Miracle Season" is a reminder that, as the popular adage goes, God never gives us more than we can handle, and that through his grace, the most sorrowful circumstances can give birth to the greatest victories — even the unlikeliest of state volleyball championships.
---
Read the latest local and global Catholic News.
Sign up for our newsletter.