HBO's 'Paterno': How an American legend fell, years before #MeToo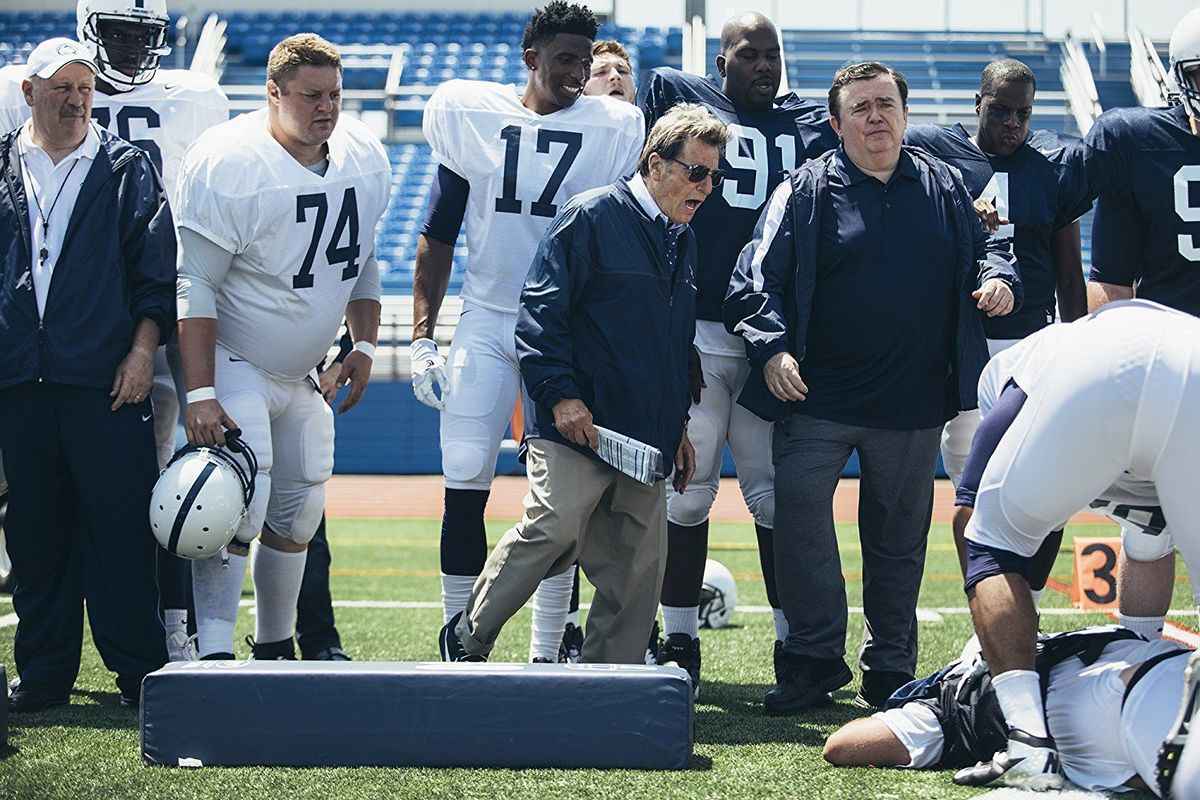 The child sex abuse scandal first exposed in 2002 in the Archdiocese of Boston resulted in a couple of much-needed and important precedents: first, that no one, not even the highest ranking clergy, is exempt from the consequences when it comes to egregious crimes; second, that anyone who conceals another person's abuse of children is just as culpable as the perpetrators themselves.
Nearly a decade later, American culture was rocked again by an eerily similar and devastating scandal out of Happy Valley, Pennsylvania, a place where Penn State football is like religion, and longtime head football coach Joe Paterno was revered like a god.
The new HBO film "Paterno" chronicles the metropolitan Harrisburg newspaper The Patriot News' uncovering of disgraced former Penn State defensive coordinator Jerry Sandusky's repeated sexual abuse of dozens of young boys who attended his annual youth summer camp at Penn State.
It does so in a satisfying and at times even gripping fashion. "Paterno" depicts how the rapid unraveling of this story, spearheaded by reporter Sara Ganim (now a CNN correspondent), led to Paterno's fall from grace after revelations that he reported an incident involving Sandusky to his direct superior rather than the police. 
The casting of Al Pacino as Paterno ensures that the film's portrayal is a balanced one that avoids both demonization and martyrdom. 
Boosted by the script co-penned by Debora Cahn ("The West Wing"/"Grey's Anatomy") and John C. Richards, Pacino depicts a fully realized man with a one-track mind focused solely on football, a trait that generated unrivaled success in the win-loss column, but ultimately led to his demise. 
Even when news of the scandal first broke, the only hurdles Paterno could envision for his future were the Nebraska Cornhuskers that coming Saturday. But the more Paterno's inner circle grills him with questions in an attempt to arm him with the most face-saving public statement possible, the more the coaching icon realizes that, deep down, he always knew the hideous truth about Sandusky.
With the exception of a "gonzo" depiction of a Paterno nightmare that feels out of place, the film rather effectively explores how Paterno struggled to come to terms with his negligence up until his death less than three months after his firing the previous November.
"Paterno" walks viewers through the university's efforts to cover up the numerous allegations against Sandusky for the sake of protecting Penn State's name and brand. But more importantly, it challenges audiences to examine our own society's ugly history of elevating our sports and cultural heroes to untouchable status.
One part of the film re-enacts the volatile reaction of the Penn State community to Paterno's firing, when herds of students rushed to Paterno's nearby residence to cheer him on, and still more rioted all throughout campus.
Another shows one student claiming that Paterno's firing is justified considering his role in the scandal, but declines to be quoted on the record for fear of "getting killed in my sleep." 
The campus that night became a showcase of mob mentality at its very worst, with chants like "We love Joe Pa!" and "Let Joe stay!" echoing all throughout Happy Valley.
Though the film offers a depiction full of compelling details about Paterno, his family and the Penn State community, the film's depiction of Ganim (Riley Keough) and her role in the story leaves much to be desired. 
Her pursuit, complete with dramatic phone calls, reluctant testimony from the victims and outside threats, treads familiar ground that was portrayed more effectively, or at the very least done first, by movies like 2015's "Spotlight." 
With the exception of a few scenes in which Ganim's roommates, fellow Penn State alums, pose empty threats regarding the dangers of chasing the story, the film misses a prime opportunity to explore how Ganim bravely defied institutional pressure in order to do the right thing.
But if the portrayal of Ganim's pursuit feels a little stale, the huge fish she ultimately catches is as relevant today as it was then. 
In today's #MeToo era, in which lionized cultural figures falling from grace feels like a daily occurrence, we'd like to think that administrative practices such as Penn State's attempted coverup of Sandusky's many abuses are a thing of the distant past. But they're not. 
The Penn State scandal was a mere seven years ago. And, to use Louis CK as one contemporary example that could be plucked from many, it took the female victims of CK's sexual misconduct, who were fellow comedians, until just last year to come forward due to fears about their future in show business.
"Paterno" is a sobering reminder that horrifying episodes like the Penn State scandal do indeed occur, and are still happening. We should be encouraged by the trends we've witnessed in our culture these last few years, as both individual icons and major institutions are being held accountable (the Michigan State gymnastics program being one example). 
But these grim stories seem bound to keep popping up. The devil we don't know is going to be even worse than the one we've met. The truth is going to hurt.
Interested in more? Subscribe to Angelus News to get daily articles sent to your inbox.

---
Read the latest local and global Catholic News.
Sign up for our newsletter.