'Coco' cast and creative team discuss Disney-Pixar's latest masterpiece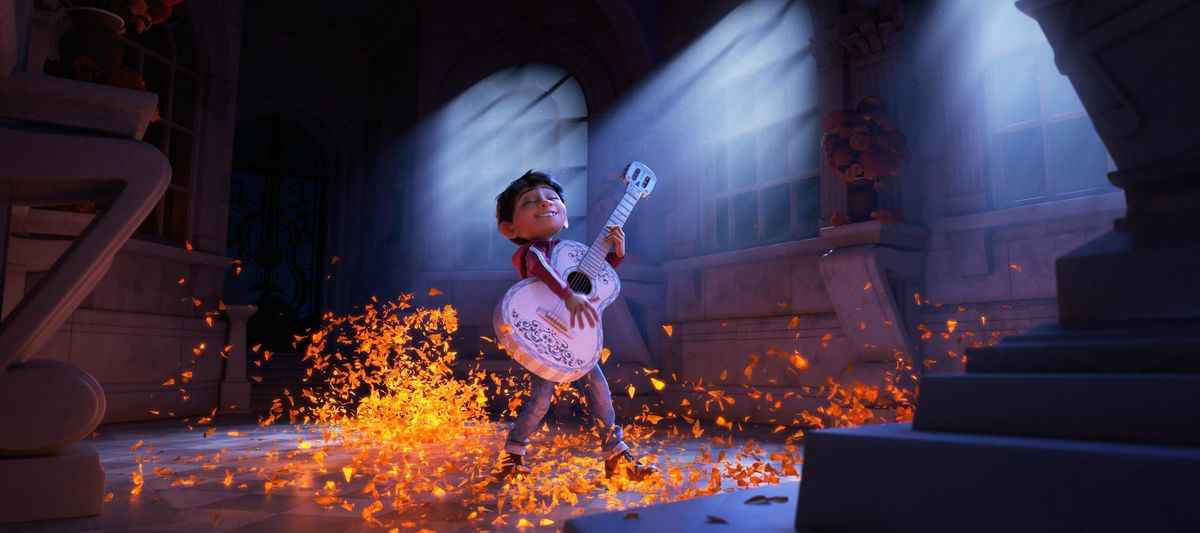 Since its game-changing debut with 1995's "Toy Story," the prolific Disney-Pixar partnership has firmly established itself as the gold standard for animated features, to the point that movie audiences have come to expect each of its films to be an instant classic. Disney-Pixar's latest musical "Coco" doesn't just meet those exceedingly high expectations — it has somehow raised the bar.

Indeed, "Coco" belongs in the same upper-echelon company not only with Disney-Pixar's "Up" and "Inside Out," but also on this year's list of best films, animated or otherwise. And, in a delightful instance of irony, this film's exploration of the "Day of the Dead," a tradition during which Mexican families gather to honor their departed ancestors, is bursting at the seams with life.

"When we started creating this film and doing our research, one of our major intentions was to showcase the beauty of the Mexican culture, and the beauty of this tradition of Day of the Dead that a lot of people aren't familiar with," explains co-director/co-writer Adrian Molina. "It's very much about family and connecting to the generations that came before you in a way that, unlike many other treatments of the same topic, is joyful and optimistic, and conveys this idea that, through memory, you're always connected and that relationship never dies."

Set in the small Mexican village of Santa Cecilia on Day of the Dead, "Coco" follows Miguel (child actor Anthony Gonzalez, pulling double duty with aplomb as Miguel's singing voice), a young boy who yearns to become a musician just like his idol, deceased village legend and music/movie superstar Ernesto de la Cruz (Benjamin Bratt).
Miguel's impassioned dream, however, does not sit well in the slightest with his sizable family, which placed a stringent ancestral ban on music years ago after Miguel's great-great grandfather abandoned his great-great grandmother and her young daughter Coco (Miguel's frail great-grandmother with whom he shares all of his secrets) in order to pursue a music career.
But when Miguel discovers a faceless picture of his great-great grandfather in which he's holding the same signature guitar that de la Cruz played in all of his classic movies, Miguel becomes convinced that de la Cruz is, in fact, his great-great grandfather, and that music is thereby in his blood.
Miguel's desire to confirm this theory tangentially leads him to the Land of the Dead, a setting that, according to co-director Lee Unkrich, presented obvious inherent challenges.
"We did a lot of research in making this film (which included visiting the visually striking Mexican city of Guanajuato and observing its architecture), but, of course, the one thing you can't really research is what the afterlife looks like, because who knows, right?" laughs Unkrich, who also played a prominent role in the film's writing process.
"I always knew that I wanted to wow the audience as much as possible, really wow Miguel and have as much contrast as possible between the little town of Santa Cecilia that he lives in and heading across this marigold bridge into this beautiful world. And so we had to create that out of our imaginations," Unkrich continues. "But I didn't want it to be this crazy, 'anything goes' Land of the Dead. Ultimately, I wanted it to be really rooted in Mexico and Mexican culture, and we wanted it to be as colorful, saturated, warm, inviting and celebratory as possible."
The result of Unkrich et al's creative efforts is some of the most stunningly gorgeous animation in recent memory. You'll be hard-pressed to find a more dynamic showcase of eye-popping visuals and unbridled creativity than when Miguel journeys through the afterlife. When Miguel first spots the multitiered Land of the Dead (featuring towers with ancient Aztecan bases that lead up to modern-day construction equipment) from afar at the same time as we do, you can feel the audience's collective jaw drop into the very "wow" for which Unkrich aimed.
In addition to having to tackle the concept of the afterlife from a visual standpoint, the creative team also encountered the narrative challenge of how to motivate Miguel's movement through the Land of the Dead. To that end, Molina conceived the idea of incorporating into the script Miguel's desire to receive his ancestors' blessing to pursue his dream of playing music despite the fact that music caused his family so much past heartache.
"A lot of what I wanted to explore was this idea of 'the family blessing,' " explains Molina. "Miguel is this kid who loves his family and loves his music, and really what he's searching for is that acceptance and that blessing becomes really crucial in the storytelling. The more we [writers] just shared stories about moments when your family let go of grudges and saw eye to eye, and how that can be very transformative in terms of bonding, all of a sudden, it opened this really cool avenue of this kid who really wants to reconcile his dreams with his family's traditions."
Initially, the chances of Miguel earning that blessing from his family appear slim when he meets his ancestors, a fun group of characters that includes Mama Imelda (Alanna Ubach), Miguel's extremely straightlaced great-great grandmother who put the family ban on music in effect after her husband left her. It's a role that veteran actress Ubach, herself of half-Mexican, half-Puerto Rican descent, has been waiting her whole career to portray.
"There are no words to explain how important this movie is to me," says Ubach, whose character and vocal decisions were inspired by her real-life great Aunt Flora, a magnetic, husky-voiced woman Ubach affectionately recalls being a 'larger-than-life seven course meal.' "This is the character I am most proud of in my entire career. She's the marrow of the reason why I am here. She's a symbol of my passion for my culture, and my own belief that we are all one at the end of the day, and that's something this movie truly symbolizes."
When Imelda predictably balks at Miguel's request for her blessing and takes it upon herself as Miguel's de facto mother to arrange his safe return back to the Land of the Living, Miguel sneaks away and ultimately teams up with the mischievous yet compassionate Hector (Gael Garcia Bernal), whose several attempts to cross the realm into the Land of the Living have been denied at the "border."
Miguel agrees to help Hector cross the realm in exchange for Hector leading him to the extravagant de la Cruz mansion to meet his great-great grandfather. This spawns an adventure that features plenty of enjoyable sequences, perhaps most notably Miguel and Hector teaming up for a riveting musical number for a large crowd. But along with this journey comes a tragic revelation: Hector's daughter on earth is losing her memory of him, which will result in Hector falling victim to "the final death," a transitory state where the dead are sent when no one on Earth remembers them anymore.
It's a great supporting role for Bernal, who elicits both laughs by way of Hector's chicanery and sympathy stemming from his sincere intentions to reunite with his daughter. But even with a cast that features a Latino screen legend like Bernal, "Coco" belongs to the now 13-year-old Gonzalez. 
According to the filmmakers, casting the role of Miguel was daunting, as the process required finding someone who was not only talented enough to carry an entire feature film, but also young enough that his voice wouldn't deepen in the several years between the beginning and end of production.
Unkrich's team, with the help of casting director Carla Hool, auditioned several hundred kids both throughout the United States and Mexico in search of a child actor who fit the bill for Miguel. And it became clear to them pretty quickly after meeting Gonzalez that they had found their (young) man.
"Anthony came in to audition, and he checked all the boxes that were important to us," recalls "Coco" producer Darla K. Anderson. "First of all, he's an incredibly enthusiastic, optimistic, bright young spirit. And secondly, he was made for this role. Now I can't even separate him and Miguel! He was made to perform and act. He has an incredible work ethic and never wants to stop. And lastly, he can really sing! He's an amazing singer."
"I loved playing Miguel because I realized that both Miguel and I love music so much," adds Gonzalez, who, true to Anderson's description of his enthusiasm, was so brimming with excitement about the film that he gave me a big hug both before and after our interview. "What I really admired about Miguel is that he doesn't give up, and he really fights for what he wants, which is a really valuable lesson in the story. Even though Miguel's family hates music and wants nothing to do with it, Miguel truly has a passion for music and wants to pursue it for the rest of his life."
Interestingly, though Miguel is the story's central character, the film is entitled "Coco," the film's code name that took on greater meaning the more the story developed.
"Sometimes code names have a way of sticking and working," assesses Unkrich. "Toy Story," for example, was a code name. "In this case, we ended up really liking how it had an enigmatic quality to it. You don't really know why it's called 'Coco' at first, and even when you learn that Coco is Miguel's great grandmother early in the movie, she still doesn't seem like she's that important of a character and you wonder, 'Why would the whole movie be named after her?' But hopefully, by the end of it, you understand how central she is to the lives of every character."
"Thematically, so much of Day of the Dead is about stories and remembering the people who came before you," adds Molina. "And in this matriarchal family, in which Mama Coco is the oldest living person, she represents this generation of stories that are important to the family. And I love the fact that the oldest person in the family's relationship to Miguel, part of the youngest generation in the family, is really important to the meaning of the film. We have so much to learn from older generations if we just think to ask."
"Coco's" earnestness in emphasizing the significance of honoring and learning from our ancestors results in a heartwarming narrative that will surely resonate with the entire family.
"Family is the DNA of this cultural masterpiece, as I refer to it," says Ubach. "It paints such an exquisite picture of the importance of family. And that's one thing that we all universally share in common. And hopefully, people will walk away from this movie reminded of the fact that we are all one."
In addition to its wholesome approach to universal family values, "Coco" is also a joyful celebration of Mexican culture. It's a timely celebration that feels more essential now than ever before.
"This movie comes at a perfect time," offers Gonzalez. "It's a really wonderful celebration, not just of Mexican culture, but a universal celebration that includes everyone. Who doesn't have ancestors that have passed away? The Day of the Dead links us all to our loved ones."
"Our culture has definitely been challenged," echoes Ubach. "Hopefully, people will walk away knowing that no … politics or borders can ever break the bond of 'la familia.' "
Interested in more? Subscribe to Angelus News to get daily articles sent to your inbox.

---
Read the latest local and global Catholic News.
Sign up for our newsletter.