'Black Panther': Worthy of the hype, box office success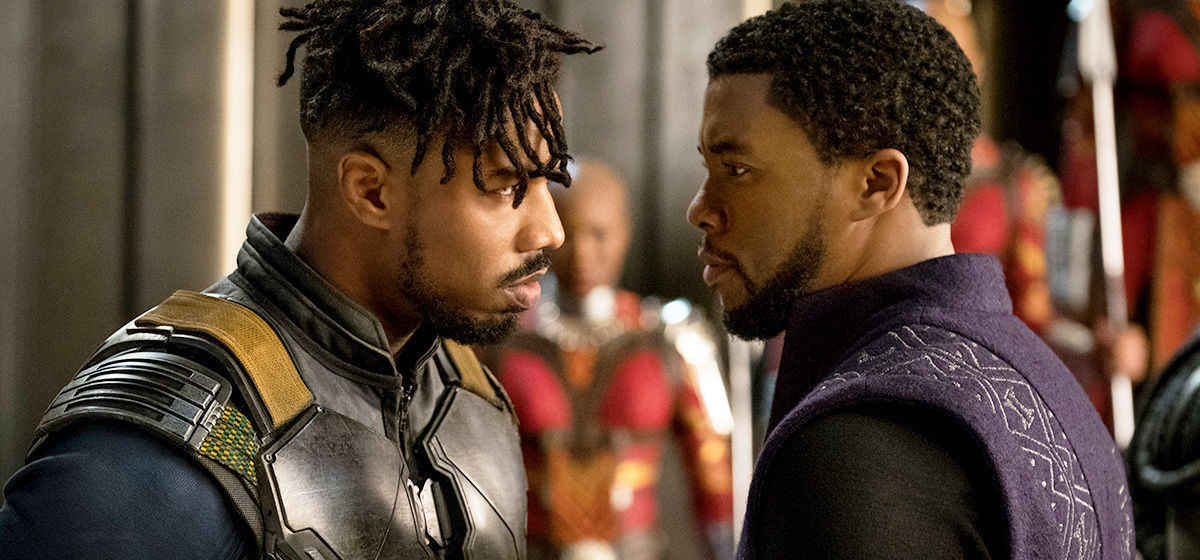 Believe the hype. "Black Panther" isn't just one of the Marvel Comics franchise's most lucrative films of all time (it's on pace to eclipse a whopping $700 million at the box office); it's also one of Marvel's very best. 
And when you consider the fact that Marvel is perhaps the most remarkably consistent film franchise south of the Pixar Studios lot (which, like Marvel, is also under the Disney umbrella), that's saying a whole lot.
Following the introduction of superhero T'Challa (Chadwick Boseman), aka The Black Panther to the Marvel movie universe in 2016's "Avengers: Civil War," "The Black Panther" sees T'Challa and his former girlfriend/current undercover spy Nakia (Lupita Nyong'o) return to his native land of Wakanda, a fictional country in Africa, where he will be coronated as king on the heels of his father's assassination. 
From the outside looking in, Wakanda appears to be a humble developing nation. But when entered through a secret holographic projection of a shroud along the country's border, Wakanda reveals itself to be, in fact, a thriving, booming metropolis that is powered by a fictional metal called vibranium and harbors state-of-the-art technological advancements beyond the outside world's wildest dreams tested at a progressive research center headed by T'Challa's sister, Shuri (Letitia Wright). 
As is Wakandan tradition, a new king's assumption of the crown is allowed to be challenged by any member of Wakanda's five tribes in the form of ritual combat. 
Unfortunately for T'Challa, lethal American Black Ops specialist Erik Stevens (Michael B. Jordan), who goes by the apropos alias "Killmonger," infiltrates Wakanda's secretive entry points, thirsty for blood, the crown and revenge (fueled by incentives I won't spoil here).
Stopping the powerful Killmonger from usurping the throne proves to be an all-hands-on-deck mission that will require T'Challa to enlist the help of Nakia, Shuri, Wakandan special forces leader Okoye (Danai Gurira) and CIA special agent Everett Ross (Martin Freeman).
In 2013, at the mere age of 26, prodigious "Black Panther" director Ryan Coogler showcased his capacity for making films that cut to the core with "Fruitvale Station" (his first collaboration with Jordan, who has since starred in each of Coogler's films). 
Then, with the 2015 "Rocky" series sequel "Creed" and now especially with "Black Panther," Coogler has proven that his films can reap all the benefits of an insane budget without ever losing their sense of heart.
Yes, "Black Panther" features all the requisite eye-popping visuals and "grab the popcorn," CGI-enhanced crashes and fights that we've all come to expect from Marvel films; the creativity and imagination on display all throughout Coogler's conception of Wakanda is extraordinary. 
But "Black Panther" feels like something far greater than that, thanks in large part to the fact that the people inhabiting these often breathtaking settings are fully rounded characters. 
Additionally, the narrative perpetuates a myriad of pointed, timely cultural themes, at the forefront of which is a thoughtful exploration of isolationism. 
Killmonger's incisive criticism of Wakanda's tradition of keeping its superior resources a secret from the rest of the world feels like a criticism of the United States not only as an international superpower, but also as a society whose wealth is controlled by "the one percent."
Indeed, Coogler's script (which was co-penned by Joe Robert Cole) has a lot on its agenda, but it never feels like Coogler has bitten off more than he can chew. 
And "Black Panther's" thoroughly charismatic cast likewise ensures that the film never loses the good-natured sense of humor and fun that has become Marvel's calling card. 
It's a great leading role for the burgeoning star Boseman, and he's helped by game turns from his stacked supporting cast (which also includes current Oscar nominee Daniel Kaluuya and past nominees Angela Bassett and Forest Whitaker). 
And, in an instance of art imitating reality, Jordan nearly steals the show from Boseman. 
If I have a gripe with this movie, it's that Killmonger, his eyes menacing, his snarky quips belying intense internal anger, is almost too good of a villain, oftentimes feeling more panther-like than Boseman himself.
As expected, the black community has shown up in droves to see "Black Panther" because of its heavy African influence. 
But "Black Panther's" colossal box office success indicates an encouraging truth that the film is being enjoyed not exclusively by blacks, but by everyone. 
It's a celebration of African culture that has its cake and eats it too, that champions the black community but invites everybody to join in. 
Even if "Black Panther" never quite transcends the superhero genre like, say, "The Dark Knight," it deserves all the praise it's receiving for the manner in which it has succeeded in transcending cultural divides. 
---
Read the latest local and global Catholic News.
Sign up for our newsletter.