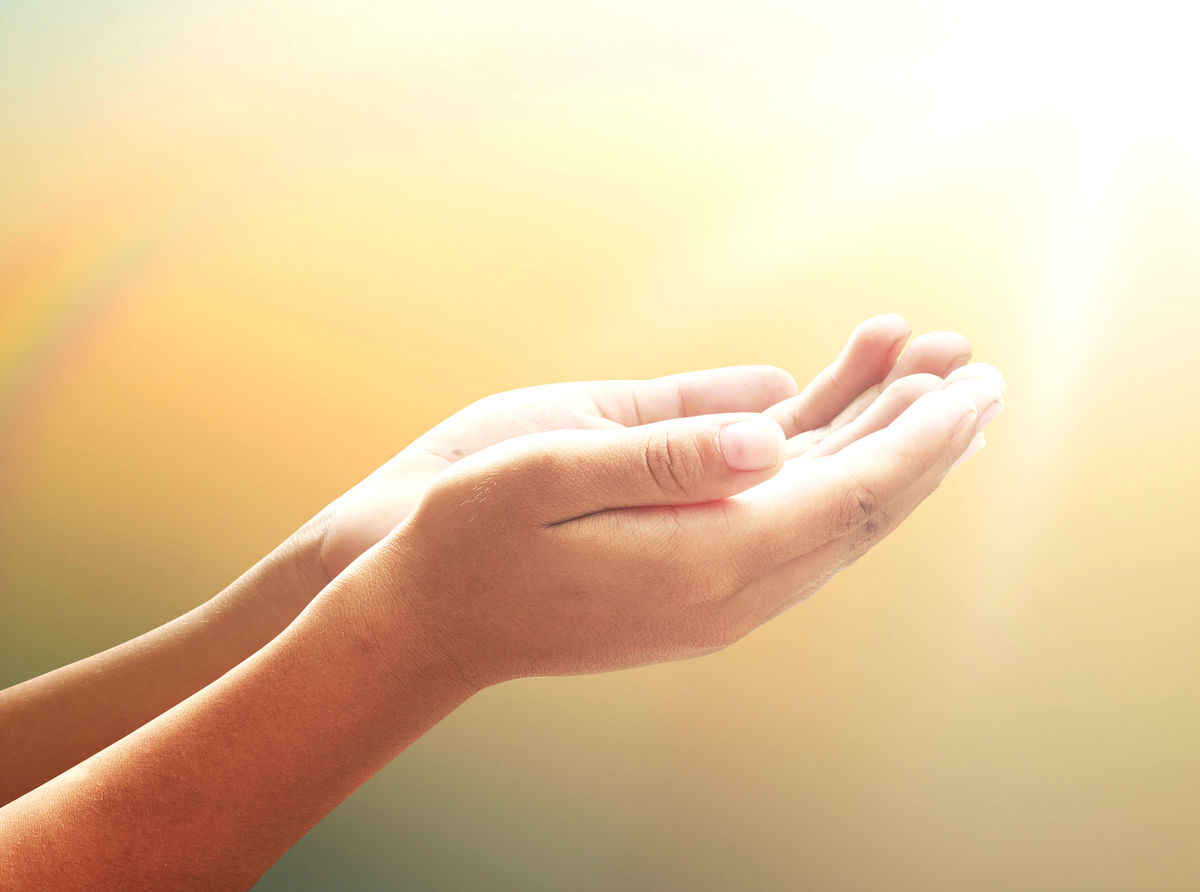 "Faith is opening our hand in trust and accepting a gift." – Pope Benedict XVI
How much do you trust in what God offers to you? Often we find ourselves praying, "Jesus, I trust in you," and truly wanting to trust completely. Yet we find ourselves saying,  "Jesus, I trust in you, but…"
We supply God with our demands for him to do it our way. We open our hands to him and specify exactly what we want placed in them.
Faith is opening our hands in childlike trust, not knowing what it is that God is going to place in them. Our open handed faith is trust in God's goodness, in his love…and in his plan, because in faith, it doesn't matter what it is that God is placing in your hand; it is a gift.
Faith is knowing that, yes, it is a gift, even if you don't understand the gift at that time. Sometimes it may not seem at all like a gift. It may feel like a burden, a trial, or even a tragedy. Yet, as Saint Paul wrote, "We know that in everything God works for the good with those who love him, who are called according to his purpose." (Romans 8:28)
God always gives us a gift and seeks to orient us towards our salvation. Even if that gift contains some measure of temporal suffering.
I remember my shock at reading some of the letters of St. Térèse of Lisieux. My shock was due to her expressions of joy in regards to the great suffering in her affliction with tuberculosis. I couldn't imagine how there could be joy in this young nun, bed-ridden and dying at only 24 years old.
I needed to elevate my perspective and see it from the perspective of this great saint. To see it from the perspective of God.
Her suffering was a gift from God, and she accepted and used it. It was my first understanding of redemptive suffering. Through her suffering, this holy woman, having never left her tiny cloister, has blessed and increased the faith of millions around the world through her "little way."
How can we try to understand the gift God places in our hand? Only through faith, for we can never truly know his mind or his ways. (Isaiah 55:8-9)
Faith causes us to open our eyes to see in new ways, to open our hearts to feel more deeply, to connect to love. It changes our focus, orders our priorities (or it should) and makes of us a people reborn so that we can approach him as little children. (Matthew 18:2-4)
The gift may be something you have prayed for, though it may not look the way you expected. Or it may be something completely unexpected. God loves to surprise us.
St. Maximillian Kolbe was imprisoned by the Nazis at the Auschwitz concentration camp. I imagine that in that place I would have prayed every day for my release, praying that God would place the key to the gates in my hand. Maximillian Kolbe offered himself and sought ways to be a pastor, to be an image of Christ to those imprisoned with him. He opened his hands to the Lord in faith.
What the Lord placed in his hand was a gift, not of earthly freedom, but the red crown of martyrdom. He gave St. Maximillian the gift to give up his life for another man that he may live and experience his liberation from the hell of the concentration camp.
The gift placed in your hand may very well disrupt the status quo of your life. Faith, true child-like faith, is trusting God enough to once again open your hand and accept the next gift. To have an open hand every day without fear.
Pick a saint and read their story of open-handed faith.
It is a surrender
In true faith, we open our hands and say, "I am nothing without you, Lord." We offer our complete selves, and God gives the grace and the blessings. Faith knows this to be true.
The open, empty hands show that I give the Lord all that I have. Whatever he gives in return, I accept. With gratitude and love I accept. Tomorrow is another day full of blessings, whether that day be here on earth or with Christ in paradise.
It is a humble acceptance. It is a "yes" to God.
A simple young devout maiden is approached by an angel who tells her that the Holy Spirit will come upon her and she will conceive and bear a son.  
Is the young teen terrified? This will change the course of her whole life and bring scandal upon her, her family and the man to whom she is betrothed.
Maybe she was terrified, but Mary put aside herself and with open-handed faith responded, "Behold, I am the handmaid of the Lord. Let it be done to me according to your word." (Luke 1:38)
And God placed the greatest of gifts in Mary's open hands.
The only way we can truly open our hands with sincerity and true humility is if God has opened our heart. Even if it is just a crack, the tiniest sliver that the heart has been opened, God can work in that space. It is a candle in the darkness. Any movement towards the Lord will bring greater illumination into our life.
We will appreciate his blessings all the more, even the things not seen before as blessings. The Lord will grow within you as you open more space to him. Empty the self, give him all, and he will fill you to overflowing. (Psalm 23:5)
That is how you become a saint.
It is certainly not in elevating yourself and by demanding God do things the way you desire. It is only through elevating Christ and building a relationship, not on ego, but on a desire to serve. Christ himself is our example to follow.
It is hard to let go of worldliness, yet the expression is true, "Let go and let God." True joy will follow when we follow him who is the Way, the Truth and the Life. It may not be easy, but there will be true joy because we will be totally fulfilled.
The open hand is trusting him to lead the way, trusting him to give gifts that serve our spiritual needs, not our desires. Pray for discernment to know the difference between the two. Trust in his love.
Your faith will become visible to others when you live it. (James 2:18)
Open hands are an outward sign of faith.
To consider:
Am I approaching the Lord in prayer with open hands? In what ways are my hands open and empty in surrender and awaiting the grace of his gifts? In what ways are my hands closed, or so full of my own concerns, problems, desires and things I cling to that I have no room for his blessings to work through me?
In what ways am I afraid to surrender? What pains or fears do I hold on to from the past that cause me, in any small way, not to trust that what God has given me is a gift to use for the good?
In what ways am I too selfish, too distracted, too embarrassed, too self-effacing, too prideful, too self-centered, or too closed off to fully open my hand to him?
Am I holding on to sins that don't allow me to fully receive the gifts of His graces?
How am I pulling away from him by my thoughts and my actions in my day?
Kevin Theriault is a Lay Dominican writer, freelance journalist and photographer.

---
Read the latest local and global Catholic News.
Sign up for our newsletter.