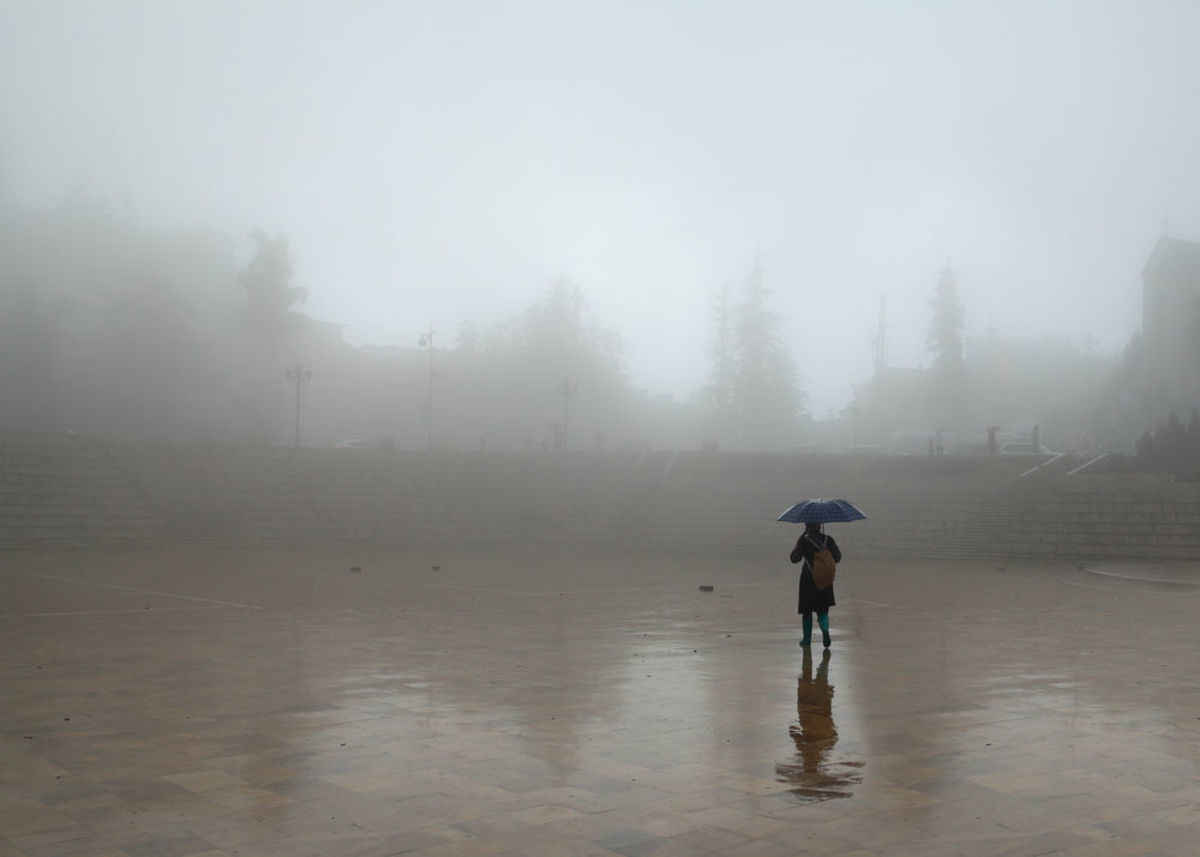 As we approach Advent the relentless commercial holiday season is about to kick into high gear at Thanksgiving. Many people begin to feel stress or anxiety over the holidays, and many become depressed.
Depression comes from many factors, whether it be the change of seasons, being separated from family,  or thinking of loved ones that we used to spend the holidays with who are no longer with us. Memories of the past can overwhelm us during the holidays when we think of parents, spouses, children and friends who have passed on.
Oftentimes even through the busyness of the holidays, people feel very alone.
Let's listen for the voice of hope as we prepare to enter into Advent.
"A voice cries: In the wilderness prepare the way of the Lord, make straight in the desert a highway for our God." (Isaiah 40:3)
Our God is coming to us.
In Advent we prepare to celebrate the coming of the Lord. We prepare to remember Jesus' incarnation at Christmas, the Savior who lowered himself to be among us as one of us. A beautiful blessing and an intimate relationship.
But we also look forward to the fulfillment of the Good News. We prepare ourselves for the time when Christ will come again to us at the end of times. Jesus has warned us to be ready. I was a Boy Scout, and I always liked their motto: Be prepared!
Every so often we hear that some crackpot has decoded Scripture and gives us a date for the Second Coming. Of course these dates always pass and are forgotten. Jesus tells us, "But of that day and hour no one knows, not even the angels of heaven or the Son, but the Father only." (Matthew 24:36)
We recently heard the parable of the Wise and Foolish Maidens with their lamps who were waiting to meet the bridegroom. We have to be ready every day, waiting and watching with oil for our lamps. Which is to say, we need to live lives of readiness, striving towards holiness, striving towards Christ, striving towards eternal life each day.
If we get caught up in the drama of earthly life and lose our sight we can be caught unprepared. We won't get a warning. St Paul writes, "For you yourselves know that the day of the Lord will come like a thief in the night. When people say, 'There is peace and security' then sudden destruction will come upon them as labor pains come upon a woman with child." (1 Thessalonians 5:2-3)
A woman with child knows the labor pains will come, but she doesn't know when. But a wise mother will make her preparations for that time so she is not caught unawares.
Maybe we need a reminder. Maybe we need someone to shout out to us to be ready.
Prepare Ye
John the Baptist was the voice of one crying in the wilderness, "Make straight the way of the Lord!" (John 1:23)
He stills calls to us. He still harkens to us to repent. His voice echoes through Scripture, through all ages.
John was, for a time, in solitude in the desert, clothed in camel hair and subsisting on locusts and wild honey. He was a reed bending in the wind.
Alone? Certainly not.
John not only had faith, but he saw so clearly the path for his life that God had laid out. He epitomized being in the world, but not being of the world. In doing God's will, living God's plan, John was being God's servant.
In being completely God's servant, John was not alone. The voice of one was an echo of the voice of God. The Lord was with him.
John did not despair of loneliness, he embraced it in service. The Lord then sent him multitudes, and John baptized them. When the Lord sent him disciples, John merely prepared them for the fulfillment of God's plan, which was the coming of Christ.
He was a reed bending, not a reed broken. Faith kept him focused and fixed on God's plan for salvation.
We, as Christians, need to be John the Baptist to one another. We need to remind one another, to keep our brother and sister awake and ready. We need to call out, not only to be prepared spiritually through repentance, but also to not despair.
We need to be voices of hope to those who forget that they are not alone, who can't feel the presence of God in their life due to the pains of life and loss.
Am I alone?
Even when we feel the weight of our sins, the burden they place on our souls and on fulfilling our role in God's plan in this world, we are not alone. The Lord, echoed by John, calls us to repentance; to make straight the way of the Lord in our own life. He calls us to hope.
Sin can bring despair and loneliness, for the wages of sin are death and the loss of hope. Confessing and repenting of sin bring light and life… and graces. If we are in a state of grace, living our faith, then we are in Christ and Christ is in us.
Alone? Absolutely not.
Remind yourself: I am one lone person, but the Lord is with me, and hears my voice of one. I am important, for I am a child of God. Our God is so loving and so merciful, that even one small voice counts. One lowly person can make a difference. Every soul, even mine, has a place in the plan of salvation.
Remind your brothers and sisters.
It has always been the Lord's way. The Lord calls us all, each of us, to be saints. He uses instruments for his plan, his message, often using the most lowly and unassuming of people.
Many of the saints have been simple, poor men and women. They did not seek riches, fame and comfort. They followed Christ.
Many saints have come from rich, powerful and noble families. They put aside all the riches and earthly rewards for the glory of God. They chose to become lowly for him.
In God's plan, the last shall be first and the first shall be last. He who seeks to save his live will lose it, and he who loses his life for the sake of the kingdom, will find it.
The greatest blessings in salvation history have come from the lowest and most unexpected of places.
A voice crying out in the wilderness.
A simple young virgin, a maiden, who said, "Be it done to me according to your word."
A vulnerable infant born in a stable.
Jesus came so that we may never be alone and always know his love.
Remember that Christ said, "I will not leave you desolate; I will come to you." (John 14:18)
And also, "And behold, I am with you always…" (Matthew 28:20)
Christ comes to us in the Eucharist, our food for the journey. We receive him, and he dwells within us.
Yes, I am one person. I am a reed bending, not broken.
I am not alone.
Christ is with us. Our hope is in him. Our joy is in him.
Shout it from the rooftops!
Kevin Theriault is a Lay Dominican writer, freelance journalist and photographer.

---
Read the latest local and global Catholic News.
Sign up for our newsletter.