Ten tips for a Catholic Thanksgiving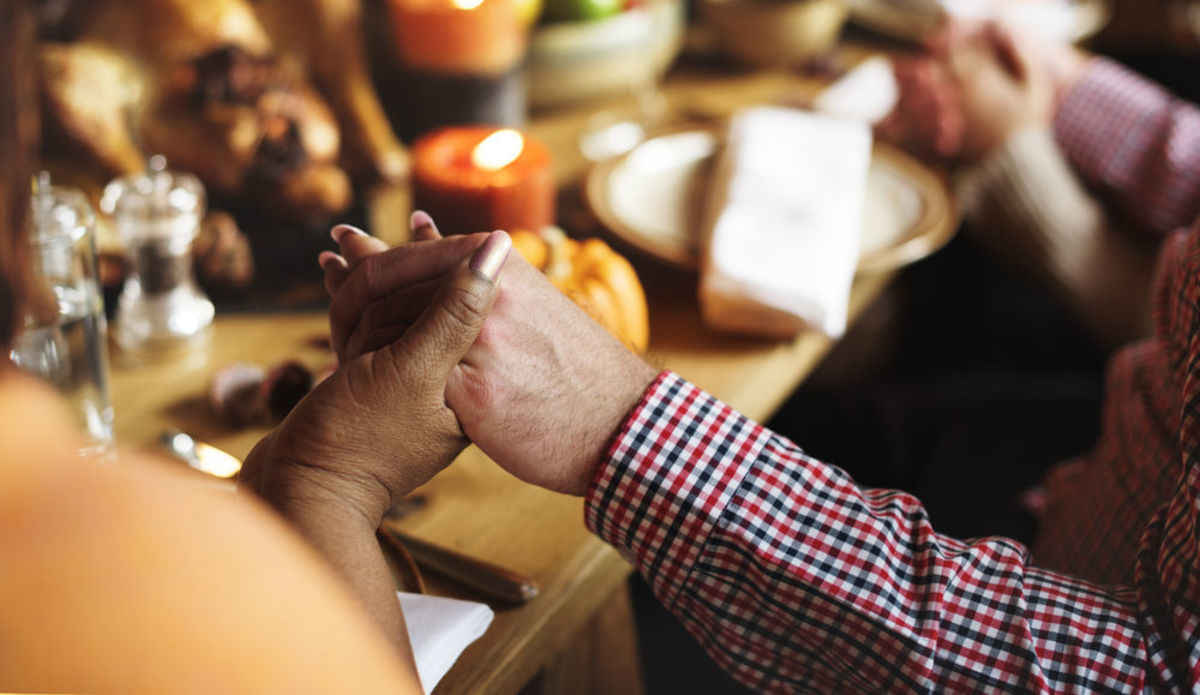 My favorite scene in the movie The Blind Side involves Thanksgiving. The Tuhoy family is ready to celebrate it in their usual way—plates full, in front of the television, watching football—when Michael Oher, new to the family, quietly fills his plate and sits alone at the family table. The mother, Lee Ann, notices, reflects a moment and turns off the television, setting the table for a proper Thanksgiving meal. In a little over two minutes, the scene illustrates what has happened to Thanksgiving in America, and how to fix it. 
These days, Thanksgiving is not so much a celebration of God's goodness and an expression of our gratitude as it is an indulgence of our appetites: for food, for possessions and for entertainment. This year, why not try to return to a more Catholic approach to the holiday?
Go to Mass. Attend your local ecumenical service if you wish, but not at the expense of Mass. Stop whatever you are doing (cooking, cleaning, watching the Macy's parade) and go. The Eucharist IS an expression of thanksgiving. Make it the first priority of your day.
Make Your Peace. Family remains a focus of Thanksgiving, and invariably, family means stress, sometimes conflict, and occasional knockdown, drag-out arguments. This year, put a moratorium on conversation that's likely to lead to acrimony. When a relative touches a nerve, pause, take a breath and quietly say a Hail Mary. It takes two to argue.  There's no guarantee that all will be smooth, there's no need to be inauthentic, and there is no need to tolerate abuse. With that in mind, you may be surprised by how much peace can come from permitting someone to have an opinion other than your own. 
Be thankful even for the difficult things in your life. God is always at work, and like the hidden years of Christ's life, that work may be largely invisible to us in the midst of it. Find one trial in your life, and over the course of the day, find ways to give quiet thanks for it.
Dedicate your whole day to thankfulness. Make gratitude your morning offering. Take notice of even the little things, from indoor plumbing and electric lights to a roof over your head and food on the table.  For so many in the world, those are not small things. Remember those in need, and let that awareness live in you long enough to compel you to be of service when Thanksgiving Day is over. Be mindful of everyone who brought you to this day, from your parents, to the turkey farmer and his hired hands, to the first fellow who figured out how to reduce speech to writing. The list gets long fast and it reminds us how connected we really are.
Eat together at the table, without interruptions. No TV. No Phones. Eating together and truly being present to each other is one of the most basic ways in which community and family come to be.
Pray before you eat, and do something different from the usual table grace. Recite a Litany of Thanksgiving. Pray the Canticle of the Three Children. Go around the table and let (not make) everyone add an expression of thanks.
Apart from Mass, or visiting relatives or invalids, stay home. No shopping on Thanksgiving, and not even on Black Friday. If you don't have it by Thursday, make do without it.  
Limit the electronics. Check phones at the door (have a designated emergency contact).  Forget the football games. Break out the board games, take a walk, sit around and visit, call those who can't be with you, or write an inky letter (not an e-mail) to someone you miss.
Don't overdo. Feasting is great, but breaking down under the stress isn't. Share the load of cooking, cleaning and cleaning up after. There's something to be said for convenience. Don't be afraid to cut meal-making corners—it frees more time for family. If you are a Thanksgiving-from-scratch family, make meal preparation a time for family bonding. Let everyone help. And laugh a lot while you do it.
Invite someone who has no place to go for the day. Over the years, we've had a variety of folks with us at table, including a couple who were lost in the fog and unwittingly parked their RV in our drive the night before. Do not neglect hospitality, for through it some have unknowingly entertained angels. (Hebrews 13:2)
When the day is over and you are cleaning up the rubble left behind after a suitable Catholic feast, pray in thanksgiving as you restore order. Be thankful for enough food to eat, for enough dishes to get dirty,and for a family: biologic, extended and the family of faith that brings great love along with a certain amount of disorder.
Barbara Golder had a 40-year career in medicine and law, including health care ethics. She is now the award-winning author of the 'Lady Doc' mystery series and serves as Director of Adult Faith Formation and Evangelization at the Basilica of Sts. Peter and Paul in Chattanooga, Tennessee. She blogs at ladydoclawyer.com.

---
Read the latest local and global Catholic News.
Sign up for our newsletter.