Latin-American Catholics in Seoul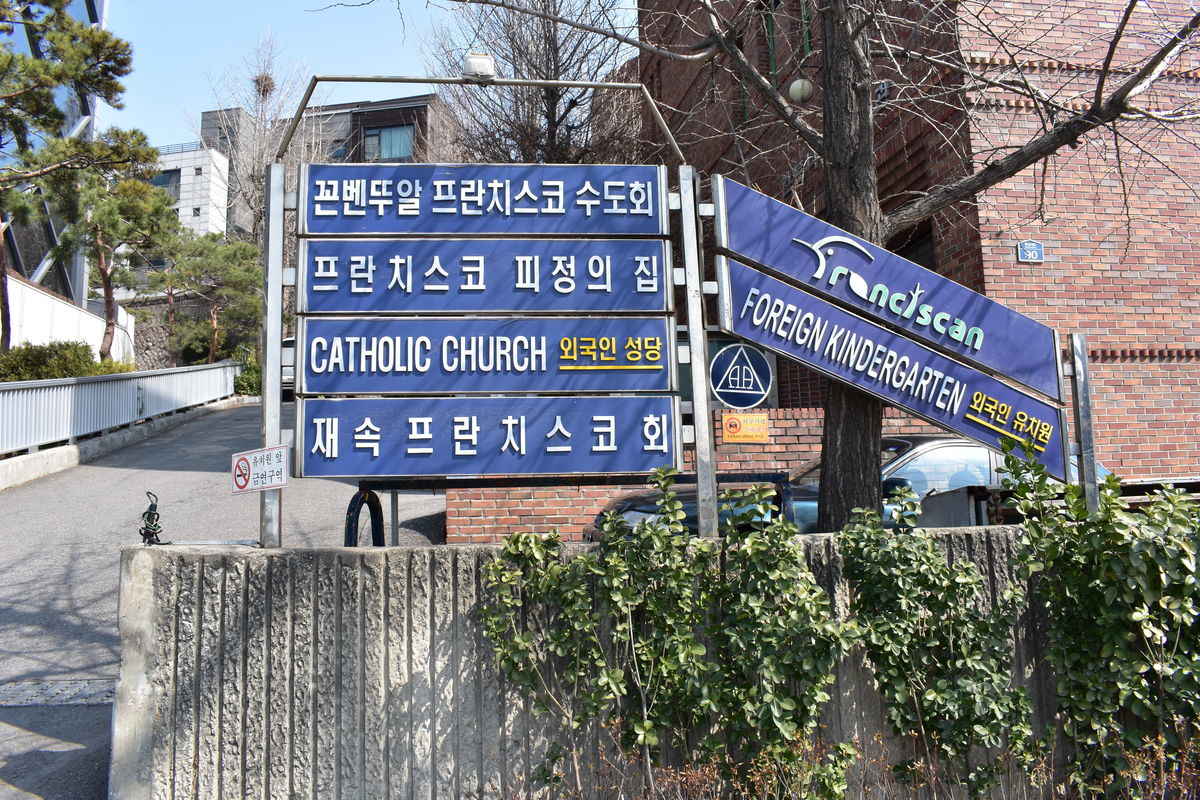 The strumming of an acoustic guitar reverberates throughout the St. Francisco Catholic International Parish, inviting the gaggle that has gathered outside its doors to finally come inside. Groups of Latin-Americans had begun arriving an hour earlier, eager to reunite with their friends and speak Spanish for the first time that week.
"People love to come here and see their friends. The mass is a party," says Father Ramiro Zuniga Garibay.
Seoul's only weekly Spanish Roman Catholic Mass provides Latin American expats with a rare opportunity to be among people who share their customs, their tendency to hug strangers and laugh loudly and their love of warm, heavily seasoned food. For a couple of hours every Sunday, they are transported back to their homeland.
"Even though I'm in Korea, I have my own little slice of home in this church," says Andrea Leon, who had drifted away from the church in her home country of Costa Rica, but has once again become a practicing Catholic.
Leon first came to the church to spend time with a Colombian friend, and stayed when she remembered the warm feeling of being surrounded by people who shared her culture.
The 50 members who gather every Sunday represent countries from all over Latin America, and their paths to Seoul are equally diverse. Many are in Seoul for business or are working in their government's embassies. Others have made their way here to study at Korea's universities or teach English to local children.
Many find the cultural differences challenging at first, which is why they are thrilled to meet others who are going through the same thing.
"Korean culture is very different, especially the food," says Maria Alejandra, the daughter of a Colombian military colonel stationed in Seoul. It took her a long time to get used to eating spicy, fermented vegetables with every meal, as she had never encountered Korean food in Colombia.
Foreigners living in Seoul can sometimes feel lonely in an ethnically homogenous society, where people typically form tight friendships in school that last a lifetime, leaving little room for those they meet later in life.
"I've found it pretty difficult to make friends with Korean people. Culturally, they tend to be a little more closed off and not receptive to making new friends," says Gabriela Jarimillo, an Ecuadorian architecture student.
At the Mass, Jaramillo was able to meet young people like her, who are struggling to adapt to a new country.
"This is the only time I get to hear Spanish and be in a Spanish-speaking community," says Jaramillo's friend Karina Carvajal, an English teacher who was raised by Mexican parents in the Los Angeles.
This sentiment is even more pronounced for the older generations, who are unlikely to frequent the Latino nights that pop up in bars around Seoul. "I came to this church when I first moved to Korea, and since then I've met so many Latin Americans that I would consider close friends," says Rossana Stanziola, who works at the Panamanian Embassy.
Most of the people who attend the Spanish Mass grew up in countries where Catholicism was central to their daily lives. However, they found themselves struggling to feel at home in Korean Catholic Churches.
"I've been to Korean Catholic Masses and English Catholic Masses, and nothing compares to the flavor of being among your people," says Rossana Stanziola, who works at the Panamanian Embassy.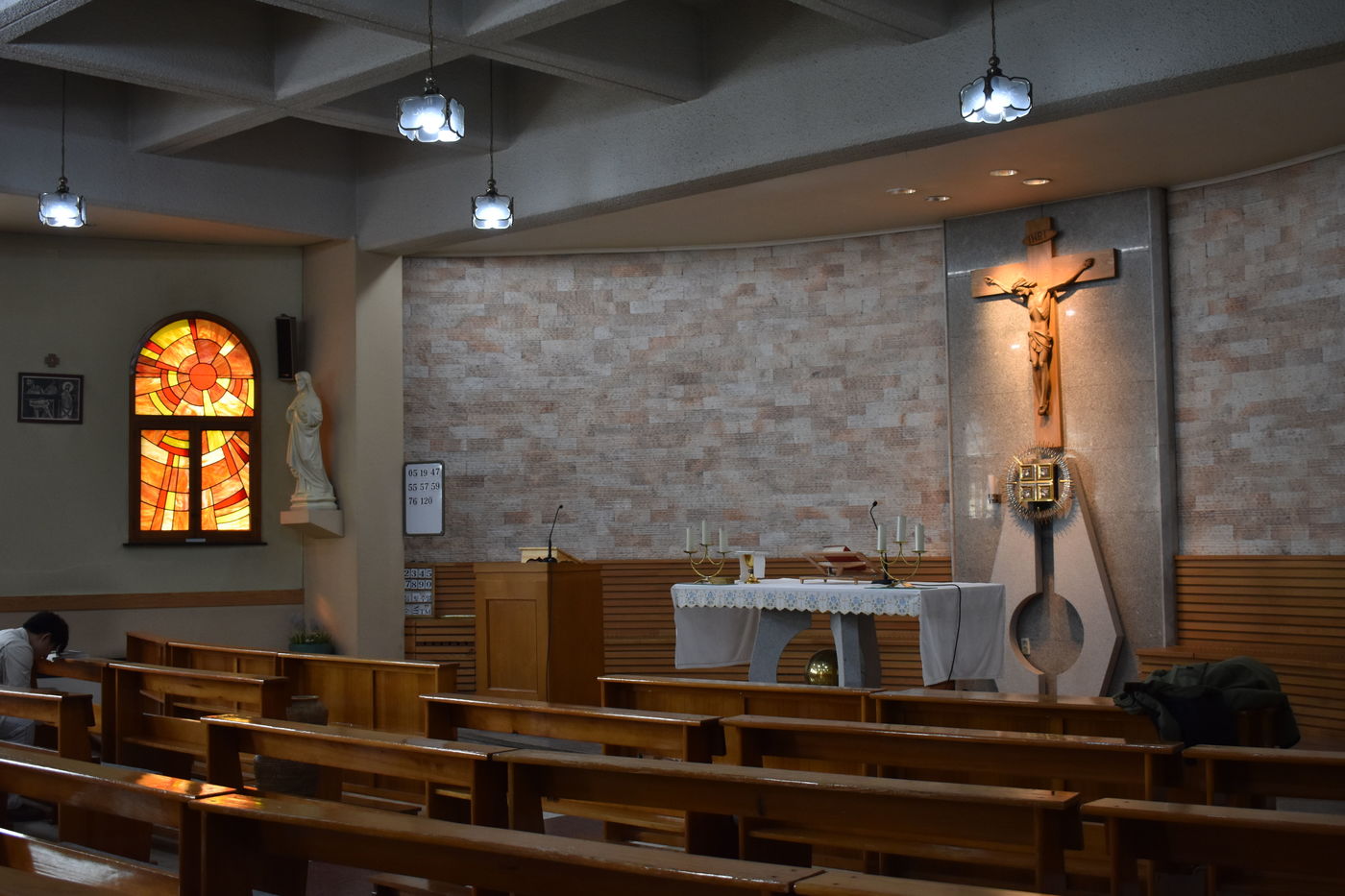 Unlike Korean Catholic masses, where parishioners keep to themselves and prefer to bow when offering each other the sign of peace, the Latin Americans shook hands, hugged each other, and kissed each other's cheeks.
"Everything from our language to the ways we interact here have that warm quality and flavor of Latin America and it makes us feel very comfortable and happy here," Stanziola says.
Their Mexican pastor believes he received a call from God to become this congregation's spiritual caretaker. "People need to be able to encounter God and express themselves in their native tongue, to be able to communicate with others who share the same faith," Garibay says.
Back in the 1990s, he heard a similar call to serve the 5,000 Peruvian immigrant workers who came to work in growing factories. He taught them Korean, helped them avoid being exploited by their bosses and took care of their religious needs.
Now he focuses on his own congregation, the Spanish-speaking members of the St. Francisco Catholic International Parish. The church was originally founded in the 1970s by Italian priests who, like Garibay, dreamed of spreading Catholicism in Asia. The church is a true microcosm of Seoul's International Community, with Masses in Spanish, Italian, English, and German.
Garibay arrived in Korea in 1977 to be a missionary, after discovering that his dream of serving in China would not happen under a Communist government.
The positive response from Koreans made him realize it was the right decision. "Koreans actively search for the truth; they have a thirst for God. As a missionary, that keeps you motivated," he says.
Garibay continues to preach at Korean churches, where he is revered by Koreans for speaking their language so well.
For 40 years, Garibay has served the dual missions of spreading Catholicism among Koreans and providing a spiritual home for Latin-Americans, who like him, have found themselves in a fast-paced city thousands of miles from where they grew up.
"Here, I get to be Mexican. Out there, I'm Korean," he says.
---
Read the latest local and global Catholic News.
Sign up for our newsletter.