The path of redemptive suffering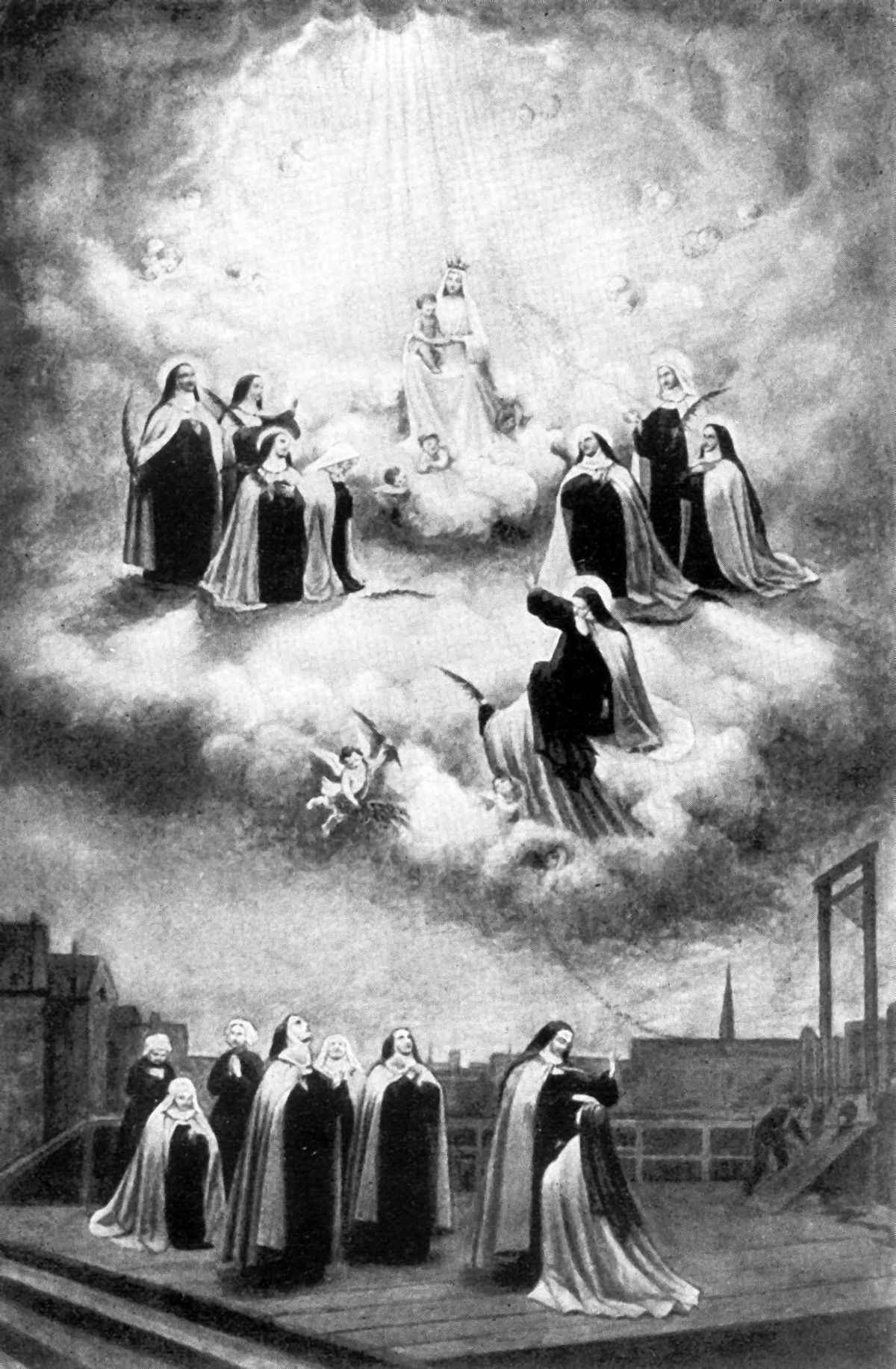 The story of the Carmelite nuns during the Reign of Terror teaches us to embrace agony in a world gone mad
Gertrud von Le Fort's "The Song at the Scaffold" (Ignatius Press, $12), tells the true story of the Carmelite nuns of Compiegne, who offered their lives for the preservation of the Church during the French Revolution.
The story unfolds around Blanche, an excessively fearful aristocrat who enters the Carmelite convent to flee the dangers of the world. But as the Reign of Terror begins, Blanche is no safer in the convent than in the streets of Paris. 
The French government ordered the dissolution of all religious orders under the Civil Constitution of the Clergy, but the Carmelites refused to comply and were sentenced to death. At the foot of the scaffold, it is reported that the sisters renewed their vows and met their deaths singing hymns in praise of God. 
The sisters were beatified in 1906 by Pope St. Pius X for their witness to the faith. 
"The Song at the Scaffold" inspired Georges Bernanos' libretto and the 1957 opera "Dialogues of the Carmelites" by Francis Poulenc. 
Vivian Dudro, writer and editor at Ignatius Press, talks about this novella and the role of redemptive suffering in the life of the Christian. 
Kris McGregor: Why is this book so important?
Vivian Dudro: "The Song at the Scaffold" is set in the French Revolution, but even now, we're seeing people become enraged by perceived injustices, and rise up in anger and fury. When that is unleashed, the innocent suffer with the guilty. 
Gertrud von Le Fort saw the French Revolution as a time of tremendous upheaval, and the Church was attacked. These 16 Carmelite nuns offered their lives as an oblation for the sake of the Church in France, and the end to the Reign of Terror, which was over not long after they were killed. 
Le Fort took this amazing, cataclysmic, historical moment and chose it to look at the question of what is holiness? What is abandonment to God? 
McGregor: What do we know about Le Fort? 
Dudro: She converted to Catholicism in 1926, and I'm sure that caused a great scandal in her family and with intellectuals. But she won the admiration of Hermann Hesse, a great German novelist, and he nominated her for the Nobel Prize. 
She wrote more than 20 books — poems, novels, short stories, and theological and philosophical essays. She had a tremendous breadth and depth and intellect and spirit, which is a formidable combination. 
McGregor: Tell us about Blanche. 
Dudro: Blanche is the main character, and she's fictional. The other characters are historical people. She enters a convent to try to conquer her fears. 
But the French Revolution begins to unfold, and it becomes clear that the Church will suffer persecution. The other nuns in the Carmel question whether Blanche is strong enough to face persecution. 
With this character, Le Fort shows us that if we're going to have the strength to face the horrors in our lives, it's not going to come from ourselves. 
This idea that we have to overcome weakness in order to be strong — she's understanding this as a different movement. We have to allow our weakness to let God be strong in us. This profound understanding is so important for Christians today, particularly in a society that is so success-oriented. Le Fort is saying that the role of weakness in our lives is an opening for God. 
McGregor: She can speak to this, because she lived through one of the most tumultuous centuries in history. 
Dudro: She saw two world wars, the rise of horrible anti-human ideologies, communism, Nazism, suffering and desolation. 
The 20th century was marked by technological progress. Supposedly mankind will solve all his problems with better technology and science, but instead, we kill each other more efficiently. 
Clearly human knowledge and strength is not what saves us. It has limits. In Blanche, Le Fort is showing us that limits are not to be held in contempt, but our means by which we go to God, and allow him to work in our lives. 
McGregor: When I read this, I was Blanche. I think any person who reads it becomes this character, asking, "What would we do, faced with such fear?" In today's climate, we feel this underlying sense of fear. 
Dudro: It's magnified in what we're going through right now in our country. Fear and worry are plaguing a lot of people. 
Le Fort understood that we are all vulnerable. This is not a story about women, it's a story about what it means to be human, what it means to be weak. It's a human problem. We all go before God weak and naked and pathetic. 
Sometimes the things we're up against seem huge, and likely to crush us. Where do we get the strength to handle it? That's the question we all face. 
McGregor: Blanche and the Carmelite sisters surrender in that act of reparation. They're brides of Christ, and they looked at their spouse who did the same on the cross. 
As Catholics, we have that crucifix to remind us where strength and courage comes from — in allowing our weakness to be used by him. 
Dudro: The beautiful thing about the cross and the life of the Christian is that suffering is not meaningless. Whoever you are, whatever your walk of life, you're not going to escape suffering in this world. So that can be a source of misery and despair, or you can look at the cross and see that it's through suffering that we receive life. 
When Christ suffered, he brought life, so our suffering now has incredible meaning. It isn't a pointless exercise; the sooner it's over with, the better. 
When we look at the cross, we see suffering and death that God allows, and it's through that suffering that we redeem ourselves. Our redemptive suffering has the power to give grace to others. 
Carmelites choose a life of redemptive suffering and penance to do reparation for sin — not just their own, but those of others. This calling is seen in the martyrdom of the Carmelites. That's what they chose from the beginning. 
We choose this when we become Christians. We choose to die with Christ in order to rise with him. We abandon ourselves to the will of God in our lives, and when suffering comes, we can have it be a force of redemption in our lives and in the lives of others. 
McGregor: That's what you notice with Blanche, and us, too. When she goes into the Carmel, she doesn't think she can really live out the faith. And isn't that how we are? We go to Mass on Sundays, we hear the message. But can we live it? 
Dudro: With our human ability alone, we can't. Blanche knows she can't. All the sisters try to come up with a program to help Blanche overcome her fear, and the Mother Superior has this insight — maybe she's not supposed to strive to overcome it, but she's supposed to be receptive to something in it. 
We aren't supposed to wallow in our weakness, but we should see that it's ultimately a gift. 
We have to trust in God, that he knows what he's about. He's made us, he has a plan for us, he loves us. Whatever comes to us in life, he's ready to walk with us and bring us to the other side, glorified, purified. This is what being Christian means. 
McGregor: Mother Superior's insight into what Blanche needs to do gives all the sisters the strength to face the most fearsome of sacrifices in a world gone mad. 
Dudro: Le Fort does such a good job of describing the complete debauchery of the masses — drinking the blood and dancing in it. It's this love affair with murder and death and blood. You would be completely terrified if you didn't have a belief in a God who loves you.
McGregor: The sad part is, that actually happened. She's pulling from factual evidence of what occurred. Can we descend into that kind of madness? Yes! We did it again 100 years later. We sent women and men and children into ovens. 
Dudro: There are holocausts all over the globe, all over history — the massacre in Rwanda, in Cambodia, the gulags of Soviet communism. 
McGregor: That includes the horror of what we do in any town in the United States, at a Planned Parenthood or abortion facility. 
Dudro: The fact that it's unseen doesn't make it any less horrifying. 
McGregor: We have to dwell not on the negative, but on the hope. That's what Le Fort has done with this work; she points us to heaven. She gives us hope. 
Dudro: It gives us hope that, even in the midst of tremendous horror, with the grace of God, people are capable of beautiful acts. We sometimes think, "What would I have done if I were in that situation?"
The beauty of this hope is that you don't have to rely on yourself to be able to do that. You'll have the grace, no matter what your next moment's going to bring. 
Then there's the hope that there's something beyond this world. There will be a place where there is no more evil and pain. That is the life we hope for, and we believe redemptive suffering can take us there. 
Click here to listen to the full interview.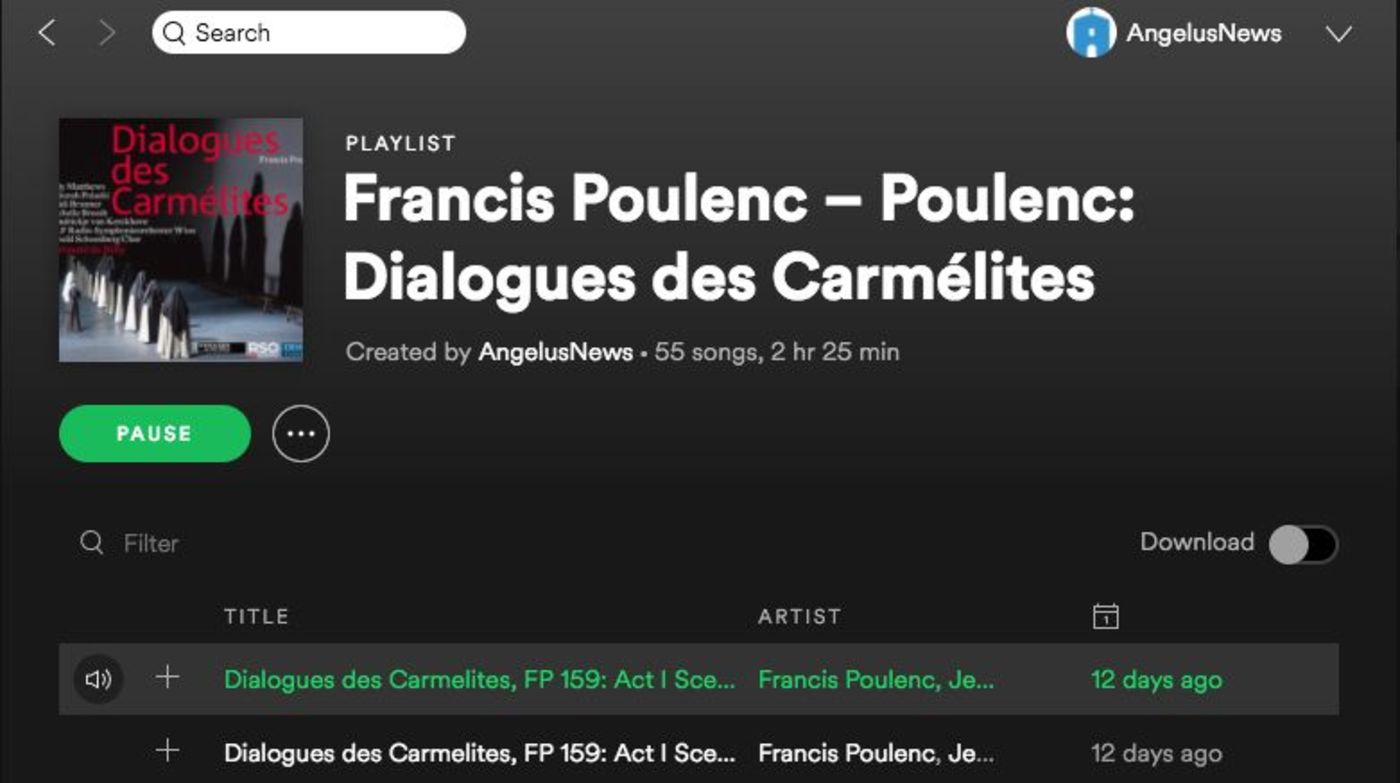 To listen to Francis Poulenc's opera based on "Song of the Scaffold," visit Angelus News on Spotify.
Kris McGregor is the founder of Discerninghearts.com, an online resource for the best in contemporary Catholic spirituality.
Interested in more? Subscribe to Angelus News to get daily articles sent to your inbox.

---
Read the latest local and global Catholic News.
Sign up for our newsletter.
---