The end of TPS is a call to prayer and action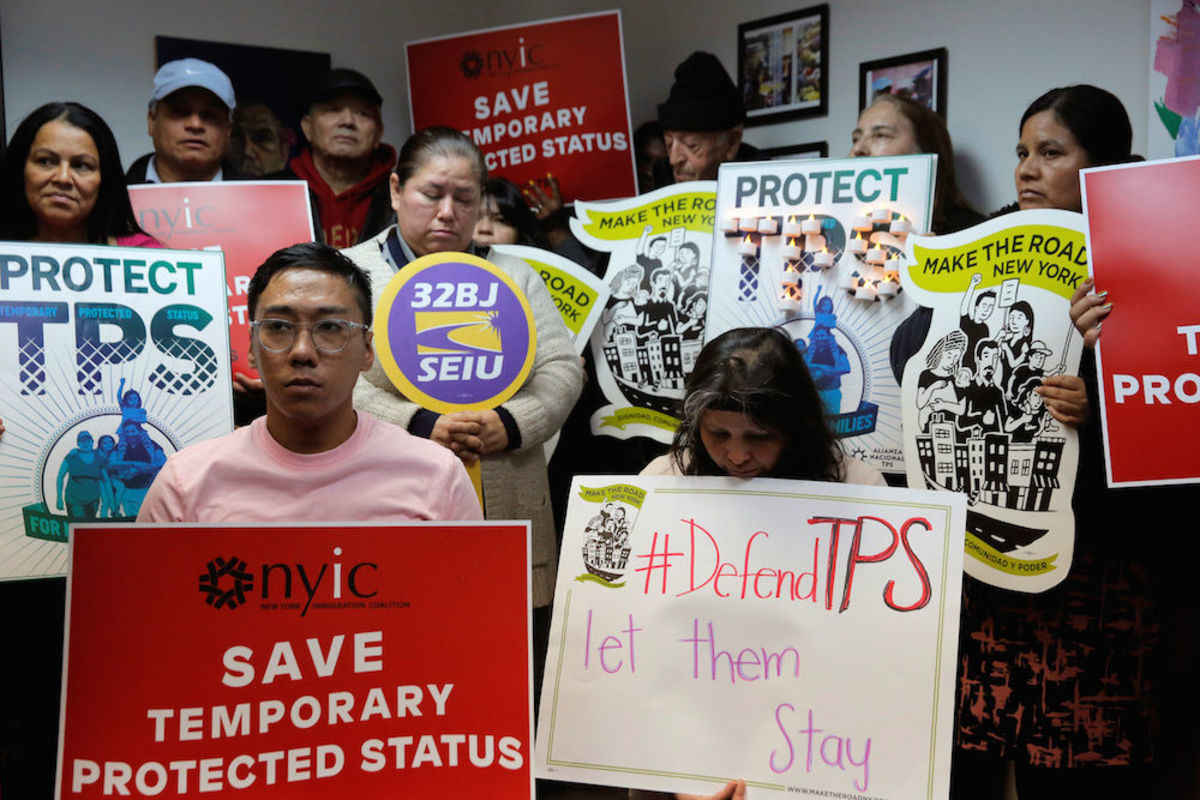 The news was reported in the New York Times this way:
"Nearly 200,000 people from El Salvador who have been allowed to live in the United States for more than a decade must leave the country, government officials announced Monday. It is the Trump administration's latest reversal of years of immigration policies and one of the most consequential to date.
The administration is giving Salvadorans in the program until September 2019 to get their affairs in order. After that, they no longer will have permission to stay in the country, forcing them into a wrenching decision."
Temporary Protected Status was granted to our Salvadoran brothers and sisters in March 2001 after an earthquake ravaged the country, killing more than 1,000 people and destroying home after home and building after building.
Previous administrations extended the protection, which can legally be extended an unlimited number of times (individuals from Bosnia and Herzegovina, as an example, continue to have their protection extended after a civil war erupted in the 1990s), and in this situation the government cited drought, poverty, and widespread gang violence as reasons for another extension. San Salvador, the capital of the El Salvador, is currently considered one of the 10 most dangerous cities on earth and according to a 2016 report from the World Bank, the nation had the slowest economic growth of any Central American nation over the previous year.
Despite all of that, the current administration has decided to end the Salvadorans' Temporary Protected Status and force them to make a terrible decision in less than 18 months.

Do they leave the country where they re-started their lives; where they have worked, raised children, and become a part of the fabric of their communities? Do they uproot themselves and their children to return to a nation that continues to be ripped apart by violence and poverty? Or, do they stay in the nation they have called home for nearly two decades, embarking on a terrifying life of being in the nation without legal protection, having to go about each and every day in fear of having some sort of legal action taken against them?
It's a choice no family should ever have to make.
As Catholics, we should see this turn of events, and others like them, as a call to prayer and action on behalf of our brothers and sisters.

Thankfully, our Church has already stepped out to defend those caught up in this situation.
Bishop Jose Vásquez, chair of the U.S. Bishops' Committee on Migration, said of the decision:
"We believe that God has called us to care for the foreigner and the marginalized: 'So you too should love the resident alien, for that is what you were in the land of Egypt' (Deut. 10:19). Our nation must not turn its back on TPS recipients and their families; they too are children of God,"
In addition to this recent statement, the USCCB sent a letter to the Department of Homeland Security last month summarizing their concerns about such a decision:

"Terminating TPS for El Salvador now would be inhumane and untenable; El Salvador is in no position to accommodate the return of roughly 200,000 Salvadorans."

The time has come for us to join our bishops in speaking out against this decision, to speak out in favor of our brothers and sisters from El Salvador.
The time has also come for us to pray: pray for the protection of the 200,000 men, women, and children caught up in this situation, the countless others in similar situations, and for our nation as a whole.

Considering the situation we find ourselves in at this present moment, there's clearly no better intercessor ready to take up this cause than Blessed Oscar Romero.
Please join me in a prayer for the intercession of Blessed Oscar Romero, found on the website of the organization Catholic Agency For Overseas Development:
O Lord Father of Mercy, who through Jesus Christ and the intercession of the Virgin Mary, Queen of Peace, and the action of the Holy Spirit, has bestowed on Blessed Oscar Romero the grace of being an exemplary shepherd at the service of the Church, especially giving preference to the poor and needy.
Grant, Lord, that I may also learn to live according to the Gospel of your Son, glorify your Blessed Oscar Romero and concede, through his intercession, the favor I ask of you…
Amen.
Our Father, Hail Mary and Glory Be.
Tommy Tighe is a Catholic husband and father of four boys. You can find out more about him at CatholicHipster.com.

Interested in more? Subscribe to Angelus News to get daily articles sent to your inbox.

---
Read the latest local and global Catholic News.
Sign up for our newsletter.
---