Sister Angela 'half' retiring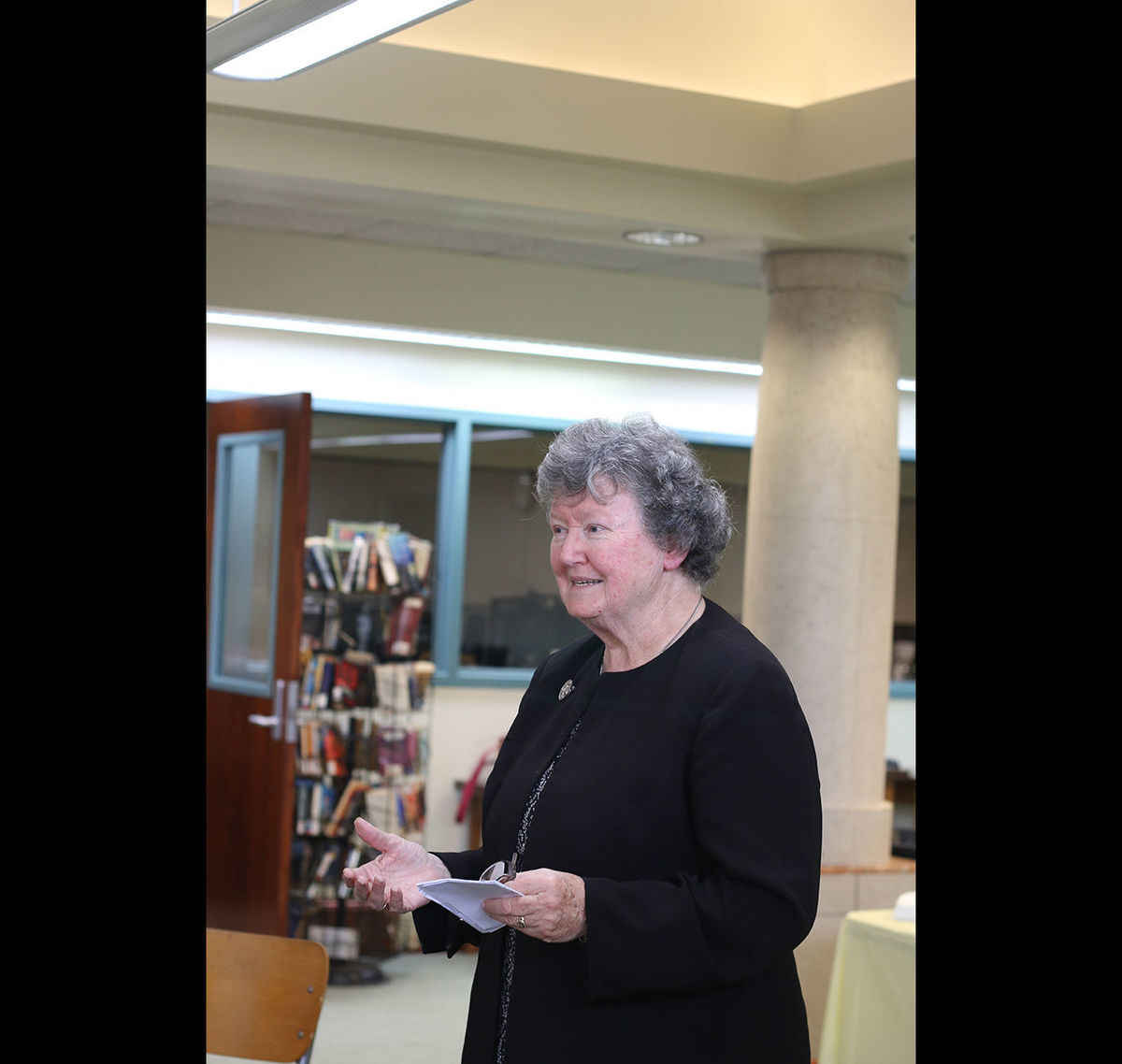 On March 31 — after the Christian Service Awards Mass in the Cathedral of Our Lady of the Angels she had organized for years — Sister Angela Hallahan was honored herself. Archbishop José H. Gomez presented her with a plaque that read: "In appreciation for 59 years of outstanding dedication to Catholic education, especially for upholding the mission of the archdiocese's department of Catholic Schools for 19 of those years and modeling a commitment to Gospel values through the service of others."
Then on June 6, after announcing she was retiring from the department, Sister Hallahan was honored with a surprise luncheon at Bishop Conaty-Our Lady of Loretto High School. Over the years, the Sister of the Holy Faith has served in the department mostly as high school director of religion certification for the Archdiocese of Los Angeles.
At the luncheon, she was praised not only for the "fantastic way" she did faith formation, but also as an inspiration to all the Catholic school principals, teachers and, especially, campus ministers she had mentored.
"I always saw Sister Angela as a hopeful person," said Msgr. Aidan Carroll, principal of Bishop Amat High School in La Puente. "I think of the Church in stormy waters and, particularly, Catholic education is a ship battling the storm of all that we have to cope with. But she always had that hopefulness and missionary zeal of bringing the gift of faith, like St. Patrick himself, to those who need it."
At the end of the luncheon, Sister Angela rose from the U-shaped table arrangement.
"The Mass of Christian Service is so beautiful, but it's also a job — sometimes a thankless job," she said with her native Irish brogue pretty much in place. "The ministry comes when the job is done and you wrap yourself around what it is. It is a time of bringing greater honor and glory to God and lifting up members of the community."
After a moment, she added, "So that's what I would leave with you. Remember that imbedded in your ministry are jobs. But don't forget the ministry. Because it is you and your schools and your teachers and your students who do so much. … Everybody in this room today, we are so deeply grateful for your commitment to Catholic school ministry and education."
Note: Sister Angela Hallahan is only half-retiring. She will continue to be director of health affairs for the archdiocese.
---
Read the latest local and global Catholic News.
Sign up for our newsletter.
---